Have you ever experienced naturist holidays? From the homeland of half-naked gods and heroes, we have already written about nude beaches in Greece. But did you know that, when visiting the sunniest European country, you don't have to limit your nakedness just for the beach time? Indeed, for the last four decades, laws allow dedicated naturist hotels and clothing-optional resorts in Greece!
With its long history of appreciation of the naked body and supportive weather forecasts, Greece is one of those countries which stimulate nudism as an ultimate expression of body freedom.
Clothing-optional resorts in Greece might not be numerous, but they can be a strong base for the most memorable naturist holidays
While we cannot say that naturism is a massive touristic movement in Greece, one can find informal places to unwind in a birthday suit more or less at every seaside destination. Okay, Mount Athos peninsula with its religious aura excluded.
Staying naked on the beach is an experience like no other. But if you want to completely forget about the restrictions imposed by clothing, nudist hotels on Greek islands are the accommodation worth checking out.
These free-spirit properties allow you to leave inhibitions at the reception, stay among like-minded individuals, enjoy a social life, and extend nakedness beyond your room or FKK beach.
Clothing-optional resorts in Greece might not be numerous, but they can be a strong base for the most memorable naturist holidays.
How do you imagine your naturist holidays? Have you ever thought about naked hiking?
Naturism seen as Sodom and Gomorrah
Even if Greek nudism could be tracked via vases and sculptures to ancient times, the first nude tourists arrived in the country in the second half of the 20th century.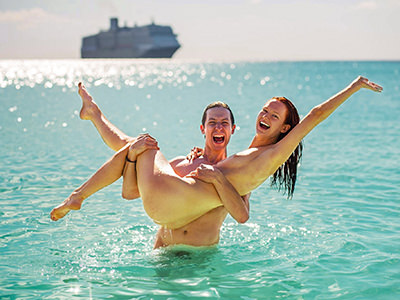 Naturally, they practiced nudism mainly on beaches, which already challenged the moral boundaries of locals. Some places welcomed nudists with open hands, others felt offended by the very prospect of naked people walking around.
In the Gulf of Corinth, the town of Loutraki had the most scrutinous test of all. In 1959, a group of nudists reportedly tried to start a business by renting a local hotel in this quite religious environment. The Church got up on the hind legs already at the idea of a nude beach. The message was clear: naturists were not welcome.
Another project in the Peloponnese was at the forefront of the naturist movement. In Argolida prefecture, in the late 1970s, Saladi Beach Hotel identified itself as a nudist hotel. The long pebble-covered Saladi Beach, sometimes spelled as Salanti, became one of the first frequented nudist beaches in Greece.
The luxurious complex, quite advanced for its time, equipped with sports facilities, swimming pool, amphitheater, and air-conditioned rooms with TV and fridge, was shortlived. Even if it was located 5 kilometers away from the nearest village, the Church labeled it as a moral threat to the local community.
Pressed by the media fueling the public with titles such as "Sodom and Gomorrah", and revolted locals protesting, engaging in voyeuristic associations, and even gathering to beat up tourists, the owners had to close the first textile-free hotel in Greece.
Locals repented later for the closure of the 8-story building that had 300 beds, as clearly it affected their own income too. But it was too late. Saladi Beach Hotel has been decaying and crumbling for the last four decades.
Discover more abandoned hotels here, or head directly to Hotel Belvedere in Dubrovnik, one of the most luxurious Croatian hotels that didn't get lucky. 
How did nudist hotels in Greece come about then?
In 1981, Greece joined the European Economic Community, today's EU, and slowly the European values of democracy were pushing out the conservative views on the world. The idea of naturistic tourism had to simmer for some time.
The Greek parliament abolished the law on ethics, and in 1983 passed new regulation which made nudism in Greece legal, namely in clothing-optional resorts, naturist hotels, campsites, clubs, and nearby beaches.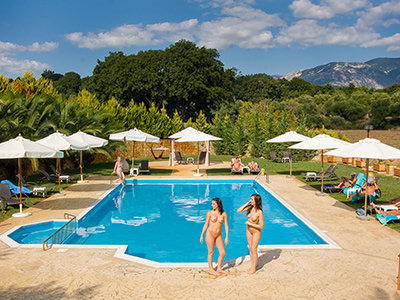 It still took time for the word of the law to get implemented in daily life. The first hotel to successfully convert to a naturist resort was Vritomartis in Crete, in 1992. The second to open was Vassaliki Naturist Club in Kefalonia in 2007. The last one still operating is Naturist Angel Nudist Club Hotel which opened in Rhodes in 2013.
Some of the clothing-optional resorts in Greece did not pass the test of time. The slowly declining naturist market, helped by the global crisis of the pandemics, and the threatening shadow of instability in Eastern Europe, presents an ever-growing challenge for Greek nudist hotels fighting to survive. Naturist Hotel Panorama started in Zakynthos in 2010 but closed in recent years.
Croatia was home to one of the first European naturist resorts, back in 1961. Learn how FKK movement lost its momentum on the example of Rab's Kandarola nudist beach!
Nudists with anti-Covid masks
"The pandemic has unfortunately seen the number of clothing-optional resorts in Greece drop considerably, with now only a few surviving", admits Mark Taylor, the owner of Vassaliki. "It has been a nightmare for us all. Our company has and still is struggling to stay afloat, but with some extra financing from the UK government, we have managed to keep going which is more than I can say for some resorts."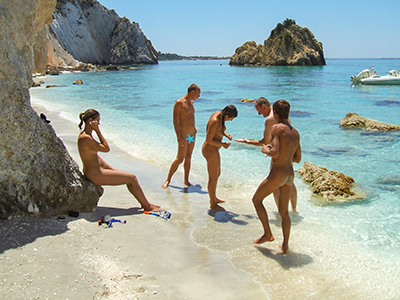 In 2020, Vassaliki's bookings dropped under 10 % occupancy practically overnight, technically closing this nudist resort. In 2021, they remained open but were restricted to a short season. The naturist hotel in Rhodes experienced a 60 % drop in bookings.
Elena Pontorosagia, the co-owner of the Naturist Angel Club, still sounds enthusiastic: "I believe that naturism in the next years will have a fast rise because, after so much technology, the world returns to its roots."
"I think the golden age is most definitely ahead of us", Mark agrees. "As a society, we are becoming more accepting of peoples' decisions in life. Nudity is seen more in TV and movies, and being nude is not such a taboo subject. People are looking for so much more from their holiday nowadays and niche market holidays are going to boom over the next decade. I think the naked Euro is a very good investment."
Check out more activities in Greece!
Clothing-optional resorts in Greece are experiencing higher-than-ever bookings for 2022. It seems naturists have been abstaining from the summer sun for too long, and they are ready to get back to full-body tanning.
So, what are the best naturist resorts in Greece?
Clothing-optional resorts in Greece – top 3
1. Vassaliki Naturist Club, Kefalonia
Price: 120-160 Euros/night
Season: May 1st – October 21st
Day visits: welcome
West of mainland Greece, the largest of the Ionian Islands is home to Vassaliki Bare Brilliance, formerly known as Vassaliki Naturist Club. Mark and Samantha Taylor arrived in Kefalonia from the UK in 2006 and started what will become known as a high-quality boutique property designed for naturists by naturists.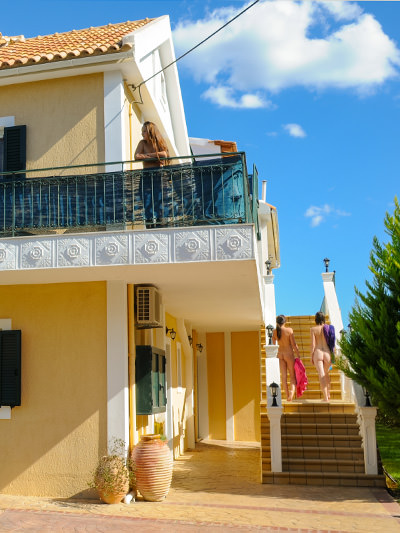 In the market that typically provided basic camping and simple accommodation, Vassaliki wanted to introduce a higher standard. Today, in the oasis surrounded by olive and pine trees, this nudist resort offers 12 air-conditioned rooms with cooking facilities.
Vassaliki can accommodate up to 26 people at any time. They can use the garden, swimming pool, bar, restaurant, as well as a barbecue area. Nudity is allowed in the entire resort, and mandatory only in the pool and the hot tub.
Nudists at Vassaliki Naturist Resort are mainly British (60 %) and Dutch (30 %). While the majority flies to Kefalonia Airport, some customers do come by car, mostly from Italy and Greece.
These are predominantly couples of all ages, same-sex couples included. They also have a rather good following of single males and females visiting. "We welcome everyone to the resort, we want them to enjoy naturism", Mark tells me. "We have had some couples where one half is naturist and the other isn't. As long as they come for the right reasons, everyone is comfortable in the environment, and they are not looking for sexual activities, we welcome them."
I had a less comfortable experience in the home of one Greek nudist once. Read more about it in my collection of the most unusual Couchsurfing stories!
Unlike other Greek naturist resorts that usually require guests to be members of the International Naturist Federation, Vassaliki Bare Brilliance rejects formalism. "We don't believe being a member of the INF is needed to enjoy naturism", Mark says. "In my personal opinion, these federations are old-school bureaucracy, run by an aging committee who don't want to move with the times."
Food & drinks
Vassaliki Naturist Club has its own pool bar that serves a variety of cocktails, soft and alcoholic drinks. It all runs on a trust system. For instance, guests can help themselves with draft beer or wine, and write down what they consumed.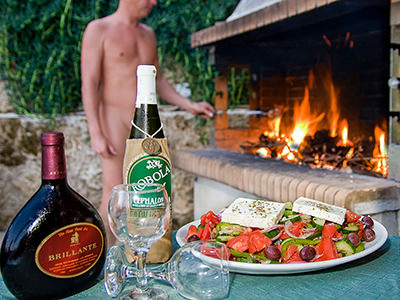 The restaurant offers meals throughout the day. Breakfast costs between 6,50 and 9 Euros, and coffee and tea are complimentary. Lunches range from 8 Euros for a salad or a sandwich, to 9,50 Euros for a burger or a hot meal. Their evening meals cost between 12 and 18 Euros.
While most guests use the convenience of the resort's gastro services, Vassaliki does encourage them to get dressed up some evenings and try local tavernas. As the resort is set in a rural area not overrun by tourism, restaurants in the neighborhood offer high-quality authentic Greek food one shouldn't miss.
If you want to completely indulge during your Kefalonia visit, hop on this fantastic wine-tasting tour! It's one of the best-rated activities on the island!
Vassaliki Naturist Club activities
Vassaliki Naturist Resort offers a number of exclusive excursions in and around Kefalonia. Their motorboat trip that takes you to several secluded beaches with a naked BBQ lunch is usually the highlight of the week.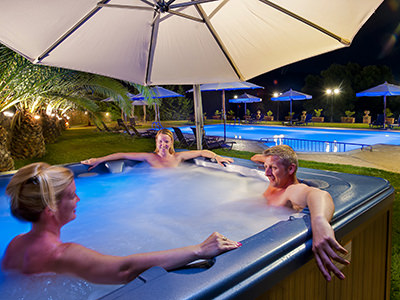 In the evenings, they organize traditional Meze-style meals, and famous BBQ and Jenga play nights.
Guests can also benefit from massage and pedicure services on site, and enrich their holiday time with a book swap library or borrowing snorkeling and other beach equipment. Occasionally, you could expect an impromptu yoga or pilates session, or even an art class.
Over the years, Vassaliki Naturist Club has grown a real community of naturist guests who extend their social life beyond the resort. They engage in online chats, and once a year, Samantha and Mark host a big weekend party in the UK, attended by 100 guests.
For the most recent prices and reviews of the Vassaliki Naturist Club, check here.
Nearest nudist beach
None of the beaches of Kefalonia are officially nude beaches, but still, there are quite a few where naturism is possible.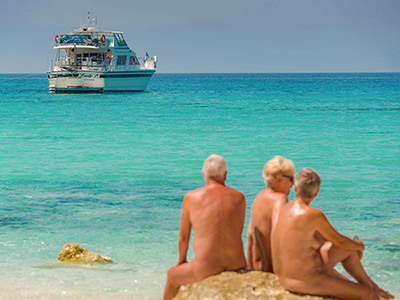 The closest one is Avithos Beach, a 3-kilometer hike or a 10-minute car ride away from the resort. One can expect smooth sand, and there is even a beach bar and tavernas for refreshments, but you need to be dressed to use them.
Other beaches recommended for nude travelers in this area of Kefalonia are Kanali, Sissi, and Mounda Beach.
How to get to Vassaliki Naturist Club?
Kefalonia is reachable by plane. There are many direct flights servicing Kefalonia International Airport Anna Pollatou (EFL).
Vassaliki Naturist Resort is a 15-minute drive away from Kefalonia Airport, and taxi transfer, as well as car hire, can be organized.
Another option to travel to Kefalonia is to take a ferry, which is possible in several ports in Greece, as well as Italy.
If you prefer something even more private, Taylors have recently added another Kefalonia property to their portfolio. You can book the entire Villa Vassaliki all for yourself! Check this offer here!
2. Naturist Angel Club Hotel, Rhodes
Price: 65-110 Euros/night
Season: April 20th – October 20th
Day visits: welcome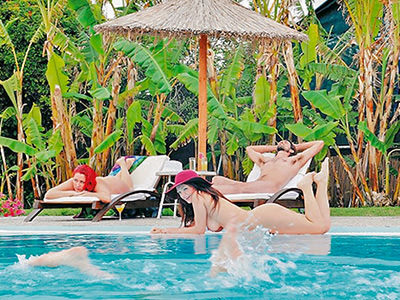 On the northern coast of Rhodes, the largest of the Dodecanese Islands, we find the latest add-on to the clothing-optional resorts in Greece. Just 20 kilometers away from Turkey's coastline, Naturist Angel Club Hotel is the easternmost Greek nudist destination. A Russian-Greek couple, Elena Pontorosagia and Nikiforos Alafouzos founded it in 2013.
Clothing-optional resort in this part of Greece doesn't come as a surprise. Rhodes is known as the Island of Sun, with Helios as its patron god. "We apply methods of treatments supported by Hippocrates", explains Elena. "Just like 2.500 years ago, we expose bodies to sun nutrition, with excellent and effective results!"
Naturist Angel Club offers 32 rooms to naked therapy seekers and can accommodate up to 60 persons. Even if they do advertise themselves as an adult-only property, families do pay a visit occasionally. But the majority of guests are couples (70 %), with some single (5 %) and group visits (5 %).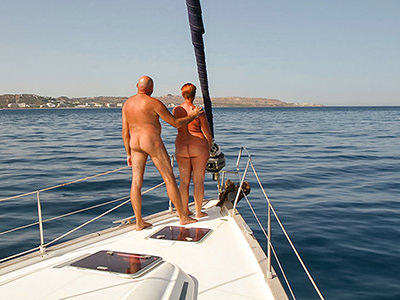 As for the nationality of visitors, they are mostly British (30 %), Dutch (30 %), and Germans (20 %), followed by Belgians, Americans, and Italians.
To enjoy the facilities, one needs to have an INF card. Once inside, you can relax in the tropical garden lined with banana and palm trees, soak in the heated jacuzzi, swim in the freshwater pool, cool down with a drink at the bar, or retreat to your air-conditioned room with satellite TV.
The resort owners claim that what they offer at Naturist Angel Club Hotel is quite special: "You are allowed to be naked everywhere, in the entire accommodation, from east to west! Our nudist resort is unique in the whole world, 100 % naked! We rarely face problems with Muslim women from Turkey and Saudi Arabia. They can be shy at the beginning, but later they become naked fanatics!", Elena says.
Food & drinks
Buffet-style breakfast with pastries, cakes, eggs, cereals, and other expected essentials is included in the room price at Naturist Angel Club Hotel.
Lunch and dinner meals come at a cost of about 15 Euros. You can expect traditional Mediterranean and Greek dishes, from grilled meat to desserts, and water them down with local wines or exotic cocktails.
If you want to experience a special romantic dinner at sea, join this budget-friendly sunset cruise, relax drinking local wine while enjoying Rhodes from the water!
Naturist Angel Club activities
Naturist Angel Club Hotel offers a range of on-site activities, such as playing giant outdoor chess, board games, billiards, table tennis, or even training archery. After a sporty day, you can get a massage!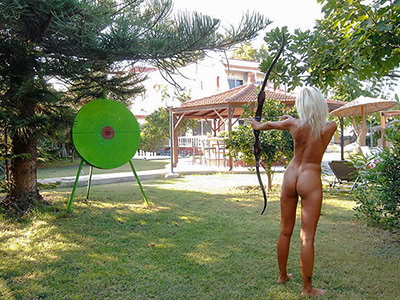 The resort can arrange nude sailing cruises which can include a visit to the nudist beaches, scuba diving, fishing, and barbecue.
Some evenings, they enrich the dining experience by the pool with traditional Greek music and dance entertainment, but they also surprise their guests with disco and karaoke nights.
For book lovers, the Naturist Angel Club hosts a small library.
Nearest nudist beach
The closest beach to the Naturist Angel Club Hotel is Paradise Mills, a 10-minute walk away. While not officially a nude beach, it is an undeveloped area where textile-beachgoers do not tend to congregate.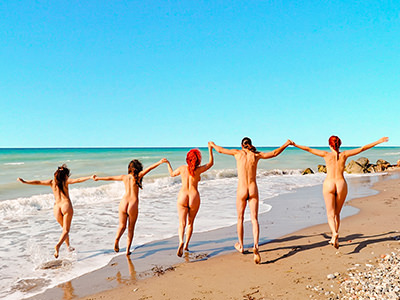 One of the first Greek nudist beaches, officially recognized back in 1980, is 25 minutes away by car. Faliraki offers a combination of sand and pebbles, as well as facilities providing food, and beach equipment (parasols, sun loungers).
Another recommended beach is Tsambika. The nude area is at the last 50 meters of the beach.
How to get to Naturist Angel Club Hotel?
Diagoras International Airport (RHO) in Rhodes is one of the busiest in the Mediterranean. This means it is connected with many European and world airports.
Naturist Angel Club Hotel is located in Paradisi (Paradeisi), the same village as Rhodes airport, just 5 kilometers to the south by the main road. The taxi will take you there in 8 minutes, and will cost 12 Euros. Rent-a-car options are available at the airport.
The naturist hotel is also connected with Rhodes Airport and Rhodes Town by public bus service.
For more photographs of Naturist Angel Club Hotel and their latest prices, click here!
3. Vritomartis Naturist Resort, Crete
Price: 68-125 Euros/night
Season: April 22 – October 31
Day visits: not allowed
With its name derived from the Minoan goddess Britomartis ("sweet virgin") worshipped on Crete, Vritomartis Naturist Resort is the pioneer of Greek clothing-optional tourism. This year, it celebrates three decades of successful nudism business operation.
Located on the southern shore of the largest Greek island, in a dramatic landscape between the Lefka Ori massif (White Mountains) and the Mediterranean Sea stretching all the way to Libya, the first Greek naturist resort is definitely a place with a view.
Vritomartis has 85 air-conditioned rooms, built in traditional Cretan architecture style. But they also like to point out how they keep up with the times, namely by improving their environmental policies towards more sustainable development.
View this post on Instagram
The centerpiece of the hotel is a 25-meter long swimming pool where most guests spend their days, enjoying the warm Cretan sun, or hiding away from it under the shade of the palm trees. Nudism at the pool is obligatory, at least from sunrise to sunset (the pool is open for night swimming too!), while indoor areas of the hotel require covering up.
Next to the adults' playground, there is also one for children, from play equipment to pool. Being a family business, led by the owner Nikos Dourountakis, Vritomartis takes care of the smallest guests too.
The guests often worship Vritomartis for the laid-back vibe in this serene corner of the island. Whether you want to lie down by the pool and read a book or walk through the extensive garden, Vritomartis Naturist Resort is a place where you can enjoy both a range of activities, as well as celebrate the inactivity itself.
Food & drinks
Vritomartis Naturist Resort has an onsite restaurant that serves buffet breakfast and dinner, included in the room price. Both Greek and international meals are on the menu.
The ingredients are mostly organic and locally grown. Vegetables in the salad come straight from the garden, olives jump into cocktails from the trees, eggs were given by hotel chickens, and yogurt you drink and cheese you eat were just goat and sheep milk a few days ago.
If you get hungry in the middle of the day, the Pool Bar Taverna can fix you with snacks, salads, sandwiches, pizza, pasta, and even local fish and meat dishes.
All of this can be accompanied by a glass of wine, champagne, and other alcoholic and non-alcoholic drinks. Of course, it wouldn't be Greece without ouzo and raki, so play along!
If you want to have a real Cretan food experience, join this intimate cooking class with a local family in the mountains!
Vritomartis Naturist Resort activities
There is a variety of things to do at Vritomartis Naturist Resort. If you are feeling sporty, you can engage in many garden games. Guests can play tennis, volleyball, shuffleboard, mini-golf, boccia, archery, table tennis, billiards, darts, and the most sweating sport of all – the giant garden chess.
For staying in shape, there is both a dry and aqua gym. Post-workout time is best spent in the sauna or under the hands of a masseuse.
If you prefer using brains to muscles, there are organized quiz nights, books to chose from the library, or even art classes to ignite your inner Picasso.
When you want to explore the island beyond the resort, there are bicycles and cars to rent, but also a free shuttle bus that can take you to Sfakia, the tiny capital of the region.
Furthermore, you can join the guided hikes to gorges (Samaria, Aradena, Imbros), explore local wineries, picturesque villages, and churches, and finally hop on the naturist boat trips that will let you discover the southernmost Greek island of Gavdos, as well as beaches and towns of Crete.
Back in the resort, you can count on relaxing with live music, DJ, or traditional dance nights. If you feel especially romantic, you can even celebrate your nudist wedding here!
For the most recent prices and reviews of the Vritomartis Naturist Resort, check here.
Nearest nudist beach
The island's only official nudist beach is practically a private beach for Vritomartis guests. Filaki is just 700 meters away, and it will take about 15 minutes to reach it on foot. Once there, you can make use of sun loungers and beach bar services (drinks and simple snacks available), as well as canoes that can allow you to explore other coves and caves in the area.
View this post on Instagram
Other nudism-welcoming spots worth exploring are Glyka Nera (Sweet Water Beach) between Loutra and Chora Sfakion, and the sandy dunes of Orthi Ammos near the village of Frangokastello.
How to get to Vritomartis Naturist Resort?
There are two airports on Crete – Chania (CHQ) and Heraklion (HER).  If you can choose, fly to the first one, as that one is closer to Vritomartis Naturist Resort.
Once you touch the ground, the resort will be 80 kilometers away, near the small coastal town of Sfakia. By car, it will take 1,5 hours to reach it. If you take a taxi, it will cost you 95 Euros. Most guests prefer to rent a car and be more independent during their holidays.
Are these naturist hotels in Greece still out of your comfort zone? Then check something less controversial - these Cyclades Islands beach hotels!
Clothing-optional resorts in Greece – Conclusion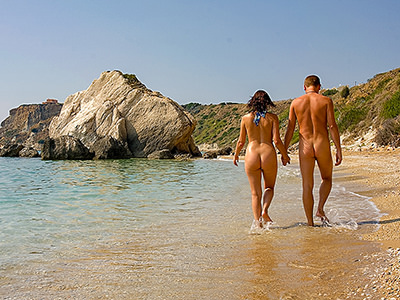 Times are changing. While just four decades ago naturist hotels in Greece were "welcomed" with hostility, today they are associated with hospitality, just like any other tourism niche.
Capitalism can change our moral regards. People came to realize that naturists don't just lie around the pool naked making the nudist resort owners rich. They also support the local economy by spilling money over to businesses, food and drink suppliers, restaurants, mini markets, coffee shops, taxi drivers…
Even the Church seems to be less orthodox about Greek nudist hotels these days, as Mark Taylor from Vassaliki resort testifies. "We have never had any issues with the Church here in Kefalonia", he says. "We are actually invited to our local churches every summer to celebrate with music, dance, and food on the church's saint's day."
Whether you pick Kefalonia, Rhodes, or Crete, the naturist hotels of Greek islands can be a stimulus to try something new and unpretentious
We've come a long way! Staying at clothing-optional resorts in Greece could even make you discover local saints! But vacationing naked, "as God made us", will definitely reconnect us with our essential nature. Stripped of class and social context suggested by clothes, nudism can make us rediscover things humans share.
Whether you pick Kefalonia, Rhodes, or Crete, the naturist hotels of Greek islands can be a stimulus to try something new and unpretentious.
Naturism can also be a quite affordable travel option, I thought. Carrying minimal luggage, nudists could indeed benefit from cheap flights with numerous low-cost airlines operating in Greece.
"You are so wrong with your suggestion that they travel light!", Mark corrects my delusion about Greek island naturist holidays. "I don't know what they bring with them, but some of the suitcases I carry up to our second-floor studios weigh a ton!"
Are you ready for naturist holidays in Greece?
Pin this guide to clothing-optional resorts in Greece for later!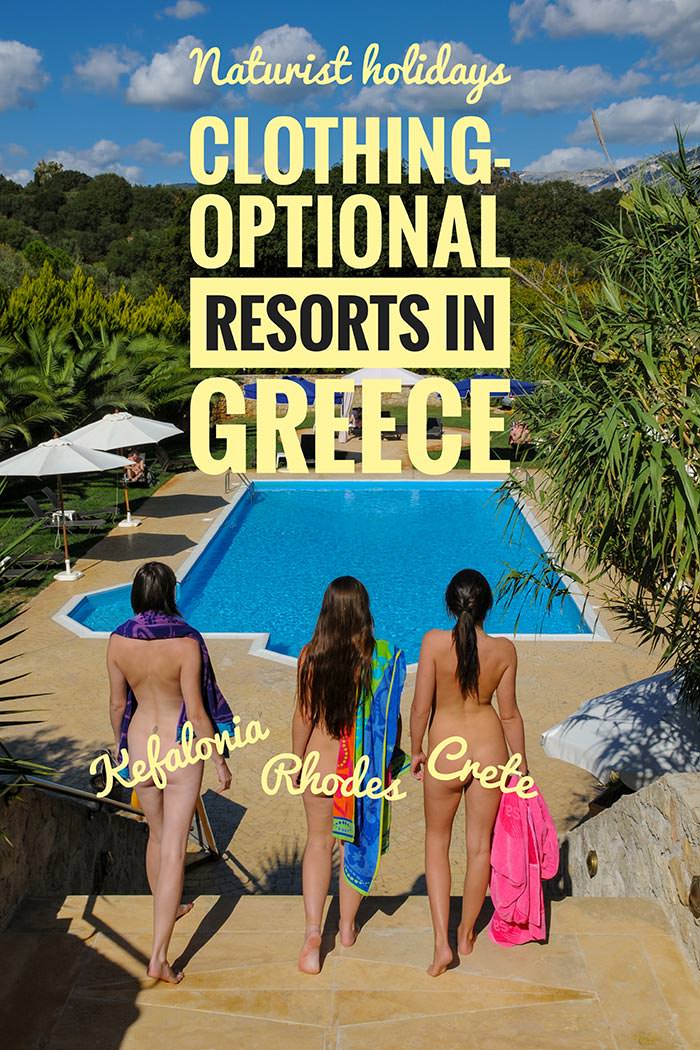 Disclosure: This post may contain affiliate links, which means if you click on them and make a purchase, Pipeaway might make a small commission, at no additional cost to you. Thank you for supporting our work!