It might seem all shiny and luxurious – the life of a travel blogger regularly enjoying free stays in five-star resorts and securing perks regular travelers can only dream of! While being a travel writer does bring benefits into one's traveling life, accommodation is not a gift from Santa Claus's bottomless sack!
Like most other travelers, I manage to stay on the road for the major part of the year by paying for my accommodation. That means – by finding great hotel and hostel deals! While I'm checking many resources, the service I use the most is Booking.com, which is why I also personally recommend it.
While the bookings in 2017 were suggesting the popularity of Southeastern Asia, the data of 2018 puts a spotlight on Southeastern Europe!
The good news is – you are using it too! In 2018, there have been 81.838 of you who have visited Booking.com through Pipeaway's affiliate links. And while the volume is confirming the trust you have in our recommendations, the concrete bookings you make can tell us more about the traveling trends of our users. While the bestselling bookings of 2017 have been putting the spotlight on Asia, the hit destinations, according to the data of 2018, are centered in Southeastern Europe!
Wherever you choose to travel in 2019, you can find some fantastic deals on Booking.com. But if you are a first time user, you might want to scroll down to the end of this article! I will be giving you an additional 10 percent discount on any booking deal you can find on that website!
But first, let's see Pipeaway readers' top accommodation choices in 2018!
1. Best Rest Guest House, Plovdiv, Bulgaria
In 2019, Plovdiv in Bulgaria is a European Capital of Culture. This will certainly make it one of the most attractive European destinations! If you didn't know it already, this is the oldest continually inhabited city in the whole of Europe! Plovdiv is packed with historical heritage behind every corner. On the other side, it is urban, creative and artsy at the same time, making it a perfect destination for the younger travelers too! It is therefore not such a surprise that the Best Rest Guest House recommended in our article is your no. 1 choice. If you are heading to Plovdiv, book in advance, as good beds in 2019 will be selling fast! To find other propositions on what to do in the town, follow Pipeaway's 24-hour itinerary through Plovdiv.
Booking.com guests review – 9,6/10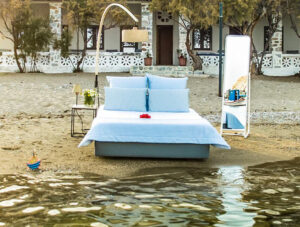 2. Hotels in Greece
Greece will definitely be a great summer destination in 2019! I was traveling through this beautiful country in May and June last year, and while I focused my writing mainly on Cyclades Islands, Delphi, and Mount Athos, there is so much more to explore in Greece! I will be probably heading back very soon! Here are some places whose popularity from 2018 will only grow:
Syros
Emily Hotel – Settled right on the Achladi Beach on the island of Syros, this small family-run hotel is just the right size! I wrote about it in the selection of the best beachfront hotels in the Cyclades.
Booking.com guests review – 9,8/10
Syra Suites – Not far from the previous hotel, Syra Suites offers luxurious, fully-equipped apartments. If you want to be self-sustainable during your Syros holidays, this should be your choice!
Booking.com guests review – 9,5/10
Serifos
Coco-Mat Eco Residences – Just above the Vagia Beach, one of the prettiest ones on Serifos, this hotel with exceptional breakfast places its rooms into the renovated miners' houses. It was my top choice in the best Cycladic beachfront hotels!
Booking.com guests review – 9,1/10
Paros
Paros Bay Hotel – Another eco-friendly hotel on the island of Paros is showing great respect towards the traditional Greek island architecture, but also incorporates a nice pool to refresh yourself, in case that waves on the beach are too rough.
Booking.com guests review – 9,0/10
Zefi Hotel – Naoussa is a traditional fishermen village on the northern coast of Paros. Zefi Hotel centers around the lovely swimming pool, a great option when you are too lazy to even walk to the special beaches the area is famous for. Here is a selection of things to do in Naoussa.
Booking.com guests review – 8,0/10
Athos
Gkeea Boutique Hotel – This stylish property with a wonderful breakfast is located in Ierissos, one of the lazy towns at the entrance to the mystical Holly Mountain (Agion Oros). The peninsula is reserved only for men, so Gkeea is a perfect oasis for the female part of the family, as well as for men returning from visiting the ascetic Mount Athos monasteries.
Booking.com guests review – 9,5/10
Delphi
Kastalia Boutique Hotel – If you are visiting Delphi, the center of the ancient world, Kastalia Boutique Hotel, run by a former plane crew couple, is a great choice! The portions in their restaurant are very generous, beware!
Booking.com guests review – 8,8/10
3. Hostels in Budapest, Hungary
Hungary is another country in Southeastern Europe that comes with a lot to offer, for extremely affordable prices. My favorite thing to do in Budapest is visiting its amazing spas such as Rudas Baths, or just enjoying some extraordinary cultural events in the city such as the annual Sziget Festival.
Here are the hostels Pipeaway's readers were booking in 2018:
Flow Hostel – Booking.com guests review – 8,8/10
Essential Hostel – Booking.com guests review – 8,0/10
Marco Polo Top Hostel – Booking.com guests review – 8,0/10
10 % DISCOUNT FOR YOUR BOOKING
Now that you got some ideas on where Pipeaway's followers enjoyed staying in 2018, why don't you look for your own getaway on Booking.com?
If you want to use a 10 % discount on your first booking, register through my referral link: https://www.booking.com/s/97_6/centar95. You will get a 10 percent refund reward after you make your first booking!
After registering, get back to this list of bestselling properties in 2018. If our readers AND other guests loved these, Pipeaway-approved listings might be your new compass for picking a place to stay! Start your best travels ever!
I'D LOVE TO HEAR BACK FROM YOU IF YOU STAYED IN ANY OF THE PROPERTIES MENTIONED ABOVE! HOW DID YOU LIKE THEM? PLEASE COMMENT BELOW!
DID YOU LIKE THIS ARTICLE?
PIN IT FOR LATER!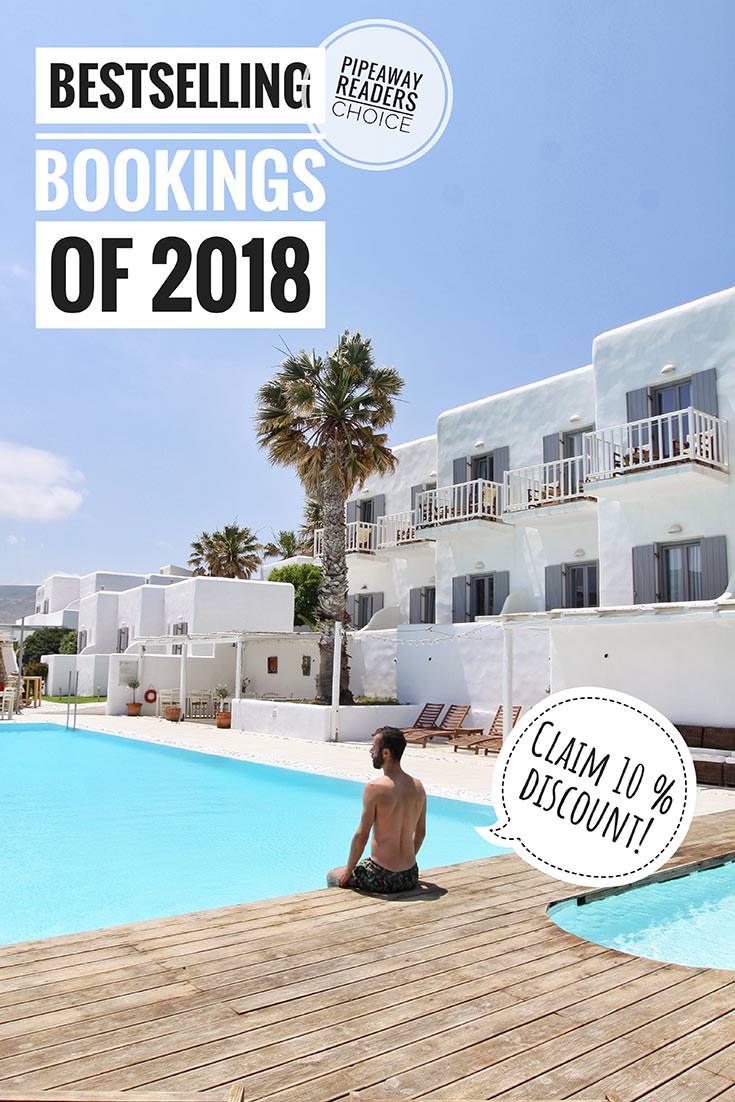 Disclosure: This post contains affiliate links, which means if you click on them and make a purchase, Pipeaway may make a small commission, with no additional cost to you. Thank you for supporting our work!