Have you ever heard of Plovdiv? This charming Bulgarian town with a population of barely 350.000 citizens transformed into the European Capital of Culture in 2019, sharing the title with Matera (Italy). However, Plovdiv has always been the cultural capital, not only of Bulgaria. As it was founded 8.000 years ago, it is considered to be the oldest continually inhabited city in Europe.
Plovdiv's long history kept traces of many nations that passed through this seven-hill town, including Thracians, Greeks, Romans, Turks, and Russians. But what is Plovdiv today?
Its recent cultural crown will boost Plovdiv tourism, so we propose you a travel itinerary to discover Plovdiv attractions in just 24 hours. Before the hordes of foreigners (this time cultural tourists) invade the oldest city in Europe again, come and enjoy its secrets!
Here is your guide on things to do in Plovdiv!
But first…
Where is Plovdiv?
Plovdiv is located in the center of southern Bulgaria, on the banks of the Maritsa River. The city grew on seven hills that, together with the river and two lions (!), made it to the Plovdiv's coat of arms. Yes, just like ancient Rome, Plovdiv is the City of the Seven Hills! The words dreven i vecen (ancient and eternal) also adorn the coat of arms. A wise choice when claiming the label of the oldest city in Europe!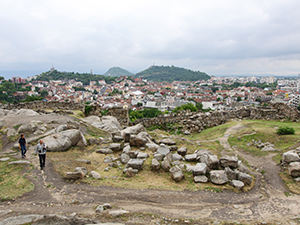 How old is Plovdiv, the oldest city in Europe?
The first archeological findings date to Neolithic Age; people were living here already at the end of the 7th millennium BC!
The Thracian post-Bronze Age settlement was called Eumolpias. After Philip II of Macedon conquered it in 342 BC, he named the town Philippopolis. Thracians took it back and changed its name to Pulpudeva. When it came into Roman hands in 72 BC, they renamed it Trimontium (the City of Three Hills).
In the first and second millennium, Plovdiv was shifting between Bulgarian, Byzantine, and Latin rule, until the Ottoman Turks seized it in 1364; they called the city Filibe. The Bulgarian national movement developed in the 19th century and Plovdiv was liberated in 1878.
How to get to Plovdiv?
The biggest airline flying to Plovdiv airport is a low-cost operator Ryanair. There are non-stop flights to Plovdiv from three major European towns: London, Brussels, and Milan.
Before the hordes of foreigners return to invade the oldest city in Europe, enjoy its secrets! Here is your guide on what to do in Plovdiv
However, I flew into Sofia first. From the Bulgarian capital, one can reach Plovdiv by bus or train. I found the train ride the most comfortable way to travel to the second-largest city in Bulgaria. Train from Sofia to Plovdiv takes 2-3 hours and leaves the capital throughout the day.
Plovdiv railway station screams for reconstruction and informative displays for passengers. When leaving from it to other towns such as Varna, Sofia, or even Istanbul, allow yourself enough time, so you can find your vaguely (if at all) labeled platform and train!
Even if you are taking a bus to get to Sunny Beach or Veliko Tarnovo, have in mind that Plovdiv has two main bus stations – North Bus Station and South Bus Station. Double-check which station serves buses to your desired destination!
What to do in Plovdiv if you have only 24 hours?
08:00 Have breakfast at Banicharnica, in the Roman Forum underpass
Crossing the bigger roads in Plovdiv, such as the Boulevard of Tsar Boris III Obedinitel, can be quite tricky. I've seen people running over this street, and losing shoes in a desperate attempt to save their life. Do yourself a favor, use an underpass!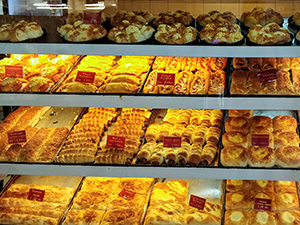 Pedestrian tunnels here are not just shortcuts from one side of the town to the other; they are also places to grab a quick bite. At walking distance from Best Rest Guest House, Banicharnica is a great place to start a day with – banitsa!
This typical Bulgarian food from the börek family is a baked pastry filled with cheese. It perfectly blends with ayran (salty diluted yogurt) and, at this subway, you can try a wide variety of banitsa! The one bearing the Plovdiv name is, I guess, the one you shouldn't skip.
09:00 Learn about Plovdiv at the Small Basilica with the baptistery
At the end of the fifth century, in the eastern part of Philippopolis, a small yet intricately decorated church was built. Its purpose was to commemorate Basiliscus, the military commander who defended the town against the Goths in 471.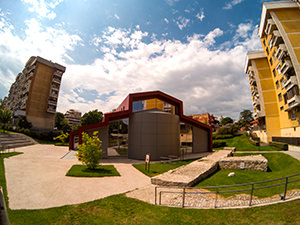 Several decades later, the church was destroyed and fell into oblivion. They accidentally discovered it during the construction of an apartment block in 1988. Small Basilica's precious floor mosaics with ancient symbols and animal depictions were then restored and conserved.
Today, you can enter into a modern red building covering the church ruins, and literally walk over the history kept inside. Do not miss the gallery where you can watch movies about Plovdiv past times. It is an excellent introduction to the oldest city in Europe. It might even provide you with new ideas on what to do in Plovdiv!
10:00 Appreciate history at the Ancient Theater
Even the already mentioned hard-to-cross boulevard, dug under the Ancient Theater, did not affect the stability of one of the best-preserved amphitheaters in the world.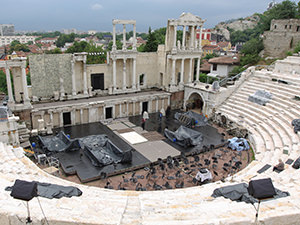 Built in the 1st century, under the rulership of Titus Flavius Cotis, the high priest of the Roman province of Thrace, this open-air arena served for theatrical performances, but also for hunter games and gladiator fights.
At its 28 concentric rows of marble seats, this Ancient Theater could accommodate about 5.000 spectators!
Even today lovers of performances and concerts can enjoy cultural life here, making Roman Theater one of Plovdiv's highlights and top sights in Bulgaria. Events ranging from opera to rock occupy the main cultural stage of Europe's oldest city!
11:00 Take a walk through the Street of Knyaz Alexander I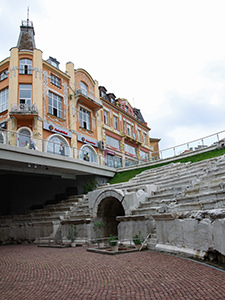 Knyaz Alexander Street is a pedestrian artery of Plovdiv. Lined with shops, the promenade ends at the northern tip of the Ancient Stadium of Philippopolis, constructed in the 2nd century. This is one of the largest Roman buildings in the Balkan peninsula, a must-see Plovdiv attraction!
The largest part of this 240-meter-long Roman stadium remains under the new architecture they built above it. Enter H&M or Excelsior, and you will have a unique shopping in Plovdiv experience, with visible rows of marble seats where the audience once cheered for their favorite sportsmen. The games similar to the Pythian Games in Greece also included music, poetry, and art contests. The short animated movie on the Ancient Stadium is screened continually at a 3D cinema.
If you want to know more about the history of stadiums and theater, read about Delphi, the center of the ancient world!
In the northern part of the street, you will also find Tavex, where you can exchange your money (and gold!) at the best rate.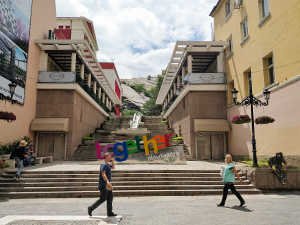 For a detour, visit Danov Hill (Sahat Tepe) with its famous five-century-old Clock Tower that doesn't work. The only man who knew how it operated – died with the secret.
At the bottom of the stairs leading up to the hill, there is a statue of Miljo the Crazy, the town's legend. Supposedly, this Casanova brings luck in love (if you rub his knees), and makes wishes come true (if you whisper them in his ear).
If you join the free walking tour through Plovdiv, you will learn even more interesting facts and figures about the oldest city in Europe! Free Plovdiv Tour starts every day in front of the Town Hall, at 11 am and 6 pm from May to September, and at 2 pm for the rest of the year! If you listen to your tour guide carefully and provide correct answers, you might even win some candy! For me, it was a rewarding experience as it gave me additional ideas on what to do in Plovdiv during my 5-day stay.
13:30 Grab lunch at Supa Bar or La Pasta
At the northwestern corner of the Garden of Tsar Simeon, there are two places where you can eat (or take out) a quick meal.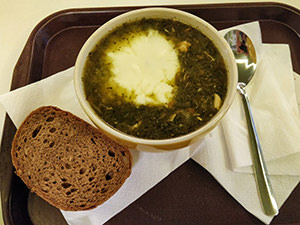 Supa Bar is a part of the growing trend of street food places serving traditional Bulgarian soups, sometimes with a twist (You want a beer in your soup? You came to the right place!).
If you are more into Italian food, just across the street, there is equally decent La Pasta.
The good thing about Supa Bar is that it is open all day long on Fridays and Saturdays, so mark this spot in your Plovdiv map in case you get hungry after the night out!
14:00 Hike to Alyosha Monument
Unless you ate your lunch on the spot, bring it with you to Bunarzhik or The Liberators Hill. The hill is better known as Alyosha Hill, after the gigantic Soviet soldier's monument erected in 1957.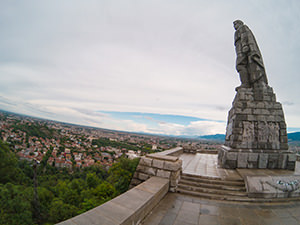 With 11 meters in height, the concrete statue is too big to go unnoticed, but also too big to get easily removed. There were ideas of turning the unwanted sculpture into a Coca-Cola bottle or a Superman, but for now, the remaining memory of the "liberating" Red Army stands still.
The top of the hill provides excellent views of Plovdiv and, for me, it certainly presents one of the more interesting Plovdiv places to visit.
16:00 Eat something sweet at Dzhumaya Mosque or Dolce Fellini
Dzhumaya Mosque was built on the site of Sveta Petka Tarnovska Cathedral after the Ottomans conquered Plovdiv.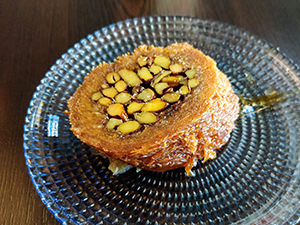 Besides being just another example of the fact that different civilizations wanted to settle themselves in the oldest city in Europe, this Plovdiv mosque is locally famous for its Turkish coffee and pastry shop.
I had an extremely hard, but extremely tasty halep sarma, a pistachio-filled cake served by a proportionally unkind waitress.
The service is much better at Dolce Fellini, as long as you are willing to exchange Turkish sweets for Italian ones.
16:30 Admire the Thracian gold in Plovdiv Archeological Museum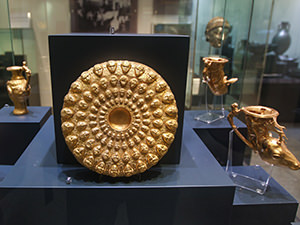 If you have time to visit only one museum in Plovdiv, choose this one!
Plovdiv Archeological Museum was founded in 1882, which makes it one of the oldest Bulgarian cultural institutions.
Its ever-growing fund (as there are numerous archeological excavations carried out in the Plovdiv region every year!) consists of over 150.000 artifacts witnessing the history of the oldest city in Europe.
From prehistoric to revival art, with the country's second-largest numismatic collection, this museum speaks to anyone who wants to dig under the surface of historical dust.
18:00 Buy souvenirs at Plovediv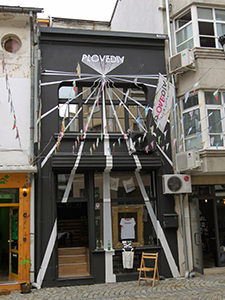 Two guys started printing T-shirts with the "All we need is Plovediv" message, and the rest was history. The results are two outlets of the design project Plovediv, aiming to brand the city message by incorporating a heart into its heart, through wordplay.
Located in Kapana, undoubtedly Plovdiv's coolest district, these products seem to be at the very logical home.
One of their printed slogans says: Make Plovediv, not Warna! Which doesn't mean you shouldn't head to the coastal town of Varna, and explore its secrets too!
At Plovediv shops you can indeed buy a mug or a postcard that will keep reminding you of your Plovdiv holidays, but you can also experience more than pure shopping! Find the hidden exhibition gallery above the main store, or join the book reading event!
18:30 Have dinner at Fresh Pasta or Pavaj
Fresh Pasta is 250 meters away from the Regional Archeological Museum Plovdiv. It is an upgraded version of La Pasta and serves the meals on real plates.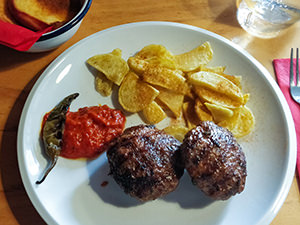 For a more local Plovdiv food experience, head to the center of Kapana. Pavaj is a relatively new addition on the map of Plovdiv restaurants, but locals' favorite from the start. It provides a cozy atmosphere with its bold black walls, old radios, and decorative lights.
Founded in 2015, Pavaj aimed to transform fresh produce into delicious meals and got awards for them on the side, quickly rising to the top of the list of the best restaurants in Plovdiv.
It is true that I waited for more than half an hour to get a relatively simple dish – meatballs Mimi Ivanova with Bulgarian French fries, lyutenitsa, and chili pepper. The good thing about this place is that you can pay in Euros as well.
19:30 Pet cats and drink beer at Nebet Tepe during sunset
Nebet Tepe is the place of the first prehistoric settlement on the Three Hills. While walking up to this archeological complex, have in mind that you are practically walking over two hills!
That's right! You will see seven hills on Plovdiv's flag, and you will hear everyone talking about seven hills, but you will have a hard time spotting the seventh one!
That is because it was blown up (at its place, the shopping mall – of course – was constructed), and they allegedly used the hill's stone for building other things, such as paving the roads to the top of Nebet Tepe.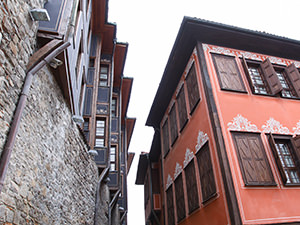 On the way to the top of this historically significant site, enjoy the architecture of the Old Town of Plovdiv, a part of the UNESCO World Heritage tentative list!
If you've found some timeslot in the day, the visit to the Ethnographic Museum is worth considering. Learn about Bulgarian traditions in this black-painted building that has 130 windows, the biggest number in the whole town!
If you want to know more about the longest continually inhabited place in Africa, read about the stone kingdom of Aksum!
Old Town's Renaissance houses are also Plovdiv sights you should try to squeeze into your itinerary! Personally, I enjoyed the visit to the House-Museum Hindliyan, once owned by the Armenian merchant Stepan Manuk. His trade with India made him so rich that this house, constructed in 1835, included the fountain that poured rose water and the bathroom that had floor heating!
Plovdiv Old Town is a perfect place for cat lovers! The city had problems with stray dogs before, and when they solved it, the cat kingdom prospered. They are friendly to pets, so reserve one hand for the cats, and the other one for the beer, while enjoying sunset views of Plovdiv.
21:00 Dance with Singing Fountains
Bulgarians invited Swiss landscape architect Lucien Chevalas who in 1892 created Tsar Simeon's Garden. It earned him the nickname "the Minister of flowers".
Today, this beautiful city park is one of Plovdiv's attractions, home to plants, sculptures, and even modern children's playground.
From Thursday till Saturday, every evening at 9 pm, the Lake with the Singing Fountains delivers a spectacle of music and light.
22:30 Get lost in Plovdiv bars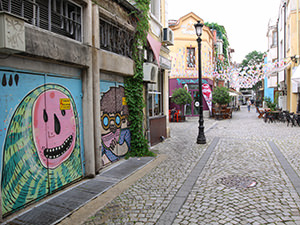 In Bulgarian, Kapana literally means – the trap. Beware when going there "for just one drink"! The unwritten rule says that if you plan to spend thirty minutes in this neighborhood and drink one beer, you won't come home for hours, and will undoubtedly drink – five!
Kotka i Mishka (meaning: cat and mouse) is one of the locals' favorite bars serving craft beer. Get trapped there, or find another hole in the wall that grabs your attention.
The town branded Kapana as a district dedicated to art and creative industries, an important hub of the European Capital of Culture.
Visiting Kapana, the city's creative district, is one of the best things to do in Plovdiv. As long as you can find the way out!
Street art, galleries, workshops, ateliers, trendy restaurants and shops are popping up there daily, while the pedestrian zone gets enlarged.
Don't get lost here only in the evening searching for the best of Plovdiv nightlife. These streets are perfect for refreshing yourself with drinks, ideas, and colors at any time of the day! Visiting Kapana is one of the top things to do in Plovdiv, do not even consider skipping it!
02:00 Sleep at Best Rest Guest House
Plovdiv accommodation options range from boutique hotels to cheap hostels.
If you are looking for comfort at a comfortable price as well, Best Rest Guest House will deliver!
This cozy hostel is ideally located between Plovdiv center and the city's train station. Close enough that you can walk anywhere, far enough that the noise of the central buzz spares you.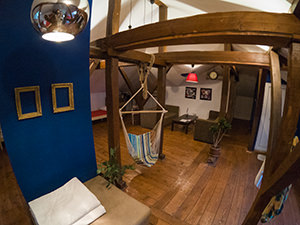 Best Rest Guest House opened in Plovdiv in 2015 and gets excellent reviews ever since, for a good reason. Forget the idea of bed-clogged hostel dorms; this place appreciates the personal space of every traveler. The attic dormitory, for example, hosts only eight travelers at its 100 square meters! If you want even more privacy, there are even 2-bed rooms, at the most affordable prices!
Comfortable beds, safe and large enough storage for your valuables, nicely designed common areas, well-equipped kitchen, and even a business room if you need to work with high-speed internet and prefer to use a proper office chair (I enjoyed the hammock in the dormitory for this purpose too)… What else would one expect to get after returning from a long day of Plovdiv sightseeing?
This Plovdiv guest house brings precisely what it promises in its very name – the best rest.
Things to do in Plovdiv in 24 hours – conclusion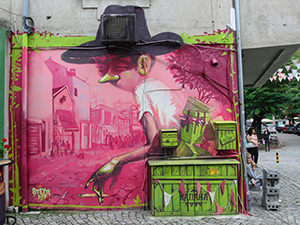 Let's face it; there is no way to explore all or most of the Plovdiv secrets in just one day! Also, I don't have the correct answer to the question of how many days Plovdiv demands from your Bulgarian trip.
I planned to visit Plovdiv and stay there for two days. I ended up leaving the town after five days! And this was before it transformed into the European Capital of Culture!
If you arrive with the question "What to do and see in Plovdiv?", the town will offer quite a long list of answers.
If you add day trips from Plovdiv, to places such as Asenovgrad, Red Church, Chudnite Mostove, or even Kazanlak, you can certainly fill up an exciting week of exploring not only the oldest city in Europe but also some of the best places in Bulgaria!
Did you like this article?
Pin it for later!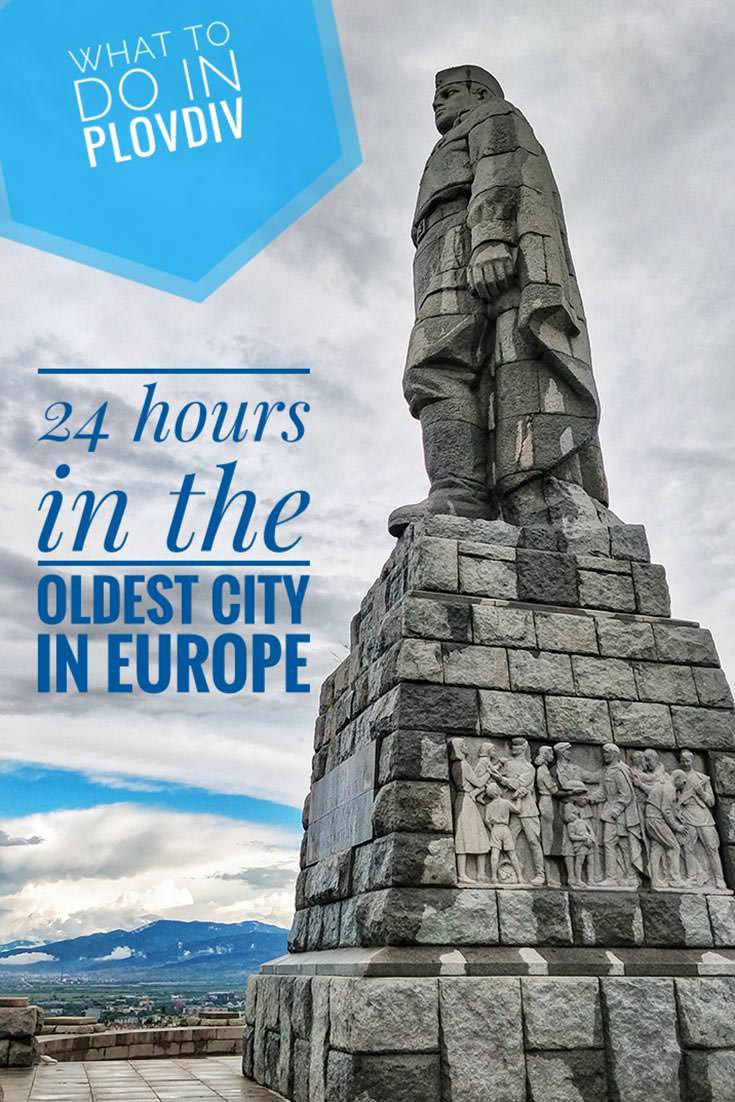 This article was updated on March 20, 2021.
Disclosure: My stay at Best Rest Guest House, as well as my visit to Plovdiv museums and 3D cinema was complinentary or consumed at a discount, but all opinions are my own.

Also, this post contains affiliate links, which means if you click on them and make a purchase, Pipeaway might make a small commission, at no additional cost to you. Thank you for supporting our work!