Prometheus was bound to a rock when an eagle was eyeing his liver. Sisyphus was punished by pushing a massive boulder up a steep hill without an end in sight. Medusa's intense gaze was literally petrifying those she confronted. Deucalion and Pyrrha did the opposite: they repopulated the post-flood Earth by turning rocks into people. Even the famous oracle site of Delphi was determined as the center of the world by dropping a stone. Greek mythology is full of rock-solid stories. But if legends were cast in stone in any part of Greece, it would be in Zagori, Epirus.
Zagori, as its Slavic-derived name suggests, is the place behind the mountain, the hidden side of wild Greece
Zagori Cultural Landscape is one of UNESCO's newest picks for the list of World Heritage Sites. Nestled in this remote rural area, there are stone villages in sacred forests, linked by a network of stone-arched bridges, stone-cobbled paths, and stoned staircases. They were recognized as a tradition coexisting together with the mountain topography.
For centuries, the hardly-accessible area of Zagori was the chosen home of always-moving shepherds and herbal healers. Even today, there are just four people per square kilometer here. Untouched by the relentless march of human activity, the lush natural landscape of Zagori, crisscrossed mainly by age-old donkey tracks, has become a safe haven for many endangered species.
Zagori is more than an authentic place for discovering ancient traditions. The Pindus Mountains offer a full-blown adventure with a wide range of outdoor activities. It's the hidden wild Greece, the place behind the mountain, just like the meaning of Zagori's Slavic-derived name suggests.
Today, I'll introduce you to the highlights of Zagori tourism, and explain why you should include the escape to the stone-laden Epirus paradise in your Greek travel itinerary. Start planning your visit to Zagori!
If you're intrigued by human fascination with stone, check out the Kingdom of Aksum, the Ethiopian Stonehenge!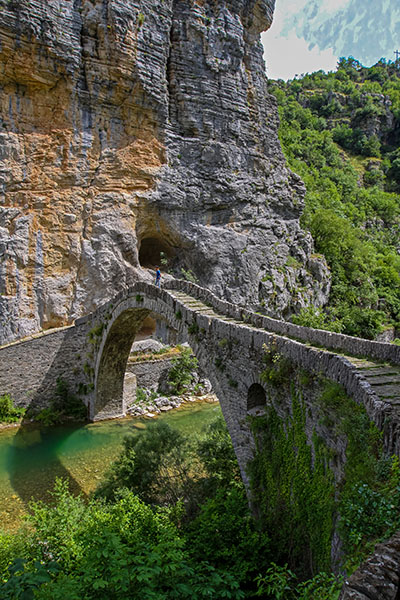 Where is Zagori in Greece?
So where in the world is this magical Zagori in Greece, you ask?
Zagori is located in the Pindus Mountains, snuggled up in the rugged embrace of the largest mountain range of the Greek peninsula. We're in northwestern Greece, in the region called Epirus.
From the basin of Ioannina, the province's capital, in the south, Zagori is separated by Mount Mitsikeli. To the west, Mount Tymphi acts as a border guard, while the region's northern and eastern frontiers are set by the river Aoos and Mount Mavrovouni.
The rock world of Zagori
What truly sets Zagori apart is the harmonious marriage between natural resources and human residents who have been present here as early as the Old Stone Age. Both nature and people have been shaping the landscape as we know it today, with rocks as the building blocks of Zagori's unique character.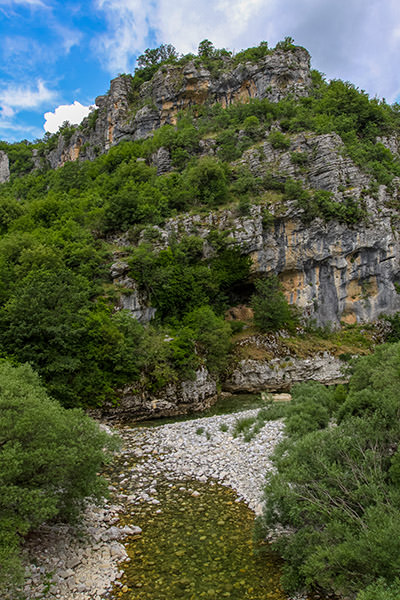 The natural landscape of Zagori
Zagori is the region renowned for its pristine wilderness, a dramatic landscape characterized by deep ravines, lush forests, and undisturbed rivers.
Probably the greatest testament to Mother Nature's grandeur in Zagori is the Vikos Gorge, one of the deepest canyons in the world. But the entire mountain complex in Zagori is an impressive gallery of geological wonders, from rocky slopes and steep cliffs to caves and precipices.
Such a natural landscape, with limited intervention from humans, became an important shelter for biodiversity, with many endemic and emblematic species, from brown bears and wild goats to butterflies.
An important role among the habitats was played by sacred forests. Even against their everyday needs, Zagorians have protected the woodlands surrounding their villages, believing that they connect them with God and saints, but also save them from floods and landslides. The protection is absolute, often controlling grazing or even collection of acorns or dead wood. Sanctuary trees adjacent to churches and chapels are exempt from felling too, under a threat of supernatural punishment for offenders.
The water world also has both real and symbolic importance in the life of Zagori. The mythological power is appointed to Voidomatis River, which is believed to have rejuvenating properties, and Drakolimni Lake, which shepherds prefer to avoid in fear for their sheep. According to a legend, the subalpine lake is home to a dragon of Tymphi who fought the neighboring dragon of Smolikas. It got so heated that they hurled trees and rocks at each other. That's why, on the black shores of Tymphi's dragon lake one can now find white stones, and on the white shores of Smolikas Drakolimni, black stones are scattered.
For real-life dragons, head to the mountains of Slovenia, where Postojna Cave hides an unusual resident. 
The rough environment of Greek wilderness grown upon limestone easily inspires. It comes in plentiful beautiful forms, but a couple of them especially caught my eye: the rock pools and the stone forest.
Papingo Rock Pools
In between the villages of Mikro Papingo and Megalo Papingo (also transcribed as Papigo or Papigko), the stone-paved path leads to nature's architectural show-off: the Papingo Rock Pools. Limestone rocks eroded by the Rogovo stream and its waterfalls formed peculiar terraced pools known as kolymbithres (baptismal fonts).
Crystalline water is perfect for cooling off during the sweltering summer. Even Ali Pasha, the Ottoman governor, couldn't resist taking a dip. If you can handle lower water temperatures and don't mind harmless frogs, Papingo Rock Pools are the ideal pitstop for a refreshing splash between Mount Tymphi hiking adventures.
View this post on Instagram
Stone Forest of Zagori
Another, strangely less popular, natural rock attraction is Petrino Dasos, the Stone Forest of Central Zagori. Located between the Monodendri village and Oxya viewpoint, this geological wonder resembles petrified trees. Thin layers of limestone pancakes, stacked in towers, are surrounded by a real oak and maple forest.
The stone pillars in Zagori's karst landscape are a result of millennia-old natural processes. Well, myths would disagree, as they prefer more dramatic storylines. According to them, the gods got involved with some misbehaving giants and punished them by turning them into stone.
The man-made landscape of Zagori
The naturally fortified mountain landscape of Zagori provided a secure space for people too. They created refuge settlements, protecting them with a magical circle of stone chapels in the shadows of sacred trees. They believed these would defend them from demons, diseases, and anyone who might come knocking with unfriendly intentions.
The center of the village would be built around the equally sacred plane tree. From the main square to the fringes, dry-stone construction was the main building method. Despite the mountains being a buffet of lumber, practically all buildings in Zagori were made of stone, topped with slate roofing.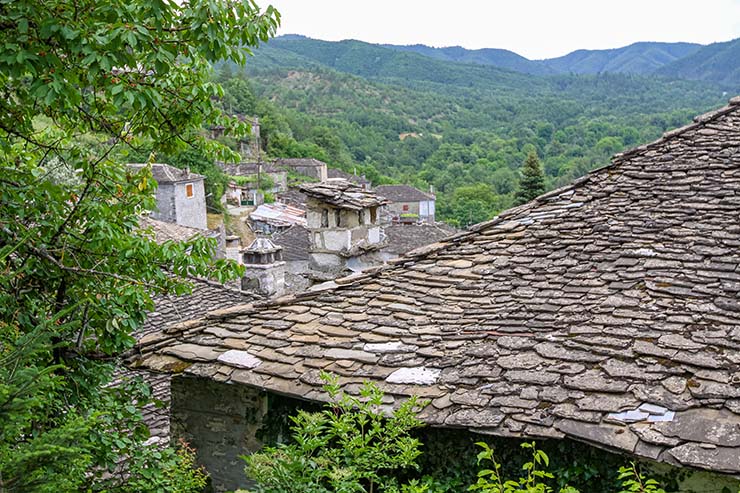 The variety of structures made of stone pops up on the Zagori map: houses and mansions, schools and churches, cobbled pathways and paved courtyards, garden walls and terraces, road signs and fountains, cisterns and wells, watermills and threshing floors, huts and sheepfolds. Stone was a nature's gift to Zagori, and the settlers embraced it fully, by creating constructions that seamlessly blend into the landscape.
This stone lover's utopia required skillful craftsmanship, but Zagorians were determined to create a self-sufficient environment. While taming the harsh landscape, two man-made solutions seemed especially impressive to me: the stone bridges and the stone paths of Zagori.
Stone bridges of Zagori
The intense relief and the numerous rivers in Zagori dictated the construction of numerous stone-arched bridges. Local stonemasons rolled up their sleeves and erected an impressive network of more than 160 Zagori bridges, creating their architectural identity during the 18th and 19th centuries.
Today, you'll find nearly 100 traditional stone bridges still standing in Zagori, each with its own personality. Depending on the width of the river, these bridges can have one, two, or even three arches (kamares). These are their most iconic representatives!
Kokkorou Bridge
Kokkorou Bridge (sometimes written as Kokoris Bridge) is located right on the central road of Zagori, after you've passed the village of Dilofo, and just before Koukouli and Kipoi. This imposing single-arched bridge rises 11.60 meters above the bed of Voidomatis Potamos, one of Europe's cleanest rivers, right at the beginning of the Vikos canyon.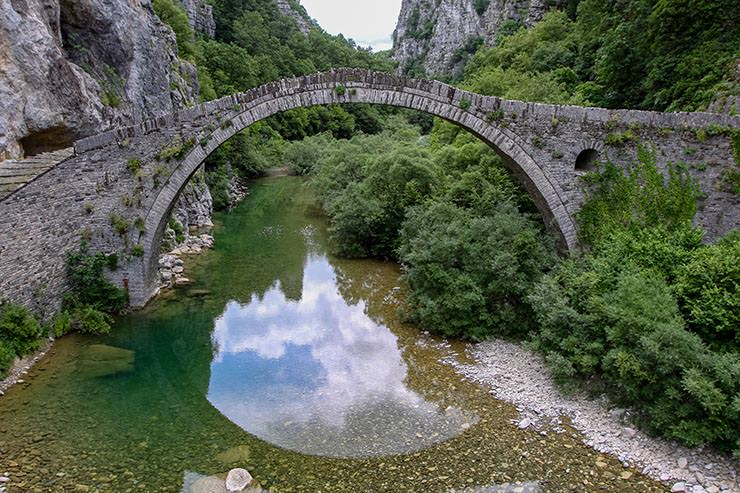 Originally constructed in 1750 (back then, it bore the name of its generous benefactor Noutsos Kontodimos), the bridge had to go through many repairs and even complete rebuilds. Grigoris Kokkoros, the owner of the nearby mill who sponsored the 1910 renovation, gets the credit for the bridge's new name.
The legend says that the Bridge of Kokkoros was used as a makeshift court during the high water levels. If someone were accused of theft, they'd have to cross the flooded bridge with a goat on their back. If they didn't drown, they would be pronounced innocent. However, if the river was stronger, the defendant would be pronounced, well, dead.
Milos Bridge
Just outside Kipoi, Milos Bridge is an even older and quite unique bridge. While listed as a two-arch bridge, it actually has another, smaller arch.
Built in 1748 and named after an old mill, Milos Bridge crosses the Bagiotikos stream (Mpagiotiko), a tributary of Voidomatis.
Every year on Epiphany Day (January 6), this is a site of a peculiar tradition; the local priest climbs the bridge to toss a cross into the river.
Plakidas Bridge
The arched bridge of Plakidas is one of a few Zagori bridges with three arches. Located between Kipoi and Koukouli villages, the monumental Plakidas Bridge crosses the Voidomatis River at the site of an older wooden bridge erected in 1814.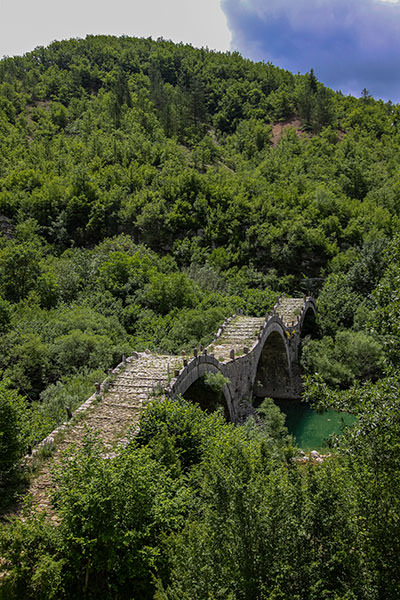 In its early days, it was called Kalogeriko (kalogeros = monk), in honor of the abbot Seraphim who funded its construction. In 1860, the bridge was replaced with a sturdier stone version, and named after the engineer Alexis Plakidas.
Today, the 56-meter-long caterpillar-like construction is one of the most photographed bridges of Zagori.
By the way, if you find some of the vertical stones (arkades) decorating the edges of Zagori bridges missing, know that it could be connected to local superstitions. Women who suffered miscarriages would come to the bridge and throw one of these arkades into the water, to "punish the river". Sometimes, even the river has to answer for its crimes.
Stone paths of Zagori
Besides the very high concentration of stone-arched bridges, the people of Zagori also maintained a network of stone paths denser than in any other part of mountainous Greece.
Before the modern roads arrived, this web of mule roads, footpaths, and staircases on steep slopes was the lifeline connecting the 46 villages to each other, and to the rest of the world. They were Zagori's version of a highway to the big city bazaars and markets.
Pathways that morphed into staircases when the landscape demanded it were the quickest way for villagers to get to their fields, vineyards, and pastures. Nowadays, these historic routes have become tourist trails, and the stars are the stairs of Vradeto, Vitsa, and Kipoi-Koukouli.
View this post on Instagram
Vradeto Steps
Before 1974, when the road for motorized vehicles finally reached Zagori's highest and most isolated village, the Vradeto Steps, or Skala Vradetou, were its only connection to the world. The hardworking villagers of Vradeto handcrafted this historic stone staircase in the early 18th century, and it took them two decades to complete it.
The masterpiece of engineering carved into the cliff face of the Mezaria Ravine, this cobblestone trail links Vradeto with Kapesovo through a staggering 1,100 stairs, 39 bends, and two well-preserved bridges – Pera and Dothe. The Skala of Vradeto covers an altitude difference of 250 meters and spans 1.5 kilometers. It's a stairway to cardio heaven!
Vitsa Steps
The Vitsa Steps, or Skala Vitsas, made their debut in 1868. For about a century, this was the only link between the villages on either side of the ravine. The paved path starts in the village of Vitsa, and winds down through a dense, centuries-old forest, all the way to the gorge bed, crossing Voidomatis via a double-arched bridge of Missios (built in 1748).
Locals call Skala of Vitsa – Skala sto potami (steps to the river), or Skala tis Kyr Alexainas (Mrs. Alexena's staircase). Unlike most other constructions in Zagori that had exclusively male patrons, the staircase of Vitsa was financed by a woman, Angeliki Papazoglou.
Koukouli Steps
The Koukouli Steps, or Skala Koukouliou, is a stone path connecting the villages of Koukouli and Kipoi. The old cobbled road turns into a 500-step staircase, heading down from the western side of Koukouli to the shores of Voidomatis. The path then follows the river bed until Kokoris Bridge, continuing through a thick forest and bringing you to Plakidas Bridge.
Then from Lazaridi Bridge (or Kontodimos Bridge), crossing the Vikos River, you can complete the loop hike, by ascending the Kipoi-Koukouli trail via another set of stone stairs.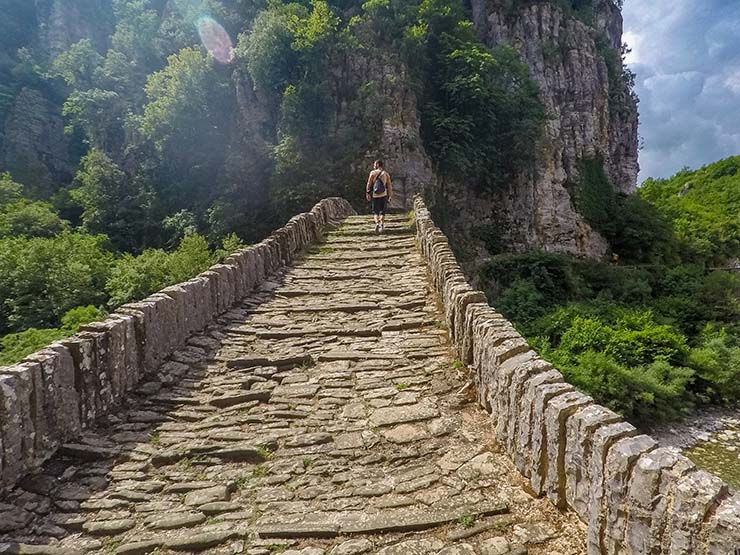 Hiking lovers will find a home in northern Europe as well. Check out some of the most famous rocks in Norway!
Planning your trip to Zagori, Epirus
Now that you're enticed by stone wonders and stunning landscapes in Zagori, it's time to plan your adventure. To make the most of your visit to this hidden gem (a gem is a stone, see what I did there?), consider the following tips!
The best time to visit Zagori
The best time to explore Zagori is during the spring and early autumn months. In this period, the weather in Zagori is mild, perfect for outdoor activities, and the landscapes are in full bloom. From May to July, wildflowers blanket the scene, while in September and October, the foliage brings out the fiery autumn colors.
In high summer, the temperatures can be scorching hot. The typical highs can hit 33 degrees Celsius in August, while the average high in winter can be as low as 9 degrees.
June is the most popular month among visitors, which also means a spike in prices. The cheapest month to visit Zagori is November, when there are fewer tourists.
Zagori accommodation
Zagori offers a variety of accommodation options, from traditional and boutique hotels to beautifully renovated stone houses and farm stays. There are no campsites in Zagori, and camping is officially forbidden.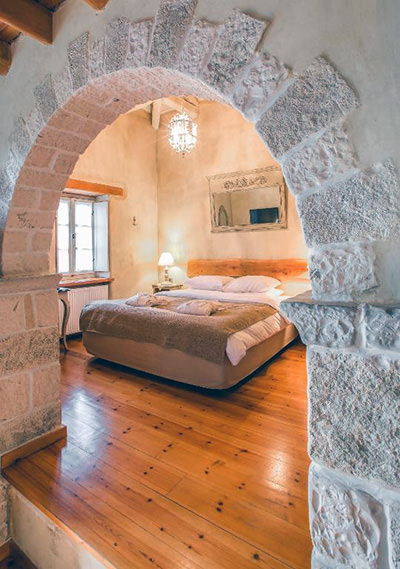 Papigko offers the widest array of choices, but the villages of Monodendri, Aristi, Ano Pedina, and Vitsa are also popular solutions.
These are my favorite accommodation picks in Zagori:
Zagori transportation
How to get to Zagori? The closest entry point is Ioannina International Airport. To find the cheapest flights from your corner of the world, click here.
Once you've landed in Ioannina, the smart move is to grab a rental car. It's your ticket to freedom in exploring Zagori at your pace, and it's perfect for those inevitable detours when you just can't get enough of the scenery. The roads are well-maintained. To compare the available rental car options for your dates, click here.
While there's some public transport in Zagori, it is quite limiting in terms of available bus stops and schedules.
Local guides in Zagori
To discover hidden trails, untold stories, and the true essence of Zagori's cultural landscape, think about hiring a local guide.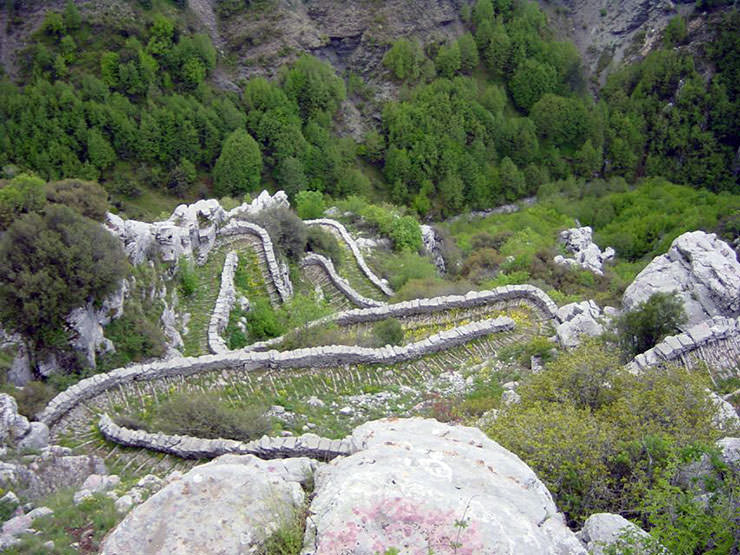 Depending on where you kick off your adventure, here are some guided tours you could consider:
In Ethiopia, another UNESCO World Heritage Site centered around the stone as the building block of local culture. Click to see Lalibela rock-hewn churches!
Zagori, Epirus, the rock star of Greek tourism – Conclusion
Greece is much more than just archeological ruins or seductive beach holidays. In the rugged Epirus, a hidden treasure up Greece's northwestern sleeve, an empire of stone is celebrated by both nature and those who dared to tame it.
Zagori Cultural Landscape has all the values UNESCO's World Heritage Sites typically come with. The balance achieved between the set and the settlers is a living lesson worth learning from. Nature and human perseverance have written a story that's as solid as, well, a rock.
Nature's design in Zagori, with gorges, rivers and forests, has been scaled up by human architects, crafting bridges, houses, and pathways out of stone
We don't need to believe in divine miracles or epic dragon battles to let the amazement overtake our impressions. Zagori's environment transcends religion and folklore. The stability of this stone universe, where humans, forests, and endangered creatures can thrive together, is a testament to partnerships that benefit all.
Nature's grand design in Zagori, with majestic gorges, powerful rivers, and abundant greenery, has been scaled up by our own masters. We've crafted bridges that arch high to the skies, homes that cozy up to rocks, and stone paths that will outlast the expiration date of the asphalt. Zagori's landscape is a tribute to respect, skillful cohabitation, and minimal interference.
There is truly a lot to learn in this Greek land where green and stone forests stand shoulder to shoulder and traditional architecture merges with the mountain, like one.
When you come to Greece, Zagori deserves a place on your checklist. Whether you're in Santorini, Athens, or Thessaloniki, pay a visit to Zagori. After all, it is just a stone's throw away.
Did you like this introduction to the Greek land of stone bridges and forests?
Pin this guide to Zagori, Epirus, for later!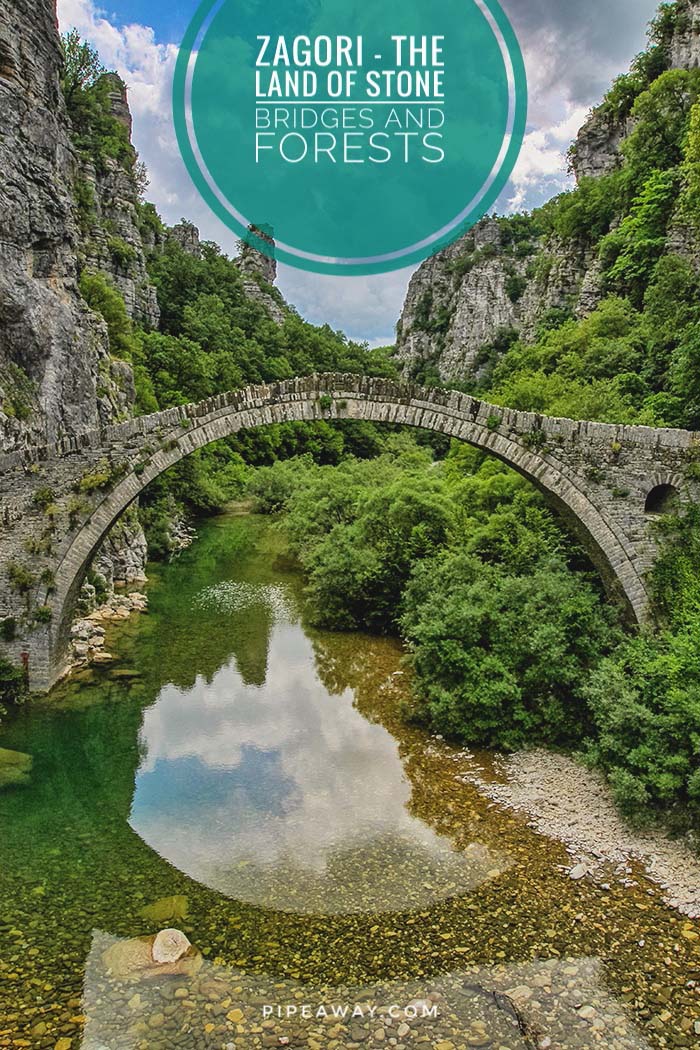 Disclosure: This post may contain affiliate links, meaning if you click on them and make a purchase, Pipeaway may make a small commission, at no additional cost to you. Thank you for supporting our work!