From spotting rare pink dolphins in Louisiana waters to witnessing Lake Techirghiol in Romania turning pink due to high temperatures, it seems as if even nature these days is employed by the "Barbie" movie marketing department. The commercial society wired our brains to associate blue, the omnipresent color in nature, with boys, thus making us perceive pink, "the girly color", as –  less natural. Even if pink is not the invention of the "life in plastic" industry, people still ask Google – are pink lakes real?
With no special effects, nature finds ways to surprise us. Defying the conventions, it paints rather unusual masterpieces – pink lakes
Well, pink is not that uncommon in nature at all. It is flowers' favorite magnet for insects and birds; from cherry blossoms to pink muhly, this color is essential for the survival of floral species. Even fauna comes in rose hues, from domestic pigs to wild flamingos, from pygmy seahorses to poisonous sea anemones.
So yes, the seemingly surreal pink lakes are real and perfectly normal. They are quite rare though, but that's what makes them extra special.
The Barbie of my childhood was Pippi Longstocking, the "strongest girl in the world". I still vividly remember following her adventures on TV and being amazed by her travels over the world's seas. On the screen, the Yellow Sea was depicted as yellow, the Black Sea as black, and the Red Sea – as red of course. My fascination with this striking "reality" served by the fiery redhead worked because blue is engraved in all of us as THE color of our planet.
But here and there, with no special effects, nature finds ways to surprise us. Defying the conventions, it paints rather unusual masterpieces – pink lakes. What causes these lakes to blush with shades of pink? How do they maintain their stunning colors throughout the seasons? Are pink lakes dangerous, or can you swim in them?
Discover the best pink lakes in the world!
But first…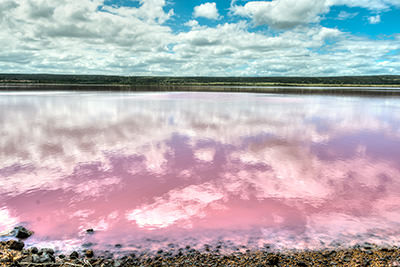 Facts about pink lakes
Are pink lakes actually pink?
Yes, pink lakes are truly pink. While some of them can change color (such as Lonar, the pink lake in India), that event is usually linked to rainfall. If water salinity and pH remain constant, which is the case with many pink lakes in Australia, the color will be permanent. Even if you scoop up some water and bring it to a glass, it won't change colors.
The science behind the color: What causes pink lakes?
Pink lakes are perfectly natural. Water in these lakes typically turns pink due to the presence of salt-tolerating algae that secrete carotenoid pigments (Dunaliella salina), in combination with archaea, bacteria-like microorganisms with rose-pigmented proteins that also thrive in salty environments (mostly Halobacterium salinarum).
Both of these pink lake halophiles (species that love high salt concentrations) use their colorful pigments to safely convert sunlight to energy they can store (photosynthesis). The pigments absorb UV light, acting as biological sunhat for these abundant microbes that make pink lakes pink.
But also, not all pink lakes are the same. Factors such as the concentration of salt, temperature, light intensity, and the presence of other minerals can all play a role in determining the shade and intensity of pink in these lakes.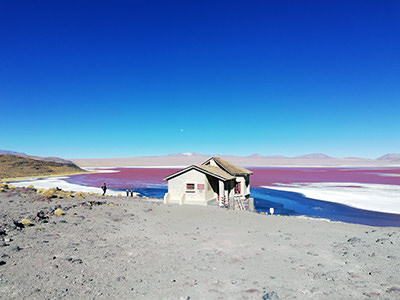 Can fish live in pink lakes?
Due to the high concentration of salt, fish cannot survive in pink lakes.
What animals live in pink lakes?
Animals that can be found in pink lakes are those that don't mind the environment of high salinity (which keeps predatory fish away), and that feed on microscopic plankton that provides color to the lakes. Artemia salina or brine shrimps are primitive crustaceans that found a perfect home in these lakes, also turning pink due to their eating habits.
But the food chain continues. Colonies of these one-centimeter wonders form a pink buffet for migratory birds, with flamingos leading the parade. The carotenoid-rich diet is what gives these birds the most flamboyant feathers in town.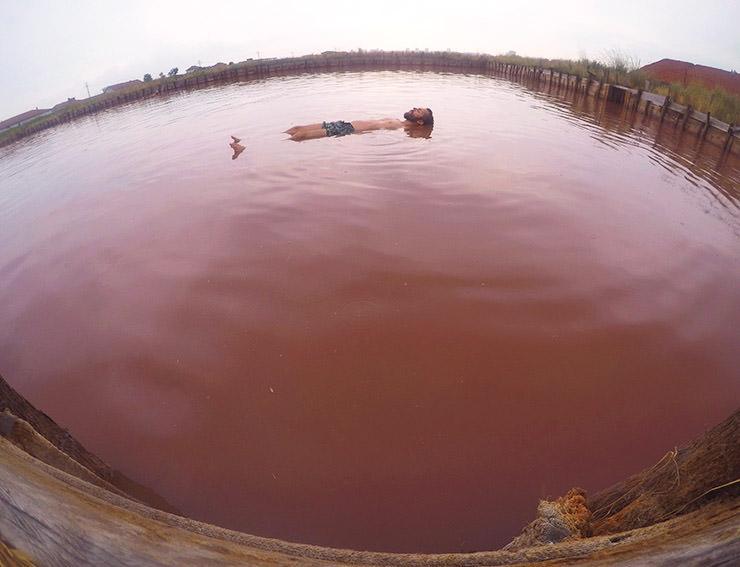 Are pink lakes safe to swim in?
If it's not a protected area that prohibits swimming because of wildlife preservation, or a salt-production site that does the same because of the danger from machinery, pink lakes are perfectly safe to swim in. Some even believe that a lake with pink water comes with skin-care benefits.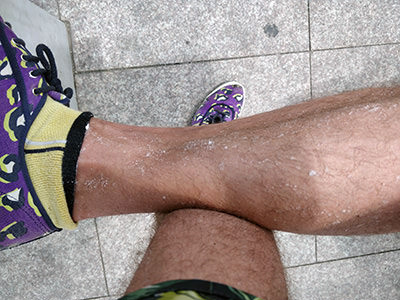 However, don't underestimate the salinity of these lakes. When I went for a dip in the salt pans of Lake Atanasovsko in Bulgaria, the pink lake of Burgas, salt crystals accessorized my legs like jewelry, and that was not the most pleasant experience. I'd advise to always bring an extra bottle of fresh water to rinse off the salt after the pink lake experience.
Is pink lake water safe to drink?
Seriously? Why would you? While water in the pink lake is not toxic per se, it's extremely salty and contains bacteria you don't normally consume. Unless you are a flamingo reading this, avoid seeing a glass of pink water as an extravagant shrimp cocktail!
I visited the lake at the most toxic place on Earth. Check out the turquoise crater lake of the Ijen volcano!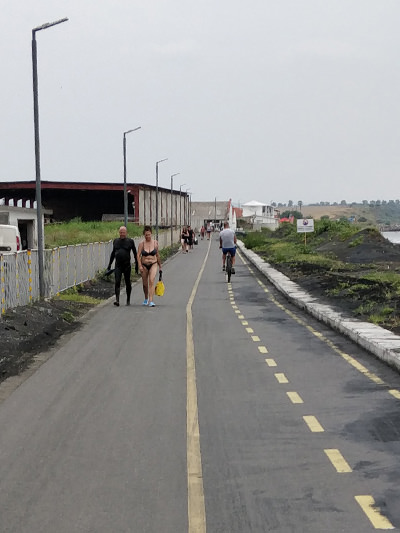 How many pink lakes are there in the world?
While rare as unicorns of lakes on our Blue Planet, there are still hundreds of pink lakes in the world! Most of them are located in Australia.
When are pink lakes pink?
While some pink lakes stay that way throughout the year, the color of others depends on the season. The best time to enjoy these lakes in full color is during the sunnier, warmer, and drier months. The more water evaporates, the saltier the lakes become, and microbes throw a pink party.
Top 12 pink lakes of the world
Pink lakes can be found in different parts of the world, each with its own distinct characteristics and allure. There are more of them than you could possibly imagine, and picking the best pink lakes in the world is not easy!
In this guide through nature's most colorful wonders, find pink lake locations you should pin on your next travel itinerary!
1. Lake Hillier, Australia
On the southern coast of Western Australia, in Recherche Archipelago Nature Reserve, the isolated Middle Island hides more than just a former home of the Australian pirate Black Jack Anderson: a bright pink wetland.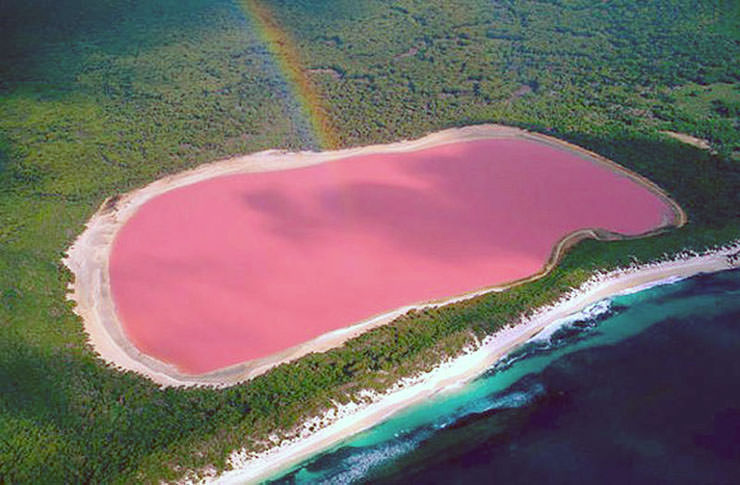 Just a strip of lush green eucalyptus and paperbark trees separates Lake Hillier from the dark blue Southern Ocean, accentuating the color contrast even more. The lake size is 600 by 250 meters, and it's ten times saltier than the nearby sea. There are no animals living in Lake Hillier, as only microorganisms can survive in this wildly seasoned soup.
While Lake Hillier might be the most famous Australian salt pink lake, there are nearly 200 of them in Esperance Region! The Aborigines believe they were made by a giant underground Rainbow Serpent.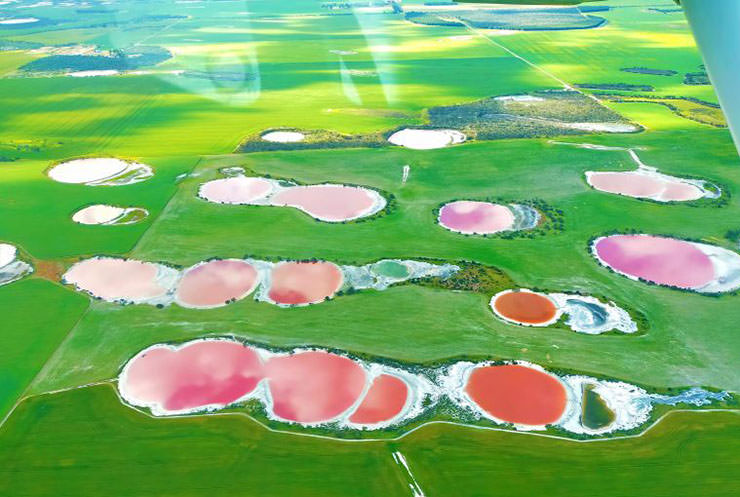 The only way to properly enjoy Pink and Rainbow Lakes is by hopping aboard the Fly Esperance scenic flight. The lake colors are at their most vibrant between June and January, but if you can swing it, come between July and October to catch a glimpse of migrating whales too.
If you add the ground tour to your experience, you'll enjoy seeing the Cape Le Grand National Park from up close, riding a Land Rover on Australia's whitest beach, meeting kangaroos, as well as having lunch after a remote landing.
2. Hutt Lagoon, Australia
Pink lakes in Western Australia do not stop with Esperance. On the continent's western coast, along the Coral Coast Highway, lies Hutt Lagoon, a massive bright pink lake, 14 kilometers long and 2.3 kilometers wide. This marine lake sits by Port Gregory, a small fishing village, with the Indian Ocean on the other side of the dunes.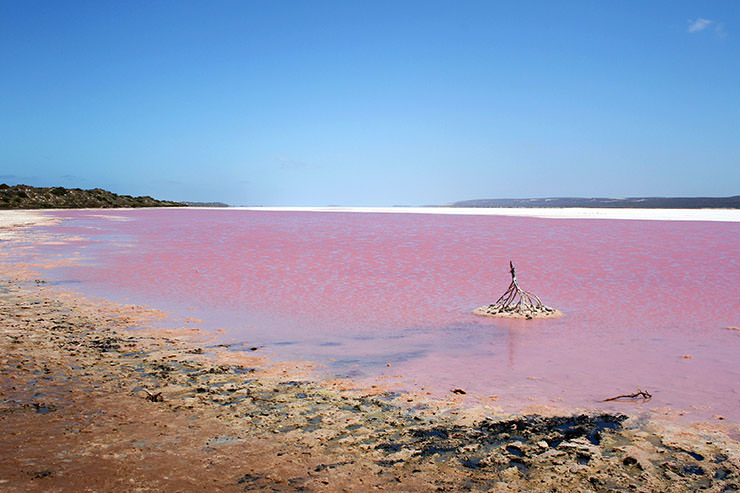 Dunaliella salina, the same algae that provide color to the lake (ranging from bubblegum pink to lilac purple), are farmed in Hutt Lagoon, at the world's largest microalgae plant. The algae are used for food coloring and vitamin A products.
The best time to visit Hutt Lagoon pink lake is between July and September when wildflowers are another impressive sight. During the Australian summer, the lake dries out, but the salt flat still remains pale pink. As for the time of the day, aim for noon or sunset hours.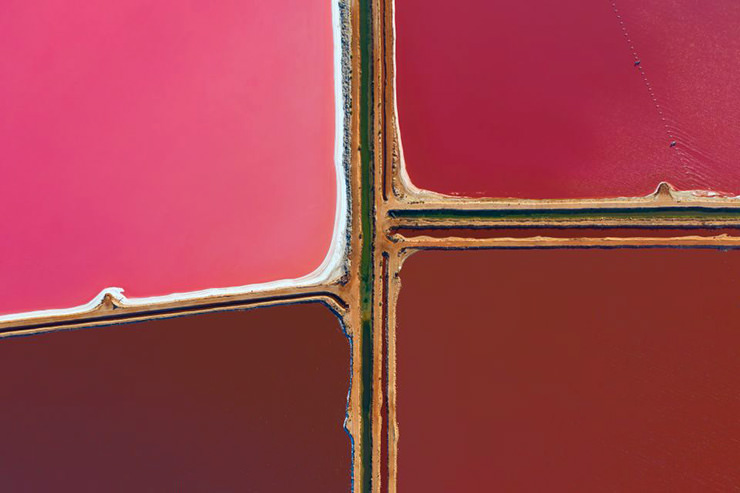 Fly Gero organizes flights over Hutt Lagoon, starting from Geraldton, with a beach day at the Abrolhos Islands, where you can see shipwrecks, coral reefs, sea lions, and seals. For close-up photos of the pink lagoon, hop on an adrenaline-pumped off-road adventure with Pink Lake Buggy Tours.
3. Lake Eyre / Kati Thanda, Australia
Among numerous pink lakes Down Under, Lake Eyre or Kati Thanda in South Australia is the largest lake on the continent when it fills completely, and can even sustain freshwater fish. But as salt crust dissolves, it kills the fish, water evaporates and salinity grows, and the lake gets a pink hue.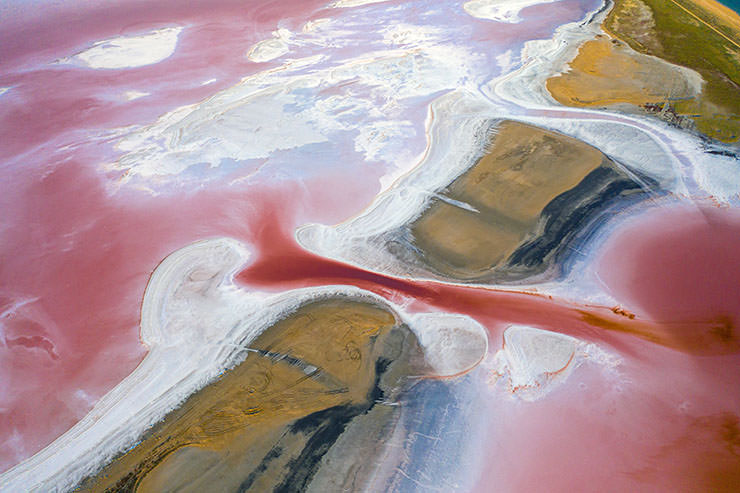 The desert lake is located at the lowest point of the continent, some 15 meters below sea level. Its flooding is a rather mysterious event as it attracts numerous birds, notably Australian pelicans, from hundreds of thousands of kilometers away.
You can have a picnic at Lake Eyre and visit thermal springs with SA Eco Tours, during the 5-day outback tour starting at the underground city of Coober Pedy and ending with wine tasting in Adelaide.
In Lochiel, near Adelaide, there is another pink lake of South Australia – Lake Bumbunga. And here, you can even stay at the Pink Lake Tiny House!
4. Lake Retba / Lac Rose, Senegal
Even if the smallest continent seems to dominate cotton-candy-colored waters, pink lakes can be found outside Australia too.
Lake Retba, also called Lac Rose for obvious reasons, is a destination to go to when looking for a pink lake in Africa. Just northeast of Dakar, Senegal's capital, Lake Retba is a pocket of salty water separated from the Atlantic Ocean by a dune corridor.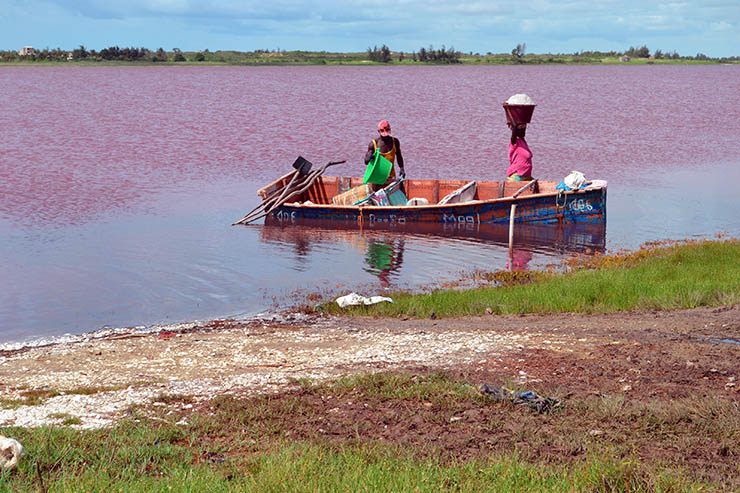 With its salinity reaching up to 40%, Dakar pink lake is a source of tourism income (one cannot sink in it), as well as a contributor to Senegal's salt production, the highest on the continent.
The best time to enjoy the lake's pink color is the dry season (November-May), when water evaporates and salt concentration goes through the roof, contributing to the lake's vibrant color. But always check the situation before going as floods, such as the one in 2022, can affect the color experience.
If you want to visit Lake Retba, Senegal Shuttle will take you there on a private tour from Dakar or Saly.
5. Lago Rosa / Las Salinas de Torrevieja, Spain
Las Salinas de Torrevieja is two salt lagoons in the vicinity of Torrevieja, a seaside town on Spanish Costa Blanca. One next to La Mata is called Laguna Verde (green lagoon), while Torrevieja's first western neighbor is Lago Rosa or the pink lake.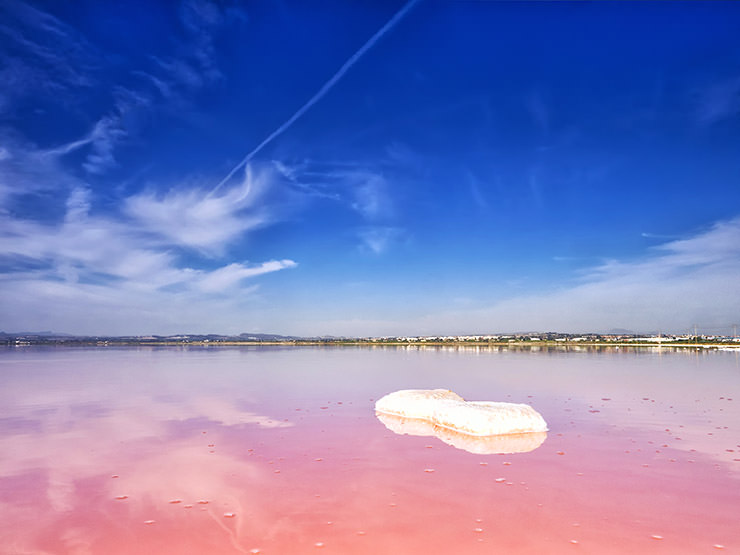 The original town of salt miners (the first and the largest European salt producer started the extraction business in the Roman era!), Torrevieja now exploits pink lake's tourist potential as well, as the Dead Sea of Valencia. However, bathing in Lago Rosa is officially prohibited in the Natural Park, for environmental and security reasons.
Instead, take your binoculars and enjoy observing Lago Rosa de Torrevieja as a resting spot for bird migration. One can see everything from seagulls to flamingos striking a pose.
To learn more about this unique ecosystem, visit the pink lake of Spain on a bike tour or e-bike tour. Or take it up a notch, and have a gourmet visit to the lake. You will taste salted fish, olive oil, and wine; a feast for a king.
6. Salin d'Aigues-Mortes, France
Bienvenue à Salin d'Aigues-Mortes! Camargue region in southern France is another center of salt production since Roman times.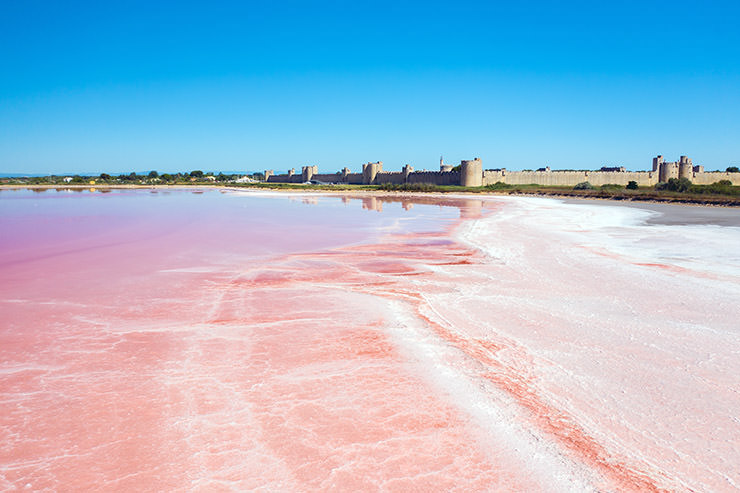 Located next to a fortified medieval village of Aigues-Mortes (meaning 'dead water'), these tidal salt marshes produce 500,000 tons of high-quality salt each year, meant for human consumption.
Besides 200 square kilometers of pink lakes, the site is also home to a salt museum. Salins du Midi, the company that extracts the salt here since the 19th century, welcomes tours on a sightseeing train.

7. Lake Lemuria / Yama, Ukraine
Before the war in Ukraine knocked out tourism, Lake Lemuria or Yama in Grygorivka village was an international healing spa resort. This small pink lake in the Kherson region is believed to have healing water and therapeutic mud. It's the closest you can get to the fountain of youth!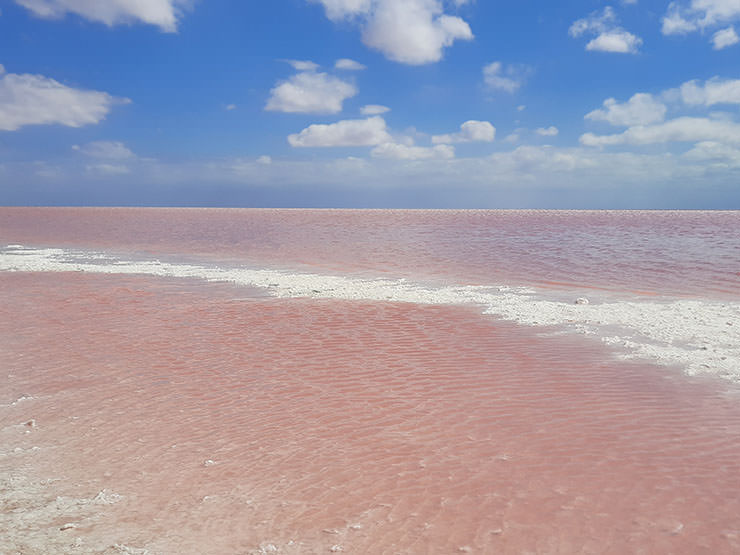 The pink lake's history is also bordering a legend. Supposedly, it was created after a Soviet plane crashed in 1969, creating a hole that was then filled by underground pink water.
Nicknamed the Dead Sea of Ukraine, the water in Lemuria Lake is so saturated with salt that even non-swimmers can float with ease.
Once traveling in Ukraine comes back, you'll discover that there are even more pink lakes in this region, from Henyches'ke Lake to the lakes at Kinburn Spit.
8. Burlinskoye Ozero, Russia
By now, you probably started associating pink lakes with warmer climates which stimulate water evaporation. But it turns out you can find this phenomenon even in Siberia, the land of extreme cold.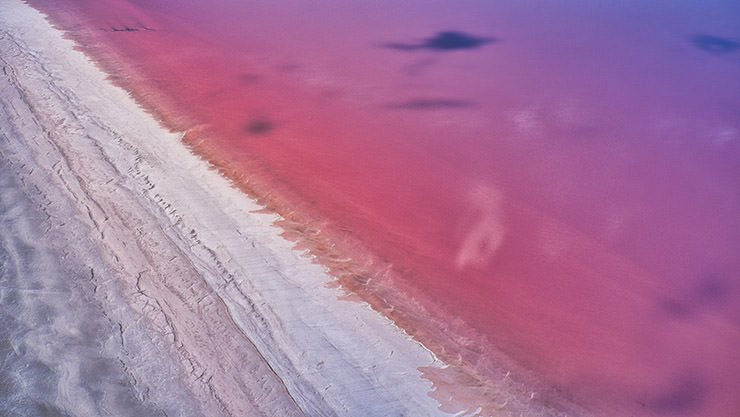 Lake Burlinskoye or Burlinskoye Ozero, near the village of Bursol in the Altai region, had been harvested for salt since the 18th century. It gained a royal-loyal reputation as many Russian emperors insisted on consuming only the salt from this pink-colored lake near the Kazakhstan border.
The train gliding along the lake's surface while transporting salt is like a surreal sight, a Saltpiercer if you will. And August, when temperatures reach their peak, makes Burlinskoye's vibrant colors pop.
While not touristically well developed, Burlinskoye Ozero still attracts visitors believing that swimming in the pink lake will be beneficial for their skin.
9. Great Salt Lake, USA
The northern portion of the Great Salt Lake in Utah, the largest saltwater lake in the Americas, has a distinctive pink color. Separated by a railroad causeway in the 1950s, Gunnison Bay has no substantial freshwater coming in, which makes this arm saltier and – pinker.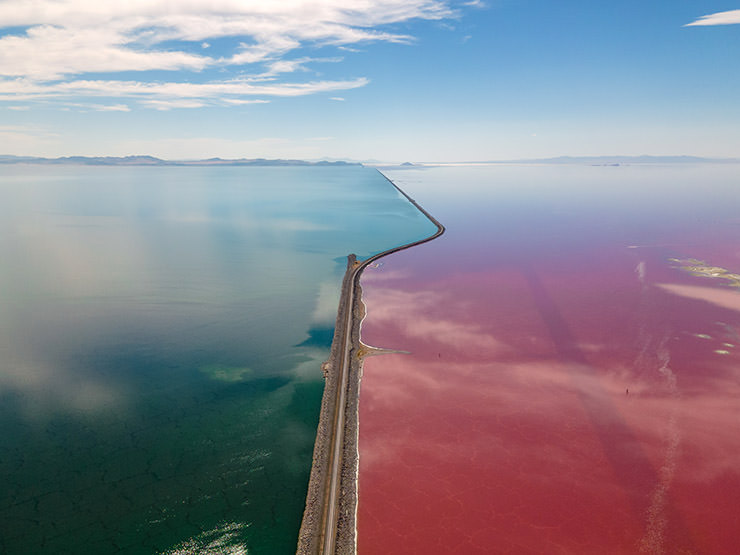 Summer is the best period to experience this visual phenomenon, and even to take a dip in this dense pink body of water that is, at the height of its salinity, eight times saltier than the ocean. No wonder they call it America's Dead Sea.
The convenient access to the pink lake of Utah is near Rozel Point, where the Spiral Jetty, the 1970 artwork by Robert Smithson, emerges from water when lake levels drop.
10. Laguna Rosa / Las Coloradas, Mexico
Heading south, to the Yucatan peninsula in Mexico, we should stop at Las Coloradas, the salt-extraction community with ponds that turn pink, such as Laguna Rosa.
The color of the pink lakes of Yucatan is the most intense at noon on a sunny summer day. So try to time your visit, together with other pink-hungry tourists, all vying for that perfect shot! It can resemble a pink paparazzi party.
You can visit the pink lakes of Las Coloradas on a day tour from Cancun that includes a stopover at Ría Lagartos Biosphere Reserve, a shared home of flamingos, crocodiles, and everything in between.
11. Laguna Colorada, Bolivia
Crossing over to South America, the Altiplano of Bolivia is home to another lake from Barbie's dreams – the meter-deep Laguna Colorada. It's reigning proof that pink lakes do not appear only in depressions; this one is 4,300 meters above sea level!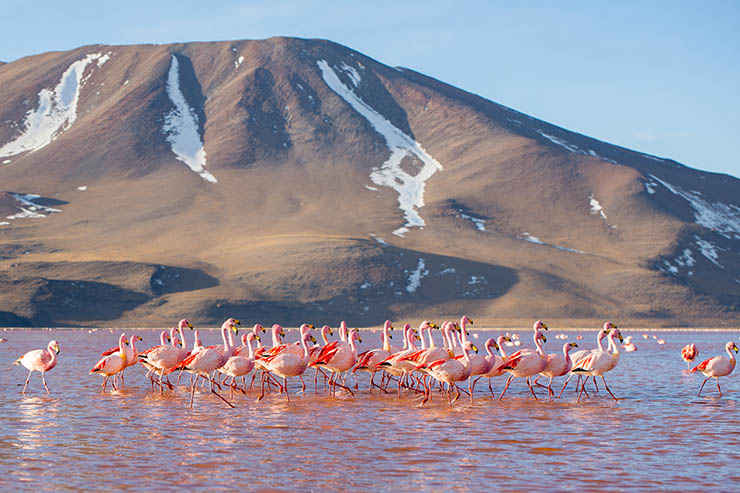 The lake is frequented by flamingos soaking up all that pinkish color from the shallow algae and plankton-rich waters. The endangered James's flamingos rule here, with some Andean and Chilean flamingo flocks having representatives too. On the outskirts of Laguna Colorada, llamas, alpacas, pumas, cats, and Andean foxes can be seen.
You can visit the pink lake of Bolivia on a private day tour from Uyuni. If you'd also like to see Uyuni Salt Flats, the largest in the world, opt for a 2-day adventure.
12. Nong Han Kumphawapi / Red Lotus Lake, Thailand
For the end of this list of pink lakes, I wanted to leave only a seemingly odd contender – Nong Han Kumphawapi, or Red Lotus Lake, in northeastern Thailand.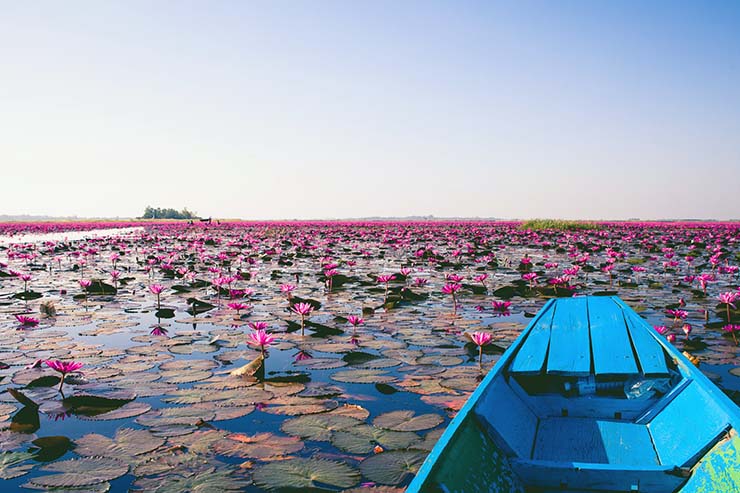 Just like the majority of lakes mentioned earlier, this one is also seasonally pink. But instead of reaching its color peaks in the summer months, this freshwater lake in Udon Thani province turns pink in winter.
From November to February, Red Lotus Lake is covered with a floating meadow of pink aquatic flowers. The blooming spectacle is best observed in the morning hours of the day.
Need more pink in your life? Check out these Barbie-themed hotel stays!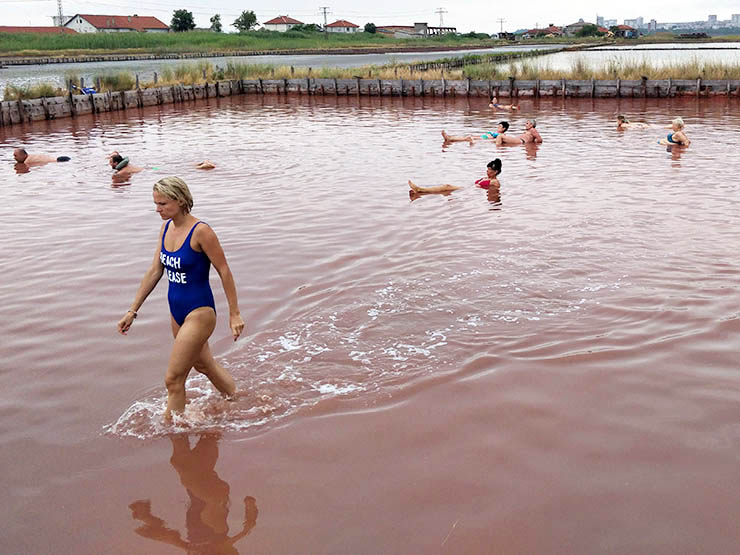 Pink lakes around the world – Conclusion
There is something magical and ethereal in pink lakes. They turn ordinary landscapes into extraordinary spectacles. Even if we're perfectly aware of their reality, they awe us with the beauty we call surreal.
Pink lakes provide much more than just a visual feast. They are proof of resilience and adaptability of life
With vibrant hues ranging from soft blush to intense magenta, pink lakes reveal a stunning palette that showcases nature's diversity. Their fairytale appeal is the center of attraction for tourists, even if we disregard the trendy Barbiecore.
Scattered around the globe, places with pink lakes provide much more than just a visual feast. These are the unique ecosystems that thrive in extreme conditions, testifying to the resilience and adaptability of life. After all, pink has never been just a color. It was always a statement too.
Let these pink lakes whisk you away on adventures full of wonder. It's an experience you won't forget, pinky promise!
Do you like pink lakes?
Pin this article for later!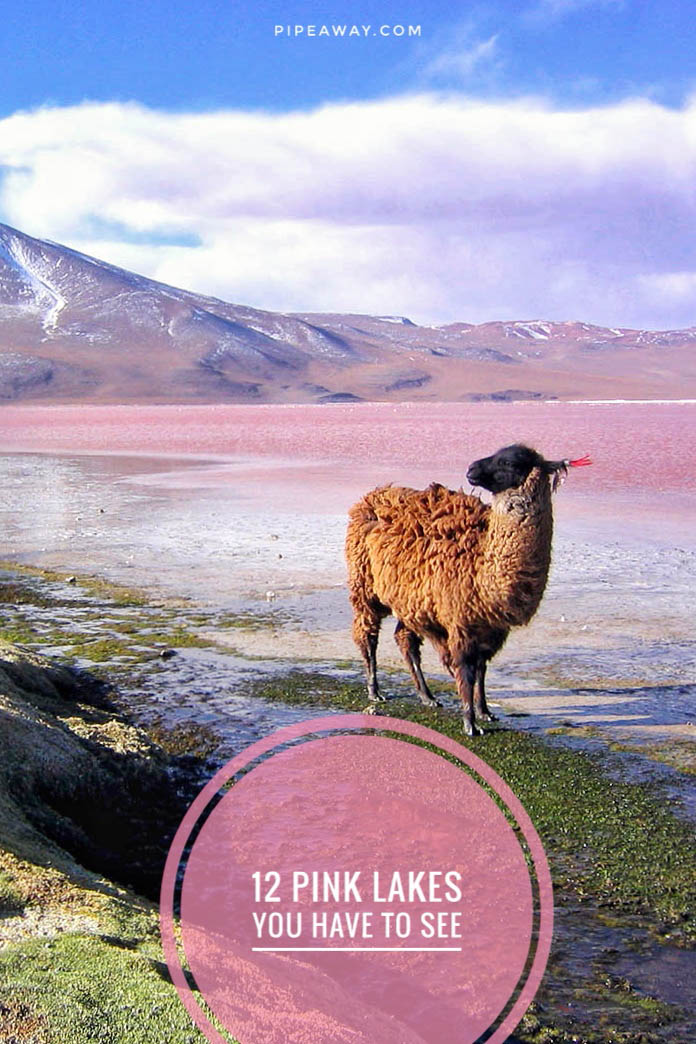 Disclosure: This post may contain affiliate links, meaning if you click on them and make a purchase, Pipeaway may make a small commission, at no additional cost to you. Thank you for supporting our work!

The photographs in this article are made by the author Ivan Kralj, or have been sourced through Flickr, Wikimedia Commons, Pexels, and Freepik.

In the order of appearance, the authors are as follows: 
Lake Hillier (cover image) - Yodaobione, licensed under CC BY-SA 4.0
Hutt Lagoon - nodeworx, licensed under CC BY-NC-SA 2.0
Laguna Colorada - Atobit, licensed under CC BY-SA 4.0
Burgas Salt Pan, Salty legs, Mud man - Ivan Kralj
Lake Hillier - Kurioziteti123 licensed under CC BY-SA 4.0
Rainbow Lakes - Fly Esperance Pty
Hutt Lagoon tree - StuRap, licensed under CC BY-NC-ND 2.0
Hutt Lagoon aerial - Fly Gero
Lake Eyre - Artem Yellow, Pexels
Lake Retba - La Mireia, licensed under CC BY-NC-ND 2.0
Salinas de Torrevieja - Alberto Casanova, licensed under CC BY-SA 2.0
Salin d'Aigues-Mortes - village - wirestock, Freepik 
Salin d'Aigues-Mortes - aerial - Nathan.cima, licensed under CC BY-SA 4.0
Lake Lemuria - Nadin2284, licensed under CC BY-SA 4.0
Burlinskoye Ozero - Artem Zykin, Pexels
Great Salt Lake - Urvish Prajapati, Pexels
Las Coloradas - Walter Rodriguez, licensed under 

CC BY 2.0


Laguna Colorada - Havardtl, licensed under CC BY-SA 4.0
Red Lotus Lake - georgios ka, licensed under CC BY-NC 2.0
Burgas Salt Pan - Ivan Kralj
Laguna Colorada llama (pin image) - Phil Whitehouse, licensed under 

CC BY 2.0