TheTravel, "the world's most interesting site for travel tips, guides, and facts", has published 20 photos of crumbling resort hotels that were sadly left behind. In this exciting selection of the abandoned hotels from New York to Taiwan, one Croatian ruin found its place. Hotel Belvedere in Dubrovnik first appeared on Pipeaway in January 2018 and earned itself a place number 9 on TheTravel's top list of crumbling out-of-service resorts.
"There's something so captivating when it comes to an area that was left behind", Elias Roberts wrote in his article in November 2018. "Photographers, in particular, have a fascination when it comes to an abandoned area. Seeing nature run its course on a certain area is something to behold. This tends to happen more times than not when a resort is completely abandoned."
For its 4 million readers, TheTravel highlighted the abandoned resorts from Cuba and Mexico to Egypt. Sometimes people abandoned these places due to a natural disaster such as a hurricane. Sometimes they leave them behind because of the costs of maintaining the location.
Goodbye to King's Landing Combat Arena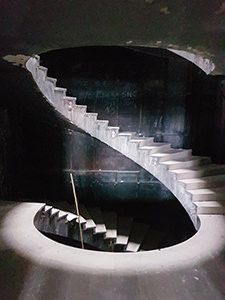 In recent years, Croatian town of Dubrovnik has become popular as one of the filming sites for the planetary popular series "Game of Thrones". The abandoned Hotel Belvedere was the stage for the legendary battle between Oberyn and The Mountain. However, even that didn't stop local football fans to repaint the crest of the House of Baratheon which was marking the combat scene. No new promotion could have saved the crumbling hotel screaming for restoration in Croatian touristic jewel.
TheTravel quotes Pipeaway blogger Ivan Kralj on the urban exploration of the site: "After squeezing through the hole in the wall, I started walking carefully. Hallways were cluttered with building material, rods were sticking out of the walls, the floor was getting weaker and seemed unstable. Smashed bathrooms, uprooted tubs, shattered mirrors. The history was silent."
The writer Elias Roberts concludes that the beachfront location of Hotel Belvedere is breathtaking. But he adds that, inside, "the place is eerie and chilling with the foundation completely falling apart".
Abandoned hotels and ghosts of the past
The world is full of hotels that collapsed slower than the businesses which managed them. Typically, like in Hotel Belvedere case, they wait for a new investor to come in with fresh money. This sometimes takes time. In this period nature, nature overtakes these abandoned hotels, frozen between the full use and final demolishment before the resurrection.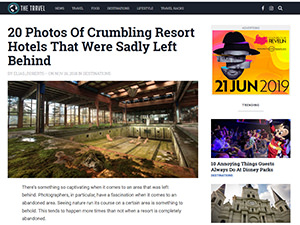 Grossinger's Catskill Resort Hotel in New York stopped working in 1986. They finally demolished it only in 2018. In more than three decades, the vegetation was taking over the premises of this former kosher hotel. The grass covered even the pool area!
TheTravel points out to another trend in countries which tried to destimulate international travel of their people. They were hoping to create exotic vacations domestically. Hachijo Royal Hotel Resort in Tokyo, as well as the forgotten resort for the higher class in Russia (not named in TheTravel's article), are excellent examples of how short-lived were such ideas.
Most of these abandoned hotels now live in the memory of urbex explorers and visitors who eternalized their decay before the final demolishment. UFO-shaped resort buildings in Taiwan and Fallside Inn at Niagara Falls do not exist anymore. It is just a matter of time when the Alps Ski Resort in South Korea will experience the same destiny.
For all the lovers of urban exploration, who can see beyond the shattered glass, mold, rust, and nature taking over, these abandoned hotels are ghosts of the past worth talking to.
Did you like this article?
Pin it for later!