Koh Samet and Koh Samui are two different islands; do not confuse them! Less famous than Thailand's second largest island, Koh Samet (sometimes also spelled as Ko Samet or Koh Samed) is still an excellent choice for villa holidays set at the golden sands of the paradise beaches. If you want to run away from the craziness of Pattaya or Bangkok hotels, Mooban Talay Resort at the northern tip of Koh Samet island may be the closest great choice for you.
Its name translating as 'sea village', this cozy beach hotel is a simple way to reconnect with nature
Its name translating as "sea village", this quiet and cozy beach hotel is a simple solution for reconnecting with nature. The island's name means cajeput, which is a tree that Samet is abundant with.
If you are choosing between various Koh Samet resorts and want to find the shade far away from the crowds, Mooban Talay Resort review may help you in making the final decision. When looking for a beach hotel with the feeling of a private island, this one should enter your selection!
Mooban Talay Resort in Koh Samet's calm corner
One of the most valuable advantages of Mooban Talay Resort is its secluded location. Placed on the northwesternmost point of the T-shaped Koh Samet, the hotel is the final stop of the road. No traffic passing by provides certain isolation for the resort. There is no car noise pollution, island parties anchored on the eastern coast, and even nature here seems to be less constrained.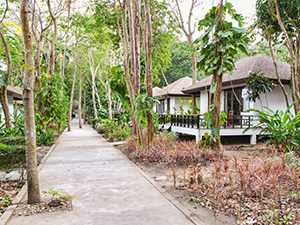 With a nice bay view, the "village" consists of 21 bungalows on stilts. They dispersed them on the terrain lined with old tropical trees. They respected nature in a way that some of those trees are growing through the roofs, decks, and pathways. The developer let nature dictate the space arrangement, not the other way around!
I stayed in one of the beachfront bungalows, a 28-square-meter room with bathroom and terrace. It had direct access to a long stretch of white sand called Ao Noi Na. Out-of-resort tourists rarely stumbled upon this beach. Only a garden with a thatch-roofed hammock-pavilion stood between the Gulf of Thailand warm waters and me. It promised some magnificent sunrises waking one up through the glass doors.
Are you looking for a romantic getaway in Europe? Why don't you discover the amazing beachfront hotels in Greece?
Hotel room as a seashell
Two towels neatly modeled into a seashell shape welcomed me on the bed. It was a reminder that this hotel village pays a lot of respect towards its connections with the ocean.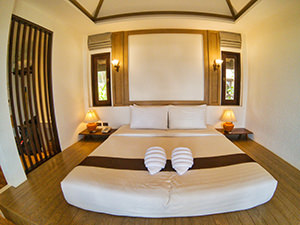 The bed was comfortable to sleep in, even if the fussy guests might see a problem in the fact that the double bed was composed of two separate single ones. Placed on an elevated platform, it was providing an excellent view of the green-blue outdoors. This demotivated me from turning on the TV, which was available in the corner of the room. There was also a daybed, with a firm pillow to lean on while you read a book or work on your laptop. It all felt spotless, fresh, and relaxing, with volatile oil aromatizing the room air.
The bathroom had basic amenities. The shower area was quite large! Even if a decent-sized bathtub could easily fit in, it came only with a rain shower. After an active day on the nice beach, you need nothing else.
I found the room was sound-proofed very well. It was the first room next to the restaurant, but the bathroom was the only place where I could hear the louder guests.
Suggestions for improvement? Mirrors, one in the bathroom and another one in the room, were quite small; none of them was enabling a full-length view of a person. While there was an electric kettle in the room, it came with two tea bags and two coffee bags only. The double bedroom also provided with two half-liter water bottles. If tap water is not drinkable, I think boutique hotels should be responsible for securing their guests' basic hydration needs. Merely 50 centiliters per day per person is certainly not enough anywhere, especially in a tropical climate.
Need more ideas for your post-wedding travels? Check this honeymoon escape in Bali!
Mooban Talay Resort activities as well-hidden secrets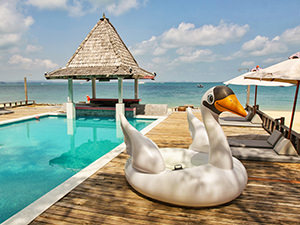 Small swimming pool in the middle of the beachfront bungalows is hard to miss. Marked by a white swan floatie, it is a seductive invitation for a fun afternoon, primarily because long-spiked sea urchins populate the parts of Noi Na bay. Combine that with broken seashells along the shore, and suddenly entrance to the pool seems to be a more attractive idea.
Spending a day sunbathing on resort's loungers with a view of a less visited, but the majestic beach is still a relaxing activity. As long as you can ignore the occasional noise from locals working on their anchored boats.
There is a whole range of beach activities one can do at Mooban Talay Resort. Sadly, they do not promote them enough. There is no typical hotel directory in the rooms. The guests need to ask or find out by chance that they could explore the bay in a kayak or on a paddle board. One could even rent a bicycle or a motorbike to independently visit the other parts of Koh Samet, famous for its beaches. The only available information in the room was the price list of the minibar and laundry.
It's okay if a resort decides not to overwhelm guests with printed materials, but then some direct presentation could help them understand all the options in offer. Arrival to this Samet resort was quite pleasant, with a welcome drink and a wide smile. Check-in process was smooth and hassle-free, but besides breakfast hours and wifi password, they did not offer further information.
Mooban Talay Resort may be Koh Samet's well-kept secret. But when guests do get to discover it, there is certainly no reason for hiding the activities behind the reception desk.
Local and fresh food
Mooban Talay's restaurant is set right on the beach, where Koh Samet dogs hide under the tables, to find shade. In the evening, lightbulbs lighten up the imagined tent roof, and the soft sand ground becomes an utterly romantic spot for an unforgettable dining experience.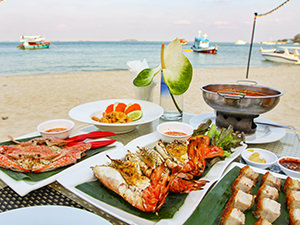 With calming ocean views, I enjoyed their steamed blue crabs and chargrilled tiger prawns. Even the crispy pork belly, an alien in my seafood story, was mouthwatering! Whether you wanted it with stir-fried Chinese broccoli, cabbage, oyster sauce, chili paste, Thai basil or red curry, the resort was ready to fulfill your food craving wishes.
The menu was proudly presenting its decent selection of soups and Thai and international salads, recommended grilled food such as tenderloin pepper steak or snapper fillets in white wine, and even west-food nostalgic guests could find some beloved pizza or spaghetti dish.
While breakfast buffet was very basic, the a la carte choices came as a wholly positive surprise! I can especially recommend Kai-Krata, the traditional Thai fried egg pan with minced pork, Chinese sausage and pork sausage, and Ni Hao fried rice with Chinese pork and a selection of dumplings. You can also try Fisherman fried noodles with teriyaki fish or, if you overdid with cocktails the night before, you can cure your hangover with Khao Tom, a bowl of mild rice soup with pork or prawn.
Are you considering staying at Mooban Talay Resort? For the best available prices, make your Koh Samet booking through this link!
Mooban Talay Resort review – conclusion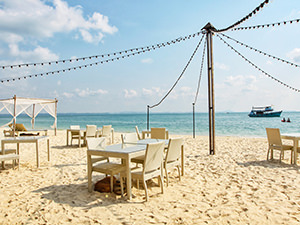 When Mooban Talay Resort first opened two decades ago, it was an upscale establishment on the island mostly visited by backpackers. Time took its toll, so some parts wore off.
Since the new owner took over in 2015, 80 percent of the hotel facilities were renovated. Some parts would still need a proper refurbishment. I'm especially thinking about the pool area; its wooden deck, tiles, lamps, and even the roof of a non-working pool bar could use some essential repair.
If you put these currently untreated damages aside, and if you forget that on this nominally non-plastic island Mooban Talay Resort drinks still come with plastic straws, this place does exude a tropical charm.
With the wild natural environment of Koh Samet, warm-colored signposts and murals, and the characteristic laughter of the geckos, the atmosphere of this place compensates for any broken Internet connection or lack of information sharing.
If you are looking for Thailand hotels as relaxation oases, or you travel to Koh Samet with a distinctive agenda such as a wedding ceremony or a honeymoon, staying at Mooban Talay Resort could become a valuable romantic memory.
KOH SAMET ESSENTIAL INFO
Where is Koh Samet?
Koh Samet is an island off the coastline of the Thai province of Rayong, some 220 kilometers southeast of Bangkok.
How to get to Koh Samet from Bangkok?
The nearest airport to Koh Samet is Suvarnabhumi International Airport in Bangkok. A couple of minibuses connect it to the ferry piers in Ban Phe every day.
If you are in the Thai capital's center, getting from Bangkok to Koh Samet is reasonably straightforward. Well, once you know which bus station you need to go to to find the right bus.
The most convenient departure station for Koh Samet in Bangkok is Ekkamai bus station. The most affordable option is taking a Chedchai Tour bus for Ban Phe, which cost me 151 Baht (4 Euros). Buses leave hourly (from 5 am till 7 pm), and the trip can last up to 4-5 hours. Van transfers are somewhat quicker but can cost around 250 Bahts (7 Euros).
The bus from Bangkok to Koh Samet stops at Ban Phe, exactly at Nuanthip Pier. From here, one needs to take a boat to reach Koh Samet. The slow ferry to Nadan Pier on Koh Samet costs 120 Baht (3 Euros) for a roundtrip, while the speedboat charges 350 Baht (10 Euros). Koh Samet last ferry returns from Nadan Pier at 6 pm.
Guests of Mooban Talay Resort can profit from the resort's free shuttle boat. It leaves Ban Phe at 1 pm every day and brings you directly to the resort. The return transfer to Ban Phe is also free of charge. The boat leaves Mooban Talay Resort at noon, just after check-out time.
Koh Samet national park entry fee
If you want to visit Koh Samet beaches in the East and the South or explore Koh Samet nightlife in that area, you have to know that it belongs to the Khao Laem Ya-Mu National Park. You will not be able to go beyond the Funky Monkey restaurant before paying the national park entrance fee, which costs 200 Baht (6 Euros).
Beware of the fact that Koh Samet national park officially forbids the single-use plastic! While they do not enforce the ban consistently, one could earn a fine if caught with one.
When to visit Koh Samet?
The dry season in Koh Samet lasts from October till May. In general, this is one of the driest archipelagos in Thailand.
Due to its proximity to the capital, the island receives many weekend visitors from Bangkok (both expats and locals).
Did you like this article?
Pin it for later!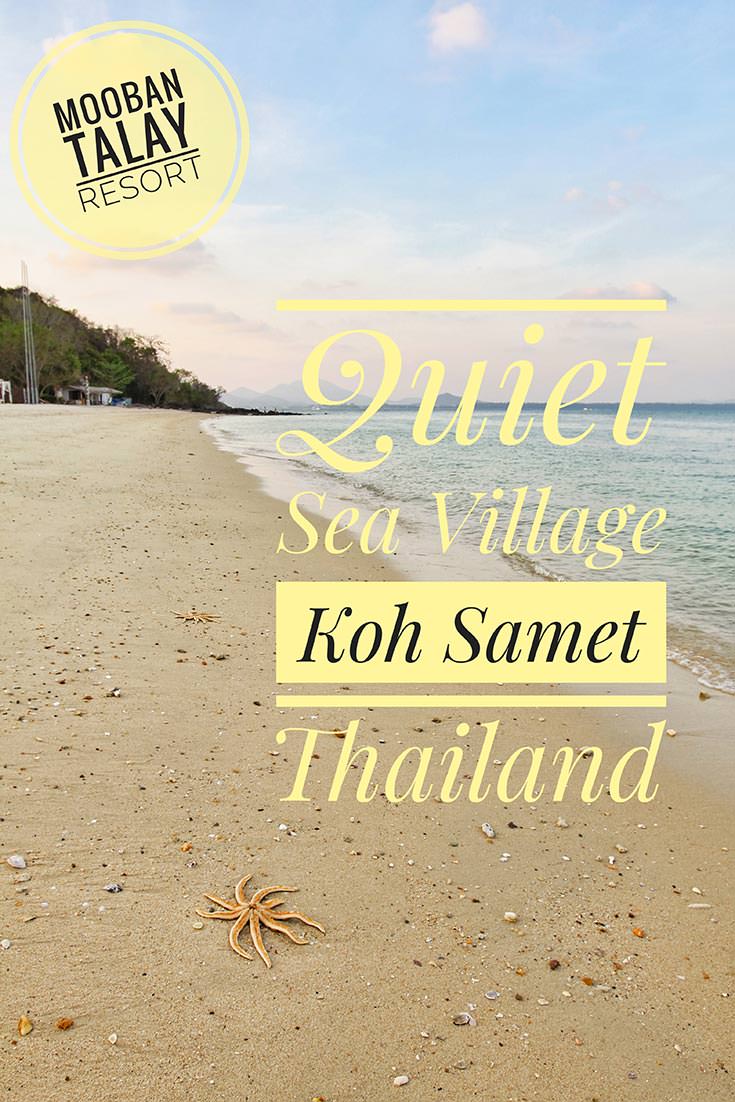 Disclosure: My stay at the Mooban Talay Resort was complimentary, but all opinions are my own.

Also, this post contains affiliate links, which means if you click on them and make a purchase, Pipeaway might make a small commission, at no additional cost to you. Thank you for supporting our work!