Bali Island has been on the top of the travel lists for years! Known for top hotels, honeymoon packages, spa hideouts, and sandy beaches ideal for surfing or just sunset watching, Bali became the backbone of tourism in Indonesia. With rapid development on the island, choosing the perfect Bali accommodation suddenly propelled you to a world of infinite choices. What are the best luxury escapes in Bali?
Well… If you end up in the south of the island (and this is very likely due to the position of Denpasar Airport), the convenient yet trendy neighborhoods on its western coast are – Seminyak and Canggu.
This blog post will introduce you to some of the best places to stay in Bali! If you choose these luxurious villas that will spoil both you and your partner, you will hardly even want to step out of the resort. Here are some great suggestions for your one-of-a-kind Bali holidays!
Hip, happening, and – pricy?
The hip and happening part of Bali is constantly shifting north of the mass tourism of Kuta. Seminyak already caught hold of popularity among tourists. On the other hand, Canggu, even further north, promises to be an upcoming hub for young, relaxed, and creative people.
The atmosphere in Bali's most thrilling and vibrant districts may be laidback, but the accommodation can hit your wallet
Less crowded than Kuta, which is notorious for its nightlife, the upscale beach resort area of Seminyak is famous for its large number of upmarket spas, sleek boutiques, sophisticated fine-dining restaurants, chic beach bars, cafes, and clubs. The hip hangout spots and cool lifestyle shops, next to the traditional craft markets, made Seminyak an intriguing mixture of old and new.
However, this high-end lifestyle in Bali's most thrilling and vibrant districts comes at a price! The atmosphere may be laidback, but the accommodation can hit your wallet in this quite fashionable area.
If the options of where to stay in Seminyak and Canggu overwhelm you, do not despair. Our luxury escapes reviews reveal some great options for your Bali trip. The Amala Estate, Origin Seminyak and Tugu Bali are among the best luxury escapes in Bali. These resorts in Seminyak and Canggu are worth affording!
1. The Amala Estate
Price per night: 370 Euros (two-bedroom villa)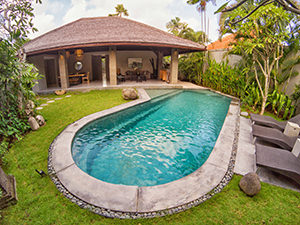 The Amala Estate is the newest member of Lifestyle Retreats, the family of premium boutique resorts and hotels setting high quality standards of accommodation in Bali.
Developed just next door to The Amala, from its "residence with private pool" concept, The Amala Estate might not yet have reviews on Booking.com, but that's only because they added it to the platform in the second half of 2019. Trust me; it will soon reach, if not outstrip the superb review score of The Amala Hotel (9,2/10, at the time of the writing). So you better claim your spot in one of the eight fantastic pool villas as soon as you can!
Butlers and chauffeurs at your service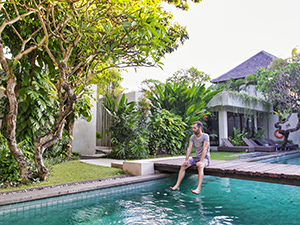 The Amala Estate is located in a peaceful corner, yet close to the very heart of the Seminyak district. Restaurants, bars, shops and beaches are all within walking distance.
While all Seminyak hotels in this selection will organize a private airport transfer for their guests, Amala's chauffeur will be at your service even during the stay! The resort provided all rides in Seminyak on a complimentary basis.
Additionally, butlers speak excellent English, and even some non-expected languages, such as Japanese! They are at your disposal around the clock, discretely catering to anything a guest may need. From cutting fruits or shining shoes to organizing private excursions.
Do you want to stay in the Seminyak area, but need to save some money? Not far from The Amala, just across the Jalan Sunset Road, there is Kosta Hostel we covered in our article on chill & cheap getaways in Southeast Asia!
Rest your body, mind, and spirit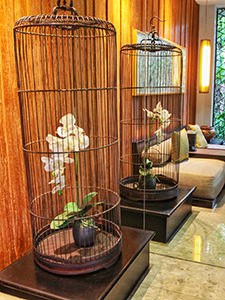 I stayed in the two-bedroom villa, sometimes also referred to as The Amala residence with a private pool. This spacious unit of 375 square meters has a master bedroom with a king-size bed. There is another room, with two single beds.
The three-bedroom pool villa has even more square footage, and the third bedroom can alter as a yoga room.
One can also count on using the Wellness Studio at The Amala for yoga practice. Here, the resident wellness master Leona Chen, who specialized in traditional Chinese medicine, aromatherapy, and Ayurvedic self-healing skills, leads complimentary morning yoga sessions with mindful breathing, as well as sunset meditation with the enchanting Tibetan singing bowl. Additional programs for balancing body, mind, and spirit, such as ancient meridian energy work or Indian fusion dance classes, are always available.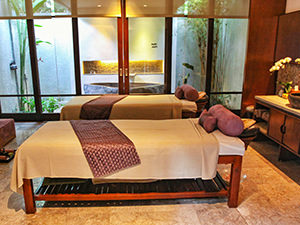 The Amala Spa menu is very comprehensive. The range of body massage and care treatments, facials, and rituals, as well as holistic and life enrichment programs, is wide indeed. The resort's name is Amala for a reason; the word means 'clean' or 'pure' in Sanskrit!
Just opposite the front desk, at Pure Boutique by Lifestyle Retreats, one can buy a selection of organic body oils, lotions, scrubs, or bath salts. If one can't wait to enjoy a DIY spa treatment at home, the villa's ensuite bathroom, besides the usual amenities collection (such as adorable ginger-green tea soaps), also offers aromatic herbs. A relaxing evening in a bathtub or a quick semi-open-air shower; the choice is yours!
Chill-out garden with a pool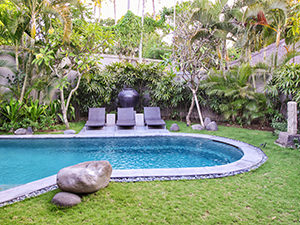 The villa's open living area is the most impressive. The luxurious living room centers around the large, but hidable flat-screen TV with satellite channels. I have hardly used this sort of entertainment during my stay. It would've been a sin to ignore the verdant surroundings abundant with tropical plants and trees.
In the center of this private chill-out garden, the decent-sized swimming pool with an inviting sundeck felt like a much better version of the Bali holidays.
The resort has a central swimming pool with its Jacuzzi and a little library. But reading a book in one's own serene corner, without anyone's interruption or gaze, is blissful!
The pools in the Amala Estate are atypically deep, so they allow safe jumping.
The Amala recognizes that the pools of today are not just swimming places, but also – Instagrammable brunch areas. So it joined those hotels in Seminyak that serve floating breakfast if desired by guests.
Decadent food in a tranquil hideaway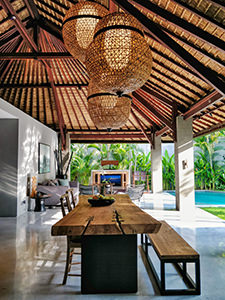 One can consume lunch or dinner in the privacy and comfort of the villa as well. The massive teak dining table is a beautiful piece of furniture that is stealing gazes as soon as one enters the Amala villa. Probably, only its size prevented me from catching hold of it and bringing it home! In the end, its design mainly added to the temptation of the seductive food that Amala's Bamboo Restaurant, just a phone call away, readily delivered.
The villa also has a fully equipped kitchen for your own cooking. But resisting a pan-Asian/international menu with yummy salads, tofu burgers, red duck curry, or steamed fish in banana leaf (to name just a few of the all-day-dining choices) is not an option.
For those who want to have hands-on experience in preparing meals, the Amala cooking class can be a useful introduction to learning Balinese culinary secrets.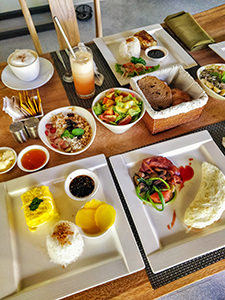 The butler explained the no-limits breakfast options as soon as I checked in. Every day at The Amala Estate starts with a feast! Besides daily specials (from egg frittata to burrito, from pan bagnat to salmon guacamole), the menu includes bakery products and pancakes with gluten-free options, miso soups, smoothie bowls… There is also a typical Bali cuisine, such as mie/bihun goreng, nasi goreng, or bubur ayam. Still, less-expected options of tamagoyaki, scrambled tofu, or egg whites are also available.
Add to this a welcome skewer with marshmallow, brownie, and strawberry, a complimentary tropical fruit basket, cookies, and soft drinks in a free mini-bar, with a possible order of some sunset cocktail, and the definition of indulging in this tranquil hideaway can hardly get more decadent.
Electric dreams in the oasis of nature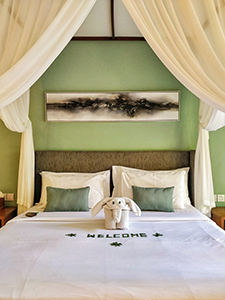 Amala's shaded walkways dressed in greenery, its celebration of life at every corner, and its policy of not accommodating children at the resort, just like in its sister property The Balé Nusa Dua, really contribute to the feeling of an exquisite sanctuary.
They promise a revival experience during your holidays. And they will indeed bring you back to nature but never let you down with technology. Villas have multifunctional electrical sockets and even Bluetooth speakers, so you can connect your devices as you like.
Is there any downside to staying at The Amala Estate? Naturally, with so many plants and water at this lush resort, there is an increased interest of insects. That does include butterflies, but also – mosquitos! However, the resort staff does their best to treat the air regularly and safely.
Strong ACs protect both sleeping rooms. Also, mosquito nets encircle the plush white beddings like a baldachin on the throne of dreams.
During the regular evening turndown service, the housekeeping staff would leave a "sweet dreams" poetical message on the bed. Good sleeping at one of the best hotels in Bali was guaranteed.
For the best accommodation deal, check the prices of The Amala Estate on Booking.com!
2. Origin Seminyak Hotel
Price per night: 165-273 Euros (one-bedroom villa)
Are you looking for something with a more urban feel to it? Then Origin Seminyak villa can become your favorite Bali vacation spot!
Villas for keeping you fit and relaxed
Located in the very heart of Seminyak, a short walk away from Petitenget Beach and the iconic Seminyak Eat Street, Origin Seminyak Hotel is a collection of eight newly renovated pool villas and studios.
Managed by In Situ, the cutting-edge hospitality developer, also responsible for other members of the same family Origin Ubud and Origin Uluwatu, this stunning property opened at the beginning of 2019.
Its contemporary look got the signature of Arkana Architects. Bali's top design studio interpreted architecture as an integral part of a lifestyle.
Here, the portrayed lifestyle put a spotlight on fitness enthusiasts. They also took care of those who just wanted to find a peaceful relaxation corner, away from the crowds. Possibly in the company of a lover or good friends.
While I stayed in a one-bedroom pool villa, they also had versions with two, three, or four bedrooms. These could also easily interconnect, for larger families or groups.
There were rooftop studios as well, with no pool, but with a bathtub and a shaded daybed.
Spacious and spa-licious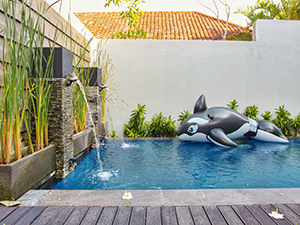 As soon as one walks in, it is clear that these are some of the most spacious villas one can find in Seminyak.
My pool villa had a surface of 188 square meters. The ceiling was high too, which meant there were quite some stairs to climb. This can get annoying if you are prone to forgetting something on the upper floor.
At the same time, the open-plan design layout is giving the whole unit a feeling of spacious airiness. Immediately it is clear: this place is meant for – breathing.
Blossoming frangipani, one of those sacred trees of Southeast Asia, is rooting this private garden with local traditions.
On the other side, a modern, large pool (8,5 x 3 meters) dominates the open-air area. The stone frogs spurting water are giving that spa-sound background that quickly activates one's relaxation mode.
Next to the soft grass, there are two sun loungers. If you desire, the concierge service quickly brings a pool floatie to your timber deck, be it a pink flamingo or an orca whale.
Training in nature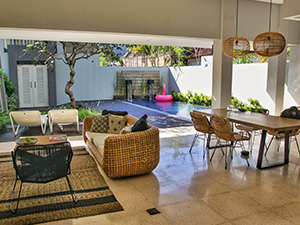 Completely opened on one side, the living and the dining area naturally rely on the outdoor space.
Furniture materials such as wood or rattan, a stump for a tabouret, or tropical imprints on cushions such as fronds or banana leaves, are discretely overflowing this stylish villa with nature.
The living space even has a pond with golden fish swimming around the giant stepping stones, which eventually transform into stairs for the upper floor.
Natural elements are blending into the black-and-white geometric design. It is consistently present throughout the house, from pillows and blankets to storage boxes and tiles.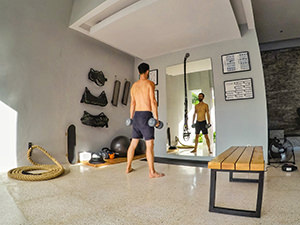 However, the biggest surprise on the ground floor is the cross-fit corner with a large mirror. It has some excellent training equipment you do not normally expect to find in a hotel room. I'm talking dumbbells, kettlebells, TRX, battle rope, pilates balls, yoga mats…
If you are a newbie to fitness, there is a display with workout ideas on the wall, with images.
For your convenience, there is a handy shower in the small bathroom on the ground floor. A powerful fan is also helping you withstand exercising in the tropical climate.
If you are a fitness junkie, The Samata in Sanur can be a great Bali accommodation choice too! I've never seen such a gym in any hotel! Check it out in our selection of top Bali resorts for recharging your batteries!
Keeping you hydrated and satiated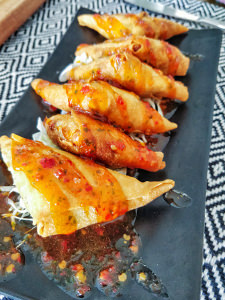 In the other corner, one can find a kitchenette/pantry with snacks and refreshments. The mini bar is stocked with soft drinks, but also chips, dry fruits, flavored cashews, and chocolates.
While most of the hotels would still be serving you bottled water, Origin Seminyak villas opted for an environment-friendly water station. You can use it to fill up your glass at your convenience.
Green apples give an additional nature touch to the modern seating area in front of the TV with Netflix content.
If you don't feel like exploring an array of eating options in the neighborhood, Origin Seminyak offers simple lunches you can consume in the privacy of your villa.
Wayan & Gede designed the Western and Indonesian meals, but the grazing menu was still in the making during my "recently opened resort" visit. Therefore, I only tried the decent samosas and the beef burger from the "under construction" lunch menu.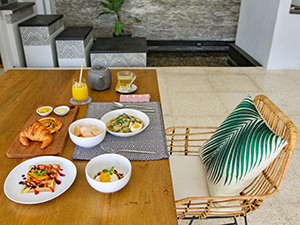 A la carte breakfast had more elaborate choices, and options were changing daily. They delivered it in tasting portions. One could combine the offer of bakery products, tropical fruit, muesli, French omelet, nasi goreng ayam, French toast, and so on.
While the content is satisfying and focuses on healthy organic ingredients, the only problematic part of the concept is that one needs to select the items the night before, as well as choose the exact delivery time. For guests who prefer less planning during their laidback Bali holidays, this may represent an unnecessary complication. Hopefully, meal planning will get less formalistic when the hotel gets in full swing. Putting an alarm clock to enjoy your breakfast while it's warm, is not the best way of spending the relaxed time that is promised by the rest of the resort concept.
Upper floor for sleeping and pampering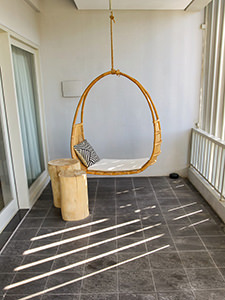 On the top floor of the villa, there is a large master bedroom with a comfortable bed, an open closet with sarongs for visiting local temples, discrete décor, another minibar, and a TV set.
The equally spacious ensuite bathroom has a double washstand adorned with a chic black chandelier. The bathroom products have the fragrance of amber, honey, and black tea.
For an authentic Bali feeling, there is a relaxing swing on the large balcony.
The metal shutters, as some post-industrial remnants, are accentuating the villa's black-and-white stripe design. They are throwing shade in a similar pattern on the inner side and giving the same contrast from the outside.
Vast activity offer, from surfing to scuba diving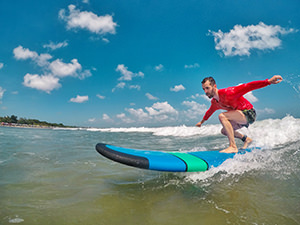 Origin Seminyak has a wide range of in-house services that cater for active holidays one can design according to one's own needs.
For instance, I enjoyed a great massage by a local therapist who arrived at the resort and provided the service on a massage table installed in the villa. I didn't need to look through the numerous spa options in Seminyak. The recommended one came over, and I could enjoy post-massage time in the privacy of the villa, without hitting the busy Seminyak roads.
On the other occasion, the concierge organized a private surfing lesson for me at Wayan Tembok surfing school on Double Six Beach. This 500-meter stretch of sand on Seminyak Beach was perfect for surfing beginners. And, to be honest, that was an incredible experience! It even made me reflect on the idea of moving to Bali for some extended period, and just – surfing!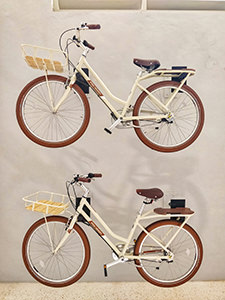 If you want to have the same exhilarating vacation time, it is good to know that Origin Villas Seminyak offer free use of not only bicycles and skateboards but also surfboards!
If you desire a private lesson in yoga, aerial yoga, or even scuba diving, all of that is possible.
Origin Seminyak can organize your excursion that can include hiking in Bali hinterlands, snorkeling on some great beaches, rafting in rivers, or sightseeing with a private helicopter.
Even when giving suggestions on where to eat or drink, or which Seminyak beach club to visit, I find their staff very knowledgeable and helpful.
All itineraries could be personalized, so Origin can indeed make your stay in Bali island original, one of a kind.
For the best accommodation deal, check the prices of Origin Seminyak on Booking.com!
3. Hotel Tugu Bali
Price per night: 241-311 Euros (Rejang or Dedari Suite)
Unlike the first two 4-star properties in this selection of the best hotels in Bali for luxury escapes, Hotel Tugu Bali has a 5-star classification.
Located in Canggu, which is slowly taking over the hip gloriole of Seminyak, this unique accommodation is well worth the extra miles if you are coming from the south of the island.
Monument to heritage and romance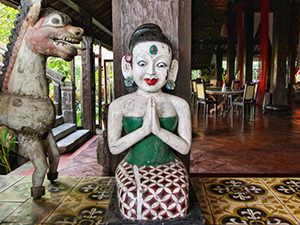 In the Indonesian language, tugu means 'monument'. And indeed, if monuments have the function to honor and memorize, the legacy of Indonesia has extraordinary recognition in the project of Tugu Hotels. They are a very peculiar compound of accommodation and museum.
The founder of Tugu Group was Anhar Setjadibrata. In the 1970s, this dreamer couldn't look at how his countrymen were discarding the antiques and artifacts, the silent witnesses of the Indonesian past.
In the times when Indonesians regarded being 'modern' as fashionable, a poor medical student turned into a passionate art collector. He became the owner of an impressive collection. Later, he decided to share it with the world through the projects of hotels, restaurants, and spas.
Set just next to the surf paradise of Batu Bolong, the most popular part of Canggu Beach, Hotel Tugu Bali is built by blending the architectural traditions of Bali and Java.
There are ten thatched pavilions connected by a maze of narrow walkways and koi-fish-rich waterways.
In the setting of a lush tropical garden, including the natural lotus pond of 700 square meters (see featured image), the art & antiquity collection is adding to the overall nostalgic atmosphere.
Tugu Bali Hotel is a monument to the romance of yesteryear.
Authentic luxury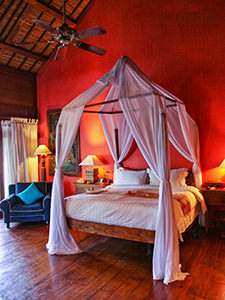 The low doorways, discretely opened if the villas are not occupied, are giving a glimpse of the luxury that Dedari Suites with private pools are providing to the guests.
During my stay at the Tugu Hotel in Canggu, Rejang Suite was the one I called home. This type of unit is on the upper floor of a Javanese house, reachable by a wooden spiral staircase.
While it doesn't have its private pool, this suite is a much better viewing point. Your gaze can travel freely over the resort's flora, all the way to the blue Indian Ocean hitting Bali shores.
With its 75 square meters, the suite dressed in luxurious timber is large enough to accommodate a big bed and several seating areas, including a working desk (if you felt like working).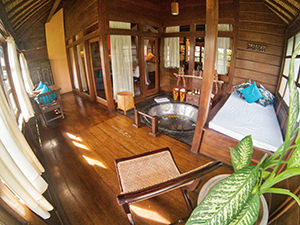 The TV set is smartly hidden under a white cover, as it would draw attention away from this authentic interior that spoke history.
The suite has a separate shower, toilet, and washbasin areas with a handcrafting touch of the local artisans.
The terrace (closed by both transparent and mat windows from all sides) is a perfect place to enjoy breakfast.
It also has an extraordinary surprise. With a large massage bed that could function as a daybed, and a unique round sunken bathtub filled with flower petals, this part of the suite resembles a private spa!
The chanting masseuse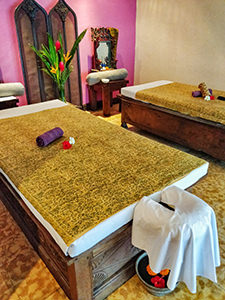 While the room provides incentives to switch off at any moment of one's stay, Tugu Bali Spa enriches the journey to a relaxed state of mind, soul, and body, in a very special way.
The spa is named Waroeng Djamoe, after an ancient apothecary producing healing jamu drinks. But there is much more to this concept than just providing traditional herbal medicines.
The ancient rituals of mystic healing triumph in Kamar Mantra. In this massage therapy, therapists chant hypnotic Hindu mantras while applying heating herbal oils onto one's body.
In the old times, this "magic" process, believed to penetrate the soul, was reserved exclusively for the higher caste. At Tugu Bali, the doors to the state of inner peace, bliss, and harmony, are opened to anyone.
Well, anyone who can afford it. The most extensive treatment on offer costs more than 3 million Indonesian Rupiah (200 Euros). But it also lasts 8 hours!
Gastronomic events for various tastes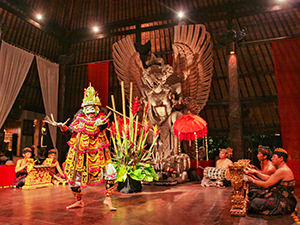 Hotel Tugu Bali digs into the forgotten, not only in its museum-type décor or ancient Oriental healing secrets. In the gastronomy department, old recipes come to life. They make the heritage of Indonesian cuisine, with various influences of the Asian neighborhood, triumph on the plates served in one of Tugu Bali's three in-house restaurants. Not bad for the hotel that has 21 guestrooms only!
Do you dream of the imperial dining in the royal chamber of Bale Puputan, while sitting in the antique armchairs around the country's largest 19th-century whole marble table? Possible.
Do you prefer experiencing dining as a theater? Then eating in the super high Bale Agung hall, next to the oldest 5-meter Garuda statue carved out of one tree trunk, while gamelan orchestra and dancers delivered a century-old choreography, can be your thing!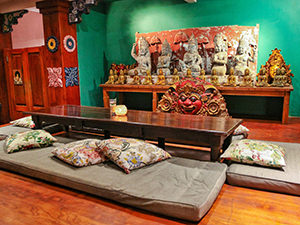 How about stepping into Bale Sutra 1706, a 313-year-old Kang Xi temple? This place is now housing a Tugu Bali restaurant focused on Japanese fusion, with fine wines and a sake bar.
If you want to feel the Indian Ocean breeze, JI Terrace by the Sea will deliver food from Indonesia, Japan, India, and Thailand with a view.
For a romantic dinner at Hotel Tugu Bali, eating in the candlelit hut at the lotus pond, in the bed on a torch-lit beach, or basically at any other intimate corner of the resort is possible.
Do you want to cook your own meal? Joining the Tugu Bali cooking class can be the best way to dig deep into the culinary secrets of Indonesia.
Eating well, anywhere, and at any time!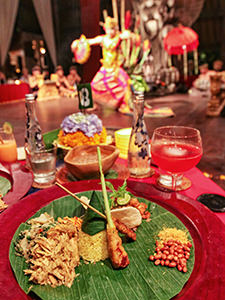 You can have a hard time choosing from the Tugu Bali restaurant menu. For a good overview of various Indonesian textures and flavors, try Tugu Rijsttafel! This famous dish includes a rice platter of Javanese chicken curry, beef in coconut sauce, prawn croquette, shredded beef, 'tempe' soybean cake, crisp grated coconut, yellow pickles, peanut crackers, garden vegetables in garlic and red pepper, and Javanese chicken satay. Vegetarian guests will find some fantastic dishes too, made after recipes inherited from famous cooks.
Besides the elaborated cultural dining experiences inspired by history, such as the eunuch dinner or almost forgotten satay parade, even the breakfast at Tugu Bali is an authentic culinary event.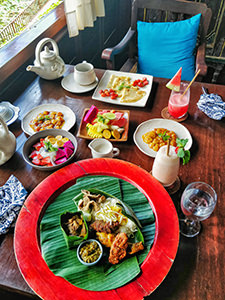 Tons of gourmet dishes to choose from, from power breakfast bowls to Indonesian sweet and savory treats, can be enjoyed at ANY time of the day. That's right! At Tugu Bali, one is not pressed to get up early to not miss the feast.
Another special moment would be the hotel's Jajan Pasar afternoon tea session near the main pool. However, your complimentary selection of Indonesian delicacies, with a quality coffee or simply delicious chai latte on the side, can be delivered anywhere you liked.
Past treasures worth preserving
As the very first hotel in Canggu, Tugu Bali is raising the quality of accommodation in the whole Badung Regency.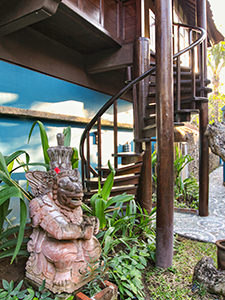 In the market where Seminyak high-end hotels are competing in delivering new urban trends, Tugu consistently relies on the power of history and its secrets. Maybe this is the reason why the rooms at Tugu Bali have the biggest keyrings I've ever seen! Carrying a decorated wooden dagger around may be impractical. But it is a constant reminder of a treasure this unique boutique museum hotel is celebrating.
Can charming historic houses win the battle with beach clubs whose decibels hit them back with thousands of noise daggers until 2 am? I don't know. I wish to believe that places such as Tugu Bali can find the solution to facing modern challenges if they want to continue delivering the romance of the past times.
From the very first moment at the reception desk with a shadow theater background, when they ornated my forehead with rice and tucked the frangipani flower behind my ear, until leaving the hotel when they gave me some souvenirs, water, and fruit for the road, all adorned with a smile, I believe it was indeed a ritual of making me Balinese.
Tugu Bali encapsulates the soul of Indonesia and thus deserves a sturdy spot among the best luxury escapes in Bali.
For the best accommodation deal, check the prices of staying at Tugu Bali resort on Booking.com!
Best hotels in Bali – conclusion
The accommodation market in Bali is exceptionally dynamic. New establishments are popping up all the time.
Sometimes, they are taking over existing spaces (as in the case of Origin Seminyak or The Amala Estate). They redevelop the property and elevate previous unsuccessful entrepreneur experiments into resorts that can answer the expectations of the tourists of today.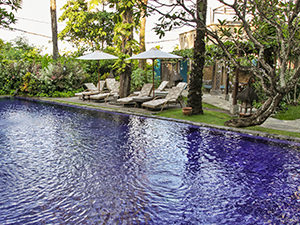 Then there are specific projects such as Tugu Hotels, which advocate for tradition. They take over even older houses and temples for a touristic make-over that nobody ever imagined.
While Origin focuses on modern urban travelers, Tugu targets those with more traditional expectations of what luxury is. The Amala finds its place in the market somewhere in between.
All of these 4 and 5-star hotels readily support the image of Bali island as a place where one can restore the body, mind, and soul.
Finding the best hotel on the island of gods is an ambitious task. As long as one can handle that Bali luxury escapes come in different forms, and with a variety of content, the quest itself can be an adventure.
If you have stayed at a place that deserves to be mentioned among the best hotels in Bali, please recommend it in the comments section!
But now… While you have some ideas about the high-end hotels in Bali, what are the places to eat some heavenly good food when visiting the island of gods?
Where to eat in Seminyak, Bali?
Seminyak has a great quantity of sophisticated fine-dining restaurants
Staying in one of the recommended hotels in Seminyak (and Canggu) typically means that they will cater to all your needs, including the need for good food. However, eating out in Seminyak can be a significant part of experiencing this area of Bali island.
Already mentioned, Seminyak Eat Street is a place with a high concentration of restaurants. If you are looking for buffet-style eating that could save some bucks and fill your stomach, all-you-can-eat establishments are easy to find.
For an elevated experience of eating in Seminyak, you should give a chance to the following restaurants!
1. Kilo Kitchen Bali
Kilo Bali restaurant opened in 2014 as the first overseas branch of the Singaporean Kilo concept. However, Kilo Kitchen's founder is a Puerto Rican. Javier Perez moved to Asia and started opening restaurants where people would feel at home.
The architecture at Kilo Kitchen Bali is modern, concrete, and not pretentious. It goes green from the little hill in the garden to the plants on the rooftop.
Groups of young people, as well as older romantic couples, enjoy this comfy atmosphere. It's smart to make a reservation before coming to Kilo Bali!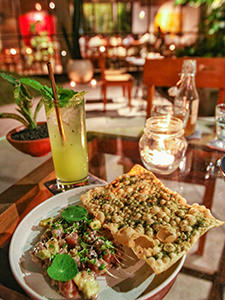 Drawing from its owner's life experiences, the Kilo Bali menu is a fusion of tastes from Southeast Asia and Latin America. Portions are meant for sharing, so feel free to order more choices!
Definitely include the crispy tempura eggplant with balado sambal, prawn ravioli in sake buttercream and parmesan, homemade ricotta gnocchi with grilled mushrooms in miso sauce, and the most delicious grilled avocado in ponzu!
Kilo cocktails, as well as their homemade kombucha tea, are worth trying.
Side note: if you're into unusual interior design, definitely pay a visit to the Kilo Bali restroom!
2. Merah Putih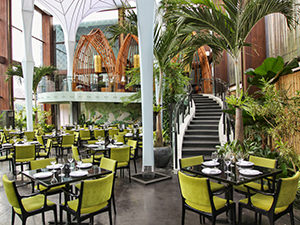 Located in the heart of Petitenget, Merah Putih does not only look like a cathedral of fine dining. With high solar-filtered glass walls and a translucent ceiling that collects rainwater, this sustainable and functional architecture provides a roof for both tropical plants and Michelin-starred food.
Merah Putih, as proudly suggested in its name ('red' and 'white' are the colors of the national flag), serves Indonesian food, both traditional and modern.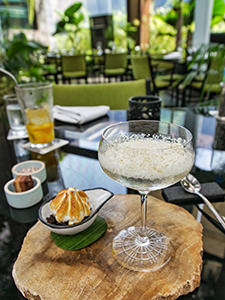 It also suggests family-style eating, with plates typically set in the middle of the table and encouraging a social atmosphere.
I enjoyed mie udang (homemade noodles with sea urchin and yabbies), kembang kol (fried cauliflower salad), and sayur sayuran (local organic veggies that came with citrus & kemangi iced tea).
Their signature cocktails looked promising, and the Balinese white chocolate martini (vodka, chocolate liqueur, Balinese white chocolate) did not disappoint.
Cup holders with imprints of the kitchen staff portraits leave a friendly, human touch.
3. Sea Circus Restaurant & Bar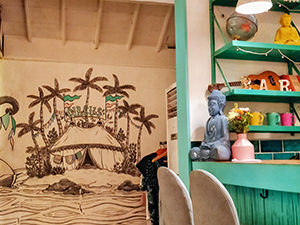 Sea Circus defends the less pretentious Seminyak restaurant scene. It was Melbournians who started it, after quitting their jobs in the advertising industry, moving to Bali, and deciding they needed a "restaurant, cocktail bar and coffee den".
This colorful and artsy interior is full of little details evoking circus and seaside memorabilia as part of the interior. They also exhibit works by guest artists.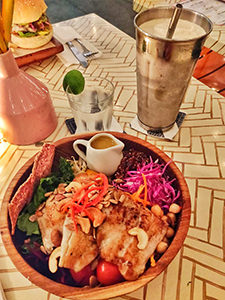 Sea Circus' menu is a simple "fish & chips" type of offer, with a variety of burgers, smoothie bowls, and tacos.
I enjoyed my nourish bowl with grilled barramundi, that came with organic kale, baby spinach, chickpeas, red quinoa, beetroot, carrot, sprouts, cherry tomatoes, purple cabbage, roasted pumpkin, toasted seeds, cashews, and lemon agave dressing. I started drooling over the content description, so I wasn't surprised the dish was equally mouthwatering.
Side note: to see another unusual washbasin, visit the loo at Sea Circus café too!
Did you like this article on the best hotels in Bali and Seminyak's finest restaurants? Pin it for later!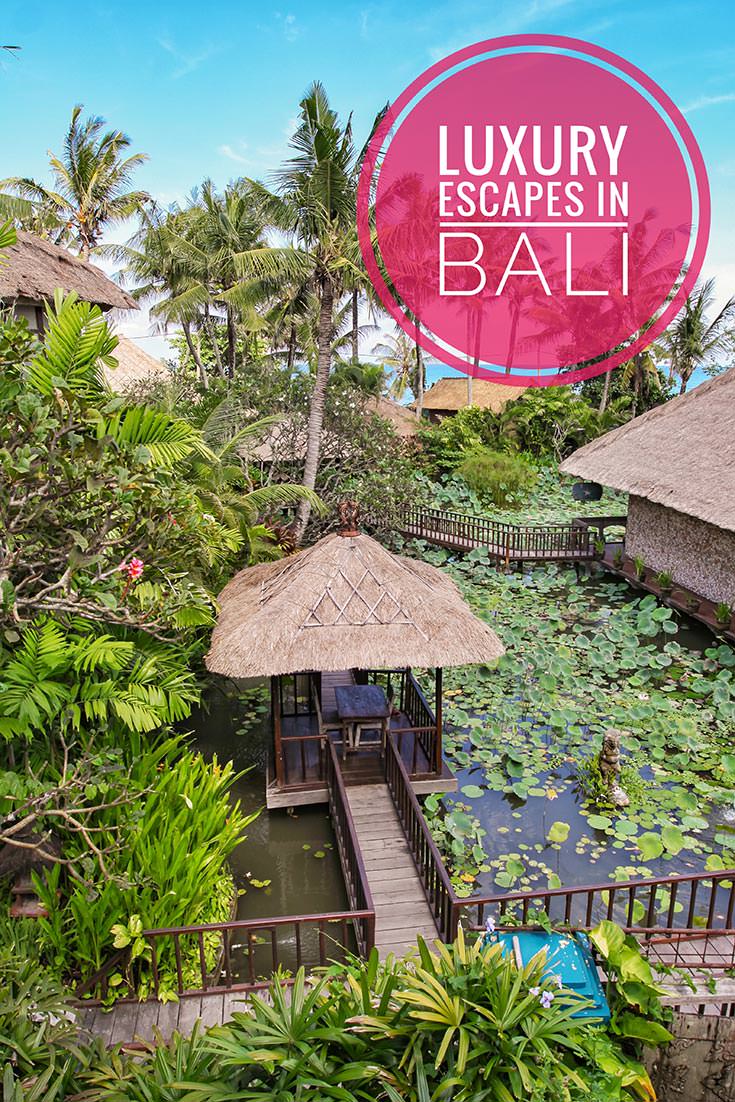 Disclosure: My stay at The Amala, Origin Seminyak and Tugu Bali, as well as a dinner at Kilo Kitchen, were complimentary, but all opinions are my own.

Also, this post contains affiliate links, which means if you click on them and make a purchase, Pipeaway might make a small commission, at no additional cost to you. Thank you for supporting our work!