Waking up on a calm beach, surrounded by wild animals, sounds like a contradiction. But in West Bali, it's part of the natural balance. Equipped with a stable amount of caution and curiosity, deer, monkeys and tourists share the Sentigi Beach in harmony. This is The Menjangan Resort, a place where beach villas come with charming four-legged neighbors.
This is Bali as it once was. Away from the crowds, noise, and traffic. A hideout on the meeting point of a jungle and a beach
Menjangan in English means – 'deer'. This old Indonesian word for the species of wild deer inhabiting the area of the West Bali National Park is borrowed both for the neighboring island the animals swim to every year, as well as for the hotel spreading strong roots in the national park, just like the mangroves surrounding it.
The Menjangan, a member of Lifestyle Retreats, is a boutique property on the northwestern corner of the most popular Indonesian island. But this is Bali as it once was. Away from the crowds, noise, and traffic. A hideout on the meeting point of a jungle and a beach.
The unspoiled forests and the tranquil undersea provide a rich holiday arena for nature-inspired travelers. At the same time, one doesn't have to follow Robinson Crusoe; The Menjangan is a jungle resort with all the luxury one would expect from the 4-star Bali hotel!
The wilderness of Bali will continue to be an appealing invitation card in post-pandemic times as well! In The Menjangan Resort review, find out all the benefits of staying in the heart of a national park! And then add it to your travel plans!
The Menjangan – National Park's alluring outpost
Taman Nasional Bali Barat (West Bali National Park) covers 190 square kilometers of Buleleng Regency that follows the island's northern shores.
Encircling the extinct volcanoes, there is a variety of habitats here. Montane forests, rainforests, lowland forests, mangrove forests, acacia scrubs, dry savannas… The rest of the park includes a kilometer-long beach, coral reefs, and several sanctuary islands.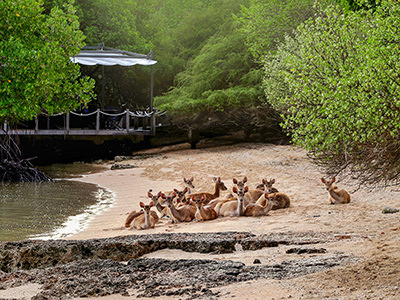 The largest of these sanctuaries, Menjangan, was named after large populations of deer that migrate to and from the island every year. Javan Rusa and Indian Muntjac deer need to swim 2 kilometers between Prapat Agung Peninsula and this practically uninhabited paradise. The only humans who have permission for staying overnight are Hindu monks. Their temples are the only artificial structures on Menjangan Island.
Deer also love temples in Japan. Check Nara Deer Park, a place where more than a thousand deer congregate inside the city!
At the beginning of the 20th century, there were also Bali tigers living in West Bali. The last one was documented in 1937, just four years before the nature park was upgraded as a national park.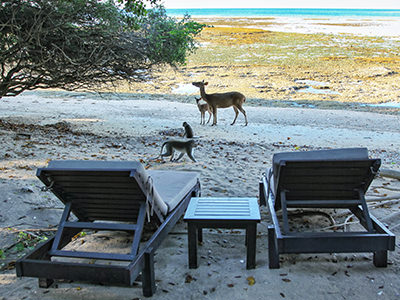 In this millennium, another species was facing extinction. In 2001, there were only six Bali starlings living in the wild, all in West Bali National Park. But thanks to the breeding program of Surabaya Zoo and Taman Safari Indonesia, the endemic white bird was saved. Reintroduced to nature, Bali Starling, also known as Bali myna, is now "only" critically endangered.
With over a hundred wildlife species, the neighborhood of The Menjangan Resort remains a lively ecosystem. The fauna includes banteng cattle, wild boars, large flying foxes, leopard cats, hawksbill sea turtles, water monitor lizards, numerous birds and coral species.
Staying at The Menjangan requires purchasing a ticket for West Bali National Park. The entrance fee for foreigners is 200.000 IDR (12 Euros). Indonesians pay less than 1 Euro. Quite cheap for such bio-diversity at your doorstep!
Menjangan beach villas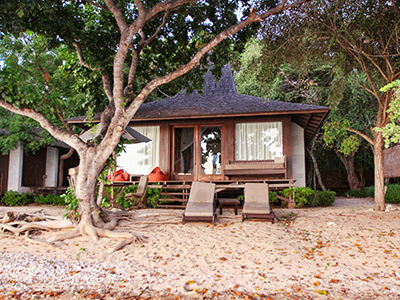 In Menjangan beach villas, one wakes up in a peaceful setting. As the morning sunlight slowly spills into your room through large sliding doors, the first thing you notice are discrete stickers of stags and geckos on the glass. After all, birds could mistake your four-poster king-size bed with a perfect place to build a nest.
Outside, a daybed and beanbags on the wooden deck, and sunbeds and chairs with parasol-equipped café table on the sand. In a small jungle of outdoor furniture, someone is already enjoying the morning views. Sitting on your sun lounger, a macaque monkey is observing the low tide.
A deer on its way to the tree buffet breakfast walks into a scene. Cautiously following mama's shadow, a playful Bambi explores the white sandy beach of The Menjangan.
This is how mornings on the water's edge of the Bali Sea look like.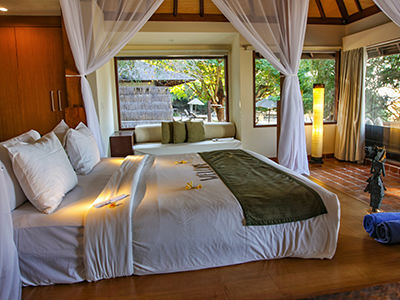 There are seven beachfront villas at The Menjangan Resort. Joglo-style architecture, traditionally associated with Javanese aristocracy, is a shell for a minimalist but modern interior. It includes an iPod dock and flat-screen TV that doubles as a 2D fireplace for romantic evenings behind the bed canopy.
Another cozy part of the spacious 105 square-meter villa is a secluded outdoor bathroom zone. Here, one can soak in a bathtub or enjoy the rainfall shower, all enhanced with fragrant soaps Lifestyle Retreats are known for.
Besides the beach villas, the coastal part of The Menjangan offers accommodation in a large 1000 square-meter Residence. This private estate offers three bedrooms, an infinity pool perched on a cliff, and a personal butler.
There is also The Menjangan Monsoon Lodge further from the beach and deeper in the forest. Fifteen minutes away by the resort's always available double-decker minibuses, this complex of deluxe rooms and suites embraces the communal pool.
While on my most recent visit I stayed in a beach villa, in 2017 I reviewed The Menjangan Monsoon Lodge. If you want to know a bit more about it, read the article on top Bali resorts for recharging your batteries!
Things to do at The Menjangan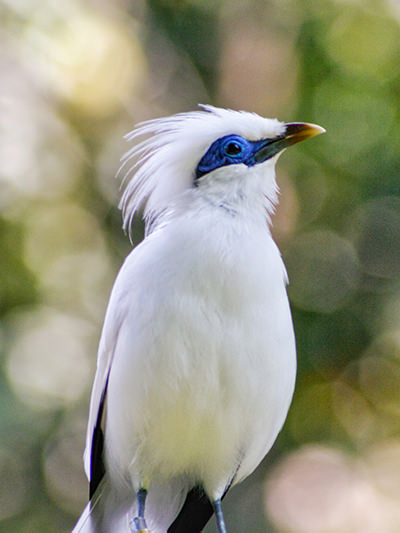 For those who would find chilling by a pool or lazing on a beach boring, a variety of options for active holidays will never leave you wondering what to do at The Menjangan.
Already the surrounding forest provides amazing grounds for exploring spirits. Just walking the trails will get you close to the wildlife. Face-to-face encounters with deer and monkeys, spotting monitor lizards among the mangroves, birdwatching with more than 120 species of feathered forest inhabitants, are all rewarding experiences.
If you want to pump more muscles while exploring nature, you can jog and train in the forest gym! Over a kilometer of a dedicated trail, different exercise points have been set, with well-explained instructions. This peculiar version of a street workout is not only placed in nature but also inspired by it. The exercises invoke the movement of birds, squirrels, monkeys, and monitor lizards.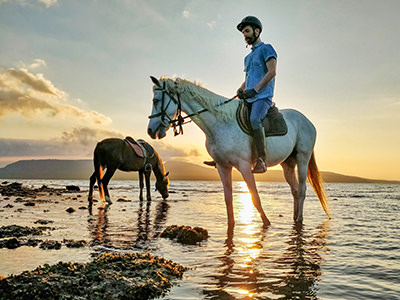 The safari-style shuttle is always ready to transport you from point A to point B. But bushwalking over the 4 square kilometers of The Menjangan resort is more authentic. You can upgrade the experience by riding a bike (even a tandem bicycle is available!) or – a horse!
Horse riding is probably my favorite among the available on-land Menjangan activities. Bruce and Chippy are just two of many trusty Australian horses in the resort's stables. Under the guidance of the trainer Semara, riding through these lush forests seems to be a piece of cake, even for perfect beginners. I'd recommend a late afternoon ride to the beach. Seeing the sun setting behind the volcanoes of Java, while your horse walks through shallow water, will be carved into your memory.
Menjangan Island – snorkeling and diving top destination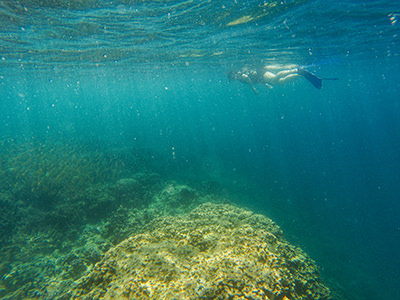 When staying at The Menjangan, reducing the sea activities to just an occasional swim would be a pity.
Word of advice: if you love swimming, beware that extreme tidal changes at Sentigi Beach happen as a consequence of its shallowness. The ocean floor is rocky here. While deer deftly navigate through this environment, it is not exactly the best entrance point. And you could even damage the corals! Instead, follow the boardwalk to the Beach Club, and access the water via a jetty.
Here, a plethora of activities awaits for you! Kayaking and paddleboarding are great ways to explore the mangrove maze in the Bajul Bay, and even visit the Banyuwedang Hot Spring.
But to fully enjoy the coral gardens of Menjangan, one needs to go under the surface. Already snorkeling in the resort area will open up worlds of abundant marine life.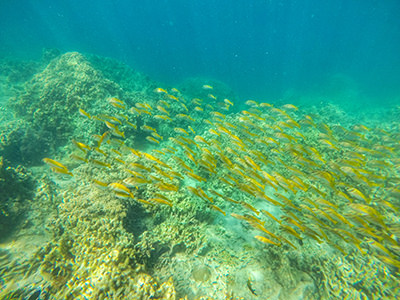 For an even more outstanding experience, one needs to take a boat to Menjangan Island that offers excellent diving conditions. What Gili islands represent for Lombok, Menjangan Island is the same for Bali. And The Menjangan resort's very own PADI-certified diving center has all the equipment you would need for exploring the undersea!
There are dozen world-class dive sites just off the coast of Menjangan Island. They include a 19th-century shipwreck, eel garden, underwater caves, and spectacular reef walls teeming with life.
There are more than 50 coral species living in the Menjangan coral reef, sharing space with fish, sponges, and pygmy seahorses.
The life of corals around the Menjangan is greatly dependent on the rise of the water temperature. In global warming, the westernmost part of the Coral Triangle represents an important cornerstone of the threatened biodiversity.
Sustainable tourism efforts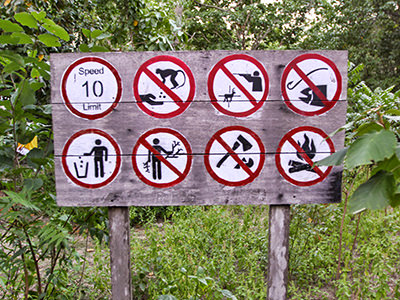 With its privileged position in the center of a jungle and protected marine area, The Menjangan is logically focused on the practice of eco-tourism. Sustainable tourism is the only responsible approach to development here.
Guests need to adapt to the rules of the national park. These are directly linked to the protection of the area, but also to the richness of our experiences.
Feeding the animals is strictly forbidden. Because they live on their own, macaque monkeys in West Bali National Park are not as aggressive as those in Ubud Monkey Forest, for instance. If humans stop behaving like a source of food, animals learn to ignore us, and certainly don't steal our sunglasses or purses, hoping to exchange them for a banana. This is the secret of getting close to wildlife and observing their natural behavior.
From "welcome" letters written with twigs on the bed, to "plant a tree" programs, we are constantly reminded how easy responsible choices are.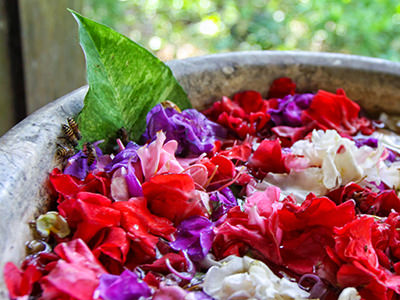 Metal straws in our cocktails, lack of single-use plastic bottles in toiletry, refillable water bottles made of stainless steel, are simple eco steps that immediately catch the eye.
Ecological solutions do not jeopardize the guests' comfort at The Menjangan. From the already mentioned TV-fireplace to the Bamboustics loudspeakers made of bamboo, green solutions show that we can still enjoy modern life and reduce an environmental footprint while we do that.
Staying at The Menjangan eco-resort requires awareness that we are just visitors of the land that belonged to other species long before us. So if we do need to leave a trace, it better be a positive one.
A bowl of water filled with colorful flowers as a landing site for thirsty jungle bees is another example of how, instead of exploiting natural resources, tourism can easily support them.
For Lifestyle Retreats in other parts of Bali, check The Santai or The Balé!
The Menjangan restaurant offer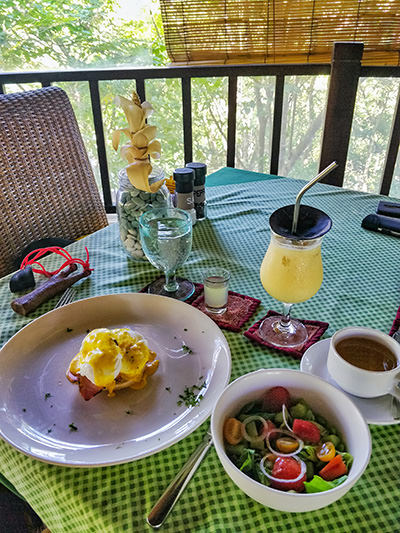 There are two restaurants at The Menjangan. Pantai Restaurant specializes in seafood and barbecue, while Bali Tower is a bistro-style restaurant. They include both Indonesian and international dishes.
Pantai Restaurant, literally a beach restaurant, is a pleasant place to start a day. Breakfasting on a wooden deck, with scenic mangroves and sea in the background, is a picture-perfect experience. But, most importantly, it will satisfy both your taste buds and stomach.
The breakfast menu is extensive, offering everything from homemade bakery products and yogurt with locally sourced muesli to Indonesian rice porridge or fried noodles. Vitamin boosters add another healthy note to the royal spectacle on the plate.
Watching the sunset by the ocean, with Frozen Strawberry Margarita in your hand, sounds like a great alternative to previously mentioned horse riding. But Bali Tower also has its sundown advantages.
This restaurant above the Menjangan's open-air reception brings you literally to the treetops, with jungle panorama everywhere you look.
None of the trees had to be cut for the construction of this spectacular building. The owners transferred the 30-meter long logs from Borneo. They literally engaged workers to bring them in arms so that they wouldn't have to clear the land for the trucks.
Bali Tower, besides offering an unobstructed Menjangan view, proudly defends its fast and simple dishes. Seafood curry with tiger prawns, barramundi and cuttlefish, served with crispy vegetables and homemade squid-ink noodles, is one of their newest favorites.
Next to your fork and knife, you will find a sling with stones, supposedly so you can defend your meal from the hungry monkeys. While it is a joke, it also reminds us that eating in the center of Bali's only national park is a true privilege.
Reflection at the spa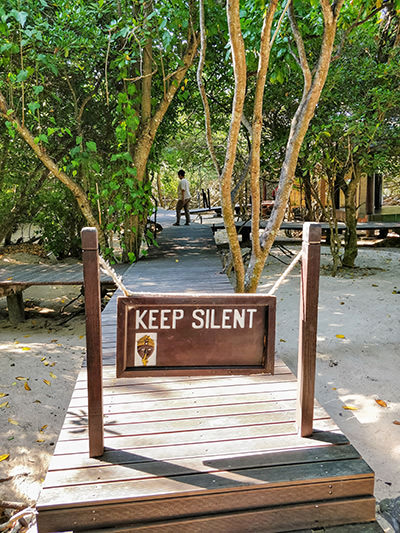 Active holidays should always have some counter-action measures. The Menjangan's spa has an answer for reducing all that tension that built up during our kayaking, diving, and horseback riding.
The Mangrove Spa is literally that – a spa at the waterfront, in the shades of the mangrove trees. One could think that open-air gazebos provide little privacy. But actually, it is a silent and rather intimate setting. Nature only elevates the experience of high-quality massage therapies.
The treatment becomes a multisensory experience fueled by nature. The ocean scents, the sound of the waves, the view is always there… That's right, even when you are laying on your massage bed face-down! An ingenious add-on in a form of a mirror lets you observe the seascape while your back is being healed by a traditional massage.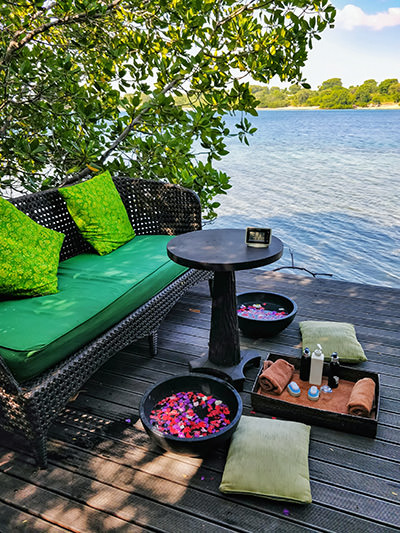 In a sequence of treatments that can develop from footbath ritual to soothing and detoxifying body massage inspired by traditional techniques of Bali and Japan, only natural local ingredients are being used.
I thoroughly enjoyed the pampering at this discrete wellness nest! It doesn't just give your body a moment to switch off and recharge. Just like with a massage-table mirror turned towards the blue sea, the treatment allows open space for reflections in your mind. I found this spa concept well-thought-out and exceptionally smart!
How to get there?
Due to its remote location on the northwestern corner of Bali island, West Bali National Park is the furthest one can go from Denpasar.
The drive from Ngurah Rai International Airport to The Menjangan Resort takes up to 4 hours. I strongly recommend booking this transfer through the hotel. It's not just a practical pick-up from door to door. It's also the most pleasant way to travel the winding roads to the north. Just relax in your back seat, nibble on provided complimentary peanuts and fruits, hydrate with water, put your music on via Bluetooth, or even fall asleep with the help of provided travel pillows.
When I visited Kawah Ijen Volcano in Java, I also managed to easily travel to The Menjangan by ferry. The two islands are connected through Ketapang and Gilimanuk ferry ports. The Menjangan driver can pick you up at Gilimanuk. Just be aware of the 1-hour time zone difference between the two islands, something I totally forgot about on my first visit. Well, I even miscalculated the date I should get there, but that's another story.
If you also easily get confused when traveling, don't feel alone and bad about yourself. In order to understand why these things happen, I did personal research. I even named the phenomenon a travel fogginess, so we can all blame our brain for "behaving on its own". Read more about traveler's confusion here!    
The Menjangan Resort Review – Conclusion
With 382 hectares, The Menjangan is the largest resort within the boundaries of the West Bali National Park. As it has no immediate neighbors in this protected landscape (which also means no commercial restaurants you can easily walk to), this secluded hotel brings the advantage of the accommodation synchronized with nature.
The experience of staying here resembles entering a time machine. It catapults you to Bali before radical touristic exploitation, when trees were sacred and monkeys did not steal bags from humans.
As long as you behave as a silent and grateful observer, staying at The Menjangan opens a window into an unfiltered and unedited National Geographic Live
Protected by the national park rules, this part of Bali remains different than the rest of the island. It brings rewarding expeditions in its forests, fantastic undersea explorations, and amazing wildlife encounters.
At The Menjangan, shy deer, self-reliant macaques, giant lizards and rare birds will eventually say "hi". As long as you behave as a silent and grateful observer, staying here opens a window into an unfiltered and unedited National Geographic Live. And without that tiger from the 1930s, it's perfectly safe!
On the other hand, The Menjangan is still a hospitality project. It will not deprive you of modern luxuries. From the welcome spring rolls to the good-night message delivered at turndown service, the resort staff seems to be always available in supporting the upscale vacations that are both active and relaxing.
The ability to enjoy the benefits of modern civilization and the simultaneous awareness that negative effects on the environment are actively minimized bring another layer to your peace of mind.
Tourists come to exotic places with overweight luggage in the stress department. It is reassuring to know that there is a cure for these overpacked issues and that we can actually give something back in that healing process. Something beyond the loud parties and disrespectful temple selfies. Something that doesn't end up as "Eat, pray, love, destroy".
Did you like The Menjangan Resort review?
Pin it for later!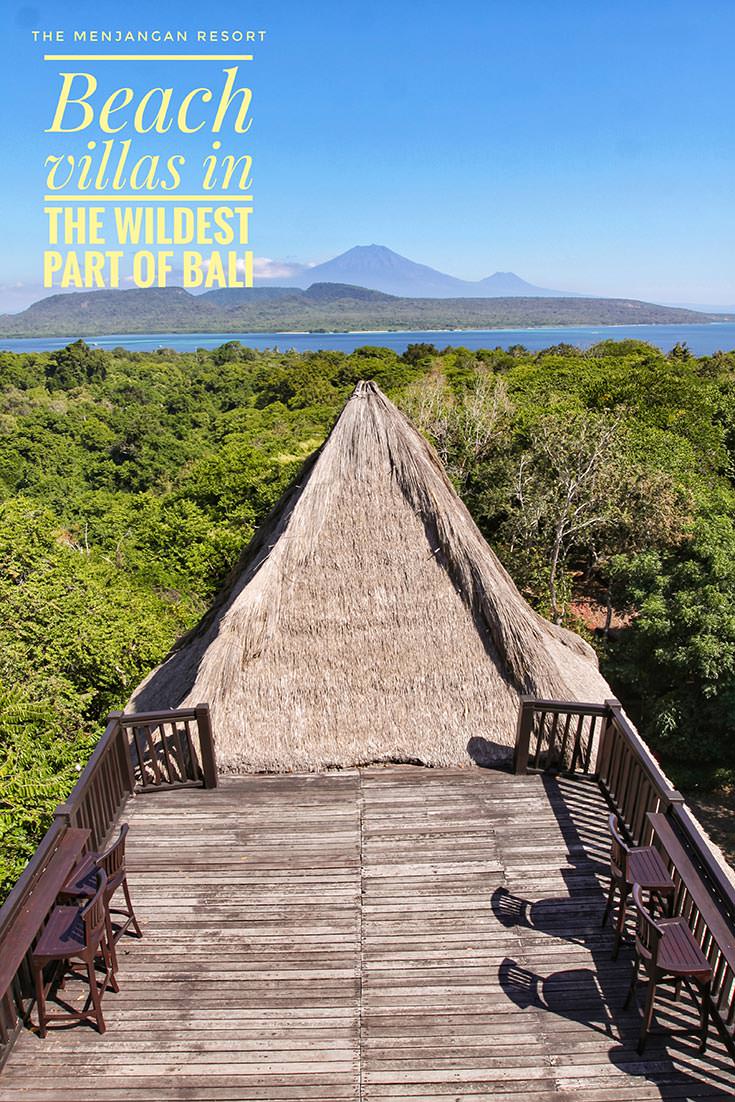 Disclosure: My stay at The Menjangan Resort was complimentary, but all opinions are my own.

Also, this post contains affiliate links, which means if you click on them and make a purchase, Pipeaway might make a small commission, at no additional cost to you. Thank you for supporting our work!