GAFFL (or Get a Friend for Life) approached Pipeaway founder Ivan Kralj for his participation in its series of inspiring travel stories. After Nomadic Matt, Nomadic Boys, One Step 4Ward Johnny, World Travel Family, and other famous globetrotters shared their views with GAFFL, the site asked Croatian travel blogger to give solo travel tips and an insight into the other secrets of his adventures.
Being an app that helps you find a travel buddy, GAFFL focused its questions on intentions and methods of traveling alone but also asked about the social life such type of traveling can produce and the associated travel costs.
Ivan admitted that "most people approach traveling as a luxury, something one needs to sacrifice valuable time and money for, which most of us never have enough of, so we get stuck in the endless circle of workplace/commuting/home."
Then again, those who do have a surplus of resources, can go anywhere, but risk staying lonely in their pursuit.
"For instance, the Japanese billionaire Yusaku Maezawa is financing the first human mission around the Moon, and yet he wants to share it with other people. What is the most spectacular view of Earth, if it takes only your breath away?", asked Ivan in the interview.
Traveling to another part of the planet, and staying there longer, is not the same feat as in the times of Magellan or ColumbusIvan Kralj
The world shrinks as we age
Pipeaway blogger shared his theory of a shrinking world with GAFFL readers: "As babies, we are limited to our mothers' breasts and attention. As children, we start exploring our neighborhood. As teenagers, we step into the unknown parts of the city. After a certain amount of traveling in the region, even exploring other parts of our continent doesn't seem to be so far away. In my today's perspective, traveling to another part of the planet, and staying there longer, is not the same feat as in the times of Magellan or Columbus."
Indeed, the world is possibly becoming "smaller" with the progress of our civilization and ourselves. Technology and the way of life allowed us to cover more space and have more time to do it.
"Even the cost of such a flight ticket, if we stay longer at the final destination, becomes equal to the cost of a tram ticket that a non-traveler buys every day while commuting to work in their home city", Ivan compared.
Postponing dreams will not make them a reality
As someone who "swapped a piece of the Mediterranean with the vastness of the world" in 2017, Ivan advocated for living in the "now".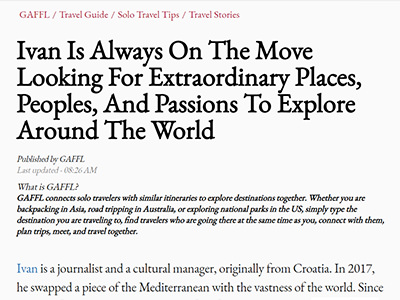 "There have been many articles on the fact that people at the end of their life always regret the things they didn't do. We might be imagining our dedicated work will result in happy retirement, when we will finally afford the life we want to live. But that's a big loan from the future. We might end up being not just retired, but also tired, and our goals might change. (…) We are planning the life of a person we are yet to become, instead of following the plan of the person we are at this very moment", he said.
If we put the world pandemic, wars, and similar crises on the side, as well as the political control of the world through the visa regimes, there are not many things stopping you from following your path and passions today. "Prolonging our dreams indefinitely does not equal making them more realistic", Ivan concluded.
Priceless experiences
In this interview, Ivan shared how his love for minimalism evolved through the years of traveling. From someone who has put a hairdryer in his first long-term traveling suitcase (hardly a necessary item), he described the maturing into a person who can spend a month in Greece with hand luggage only.
"Of course, I try to travel to warm destinations, which is my personal preference, but it also means less clothing. It's unbelievable how much space we can save in our bags if we kick out some sleeves!", Ivan jokingly said.
Besides the climate, the variety of content affects Ivan's traveling choices: "from natural beauty to cultural richness, societies that can blend urban and traditional, and just anything extraordinary, be it a well-known attraction, or a well-kept secret."
When asked about his craziest travel experiences, Ivan could only pick questions out of his eclectic cocktail of adventures.
"Feeding elephants in a Cambodian jungle by mouth, or petting wild hyenas in Ethiopia? Standing on some scary Norwegian cliffs, or exploring an abandoned amusement park in Vietnam? Falling off a motorbike on some terrible road in Laos, or having breathing equipment problems while scuba diving in Greece? Following penitents who pierce their cheeks in Malaysia, or those who prove their faith in the Philippines by being nailed on the cross? Spending fantastic days in Turkish baths in Hungary, or entire nights in South Korean spas? Having a great night out in the infamous Berlin club Berghain, or chilling with hundreds of deer while watching cherry blossoms in Japanese temples?"
There is no unison answer to this question, just glimpses one can find on Pipeaway.com.
For the rest of Ivan's views on traveling, read the full interview on GAFFL, the online tool that enables travelers and adventurers to plan trips together.
What is your perspective on solo travel? Leave your comments below!
Did you like this article?
Pin it for later!