An Asian bathhouse is growing in popularity all around the world – the Korean spa! The trend is especially strong in the USA. Dozens of Korean spa facilities popped up in cities such as Las Vegas, New York, Los Angeles, Chicago, Atlanta, San Francisco, and Dallas. But Pipeaway traveled to South Korea, the homeland of Jjimjilbang, and visited a dozen of K-spa facilities! We wanted to know more about this Korean bathhouse!
Typically open 24 hours a day, it is not just a place to enjoy the hot tubs, sauna, massage, or famous Korean scrub. Traditional Korean spa is a social meeting place for locals and a budget-friendly accommodation for travelers!
In this step-by-step Jjimjilbang guide, you will learn what is a Korean spa like and how to use it. Find out how to respect Korean bathhouse etiquette and how not to break Jjimjilbang rules! Here it is: the ultimate guide to the Korean spa for beginners!
Every neighborhood in the South Korean capital has its own bathhouse. Check these top 5 jjimjilbangs in Seoul! 
Korean spa history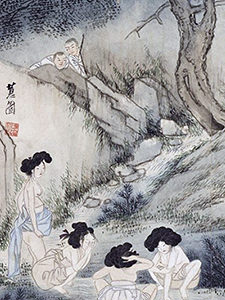 Korean spa culture has its roots in religious practices. Chinese sources of the Song Dynasty described in 1123 that, every morning, Koreans were taking baths in their rivers. This was a form of Buddhistic spiritual purification. There was no separation by gender, and men and women were bathing naked. River bathing continued until the 20th century.
In 1429, the Joseon Dynasty introduced different moral standards, considering the mixed bathing vulgar. The Buddhist monks started to maintain Hanjeungmak, the traditional Korean sauna that was burning the pine wood to heat the kiln, a dome-shaped room made of stone or clay. Here, the priests performed spiritual cleansing and healing rituals. They separated visitors by gender; men were sweating in the afternoon, women in the evening.
Japanese colonization brought to Korea bathing houses inspired by Sento. However, Koreans and Japanese were not allowed to bathe together. When the first modern public bathhouse opened in Seoul in 1905, Koreans didn't come, and the project was short-lived.
Public bathhouses (called Mogyoktang or Mokyeok-Tahng) were appearing around the country despite the resistance. By the end of the 20th century, the popularity of these establishments grew; their number was higher than 10.000. The naked bathing was in again! Mogyoktang's unique signature became a thorough skin scrubbing.
In 1960s Korea, prostitution was illegal. The bodies of the naked citizens and the hands of masseuses found a mutual interest. "Special services" were offered in establishments called Health Clubs, Massage Salons, and Turkish Baths. Until the Turkish embassy protested against disguising the brothel activities behind their nation's name.
Do you want to get a taste of Turkish baths in Europe? Check out Rudas Baths in Budapest, Hungary!

History of Jjimjilbang
The first Jjimjilbang was founded in Seoul in 1992. Today, there are thousands of these 24/7 Asian bathhouses in South Korea!
The history of Jjimjilbang (찜질방, jjimjil = heating, bang = room) started in 1992. The first one was established in Seoul. This new form of public Asian bathhouse combined Mogyoktang and Hanjeungmak with additional features such as the sleeping areas and various entertainment rooms. Most of Jjimjilbangs operated 24/7!
The Koreans very warmly welcomed this upgraded experience. From 550 in 1995, the number of Jjimjilbangs in the country grew to 1600 in 2004.
At the beginning of the century, the Asian bathhouse boom raised various issues regarding cleanliness and security. The new law in 2005 made stricter rules for Jjimjilbangs, prohibited alcohol use, as well as overnight stays for minors. It seems the latter one is not applied anymore, as children are clearly spending their nights in the Jjimjilbang too!
What is a Korean spa like?
Korean spa is not just a place to soak in various pools and sweat in different saunas. Jjimjilbang is open 24 hours for a reason! It allows you to step out of the hasty everyday life, switch off, and spend hours and hours relaxing.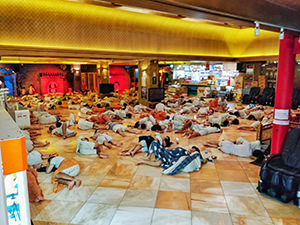 Sure, this includes wet and dry saunas and hot and cold basins of water. But you can also have a traditional meal, get a haircut, play some games, watch movies or take a nap. You can mingle with old and new friends, or enjoy the me-time, be it on the massage table or in a peaceful corner of a warm room dressed in crystals.
Unlike the Finnish sauna where clothing is optional, and one can hide insecurities behind the towel, in the wet area of the Korean bathhouse, nudity is mandatory. That's why male and female sections are physically divided. There's no fear of exposing in front of the opposite gender!
Asian bathhouse & cultural shock of nudity
Almost every westerner's article on Asian bathhouses I've read focuses on the awkwardness of nudity and the so-called cultural shock of Jjimjilbangs.
Honestly, if you are a person that enters a Finnish sauna in a swimming suit, you might be looking for relaxation in the wrong places.
If you feel intimidated by the whole idea and cannot overcome the nudity aspect of joining the Korean spa experience, maybe you should spend a day on the beach.
Some writers assure nobody will stare at you. I guess it depends on your definition of staring! You are probably a non-Asian person in an all-Asian environment. Your body may differ in color or shape; people WILL look at you. Get over it!
It is irrelevant to point out that nobody will judge you in a Korean naked spa. You're in a bath! Everyone visits the Asian bathhouse to enjoy the facilities, not to choose the stripper of the month!
If you have issues with Korean spa nudity, what would you say about the naked men hiking trend?
How to use Jjimjilbang – 13 steps guide to the Asian bathhouse of South Korea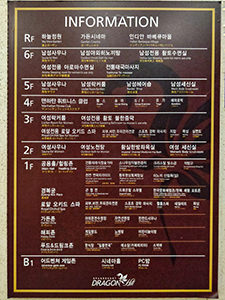 Jjimjilbangs are often large multi-story facilities. For first-time visitors who do not speak Korean, the layout of this Asian bathhouse may be confusing. But this step-by-step Jjimjilbang guide will help you understand how to use Korean spa!
Step 1: Pay the entrance fee, get the bracelet
First, you need to pay. There will be several packages available. Typically, a day rate ticket is valid until midnight (entrance between 5 am and 8 pm). The check-out for the night rate ticket is at noon at the latest (one can enter from 8 pm till 5 am).
In some places, bath and Jjimjilbang (technically, the clothed area) are integrated. In other sites, one can come only for the bath. So if you want to experience a real sleepover spa, mention the word Jjimjilbang at the ticket booth! And of course – pay the night rate, unless you want to leave before midnight.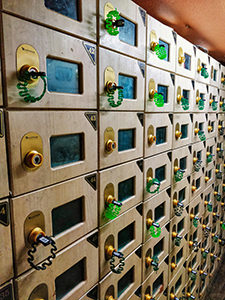 In exchange for your money, you will get a numbered bracelet that could be your electronic "wallet" for other purchases inside, or it could have a physical key to your locker (or both).
The Jjimjilbang welcome package will also include shorts and a T-shirt you will need to change into later. If you didn't get them, keep your ticket and exchange it for your pajamas at the counter in the changing area.
Step 2: Take your shoes off
Before stepping on the wooden flooring, take your shoes off, and store them in the small lockers.
Step 3: Change to your birthday suit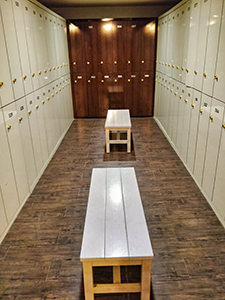 As mentioned earlier, Jjimjilbang is a gender-segregated Asian bathhouse. Follow the sign to an appropriate changing area: nam (남) for men and yeo (여) for women.
Find the locker with your number and undress completely. By this moment, you will already notice naked people walking around.
So don't overthink, be confident, and leave everything in the locker. Remove your rings, glasses, earrings, and continue completely bare! The only thing you could bring with you to this nude Korean spa is your toiletries.
Step 4: Take a shower
It's time to get wet. First, you will pass through the vanity room where later you can use complimentary beauty products such as hair gel, body lotion, or cotton swabs. There are also hairdryers and scales to weigh yourself.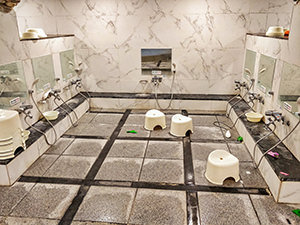 The bath is usually behind some glass doors. Before entering any of the pools, it is essential you take a proper shower. Your options will be either taking a standing one, usually with no partitions, or sitting down at one of the washing stations. These are equipped with a small plastic stool to sit on, and a plastic bowl to rinse with. Some Koreans primp in front of these mirror-equipped showers for hours, so being able to sit is somewhat helpful. However, if you do decide to shave, do it at the end of all your bathing rituals!
The flow of water through the shower may start when you push the tap, and then operate for a certain amount of time. If you finished washing and the water is still flowing, pull the tap back, and the water will stop. Use water resources rationally!
Step 5: Enjoy the Jjimjilbang bath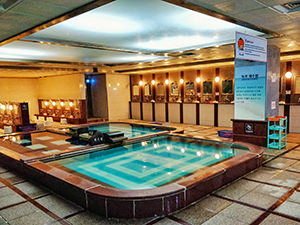 Now that you are properly clean, you can enter the bathtubs. The temperature will be different in each of them and usually displayed (typically, anything between 38 and 42, and then – a cold one). Shifting between warmer and colder pools will stimulate your blood circulation.
If you plan to stay longer in the hot bath (and more than 15 minutes is not advisable), immerse only the lower part of your body in the water! Keep the heart above the water level!
More advanced establishments may have a salt bath, a mud bath, a mugwort bath (made with mugwort tea), or any other bath infused with some healing herbs. Enjoy the soaking in the bath cubicles!
Step 6: Relax in the sauna
The wet area of the Asian healing spa will usually have one or more saunas. Often one dry one, one wet one. If there is a Korean sauna with salt, scrub your skin with it!
Beware, Asian saunas can get hot, so don't overstay! After sweating inside the sauna, you might find a string that pours cold water over you when pulled. Or plunge in the cold pool!
Some of them may come with a metal bar for those who want to show off with their pull-ups.
Step 7: Try the Korean spa skin scrub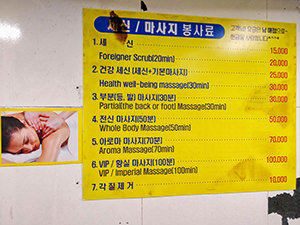 Korean spa is globally unique for its vigorous skin scrubbing. They call this intense skin cleansing process Seshin and scrub therapists – Ddemiri.
In the corner of the wet area, you will see rubber beds. The Korean massage room is exposed and offers minimal privacy.
Persons working there are easily recognizable, as they are the only ones wearing underwear. They offer Korean full body scrub and massage treatments (the price is at least double of the night rate stay in the Jjimjilbang, but it can go up all the way to Westerner prices).
If you are visiting on a budget, you can do the scrubbing yourself, or even locals may offer to help. At the entrance to the main bathing area, you will find the coarse towels for the body scrub, the so-called Italy towels. These exfoliating mitts, invented in the Korean town of Busan (the home of Spa Land, the most massive public bath in Korea), are used to scrub and peel the layers of dead skin off your body. Take a Korean scrub towel, find an unaccompanied local, and rub each other's back! Maybe Korean massage exfoliation will ignite a friendship of a lifetime!
Step 8: Stay hydrated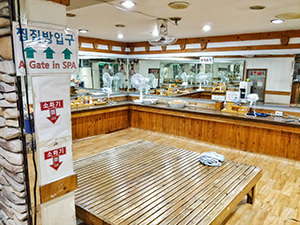 Soaking for hours can easily dehydrate you!
After you dry yourself with the small towel available at the entrance to the bathing area (small enough that you cannot wrap it around yourself, so you are really stuck with that nudity aspect), remember to drink enough fluids!
Just before the bathing area, there are usually water coolers. Use the paper cone, fill it with water, and drink!
Step 9: Relax in Jjimjilbang fomentation rooms
Get dressed in those pajamas-style Jjimjilbang clothes you got, and join the other members of the Asian bathhouse 'cult'!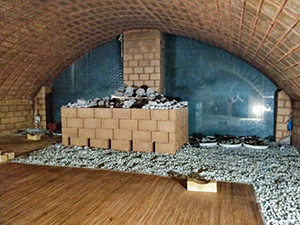 Your next station is fomentation rooms (찜질방)! Various kiln rooms, also called poultice rooms, surround the communal area. Here, you sweat dressed up. Remember, nudity, even a partial one, is not allowed in this co-ed zone!
Take a block of wood, and use it as a pillow when you lay down in these oven-shaped resting rooms of various temperatures. Relax in the salt room or charcoal cave, surround yourself with jade crystals or clay balls, take a nap in the pyramid, or enjoy the scent of the forest in the wood-covered space. When you had enough of the hot areas, step inside the ice room!
The variety of fomentation rooms will depend on the size of the Jjimjilbang. Smaller ones may have just the communal area to sprawl on the floor or tatami mats.
Step 10: Explore the rest of the Jjimjilbang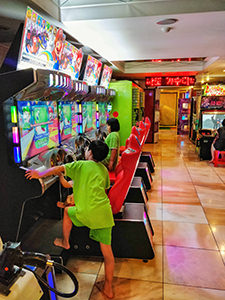 Modern-day Jjimjilbangs are much more than just a spa or a sauna! These popular weekend getaways for Korean families may include the fitness room, massage chairs, barbershop, shoe shining station, nail salon, PC room, arcades with games, karaoke studios, or even a small cinema! Feel free to explore the space!
Step 11: Indulge in an authentic Korean meal
The snack bar, with simple food choices such as cup noodles or sandwiches, may stay open 24/7. But Jjimjilbang's restaurant closes during the night, so make sure to check the working hours before relaxing too long in the Asian sauna.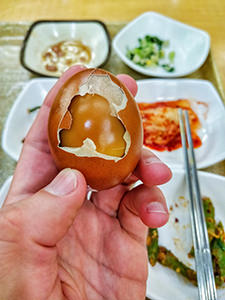 Besides some great Korean specials such as hot stone bibimbap or various soups, stews, and noodle dishes, one food at Jjimjilbang is a must-try! Maekbanseok gyeran (맥반석계란) actually originates in Jjimjilbang! These eggs with smoky brown shells have been slow-cooked/steamed in the sauna, and their texture is chewier. The color of the white part of the Korean sauna eggs is not really white, but brown.
From the beverage department, Jjimjilbang's must-try treat is sikhye (식혜). This traditional sweet drink is a sort of rice punch. It is made of water, sugar, malted barley flour, and cooked rice. Besides rice grains, this ice-cold beverage can sometimes also contain pine nuts. This is the best way to refresh yourself after a prolonged sweating and bathing session.
If you are looking for something sweet, these are the places in Seoul where you can find some amazing Korean desserts!
Step 12: Sleep in Jjimjilbang
Last but not least, it's time to (try to) sleep in the Jjimjilbang.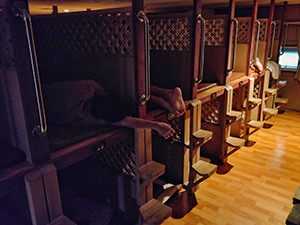 Smaller Jjimjilbangs will only have a communal room with a heated floor (traditional ondol style, which uses direct heat transfer from wood smoke).
If you prefer not to sleep on the floor, find a sleeping mat and a pillow block resembling a brick for your headrest. Some Jjimjilbangs will provide free blankets, while the others will rent them for an additional price (if you need one?).
The main sleeping area often comes with a TV and a lot of people passing by on their way to buy some snacks. Try to find a quiet corner for your relaxation!
Bigger Jjjimjilbangs have dedicated sleeping zones, with less light and noise. These could have bunk beds or cubby holes to sneak in, providing a better sense of privacy.
In some Jjimjilbangs, there will be separate sleeping rooms for men and women, rarely even rooms reserved for snorers.
Step 13: Pay extras on your way out
After sleeping, you can enjoy the Korean bathing/sweating ritual again (if your ticket is still valid). If not, drop the used towels and Jjimjilbang uniform in the provided bins, and head towards the exit. Settle any unpaid bill!
Korean spa benefits
Besides the obvious function of making a visitor clean, the benefits of the Asian bathhouse spill into the health department too.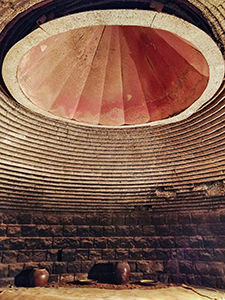 The far-infrared radiation emitted from the heated materials used in Jjimjilbang (such as red clay, jade, germanium, elvan stones) penetrates deep under the skin. This stimulates blood circulation and reduces muscle and joint pain. Raising body temperature is considered to be good for our immune system too.
Korean spa benefits especially affect women. After giving birth, some of them spend weeks in rooms made of red clay. They believe this will prevent women's ailments. Mugwort tea bath is very beneficial for the health of the female reproductive system! There is even a Chai-yok healing treatment, where a woman sits above a boiling pot of mugwort tea, essentially experiencing a vaginal steam bath.
Korean body scrub exfoliates the dead skin and uses milk and water to moisturize it while improving blood circulation.
Besides the physical benefits of spending time in Jjimjilbang, this place also helps reduce stress levels. Spending time out of the everyday buzz and pampering together with friends, family, or even perfect strangers, brings us to a more relaxed state of mind.
Spending time in an Asian bathhouse is one of the best things to do in Jeju Island! Make sure to check the list of Jeju Island attractions before visiting!
What to bring to a Korean spa?
You could conclude by now that Jjjimjilbang tries to cater to the many needs of its customers. So technically, you do not need to bring anything to this Asian bathhouse.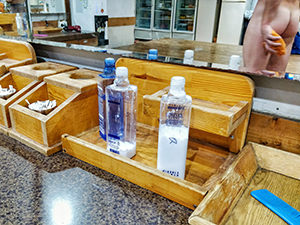 However, you may consider bringing your own toiletries if, for instance, you don't want to use the sterilized hairbrush. There will probably be a small shop where you can buy essentials at the Jjimjilbang as well. But if you wish to have products you trust, bring your own! This could include shower gel and shampoo (in Korean spa, typically only bar soap is available), toothbrush and toothpaste, razor and shaving cream, and even exfoliating glove (if you don't want to use the available "Italy towels").
If you want to be sure you will get sleep in the room with noisy kids or snorers, consider bringing the earplugs. If you prefer total darkness, bring a sleep mask!
Also, bring some cash with you. While you may be able to pay the entrance with a credit card, in some establishments, the cost of your additional purchases (such as lunch) will not charge your wristband, but will instead require payment in cash.
What NOT to bring to a Korean spa?
Do not bring your swimming suit! You will not be able to use the Korean spa if you do not want to get completely naked.
Do not take your mobile phone! Or at least keep it safe in your locker. One reason is that taking photographs in the areas where other people walk naked is generally frowned upon. The other reason is that bringing it to the rooms with extreme temperature differences, as well as into the wet areas of the Jjimjilbang, could affect the lifetime of your smartphone.
What to wear to a Korean spa?
Your clothes will be of no importance once you enter the changing room and strip naked or put on the Jjimjilbang-approved uniforms.
But have in mind that after a long session of bathing, you may want to wear clean clothes when you leave the Korean spa experience. So bring extras!
How to make a Korean spa hat?
If you want to have Yangmeori (양머리) or a so-called sheep hat on your head, like many other Jjimjilbang-goers, you can make it yourself! In a matter of seconds, you can fold a headpiece that will make you look like a lamb or… Erm, Princess Leia? Here is a short video tutorial on how to tie a Korean spa towel!
Korean spa prices
There is indeed a variety of establishments. Depending on the size of the Jjimjilbang, as well as the package you choose, the cost will differ. The price could be higher if you spend the night, as well as if you visit a Korean spa on a weekend or national holiday. In general, expect to pay anything between 8.000 and 17.000 Won (approx. 6-13 Euros).
Asian bathhouse of Jjimjilbang guide – Conclusion
Whether you decide to visit the Korean day spa or stay in Jjimjilbang at night, this iconic place of Korean culture will undoubtedly provide a better insight into the everyday life of South Korea. It will teach you about customs, food, rituals, relationships…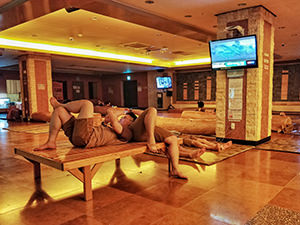 No matter if you're going to Jjimjilbang alone or in a company, even with a language barrier, this place will make you feel like a foreigner for a short period only.
Jjimjilbang culture does not rely solely on its healing and detoxifying properties! It is a meeting point! Korean spa world teaches about sharing, and about common things, more than about differences. With mandatory disrobing, there are no classes, no background in this nude Asian bathhouse. In the naked environment of Jjimjilbang, nobody can hide behind the mask of social status. CEO or homeless, we are all the same!
There is no pretension, and there is no shame. Korean children grow up in an environment where they see body differences as normal, and not as a source of doubt. They grow up into individuals with healthier self-esteem and, hopefully, less judgment. They learn to take care of their elders, the same way they were taken care of.
Public baths had similar sociological values wherever they appeared. From the Roman to Turkish Empire, from Japan to Korea, world nations celebrated them as places of encounter.
Spa in South Korea continues to exist not only as a place of hygiene but also as an alternative Jjimjilbang accommodation, open 24 hours a day. Staying overnight in a Korean spa does not only give a glimpse of the life of a real Korea but also enables you to save some bucks. This means that you can explore the world outside of Jjimjilbang with – extra cash. Whether you are enjoying the Korean spa in Las Vegas or in Seoul, that money can certainly be spent for other enjoyable purposes.
Did you like this introduction to the world of this peculiar Asian bathhouse?
Pin it for later!