With the pandemic slowing down, it was only a matter of time before Cambodia would reopen to tourists. Simple but hearty food would certainly be an alluring reason for my return to the Kingdom. Here, I'll introduce you to the most unique Siem Reap restaurants I had the pleasure to eat at.
Top Siem Reap restaurants don't give you just amazing food, but also – food for thought
Whether you prefer a new twist on famous dishes or a gastronomic step into the unknown, there is a Siem Reap restaurant for every adventurer. These examples where traditional and modern become one are worthy of exploring.
If we then add the social impact of our experience, spending time at these Cambodian eateries could become the most meaningful highlight of your trip.
Cambodia is often an underrated part of Southeast Asia, but abandon your doubts, and let some of the best restaurants in Siem Reap give you food for thought. Open your mind and mouth, and give a chance to these intriguing culinary projects!
To bee or not to bee
Cambodia had to endure a number of crises in its recent history, and the closing of the international borders because of COVID-19 affected Khmer reality once again. With tourist dollars not arriving, the famine memories from the Khmer Rouge regime period returned as a threat.
In the 1970s, eating bugs in Cambodia was normalized as one of the ways to stay alive. Five decades later, local hotels in Siem Reap, the country's cultural capital, opposed the crisis by joining hands for free food delivery in Cambodia.
We will still have to see what will be the long-term effects of the pandemic on the gastronomic habits of locals and tourists. The boom of all-inclusive resorts in Cambodia, which even literally show you where your food is coming from, could be one of the trends.
The other one will certainly be the focus on sustainable development. Insects are not just a protein source that saved Khmers in the darkest ages. They could also be the future saviors of all of us.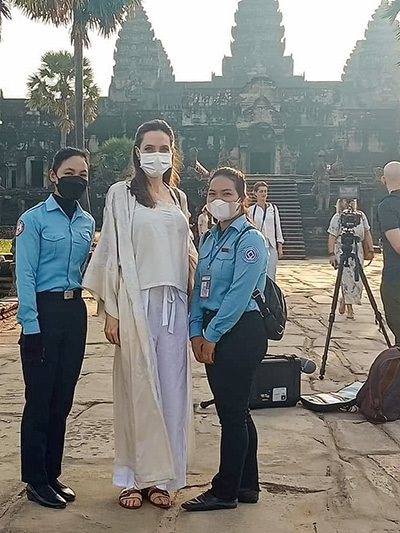 When Angelina Jolie surprised locals by showing up unannounced for the Angkor Wat sunrise in February, she didn't just inject hope into the revival of Cambodian tourism.
The actress-humanitarian, who popularized the ancient temples as Lara Croft in "Tomb Raider", arrived to highlight the importance of bees as major world pollinators. Jolie, the godmother of UNESCO's program "Women for Bees", promoted beekeeping as a source of income as well as food security in poor areas.
Mindfulness about the food sources and social impact of our choices are hot topics of a responsible approach to human survival. The best thing about it is that the pathway can actually taste good.
Don't be indecisive about where to eat in Siem Reap. Leave hesitation, embrace bravery, and discover the most unique food in Siem Reap!
Siem Reap restaurant list worth bookmarking
1. Pou Restaurant Siem Reap
Wat Bo Road
Young chef Mengly Mork opened the first Pou Restaurant in 2017, but after a split-up with a former partner, Cambodian traditional food from March 2022 has a new address – at Pou Restaurant Siem Reap in Wat Bo Road.
Mengly translated the playfulness of shapes and colors from the market to the plates. Just look at that cover image of a grilled mackerel in a rainbow nest of turmeric rice, beetroot sauce, and wasabi mayonnaise with butterfly pea flowers! You might start eating with your eyes, but rich flavors will follow!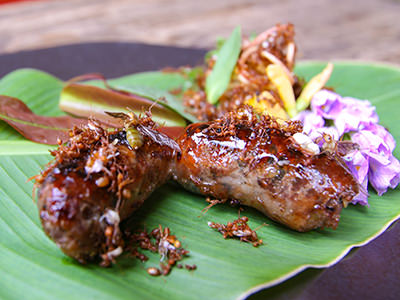 The dish that brought our attention to one of the most intriguing Siem Reap restaurants was Kulen Mountain sausage. The course richly sprinkled with red tree ants (queen included) was conceived during the chef's expedition to the jungle.
Mengly told me a story of a legless man (one of many Cambodian landmine victims) who was making sausages by chopping an entire pig. His recipe with a liver, intestines, and jungle herbs and spices, enriched with Mengly's add-ons, became a staple star of Pou's menu.
Red ants, flying ants, and their eggs, as well as grilled beehive honeycomb together with larvae, are just a part of the Cambodian food heritage Mengly tries to preserve. As a boy, he learned how to pickle bananas and fish from his grandma, and even today he tries to include the fermentation of vegetables and drying of meat into his specific fusion cuisine.
If you are looking for the best Khmer restaurants in Siem Reap, this is a serious contender! Pou Restaurant Siem Reap is a delicious meeting point of a real and urban jungle, a culinary adventure that celebrates the spirits of ancestors, but also an innovative approach to new Cambodian cuisine.
Mengly's first job was being a receptionist at Rambutan Resort, the acclaimed gay-friendly hotel in Siem Reap. Soon after, he started cooking for Rambutan's Phnom Penh branch but worked for other restaurants as well before launching Pou. He is one of the founding members of the Asian Street Food Cambodia, a collective of young chefs sharing knowledge, recipes, and events.

2. Wild – Creative Bar & Eatery
Wat Damnak area
In the vicinity of the Buddhist monastery/pagoda Wat Damnak, the first Rambutan's neighbor is Wild. Labeling itself as a creative bar and eatery, it reinvents spring rolls, the iconic Asian appetizer.
But don't fear staying hungry here! Dishes come with servings of three, and most visitors order two plates. (3-3,5 dollars each).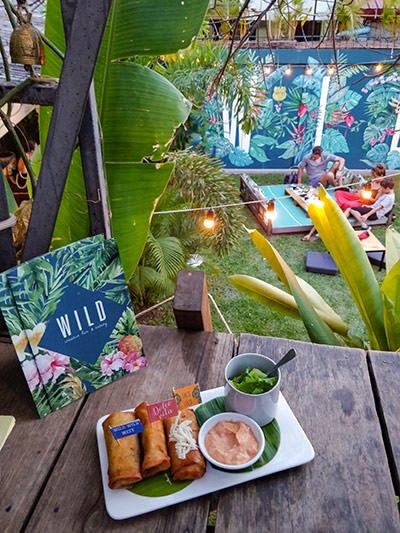 Wild was conceived by French expats. Lorraine and Renaud Dion left Paris in 2017 and established a new life in Cambodia. In a traditional Khmer house with a lush backyard, they decided to celebrate fresh and fried spring rolls with a variety of fillings nobody has tried before.
When visiting this creative tapas-cocktail oasis, you can count on Cambodian classics filled with veggies, chicken, or duck, but also open up to experiments that will bring your taste buds to other parts of the world. Embrace Italy with sun-dried tomatoes, mozzarella, and basil pesto, visit the USA by biting into a beef with cheddar and caramelized onions, or try flavors of Greece with feta cheese and Mediterranean dressing.
Besides savory, you can also reward yourself with sweet versions of spring rolls, filled with pepper-chocolate, banana-chocolate, or cinnamon-pineapple combinations.
In the cocktail department, you will find signature mixes that entice already with creative names. Grandma Was a Hippie, James Bond on Holidays, La Pozion Azteca, or Californication, what shall it be?
With an atmosphere of a secret garden, Wild does bring you on an unexpected journey. You can enjoy their homemade finger food on a dog-friendly lawn, or like me, climb into a tiny treehouse with fun pulley-basket food delivery.
This laid-back environment speaks good taste everywhere you turn. It doesn't come as a surprise that Wild is currently in first place on TripAdvisor's list of the best restaurants in Siem Reap.
Wild is also one of those socially and eco-responsible Siem Reap enterprises. Similar to Jaya House River Park, Wild sets an example that doing business is possible while still carrying for the plastic-free and waste-minimized environment, as well as committing itself to social impact on matters that matter (education, LGBT, animal welfare, etc.).
3. Spoons Café & Restaurant
Bamboo Street
Cambodia is the country with the third-largest deforestation rate in the world! But Spoons Café & Restaurant was constructed with the environment in mind, out of sustainably harvested material – bamboo! That's an easy way to remember the name of the street you will find it in!
Eco-friendly architecture, however, is not where the story of a responsible business ends! Previously run by an American charity EGBOK (Everything's Gonna Be OK), since 2021 completely in the hands of the local NGO Spoons Cambodia Organization, this Siem Reap restaurant is only a visible face of an impressive decade-long project.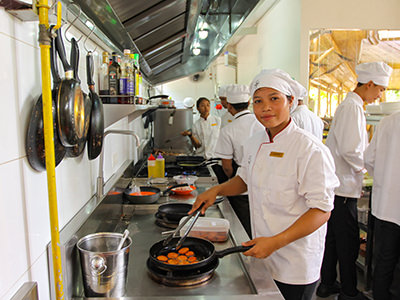 By eating at Spoons social enterprise, you won't just get a chance to try authentic Cambodian food with the freshest local ingredients. The proceeds from your check will directly support the career path of perspective youngsters who just had less luck in their lives.
Since 2012, nearly 400 disadvantaged students passed through the training and internship program in hospitality here. Spoons Café & Restaurant opened in 2016, with a mission to provide hands-on cooking and waiting tables experience to underprivileged young adults in Cambodia.
Nearly half of the students are orphans or come from struggling single-parent families, and most of them didn't have the conditions to finish high school. With the help of Spoons, they get intensive year-long vocational training and even support with their first job placement in Siem Reap restaurants. All graduates get a job within a month after finishing the course!
As Sophany Mao, Spoons' executive director, tells me, the pandemic made them reduce the number of housed students from 50 to 10, but their strategy is to come back to old numbers in three years. When you visit Siem Reap, stop here for a lunch, and help them reach their goals faster!
Spoons is also active in local initiatives such as Refill Not Landfill. There are 4,6 million tourism-generated plastic bottles thrown away in Siem Reap every month! But here you can buy a durable bottle and refill it with drinking water free of charge! Takeaway boxes and straws are also made of biodegradable materials, and waste is recycled or composted.
4. Heritage Restaurant
Heritage Road, Wat Polanka area
I have already written about the Heritage Suites Hotel in Pipeaway's guide to Angkor temples. But there is a reason why one of the first luxury boutique restaurants in Cambodia deserves a spot on the list of Siem Reap's unique dining experiences too.
Here, I won't talk about the regular restaurant's menu that fuses Khmer and Western cuisine. Fine dining in Siem Reap is certainly worth exploring (and I loved the hotel's breakfasts!). But Heritage Restaurant entered this selection of unique Siem Reap restaurants with its project called "Awaken of the Senses", a dinner in the dark.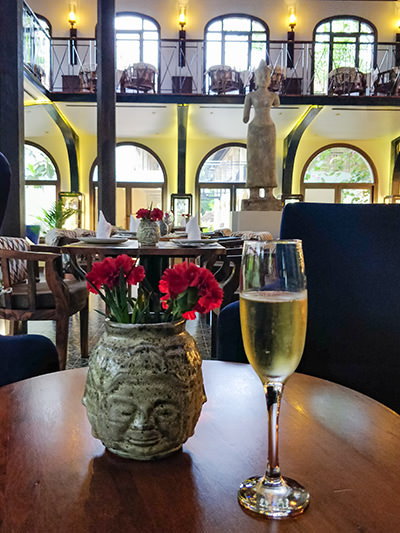 Dark dining is a culinary concept that was born in Paris in 1997. It deprives guests of vision, with an implying expectation that the overall gastronomic pleasure would be elevated.
"Awaken" was an occasional program at the Heritage Restaurant before the pandemic. While dark dining might not be on a regular menu anymore, you can always reach out to the hotel and ask for your personal blindfolded experience.
Heritage Suites Hotel is a 5-star property renowned for its personalized service to guests. A dedicated butler took me by the hand, and was my seeing anchor during the 5-course dinner, always ready to give instructions or support.
As the project is based on the secret menu, I will not discuss the flavors and textures my palate was seduced by. But I can say that the journey includes both savory and sweet delights pushing you into a guessing game.
Those who prefer playing safe could also ask to see the menu before dinner. But what would be the point of that? Relax, open your mouth, and surrender. You are in the safe hands of one of the leading Siem Reap restaurants!
Dining in the dark is possible in other world destinations too. Check out these options in Amsterdam, Warsaw, or Kuala Lumpur!
5. Bugs Café
Angkor Night Market Street
French avoid pronouncing the letter 'h'. A friend of mine was always a source of amusement in situations when objects such as air-conditioners and hair-conditioners would get confused. So when I saw restaurant staff wearing T-shirts saying 'I hate insects', with the letter 'h' crossed out, it was a hint that both the humor and the general idea of a bug-serving Siem Reap restaurant had to come from France.
In the early 2010s, Marjolaine Blouzard was working in one local hotel. Tourists often asked her to suggest a Siem Reap restaurant with an insect menu. Street vendors were selling deep-fried insect fast food, but there was no place where one could sit at the table, with plates and utensils, and consume something more elaborate.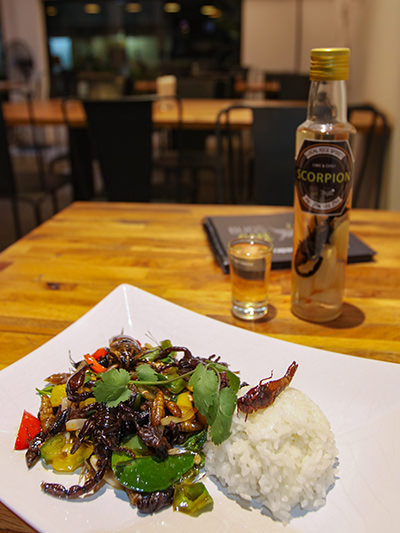 Together with her cousin Davy and Cambodian chef Seiha Soeun, Marjolaine opened Bugs Café in 2014. Insect tapas were an instant hit! From creamy bee-larvae soup to crunchy Bug Mac (burger made of insect puree), the restaurant's menu was finding an army of hungry fans.
The priciest dish was a Discovery Platter. For 25 dollars, it would feed four, with ant spring rolls, grasshopper-waterbug skewers, cricket-silkworm cupcakes, tarantula donuts and samosas, scorpion salad, mixed insect wok, and home-nostalgic Mediterranean feuillettes with red ants.
One could finish it all off with chocolate insect fondue. If you preferred a refreshing beverage, there was a silky smoothie with extra proteins coming from silkworms or a house rice spirit infused with a scorpion (venom included).
Sadly, the pandemic closed the Bugs Café in late 2020, and the owners left for France with Terminator determination: "We'll be back!"
"I plan to return to Cambodia in autumn", Davy told me, "just to check the temperature and see if it's worth working on reopening already. We need massive tourism to make our concept profitable, but we will open again!"
According to the Food and Agriculture Organization of the United Nations, 2 billion people in the world already eat insects. That's more than every fourth person on the planet! UN actually encouraged insect diet around the world, as it could alleviate world hunger and climate change. Insects are rich in protein, and unlike beef, are easy to cultivate. Producing a gram of beef protein requires 254 square meters of farmland and 112 liters of water while producing a gram of insect protein requires just 18 square meters and 2 liters of water. Talk about a low carbon footprint!
Unique Siem Reap restaurants – Conclusion
From a sophisticated approach where red ants are used as a citrusy dressing for certain, rather elevated dishes, to delivering insects in an entire in-your-face menu, we have made a full circle.
While some of these restaurants are definitely not the ones where you would call a waiter and complain about a fly in your soup, a bug-rich diet should really not be bugging you!
Siem Reap restaurants have a lot to offer, much more than the credit they get. And the scene certainly doesn't rely on easily sensationalized crawlers on the plate.
Siem Reap restaurants might not be under the radar of the Michelin Guide yet, but that only shows how shortsighted and disinterested Western culinary expectations might be
Squeezed in between the famous and strong food traditions of Thailand, Vietnam, and China, Cambodian cuisine is often a victim of oversight.
It is definitely one of the national gastronomies that execute respect towards ingredients and their preparation, but also towards the cultural and social environment it grows with.
In the specific circumstances where a political regime tried to erase the country's knowledge potential, we are witnessing an impressive rise of chefs that found new ways to educate themselves, through sharing among themselves, as well as with foreign influences.
Cambodian restaurants might not be under the radar of the Michelin Guide yet, but that only shows how shortsighted and disinterested Western culinary expectations might be. If you want to be ahead of the time, purchase a cheap flight to Cambodia and embark on your own gastronomic discovery journey! The best places to eat in Siem Reap are waiting for you!
Still haven't found what you were looking for? Check out these food experiences in Siem Reap!
1. Cooking classes
2. Special meals
3. Dinner shows
Would you like to eat at the most unique Siem Reap restaurants?
Pin the article for later!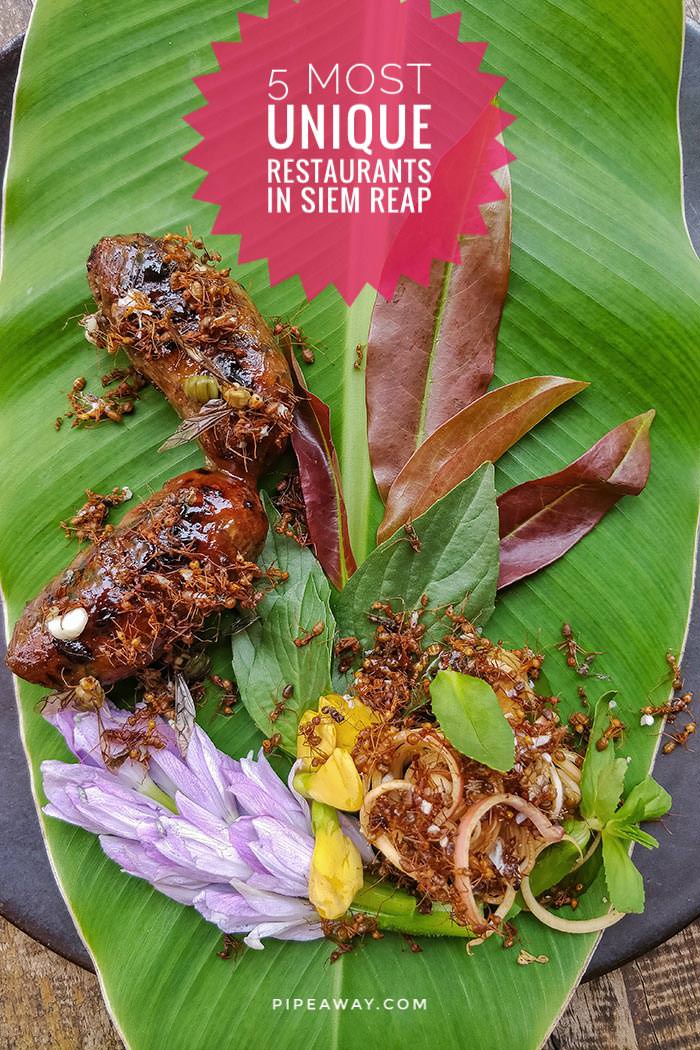 Disclosure: This post may contain affiliate links, which means if you click on them and make a purchase, Pipeaway might make a small commission, at no additional cost to you. Thank you for supporting our work!