An electric car road trip sounds like an ultimate fantasy. For one thing, as in any other road trip, you get to explore destinations at your own pace and liking. But there is another benefit that relieves the tension from your exploring! You're aware that you are not contributing to the carbon emissions which jeopardize the same nature you want to explore.
However, there is a catch. Electric cars are optimized for driving in the cities. Also, cities are more optimized for hosting electric cars. Go anywhere rural, and the trip of your dreams could become a nightmare: where do you find an electric vehicle (EV) charger?
I understand the stress. As someone who has actually run out of gas in the middle of the highway, at the most stressful position of a tunnel exit, I can relate to the anxiety the fear of a powerless vehicle can induce.
If you plan your electric car trip well, you can enjoy one of the most eco-friendly experiences you can have on the road
If we exclude the Tesla Roadster, which has a range of 1.000 kilometers on one charge, the average electric vehicle can barely go half of that – 480 kilometers (or 300 miles).
Taking into account the limited access to electric car charging stations, as well as the fact that charging takes time, which also means the charger you'll find might already be occupied, how convenient an EV road trip really is for long journeys?
Should one even consider a road trip with an electric car? And if yes, what are the best destinations for minimizing the stress of running out of battery and getting stuck on the road?
If you plan your electric car trip well, you can indeed enjoy one of the most eco-friendly experiences you can have on the road.
Long trips can produce anxiety, especially among younger travelers. Learn why you should take weighted stuffed animals on your travels!
How to plan an electric car road trip?
Planning an electric car road trip is not just about picking nice destinations or road stops. To successfully execute the road trip with an electric car, one has to take several aspects into account.
1. Weather
The range of electric cars drops with lower temperatures. As the Norwegian Automobile Federation found out in its test, an average loss of range at minus 2 degrees Celsius is 18,5 percent.
The worst electric car you should take on a road trip in a cooler climate is Chevy Bolt; it can run 29,81 percent less than the official manufacturer's statement.
Out of 20 tested electric cars, Hyundai Kona had the smallest drop from official numbers; its range was reduced by only 9,91 percent.
The test's overall champion in distance was Tesla Model S, which could drive for 469,8 kilometers, which was a 23 percent drop from the advertised 610 kilometers.
In any case, you should know that your road trip with an electric car will be limited by the weather circumstances, so take this into account when picking the destination.
2. Geomorphology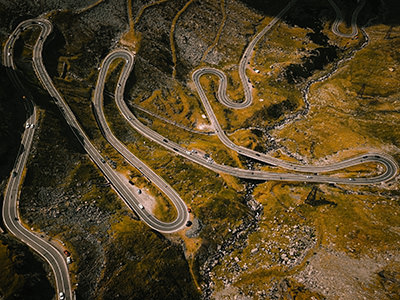 When planning an electric car road trip, you should take into account the geomorphology of the destination. If your road trip involves a mountainous region, you need to be aware of the fact that going uphill will drain more power than driving on flatlands.
Speeding over 100 km/h will drain your battery quicker than you think! But any type of constant pressure on the accelerator will be an enemy of the electric vehicle battery.
Whenever going on an electric car road trip, avoid sudden speeding and sudden stopping! Use the economy mode for saving energy and getting the best out of the regenerative braking.
3. Electric car charging stations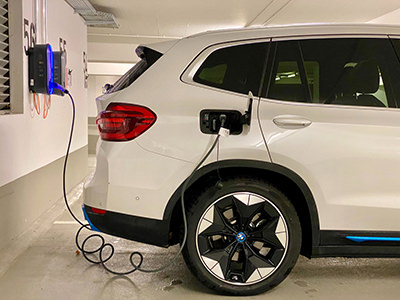 Electric car charging stations should be a crucial part of your road trip planning. You can easily find them on Google Maps, or specialized apps such as PlugShare.
Always try to plan your journey in a way that you visit EV charging stations during the essential stops of your road trip, such as lunchtime, or an overnight stay.
Stations next to the hotels, restaurants, and supermarkets will give you the best ratio of charging, usefully spent time, and even budget, as often these will be free.
For your complete peace of mind, consider purchasing this well-rated portable EV charger - level 2.
Ranking the electric car road trip destinations
The best destinations for an electric car road trip depend on the combination of trip-worthy qualities and functional accessibility.
Compare the Market, the Australian products and services comparison website, studied a variety of data to find out which road trips are the most EV-friendly.
Out of the most popular world road trips (measured through the number of Instagram posts with the route's hashtag), they have compared their distances, the number of EV chargers on the route, as well as the average number of charges one would need to finish the road trip.
While CtM ranked the road trips by the number of charges needed to complete them, I have also taken into account the average number of charging stations per kilometer, as that is what essentially removes the joy and brings in the anxiety (or the other way around).
In both selections, the longest road trips, thus the ones that need more charges, also turned out to be on the routes that have the least number of chargers available per kilometer. These are NC500 in Scotland, Route 62 in South Africa, Route 66 in the United States, and last but not least (it has 4.912 kilometers!) – Ruta 40 in Argentina.
The USA offers loads of road trip possibilities, so much that some Americans decide to live on the road. Meet Jessica Rambo, a single mom exploring the country in a skoolie!
Top 7 of the best electric car road trips
The best electric car road trips on this list can all be done with one charge. The list was composed by valuing the popularity of the route on Instagram, AND the availability of EV chargers per kilometer. CtM metric of the number of charges to complete the trip was not taken into account, as all routes can be done with less than one charge.
1. Amalfi Coast, Italy
#amalficoast: 3,2 million posts
Charger every 600 meters
Amalfi Coast is the best electric car road trip destination in the world. One can expect 64 kilometers over the cliffs of Sorrento Peninsula, just south of Naples. The best access to the dramatic coast is in Salerno, where you can continue towards Ravello, Amalfi, and Positano, to finish in Sorrento.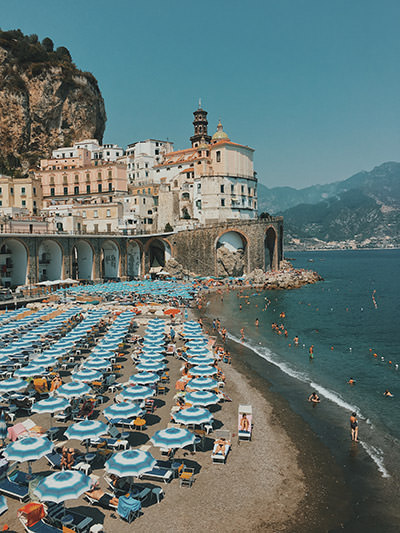 Expect scenic terraced villages, lush cliffside gardens, and amazing views that inspired artists from Giovanni Boccaccio to Richard Wagner. You can always detour to beaches, caves, and gorges, explore Roman villas and watermills, or beautiful churches.
All of this forms the most scenic coastline of Italy which became Instagram's champion but also a part of UNESCO's World Heritage list.
Winding roads could be challenging in the busy summer period, so aim to visit it in May or September.
There are 99 EV chargers on the route in total, which is an impressive number. To finish this road trip in an electric car, you only need 0,11 percent of your full charge, so just relax, and enjoy the drive!
Need a sleepover at Amalfi Coast? Find the latest accommodation deals here!
2. Big Sur, USA
#bigsur: 1,4 million posts
Charger every 1,8 kilometer
Another road trip by the sea, this time in California, is a great choice for electric car owners. Essentially a coastal strip of California Highway, Big Sur offers you 139 kilometers through untouched land beaming with dramatic cliffs, flower fields, and waterfalls dropping directly on pristine beaches.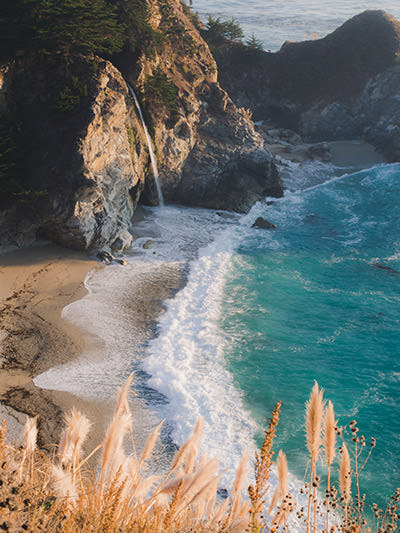 This undeveloped part of California is your trip away from technology. Phone signal is non-existent, forcing you to post your #bigsur images after the journey.
Start your Big Sur road trip in charming Carmel-By-The-Sea, meet sea lions, sea otters, and seals in Point Lobos State Natural Reserve, hike through Garrapata State Park, cross the most photographed Californian bridge – the Bixby Creek Bridge, stop over to admire the Keyhole Arch from the purplish Pheiffer Beach, admire the McWay Falls in Julia Pfeiffer Burns State Park, and finish this nature-packed itinerary in the coastal town of San Simeon.
Don't drive after a long daytrip in Big Sur! Find a place to sleep in San Simeon instead!
There are 78 EV chargers on Big Sur road, which will be plenty for the car, but consider taking an extra battery pack for your phone and camera, as you will be photographing and filming a lot!
Adventures Out Here take you through Big Sur in 3 minutes!
3. The Great Ocean Road, Australia
#greatoceanroad: 1,3 million posts
Charger every 3,4 kilometers
Nearly 240 kilometers of the Great Ocean Road in southeastern Australia are listed as Australian National Heritage. Connecting the Victorian cities of Torquay and Warrnambool, just west of Melbourne.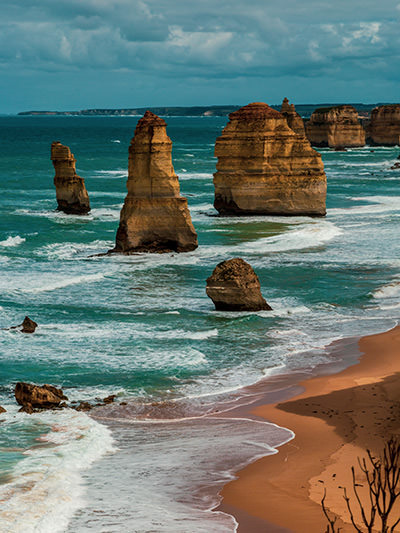 This iconic road follows the rugged coastline with 12 Apostles pillars towering over the ocean as its highlight (check these accommodation options in the vicinity of this landmark so you have more time to explore the area!).
Explore attractive hiking trails and surfing spots, enjoy the geothermal waters, meet elusive platypus and other Australian wildlife, and wonder over sinkholes, ponds, and lakes of Mount Gambier.
There are 69 EV charging stations at Great Ocean Road, and you'll only need a 40 % charged car to finish the trip!
You can visit the Great Ocean Road on many different types of wheels. Meet Slaven Škrobot, the traveler who knows no handicap!
4. The Romantic Road, Germany
#romanticroad: 33 thousand posts
Charger every 2 kilometers
The longest out of the top seven electric car road trips, with its 338 kilometers, the Romantic Road in Germany still offers an itinerary that doesn't require visiting the charging station twice. The whole route will barely drain half of your car's battery!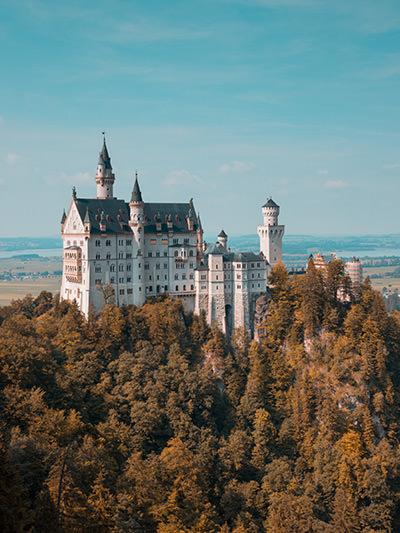 Crossing the southern German provinces of Bavaria and Baden-Württemberg, the Romantic Road is connecting Würzburg and Füssen.
On the way to the Alps, one can visit medieval walled towns, discover walking trails through the vineyards, and finish the road trip at Schloss Neuschwanstein or Neuschwanstein Castle, the 19th-century home of the eccentric Fairytale King Ludwig II.
There are 160 EV charging stations available along the German Romantic Road, which secured it the fourth spot on the list of the best electric car road trips.
Looking for a place to stay near Neuschwanstein Castle? Find the best deals here!
5. Transfagarasan, Romania
#transfagarasan: 145 thousand posts
Charger every 4,5 kilometers
The military road built in the 1970s to connect the regions of Wallachia and Transylvania (yes, that's where Dracula's castle is located) in fear of Soviet invasion, Transfagarasan is a 170-kilometer-long stretch of spectacular hairpin turns through the Fagaras Mountains in Romania.
For the best accommodation offers in Transfagarasan region, find the latest prices here!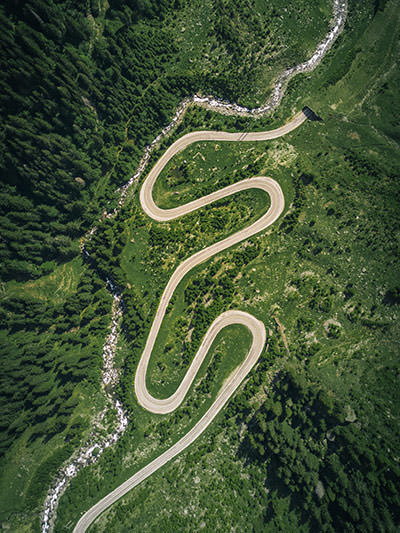 In the construction phase, Ceausescu's road took hundreds of workers' lives, and is a challenging mountain pass even today. When the weather starts to be dominated by snow, typically between October and June, Transfagarasan is out of function.
Starting at the little village of Albestii de Arges, this Romanian road trip includes a myriad of roadside attractions. You can count on seeing the ruins of Vlad the Impaler's Poenari Castle, Vidraru Dam with one of the largest European hydroelectric plants, the Balea Lake and Balea Waterfall, plentiful terrifying cliffs, and possibly even some brown bears!
For the most exciting road trip through the Carpathian Mountains, you might need a third of your EV power. There are 38 charging stations on the path, which made Transfagarasan a prime electric car road trip.
Fly over the Transfagarasan Road with EscapeAway video!
6. The Atlantic Ocean Road, Norway
#atlanticroad: 25 thousand posts
Charger every 3,6 kilometers
The Atlantic Ocean Road is an attractive place for shooting a car commercial! Just 8,3 kilometers in length, a section of County Road 64, Atlantic Road connects the Romsdalshalvoya peninsula with Averoy island (if you want to stay near Atlantic Road, check out accommodation options in Averoy).
In the early 20th century, the route almost became a train line, but since 1989, it is a part of the cultural heritage we can all enjoy in our own cars.
Crossing impressive bridges, viaducts, and causeways, over small uninhabited islands and skerries, is a memorable experience.
Atlantic Ocean Road has an adequate number of viewpoints to enjoy it from, as well as EV chargers to fuel your road trip. It is Norway, after all!
Norway is a perfect example that emission-free tourism is possible. If you for instance visit Aurlandsfjord, you can explore its attractions by hopping on an electric bus, or even electric boats!
7. The Atlantic Highway, UK
#atlantichighway: 3 thousand posts
Charger every kilometer
Don't take this Instagram hashtag for granted! Many road trippers visiting Norway tag their pictures with #atlantichighway instead of #atlanticroad, which can cause confusion indeed.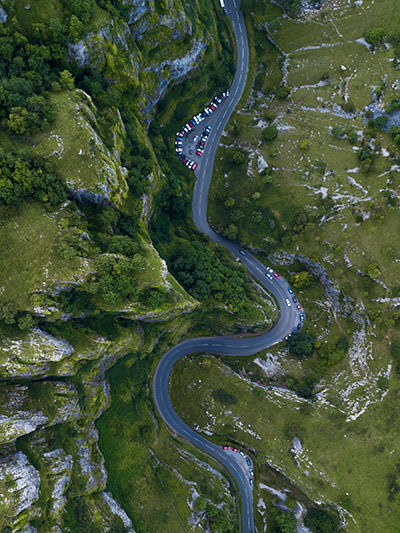 The UK's Atlantic Highway is located on the westernmost point of England's mainland, passing through Somerset, Devon, and Cornwall counties (click on the links if you want to find accommodation on the road).
Also known as A39, the Atlantic Highway on the South West Peninsula of England takes you through thick woodlands, idyllic fishing villages, and rugged coastline with an occasional surfing beach. At Exmoor National Park you can meet a red deer, while at medieval Tintagel Castle you can listen to stories about King Arthur.
With 298 EV chargers on the route, the highest number of all road trips on this list, Atlantic Highway enables a stressless experience of Atlantic Ocean views from an electric car.
Before heading on a road trip this summer, check out these must-have products that will make it the season for the books!
The best electric car road trip – Conclusion
The list of the best destinations for an electric car road trip, with the exception of contenders from the USA and Australia, is dominated by European roads.
From Italy to Norway, from the UK to Romania, the Old Continent is offering jaw-dropping scenic routes that readily welcome electric vehicles.
Electric vehicles might have been primarily designed for cities. But there are fewer and fewer reasons for not taking an electric car for a cross-country road trip
Planning a road trip with an electric car might bring a special set of challenges. But once you get it sorted, hitting the EV road trip becomes one of the most eco-friendly ways to enjoy nature.
Day by day, electric cars can travel longer distances, and the infrastructure of charging stations is slowly following the demand.
Electric vehicles might have been primarily designed with urban environments in mind. But with a growing sense of responsibility toward human carbon footprint, the technologically advanced future is slowly arriving even in remote areas.
Taking an electric car on a long trip gradually stops being a nuisance. There are fewer and fewer reasons for avoiding the cross-country trip in an electric car. If you can afford this type of vehicle, priceless experiences are awaiting!
Did you find your favorite electric car road trip?
Pin this guide to the best EV road trip destinations for later!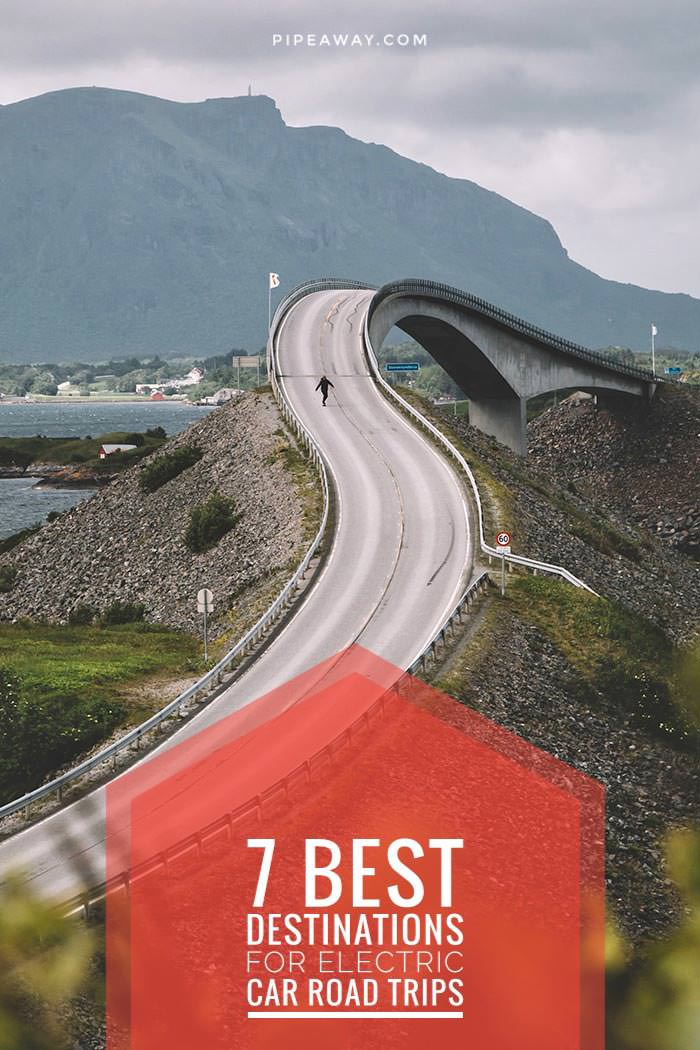 Disclosure: This post may contain affiliate links, which means if you click on them and make a purchase, Pipeaway might make a small commission, at no additional cost to you. Thank you for supporting our work!

All images in this article were sourced through Unsplash. The authors are typically mentioned in image titles and Alt Text descriptions. In order of appearance, these are Venti Views, Renato Mitra, Umit Yildirim, Eren Goldman, Nellia Kurme, Braxton Stuntz, Slava Abramovitch, Eric Marty, Jaromir Kavan, Gwenn, Klabbers, Ryan Searle, and Mick Truyts.