In August 2018, the Indonesian island of Lombok was hit by the strongest earthquake in its history. At a magnitude of 6,9 on the Richter scale, the quake killed hundreds and destroyed the majority of buildings in North Lombok. Despite its proximity to the epicenter, the complex of historical buildings belonging to Hotel Tugu Lombok stood strong.
When I visited a year later, only the emergency evacuation card displayed in the hotel room was a context reminder. Earthquakes and tsunamis in the Ring of Fire are always a possibility. The same seismic activity that is responsible for the beauty of the islands in Indonesia, is a source of potential danger. Even with occasional casualties, people here have learned to live with respect toward the planet.
Inspired by the legends of Mahabharata and Ramayana, Hotel Tugu Lombok radiates with romance, confirming itself as one of the best places for a honeymoon on Lombok
Hotel Tugu Lombok is an astonishing beachfront property that will easily make you restrain those and other worries. Its peaceful setting is like a tranquilizer, combining verdant nature with imposing buildings. From beach daybeds and hammocks between trees to oversized beds in rooms and massage parlor, relaxation is the state of being here.
Basing its design on the legends of Mahabharata and Ramayana, the two major Sanskrit epics of ancient India, this 5-star hotel paints a poetical ambiance at every step.
Hotel Tugu Lombok is a luxury property radiating with romance! It invites lovers from around the world to celebrate – a wedding, a honeymoon, or just an unpretentious casual weekend!
Once the COVID-19 pandemic stops shaking the world, consider visiting Lombok! The first neighbor of popular and somewhat overshadowing Bali is a hidden secret. And those are often quite rewarding.
In the Hotel Tugu Lombok review, learn all pluses and minuses of staying at this one-of-a-kind romantic oasis!
Considering a romantic trip to Europe instead? Check out why Croatia is one of the most popular honeymoon destinations!
Village of exquisite villas on sandy shores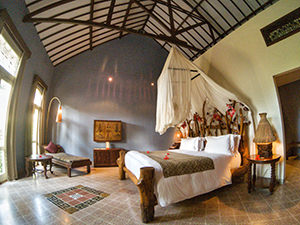 After a speedboat transfer from Bali, the hotel car picked us up at the Bangsal harbor. Hotel Tugu Lombok, our final destination, was on Sire Beach, the idyllic northwestern part of the island.
The twenty-minute car ride did not offer polished views. Poor shacks knocked together were a sad reminder of the aftermath of the earthquake. A true reality check! Once we had arrived at the hotel grounds, a completely different universe unraveled.
Fronting the famous Gili islands protruding from the open ocean, some six hectares of well-maintained land were sitting by the pristine sands of Sire Beach. Among the mature coconut palm trees and amazing antique artwork sprinkled over vast green lawns, Hotel Tugu Lombok placed 36 luxury villas!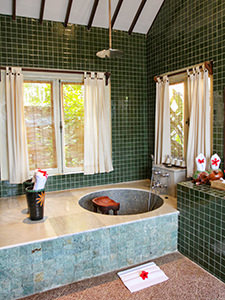 We stayed at one of the Aloon-Aloon villas. Six colonial-style buildings centered around a tropical garden plaza had gigantic beds, antique furniture, sunken bathtubs, large rain showers, and an outdoor lazing area, all sprinkled with scarlet hibiscus flowers.
With 125 square meters in size, these rustic garden villas were quite spacious. But guess what, they were among the smallest in Hotel Tugu Lombok! Other villas can reach up to 600 square meters, and can contain private plunge pools overlooking the ocean!
The absence of a private pool was not much of a concern for me. The central infinity pool, 30 by 10 meters in size, was a large source of pleasure. And I haven't even encountered other guests using it!
The beach was also just some steps away. On the last day of our visit, I even discovered another (!) equally large pool on the property! The hotel area was so big that you would always find something new in this labyrinth of artworks, relaxation-inducing flora, and traditional architecture teeming with legends.
The rooster legends at Hotel Tugu Lombok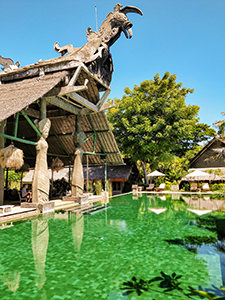 Before Islam took over the Indonesian islands, Hinduism prospered in Java. In the kingdom of Prambanan, Bandung Bondowoso, the son of King Prabu Baka, killed the father of the beautiful princess Lara Djonggrang, and insisted to marry her. The princess couldn't just say 'no' to a powerful man. So she requested he built a thousand temples for her overnight. Bandung agreed and engaged a hundred demons in this construction project. Worried that they might complete the task, the palace maids decided to pound rice before dawn. The confused rooster started to crow, and the trick worked. Afraid of the sunrise, demons fled and left only 999 temples finished. The enraged prince turned the princess into stone, but the gods eventually brought her to the heavens.
This story of unconditional love and respect for parents was celebrated at Hotel Tugu Lombok in a bar that bears the name of the Javanese princess, as well as in the restaurant known as Kokok Pletok (meaning: the rooster's morning call).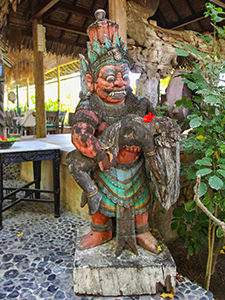 However, the design of the impressive restaurant hall relied on another pre-Hindu legend, the one of a king who turned his daughter Dewi Sri and son Sedana into a snake and a rooster. When the princess was released from the spell, she became the goddess of rice and fertility.
Ten-meter-tall statues of the princess acted as totem pillars of the dining hall. The thatched roof had the shape of a rooster with a 20-meter-long snake tail. It was an impressive central point of the Hotel Tugu Lombok, a powerful symbol seen from afar.
In the surrounding of a lotus pond, tropical plants, and a grand infinity pool leading to the giant statue of Dewi Sri's husband, multi-faced Vishnu, the 15-meter tall open-air space of Bale Kokok Pletok breathed with harmony.
Half-a-century of collecting

The founder of Tugu project is Anhar Setjadibrata. In the past five decades, this man has gathered a large collection of Indonesian and Chinese art. He amassed so many antiques and artworks that he needed to house them somewhere. Today, the brand includes five hotels and eleven restaurants. 

In accordance with its name, Tugu is a monument to Indonesia's past, a tribute to ancient kingdoms and often forgotten cultures. Each Tugu property is an oasis of national heritage protecting hundreds of restored artworks and remnants of history.
Tugu Lombok restaurant – a journey through tastes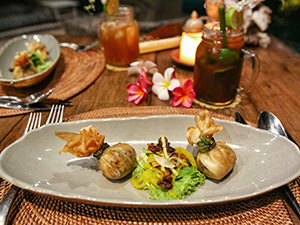 Just like at their sister property in Canggu (more about it here: Bali's best luxury escapes), Hotel Tugu Lombok celebrated the cultures of the Indonesian landscape through gastronomic experiences as well.
Once you were here, it would've been a pity not to try local specialties. Slow-cooked banana tree's heart called Ares with Lombok-typical herbs of galangal, garlic, ginger, lemongrass, and candlenut, served with smoked beef tenderloin and turmeric rice; fried Nonyah Popiah dumplings stuffed with bamboo shoots, chicken and ginger-plum sauce; Lombok-style Tom Yam soup; an octopus in red curry, garlic, tomato, and bamboo shoots with cilantro rice… These were just some of the authentic dishes you should taste.
Of course, the Tugu Lombok menu offered international food too, with pizzas, pasta, as well as meat and fish dishes.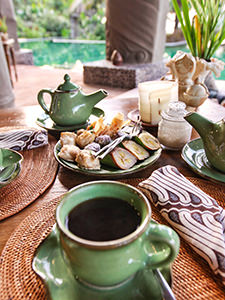 The special Tugu highlight was a complimentary afternoon tea with traditional cakes and savories. The same as with other meals, you could enjoy it at one of the two restaurant halls, in a bar, on the beach, or anywhere else on the territory of the resort.
Those who were attracted by the Instagram-worthy setting of the resort should know that Tugu Lombok restaurant's lavish breakfasts included equally attractive power bowls for boosting one's energy. The offer of various mixtures of ingredients such as frozen yogurt, coconut meat, snake fruit, or chia seeds was extensive. Unfortunately, I chose one that turned out to be unexpectedly sour instead of sweet. The ambition of the menu could be tricky, so putting an accent on quality over quantity of the offer could prove a much more satisfying Tugu mantra.
On the other hand, we were impressed with their healthy juices and smoothies that came in a variety of colors and flavors. They were also beautifully decorated with fruit, flowers, and plant-based straws.
Royal treatment at Tugu Lombok spa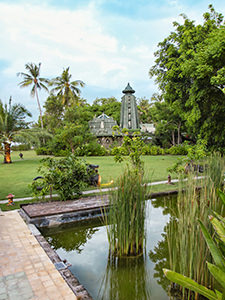 If Tugu Lombok restaurant catered to one's body from the inside, Tugu Lombok Spa did the same from the outside.
Hening Swarga Spa (literally meaning 'Heavenly Silence Spa') was set in a century-old Hindu temple. Its front side open to the Indian Ocean breeze technically made it open-air.
A large and luxurious bathtub dominated the central space, with a large massage table on each side.
If one wanted to make it a truly romantic day experience, the rooftop of the temple was a cozy place for dinner for two!
The spa treatments engaged local organic herbs and spices. Flowers in use are considered sacred and incense – a gift of Shiva himself.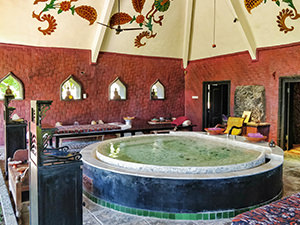 Employing the oriental secrets of longevity and beauty, Tugu Lombok Spa delivers eastern massages. Some of these were a privilege of royal families in the times gone by.
From floral and milk baths to hair perfuming rituals, from volcanic stones and sea shell facials to traditional anti-aging massages of Bali and Java, the authentic pampering menu at Tugu Lombok Spa will take care of your peace of mind in more than one way.
Besides the amazing temple, Hening Swarga Spa therapists can deliver their treatments at the open beach huts or by the waterfalls the island abounds with.
You can find a lovers' paradise with great beaches and waterfalls in South Korea too. Check what is there to do in Jeju Island!
Activities to enrich your honeymoon at Tugu Lombok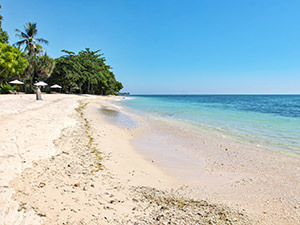 With Sire Beach at your fingertips, you could easily fill your days with swimming, snorkeling, diving, and sunbathing. If you wanted to explore the undersea further, visiting the coral reefs beaming with colorful fish at Gili Air, Gili Meno, and Gili Trawangan is a must. You could take a peek at Gili islands, which are just a 20-minute ride away, at sunrise too. Hop on a traditional wooden dragon-head boat and enjoy a lavish breakfast picnic while cruising the bays!
Another important Lombok landmark is Mount Rinjani, the second-highest mountain in Indonesia, great for hiking and sunrise-watching. The popular way to enjoy the sunset is by exploring the local paddy fields on a Cidomo, an antique horse-drawn carriage. If you prefer your own workout to horsepower, you could also make use of the complimentary bicycles at your disposal.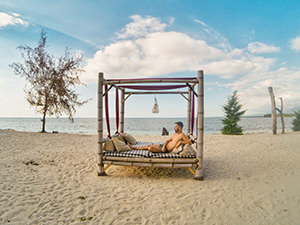 For other sports enthusiasts, there were surfing opportunities, as well as trekking to the aforementioned waterfalls. Toasting a glass of champagne in the natural infinity pools of Kerta Gangga waterfalls is as close to decadence as one can get.
There is also a world-class 18-hole golf course next door to Tugu Lombok, just by the ocean shore. Lombok Golf Kosaido Country Club was reportedly designed in accordance with the natural contours of the land.
Hotel Tugu Lombok could also organize a variety of classes that would improve your skills. One could learn yoga, meditation, or pottery making, cook in a traditional Lombok way, make healing Djamoe (jamu) herbal drinks, or find out how to cultivate pearls from the Gold-Lipped oysters at one of the island's 24 pearl farms.
Finally, Tugu Lombok is proud of its initiatives aiming to protect the ecological environment. One of these is a conservation program for sea turtles. One could participate in releasing baby turtles and increase their chances of survival!
For honeymoon ideas on Bali, check out The Balé Resort or Aria Villas Ubud!
Hotel Tugu Lombok Review – Conclusion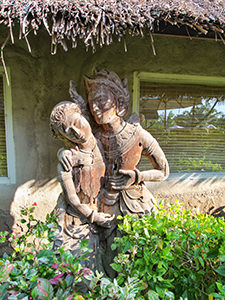 With the Indonesian word for 'monument' in its name, Hotel Tugu Lombok is a visually stunning retreat. Containing architecture and artifacts of museum quality, it is a rare industry player that celebrates the cultural heritage of Indonesia to the fullest.
With a range of cultural experiences offered to guests, Tugu Lombok is not just another pretty beachfront hotel; it's an invitation to deep immersing in the identity of kingdoms that existed long before Europeans started colonizing the world.
Having the tourist giant of Bali as the first neighbor, Lombok hotels have high standards to adhere to. With tourists typically coming over from the famous Indonesian island of gods, everything is under the magnifier at the less touristically developed Lombok. There is an expectation of high-level service at every moment. Guests want larger smiles, impeccable food, always-available service, and exquisite beauty. And on top of that, excellent Internet connection, of course. Those will definitely be challenges for Hotel Tugu Lombok, the key player in 5-star tourism on the island.
Hotel Tugu Lombok provides holidays that previously seemed reserved for royalties only
At the same time, Tugu's shortcomings are its advantages as well. Its relatively remote location, with no restaurants or shops in the neighborhood, is a step away from civilization. Those who wish to unplug in a serene tropical corner, without the crowds and noise of Bali (in non-lockdown times, of course), could find Tugu Lombok as a magical hideaway.
Hotel Tugu Lombok offers a comfortable stay in the exotic nest of the Indonesian glorious heritage where one can experience holidays that previously seemed reserved for royalties only. With such an unwritten promise, guests plan their most important life events here, such as weddings or romantic weekends. As possibly the best place to stay in Lombok for a honeymoon, Hotel Tugu Lombok has the potential and an opportunity to answer the demand of luxury-seeking tourists.
How to get to Lombok?
By sea
Getting to Lombok from Bali is possible by sea. Padang Bai harbor is a convenient departure point for travelers coming from Bali mainland (e.g. Ubud). Serangan better fits those coming from the island's south (Denpasar), while travelers from northern Bali could check connections from Amed.
When traveling to Hotel Tugu Lombok, you want to head to Teluk Kode or Bangsal harbor in the north. Bangsal is a 15-minute car ride away from Hotel Tugu Lombok, and the hotel can organize the transfer at an additional charge.
While the cheapest way to get from Bali to Lombok by sea is taking a public ferry, somewhat pricier speedboats will get you to your destination faster (approximately two hours). Typically, they will also include a shared pick-up from your accommodation in Bali. This should save some bucks you would otherwise spend for the transfer to the harbor.
By air
Lombok has an airport in the south of the island – Zainuddin Abdul Madjid International Airport. Garuda Indonesia, Lion Air, and AirAsia are companies that typically offer 30-minute plane flights from Ngurah Rai International Airport in Bali. However, have in mind that you will need to additionally organize a car transfer from Lombok Airport to Hotel Tugu Lombok. That will add 2 more hours to your trip, as well as cost you more!
Those with deeper pockets can also organize a helicopter transfer from Bali. Hotel Tugu Lombok has its own helipad.
For more images of the property, reviews of its guests, as well as the best room prices, check Hotel Tugu Bali on Booking.com!
Did you like the Hotel Tugu Lombok review?
Pin it for later!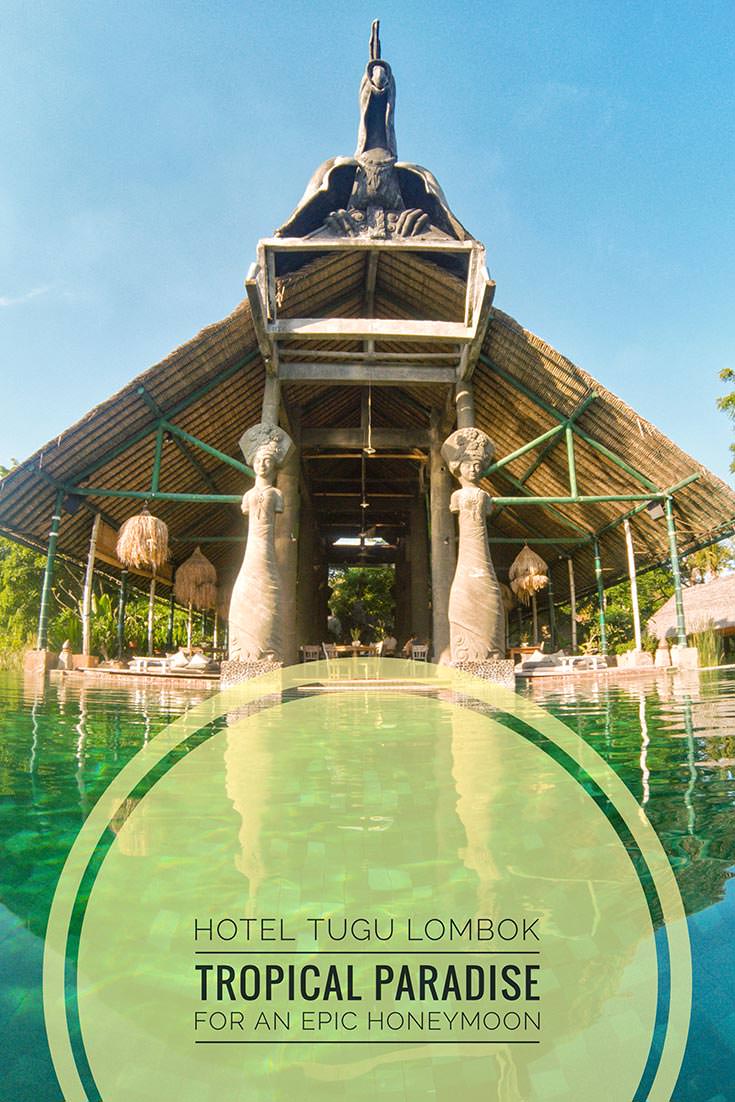 Disclosure: My stay at Hotel Tugu Lombok was complimentary, but all opinions are my own.

Also, this post contains affiliate links, which means if you click on them and make a purchase, Pipeaway might make a small commission, at no additional cost to you. Thank you for supporting our work!