Crazy long queues form in front of the Basilica of Santa Maria in Cosmedin in Rome. However, none of the visitors waiting in line are there for religious reasons! They are all waiting to place their palm in the famous Bocca della Verita (Mouth of Truth).
The 1st-century stone disc in the porch of the church is said to bite liars' hands off! Popularized by "Roman Holiday" (1953) and other movies, the ancient carving is the prime reason for visiting this Italian site and taking yet another selfie.
For most of the tourists, the church is just a corridor towards the exit from the porch, where they instantly start to publish their newest pics online. With their eyes glued to their mobile phones, they do not even realize they are passing by St Valentine's skull!
Furthermore, they probably miss the mosaic fragment from the old St. Peter's Basilica in the gift shop too.
They miss precious relics in Hadrian's crypt.
And when they exit, they miss taking a picture in front of one of Rome's oldest monuments – Cloaca Maxima! And that's what I call the tourist trap of following the crowds.
Statue rubbing is a widespread phenomenon. Check out the most rubbed statues in the world!
The herd of delayed orgasm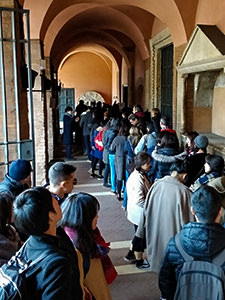 Blinded by popular trends promoted in mainstream media, I feel as if a modern tourist is becoming a sheep.
Do not get me wrong; I don't think that taking selfies with a hand in the Mouth of Truth is a radical misdemeanor!
It gets transgressive when you spend half an hour waiting in line and then, after seconds of peak joy, you completely lose the sense of orientation, and miss even more significant rewards waiting around the corner!
Modern tourists rarely enjoy the moment. Rome is full of astonishing architecture and monuments, so there are plenty of photo opportunities for your Roman holiday.
But modern tourists take photos with their phone or camera, and then spend more time looking into the actual picture than looking at the very object of their shooting!
They rush to the next site, and the next image. They seem to be so excited about endless photo opportunities that they save the joy of the experience for later. Delayed orgasm, in this case, looks so wrong!
Stimulated by endorphins, like euphoric children who ate too many sweets, these tourists were completely losing the sense of where they were
Tourists in euphoria
When I arrived at Piazza della Bocca della Verita (of course, they named the square after the Mouth of Truth statue!), some hundred visitors were blocking the entrance to this 8th-century church. I entered through the exit and sat in silence on the bench.
Every now and then, a group of tourists would enter the church (their only way to leave Bocca della Verita), giggling at the photos they have just taken. The church keeper, brooming the floor, had to shush almost everyone entering.
Stimulated by endorphins, like euphoric children who ate too many sweets, these tourists were completely losing the sense of where they were.
Even the Japanese, known for often being reserved and showing respect for sites of religious worship, couldn't refrain from laughing in the church.
Selfie-taking culture can go to an extreme extent, as shown in Indonesia last year - Selfies as Declaration of Stupidity: #instaidiots Raping the Art Galleries.
Blinded by Instagram
With their gaze occupied by Instagram filters, these tourists were not just having the time of their life. They were also – completely blinded!
Reenacting Gregory Peck's famous scene when he shocks Audrey Hepburn by losing his hand in the Mouth of Truth, made these spirited tourists tap in the dark!
And in the dark, on the side altar, on the left side of the church, a precious skull was spared from any camera rape. The skull belonged to St. Valentine, a famous Roman saint celebrated on February 14th.
If those tourists had only known, in the dawn of another Valentine's Day, that they were passing by the patron saint of love himself, I wonder if their Instagram feeds would have looked differently.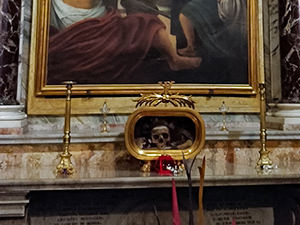 When we follow the traveling models dictated by tourist agencies, bucket lists, and similar must-do's for dummies, we often completely miss having unique experiences that could be fueled by some on-your-own research and simple wandering around.
Accepting traveling in the herd might make us unable to see the forest for the trees.
And St. Valentine's relic was not the only "secret" attraction that evaded these tourists.
Do you want to see thousands of skulls in a church? Head to Lombardy in the north, and visit the ossuaries of Solferino and San Martino!
The unexpected gifts
The gift shop of Santa Maria in Cosmedin holds another easily overlooked piece of history! Tourists today rarely raise their gaze from rosaries and mini versions of the Mouth of Truth available for sale in different sizes and prices.
On the back wall, just between the postcards and teacups with sacral motives, a fragment of an 8th-century mosaic is displayed in the wooden frame.
Pope John VII commissioned the large mosaic (9×6 meters in full dimensions) for an Oratory of the Virgin inside the old St. Peter's Basilica. Besides this one, its pieces are now scattered between Florence, Orte, and Vatican Grottoes.
Hadrian I, the pope who ruled in the late 8th century, took many relics from the early Christian catacombs in Rome and housed them in a crypt beneath the main altar of the basilica. This crypt is also available for visits, yet most of the tourists head toward the exit sign.
If you want to find the most special present for your partner, look no further! These are the most unique Valentine's gifts for travel lovers!
Rome's oldest monument with NO tourists on the horizon
Some 100 meters away from Santa Maria in Cosmedin, beneath the Ponte Palatino, one of the oldest monuments in Rome awaits its visitors! But no one arrives.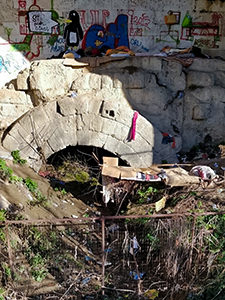 It seems that Rome doesn't pay adequate care to Cloaca Maxima's historical significance, so it looks like a trash site mainly attracting homeless people. It is apparently the place where they feel no one will disturb them!
There is no pedestrian crossing leading to this place on the Tiber river bank. There is no signpost saying that Cloaca Maxima ("greatest sewer") is one of the oldest sewer systems in the world.
Built in the 6th century before Christ, it was carrying stormwater from Forum Romanum. Later it was bringing toilet and public baths waste into the Tiber.
And today, the trickle of water attracting local ducks shows that the system is still in use! What a masterpiece of engineering!
When bizarre sites become the mainstream attraction, there is something very contradictory about it
The Mouth of Truth or something special?
Bocca della Verita might be one of the most famous mouth stones in the world. The face supposedly represents a pagan god. It was placed on the porch of the church in 1632, which is already an unusual event. Especially if we know that they built Santa Maria in Cosmedin over the remains of the Temple of Hercules Pompeianus, a Roman god hero. Church's fight against paganism was obviously not efficient. Even today, more people push their hand into the Mouth of Truth, than into the holy water at the church entrance.
I am not advocating for religious tourism at all. I understand that quirky histories are attractive. They attract me as well! But do we get to choose the ones we like, or do we just follow where the crowds go? When bizarre sites become the mainstream attraction, there is something very contradictory about it.
Distracting attractions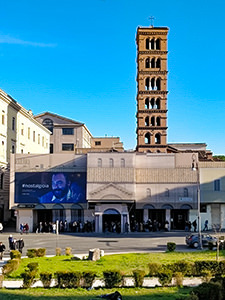 What are we actually looking for when we travel? Aren't we in search of unique experiences that will improve the ways we see the world? The way we see ourselves?
Looking at the hundreds waiting in line to act out Gregory Peck's famous movie scene, I started to think that maybe we are not looking for anything special. Perhaps traveling enables us to feel connected with others, to feel the same as others.
Maybe the ultimate touristic goal is indeed to try to save the Leaning Tower of Pisa from collapsing. Maybe faking a smile in front of the Colosseum or pushing our hand into Mouth of Truth is indeed what makes us feel like we traveled the world.
I prefer not to stand in line for half an hour just to get a picture everyone else got. If that waiting will divert my gaze from St. Valentine's bones, hidden mosaic, underground crypt, and ancient Roman sewer, however dirty it might be, was the waiting worth it?
If all of us would consider that attractions are sometimes distractions, wouldn't discovering the world suddenly become a never-ending adventure?
What are your favorite ways of exploring new places? Do you follow the tourist guides or let yourself get lost? I'd appreciate it if you would share your strategies in the comments below!
Did you like this article on Mouth of Truth?
Pin it for later reading!


Searching for a place to stay close to the Mouth of Truth?
Check out these hot deals!
Various dates available!


Disclosure: This post contains affiliate links, which means if you click on them and make a purchase, Pipeaway might make a small commission, at no additional cost to you. Thank you for supporting our work!