Croatia and naturism have a long relationship that Facebook would label as "It's complicated". The two definitely have a history, and it started at FKK Kandarola Beach on the island of Rab in the 1930s. But that history often suffered from the lack of commitment.
We practically have a non-traditional couple, the one whose connection resembles more a friendship with benefits (financial ones, of course) than true love. Croatian politics likes to play moral police (although they lack the actual authority in that domain), and has the blessings of the Catholic Church to do so. As a consequence, the nation and the naturists prefer to "not make it official", and are often on the edge of a breakup.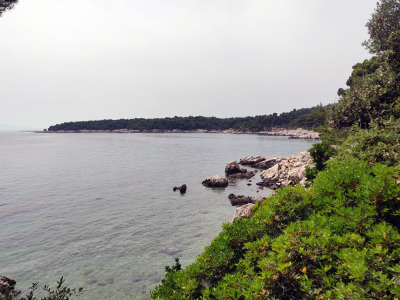 If we would strip away the ongoing exploitation of the concession contract and the impending "urban" development of the area, we could truly see Kandarola Beach as  a precious FKK paradise. On the sun-kissed southern side of the Frkanj peninsula (part of the Kalifront or Capo Fronte peninsula), the century of public bathing in birthday suits claimed home in peaceful coves shaded by thick pine trees. With clear waters begging you to take a dip from pebbled beaches or even go all-in and jump straight from the rocks, it's easy to see the appeal of skinny dipping at Kandarola.
Coves on this side of the island are historical safe havens. Kvarner Bay may be the best sea route between Dalmatia and Istria/Venice, but it can still get extremely windy and dangerous. The storms have seen a pope seeking refuge in Rab, but also numerous shipwrecks of those who didn't manage to call for help. Sailors who survived the raging waves were those who knew they could find shelter in Rab's western coves.
There are new "storms" threatening Rab's naturist sanctuary, and safe havens for nudists may be no more. This is the naked truth of Rab's FKK Kandarola Beach's glorious past and questionable future.
Nudism and politics – FKKing things up
Social nudism in Croatia bloomed in the era of Yugoslavia, when religious influencers were not as powerful, and politicians didn't have to worry about re-election, so they calculated less.
Almost paradoxically, Croatian acceptance of public nudity was more liberal in communism, as the society recognized the commercial potential of naturism. While other European countries were barely dipping their toes into nudist membership clubs, Croatia proudly cannonballed into the scene, opening full-scale naturist resorts. Koversada in Vrsar was established the first, in 1961.
But as time went on, the nudist landscape in Croatia saw some shrinkage. Out of the 34 naturist camps that flourished in the 1980s, only 10 remain today. Textile enthusiasts invaded exclusive naturist territories, fencing off the nudists in their enclaves, or exorcizing them completely.
In places like Rovinj, once firmly established FKK beaches are slowly being erased. Even the one tucked kilometers away from prying eyes – Punta Križ beach in Monsena – is under increased public scrutiny in recent years, with municipal policemen paid to prevent "indecent acts" between relaxed beachgoers.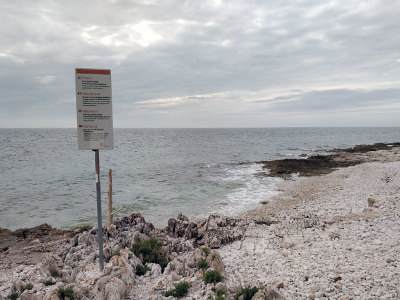 While Croatia was busy patrolling what consenting adults do in their free time, other European countries like France and Spain snatched the title of the most hospitable naturist destinations.
Croatian politics could afford to exercise the moral verticality on nudists (because, why bother with politically-enabled crimes?) simply because the country had a strong textile tourist pool to rely on.
The European integration in the last decade, which culminated this year with Croatia joining the Schengen space and adopting the euro (meaning more open borders and even more open wallets), solidified the country's position as a tourist hot spot. There are no more passport controls, but vehicles are now queuing on highways, as old-fashioned tolling methods transform by Croatian speed.
While EU systems are in place mainly nominally, old habits die hard. Croatia is still one of the most corrupt member states, where rules can be bent if it serves the particular interests of those in power and those close to those in power.
And naturists became sacrificial lambs. After all, naked people don't exactly scream deep pockets.
If you're a naturist looking to spend holidays in Greece, check out these clothing-optional hotels!
The Emperor has no clothes
You surely know Andersen's famous folktale "The Emperor's New Clothes". It's the story painting the intellectual vanity of corrupt minds. The two swindlers sell the emperor a suit that's invisible to those who are incompetent and stupid. The emperor then, dressed in nothingness, parades through the town, with nobody aspiring to admit the obvious truth, as it would expose their weakness. Until an innocent child shouts out that the emperor is naked.
Prince Harry partied in Croatian swimming pool fully clothed and changed only the tabloid headlines. King Edward VIII swam in Croatian sea naked, and changed history
Royal protocols are extremely strict. They do not allow free spirits to misbehave and endanger the precious image, the cornerstone that empires rely on. Croatia, perceived as a place of indulgence, and the English royal court, perceived as a buttoned-up house of rules, have an ambiguous connection. Croatia was supplying its finest wines for the coronation of both Queen Elizabeth II and King Charles III, but at the same time, it also played a role in stripping royal members of their privileges.
In 2020, Prince Harry stepped down from his royal duties that he later described as a "trap". With a history of scandals that ranged from donning a Nazi uniform for fun to stripping naked at a party in Las Vegas, Harry had trouble conforming to the stuffy royal mold. Reports from his drunk club nights on Hvar, another famous Croatian island, showing Harry jumping into a pool fully clothed, did not amuse the royal family.
While the Prince's clothed swim in Croatia may never be a truly historic event, King Edward VIII's clothless swim in the previous century definitely left a mark.
The stories of fleeing royal misfits are somewhat similar, from disobeying court protocols and performing a series of scandals, to having their romantic choices with American women disapproved and sympathies toward Nazi Germany questioned.
In 1936, King Edward spent less than a year on his throne, from January to December, when he abdicated because of forbidden love. But hey, at least the couple had a Croatian summer to remember.
King going au naturel at Kandarola
It was August 1936. The Summer Olympics in Berlin were in full swing, with sports representatives saluting the mustached man that will change the world.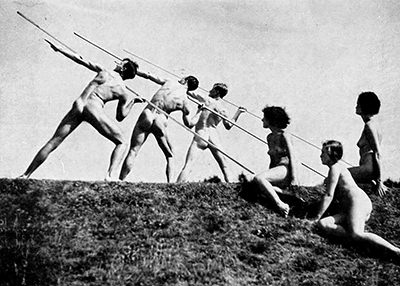 Freikörperkultur (FKK) or Free Body Culture movement was growing in Germany, with Hitler's namesake, Berliner Adolf Koch opening sports centers devoted to nude athletics, in the spirit of the original Olympic Games. The Nazi regime was quick in shutting these centers down. Sharing strictness with the Communists in Eastern Berlin, the idea was the same: naked gatherings were simply a no-go.
Of course, in true colors of hypocrisy, in his spare time, Adolf Hitler was painting nude portraits of his own niece and indulging in the company of Eva Braun, whose naked photographs would eventually surface too.
While the Führer didn't like to appear in public with his mistress, believing that their photographs would endanger his self-explanatory appeal to women, in the European South, one leader cared less about hiding his amorous adventures.
King Edward VIII took a divorced socialite Wallis Simpson on a cruise of the Adriatic Sea. Even if they were photographed together, the British press did their best to not write about the king's controversial relationship with a despised American, a woman deemed unworthy of the royal family's acceptance.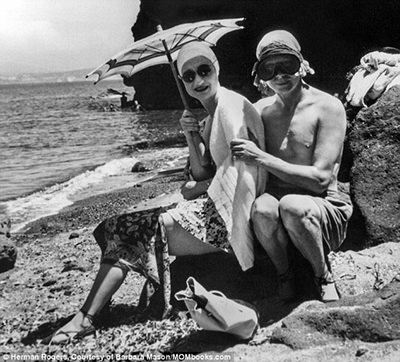 The forbidden lovers arrived in Šibenik, hopping off a train from Paris. On August 10, they embarked on the luxury Nahlin yacht that would soon be seen cruising in Trogir, the Velebit Channel, and eventually anchoring in – Rab.
The most scandalous couple of their time decided to spice things up, and with the approval of their Rab hosts, made a bold move. They took their clothes off, and plunged into Kandarola Beach waters, embracing the naked freedom.
The paparazzi dawn was still behind the horizon, so King Edward's nude pictures never made it to the front pages. Yet, the scandal still brewed. King's photographs in swimwear were considered dishonorable enough to ignite an abdication crisis. The British public had never seen their monarch bare-chested before.
Edward's Mediterranean adventure with a double divorcee would never be approved by the Anglican Church or the UK government. Confronted with that reality, the royal enfant terrible shocked by choosing love over the throne. The course of British history was forever altered.
Ponder this: had King Edward never visited Rab and experienced the allure of total freedom on FKK Kandarola Beach in 1936, his niece Elizabeth might never have become a queen, the longest-running British monarch in history. Who knows, maybe that's why she insisted on making a toast at her coronation with Croatian wine.
Bare beginnings on Rab
While naturists across Europe celebrated King Edward for disrobing royal garments, Rab was home to naturism even before this prominent pioneer tested Kandarola's inviting waters.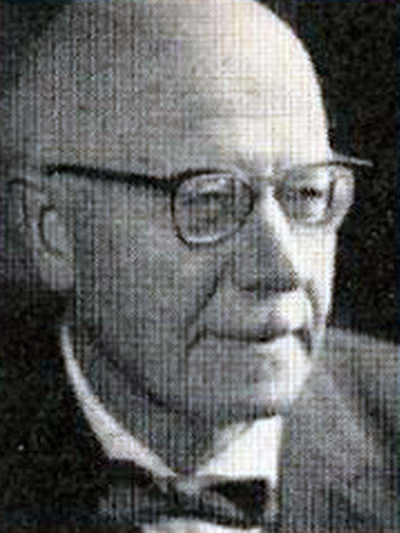 Online sources often mention the article "Trade in Nakedness", published in the Austrian economic journal Trend no. 11/83, supposedly claiming that, already in the late 19th century, Rab hotels had reserved 50 beds for naturist guests.
There are also mentions of the Czech Josef Herman writing about naturism in Rab in his article in 1907, as well as certain Professor Günther in 1912.
Richard Ehrmann-Falkenau, a man destined to become the first president of the International Naturist Federation in 1953, made his mark on Rab's sandy shores in the 1930s. Seeking respite from Hitler's nude-bathing bans in his hometown of Vienna, he found shelter in Croatia's more welcoming attitude toward FKK. In 1934, he is said to have christened the first naturist beach in Rab and fostered a thriving nudist colony.

Rab's wild wild west – nature preservation with a parking fee
Getting to Kandarola, fondly dubbed the English Beach in honor of its royal visitor, is possible by taxi boats from Rab town harbor or Škver town beach.
While I knew it would take me a full hour if I decided to go there on foot from my accommodation, I still gave it a go. After all, my hiking trail was gonna lead me through the unspoiled landscape that has been proclaimed a Geopark back in 2004.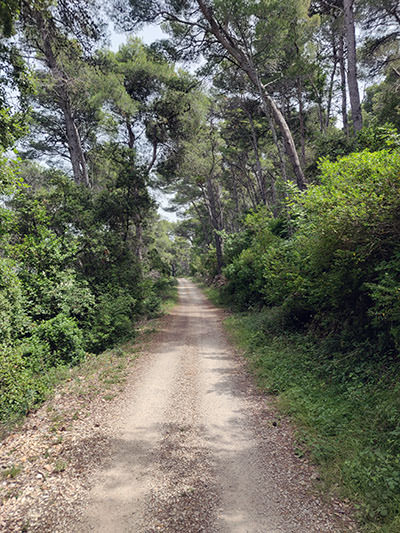 It should be easy, I thought. I'd enter the Premužić Trail at the ramp just above the emergency helipad at St. Euphemia Bay, follow it as it traces along the northern coast of Frkanj, and then before reaching two little coves (one of which is called Mala Dražica or, in loose translation, a Little Clit), cut to the other side.
It would be hard to miss the center of attraction, as I found myself at a wild parking lot at the end of the fire road that should be closed off for traffic by another ramp.
Due to the forest environment protected by the state firm Hrvatske šume (at least on paper), this road should be used only for fire emergencies. Paradoxically, that emergency could be caused by mainly car visitors. There have been protests against them in the past, mostly led by taxi boat operators losing customers, because nothing motivates nature preservation better than lost income.
Still, a girl was sitting at the entrance to the Rab's wild west, obviously charging motorized visitors for the convenience of parking in a protected forest.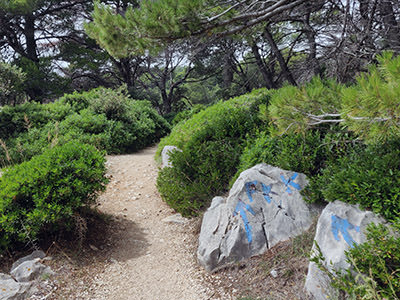 Freikörperkultur, not so frei
I exited the forest on the southern coast of Frkanj, and Kandarola Bay opened up, a series of shoreline indentations that would first see Gavranišće Beach, and then the iconic FKK Kandarola Beach.
The path seemed straightforward, but then out of the blue, an older mustached gentleman sitting behind an equally blue round desk stopped me. Sporting policeman vibes, he pointed at a signboard nailed directly to a tree declaring "concession charge = 4 euros".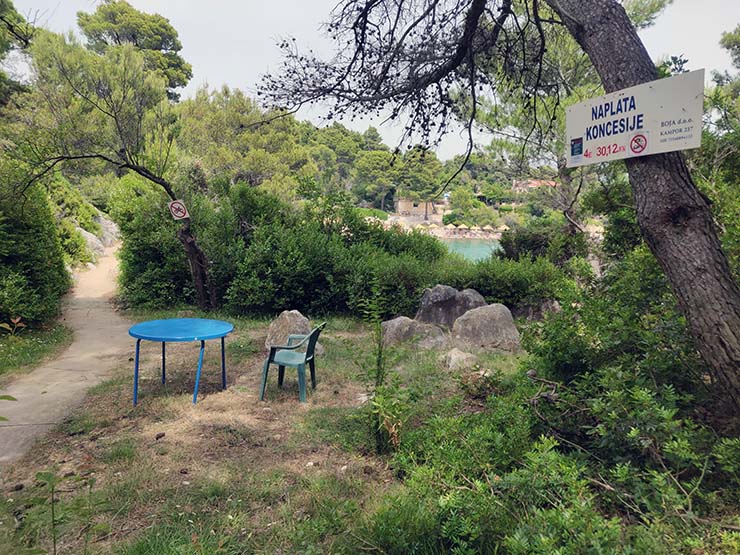 Free access to beaches is nominally a hot Croatian topic, but I wasn't about to dive into a political debate by exclaiming that beaches cannot be privatized in such a way. I just innocently voiced my confusion, as I was simply following the designated Premužić Trail. It didn't mention I should pay a toll for free passage to a random guy behind a blue table, controlling a couple hundred meters of shoreline.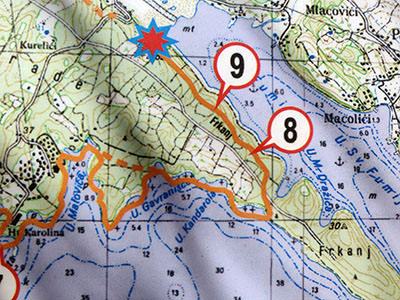 "What Premužić Trail? There's no such thing!", claimed the man who, later I would find out, was called Josip Jurešić Kačka. He became the carrier of the County-given concession for the exploitation of FKK Kandarola Beach in 2015, eleven years after Rab City signed an agreement for establishing the Geopark, an initiative aimed at protecting and sustainably utilizing the island's natural heritage.
Even if I was clearly following the free Premužić Trail marked by the signboard, Mr. Concession outright denied its existence and just demanded his toll.
It was already late afternoon and, softened by my hiking goals, he decided to show mercy and offer me a half-price passage to the other side of his concession beach. I wasn't given a receipt nor a ticket, even if his makeshift concession board had a Tax Administration sticker proclaiming "Bez računa se ne računa" (something like "No bill, no deal").
Well, there was also a sticker forbidding photography. It's rather convenient to be able to hide one's malpractice behind the guise of protecting nudists' rights.
Instead of denying the existence of hiking trails, Rab should embrace them fully. After all, why wouldn't it have even trails dedicated to - naked hiking?
Profiting on a barricade
Josip Jurešić, the owner and the only employee of Boja d.o.o. (translated as Color Ltd.), the micro-enterprise specialized in wall painting and glasswork that was chosen as the most favorable bidder for economic exploitation of a nude beach, sadly had all legal rights to perform his toll collection.
Croatian concessioners may charge for the entrance to nudist beaches for security reasons. Because one feels more secure as soon as one pays for breathing air
Even if Croatia mainly gives concession permits to bidders providing beach amenities, there are rare cases when the state allows charging the entrance to the concession area, and even fencing.
FKK Kandarola Beach on Rab is one of 18 such exceptions. Those were mainly given to campsites, high-end hotels, and some nude beaches. Often, they are explained by "security reasons". Of course, all of us know that beaches become more secure as soon as you charge the beachgoers for breathing air.
While Jurešić's concession was given legally, history has taught us that legality and legitimacy are not the same things (even that German mustached chap made his way to power through elections). We have all the rights, even duty, to question the legitimacy of barricading public paths for private exploitation.
Mr. Concession practically hit a jackpot with this curious arrangement, as all he needed to provide were some parasols, sunbeds, and a kiosk with a terrace. But don't think that you can use these amenities just because you paid for the entrance. A day's use of a sunbed will cost you an additional five euros.
Are visitors happy with what they get for "free" at least? Let's read the latest Tripadvisor review: "Infrastructure poor: 3 freshwater showers only and two small toilets only at restaurants/bar Kanderola for a lot of visitors, not well maintained."
Wall painter showing true colors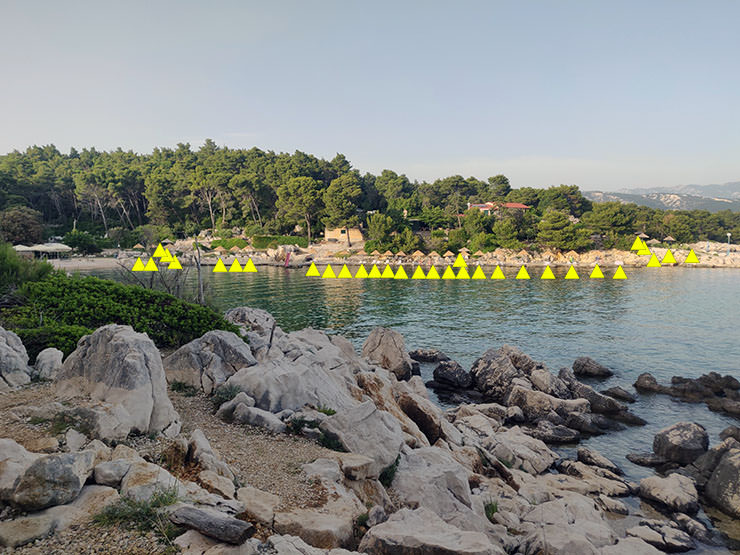 I disobeyed the photo ban, and at the end of the day decided to snap some photos of a part of the concession area, which in total covers some 3.000 square meters of land.
While the concession permits a modest number of 20 parasols and 20 sunbeds, my eagle-eyed lens counted a far greater abundance. The real number is closer to 40 parasols, and each is accompanied by not one, but two sunbeds, so 80 sunbeds at least.
Instead of capping daily income from sunbeds at 100 euros, Mr. Concession can earn 400 euros, and pocket the difference of 300 euros per day. These violations would already be enough for the County to break the contract and demand compensation, but could this audacious charade go on for 8 years truly unseen?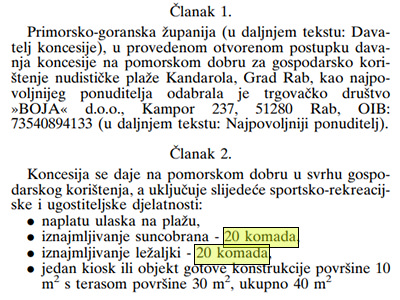 If we focus solely on the visitors renting sun loungers, we could conclude that this brings 720 euros daily (entrance + sunbed). The yearly concession fee is 12,700 euros, plus a silly amount of 1% from (reported) entrance fees and 3% from other services. This means that only with sunbed users, the concession fee could be covered in a mere 18 days of "work". And here we did not factor in the beachgoers who sprawl on their own towels, or surely the substantial revenue from the beach bar.
According to the 2022 financial report of Boja d.o.o., the total income was just 85,869 euros. If we take into account that the beach is open from May to October, the report would tell us that the concessioner gets barely 477 euros on an average day. Plus, as the company could have other sources of income beyond the concession included in the sum, they may be reporting even less revenue from the beach.
I leave it up to you to estimate if the business of selling free passage to hundreds of daily visitors to the area, renting out 80 sunbeds, and selling drinks truly yield such modest returns or if the bills just get lost, like mine.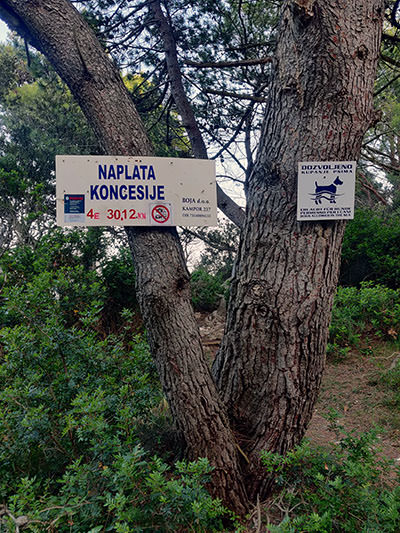 Should you pay for the entrance to FKK Kandarola Beach?
Unless you have an insatiable desire for that beach chair and a desperate need for a post-swim shower, or unless you happen to be an undercover state inspector (haha, right), my suggestion would be to skip altogether the portion of the beach monopolized by this dubious concession.
There are better ways to spend your money. And also, I think it's morally not right to support overexploitation of marine resources, simply because someone was granted the privilege to do so. There's something fishy here, and I'm not talking about Kandarola's sea life.
Just a little further north, beyond the grasps of the profit-hungry concession beach, and before Malovica Bay ending in Suha Punta Beach, there is a growing alternative FKK peninsula, a land bulge where better-informed locals and foreigners come to enjoy nude bathing without the burden of paying anyone for sun exposure.
And the good thing about it is that you can access this area from the Suha Punta side if you don't want to fight for your right to freely walk the coastline with the toll guy.
Escaping the toll trap: How to get to FKK Kandarola Beach on Rab without paying?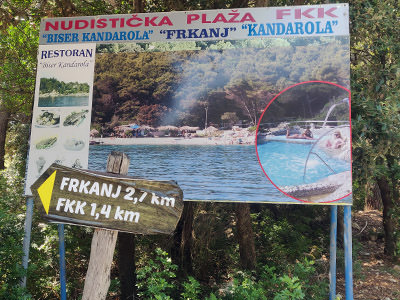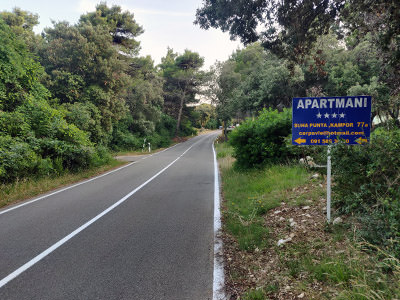 Coming from Kampor, you can reach the Suha Punta settlement by car, but you can also walk toward Matovica Beach, navigating the paths that wind past local houses. I'll explain the path that seemed the easiest to me.
The most important thing is to NOT follow the turn on the main road marked by an improvised road sign to FKK Beach, and a billboard advertising naked poolside ladies and Biser Kandarola restaurant, also operated by the Jurešić family. That turn would lead you to that doubtfully legal parking lot I stumbled upon when following Premužić Trail, and if you head there, you'll have to deal with paying the entrance fee.
Instead, continue along the main road from Kampor to Suha Punta further south, and once you spot a modest road sign for apartments with "carpavle" e-mail, turn left.
Now follow this road downward, over asphalt and some macadam.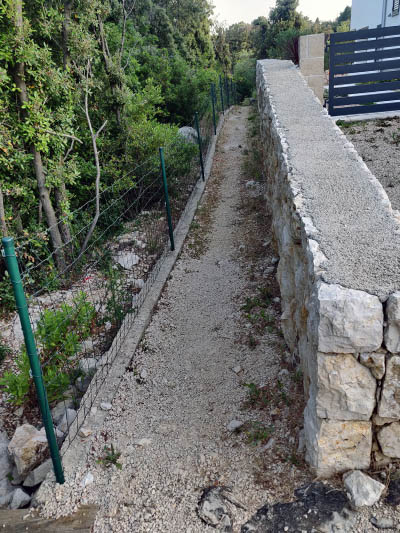 Turn to the right behind the last house, and walk between the green fence and stone wall, to pass the house.
I haven't stayed here, but the house that you are passing by is a rather convenient place to stay if you want to be accommodated close to FKK Kandarola Beach. Apartments Novak come with a garden, a swimming pool, and free use of bicycles. They have exceptional reviews, so check them out here!
When you get to the field, make a left turn and continue down toward the sea.
You will reach another asphalted road, but you should just cross over that one, and continue following the green path.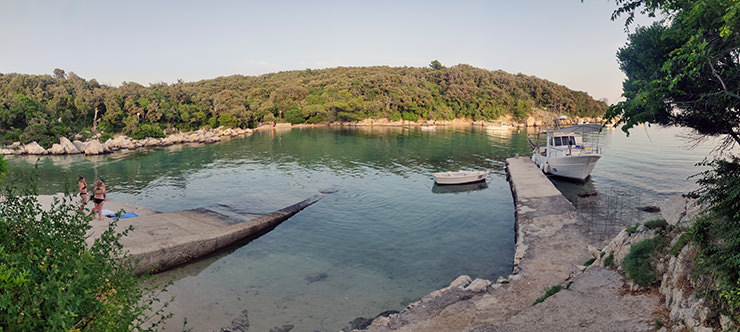 Before you know it, you'll emerge at Matovica Beach. Take a left turn when you reach the coastline, and follow the footpath beside the beach, that will start ascending through the forested area. Some ancient cavemen have drawn male genitalia in the concrete, so you'll easily recognize you're on the right track.
If you continue along this path until the very end, you will reach the northern blue-table checkpoint, the official start of the concession beach.
You can turn right just next to the toll-collecting station, and follow the coastline, or cut through the forest anywhere before, including the trail heading south from the town's official FKK beach sign.
Eventually, you'll exit at the seaside, and be in a position to look for the best spot for free parking of your beach towel. There's a pebbled beach for easy water access, as well as rocky areas to jump from. Visitors find small nooks and crannies amidst the rocks or shaded areas under the trees to set their base.
Where to stay on Rab Island?


Besides already mentioned Apartments Novak, absolutely the closest accommodation to FKK Kandarola Beach on Rab is Apartman Miljenko - Matovica. Practically located just above Matovica Beach (separated just by a patio door), this place with a nice garden offers the convenience of an easy walk to your naked freedom. 

The place where I stayed, Guest House Violeta, is a solid and affordable option in Palit, just between Kampor and Rab town. That's a perfect choice for those who want to be closer to the city life, but also not too far away from the nature escape.

For those who like to spend their holidays in the center of the action, Arbiana Heritage Hotel in the Old Town will take care of all your 4-star needs. And then, for getting to Kandarola, you can always count on a luxury of a boat transfer from the town's port.
Spiky sights: spines in the sea, groins in the grove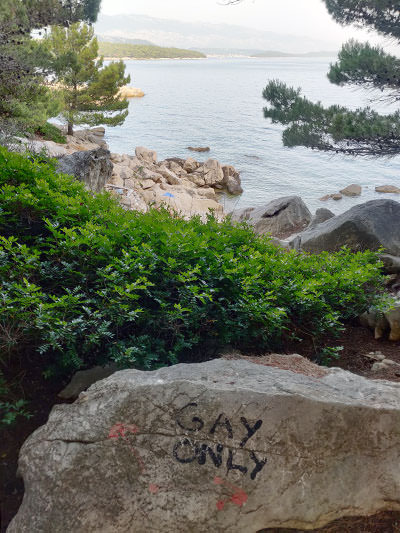 The free FKK Kandarola Beach is spacious and offers everyone the freedom to enjoy it. A part of the beach is marked by 'gay only' graffiti (the right-hand side when looking toward the sea). But there is no strict division and everyone is welcome to use the beach according to basic rules of mutual respect.
Just like with many nude beaches in Greece, the more forested area of this little peninsula is a vibrant cruising zone, as a local told me while I was drying off on the rock from a refreshing swim in Kandarola's lovely waters.
Side note: there are some sea urchins, so if you don't want to experience the pain of stepping on their spines, water shoes could come in handy. Or do we say feety, in this case?
Anyway, my newfound beach buddy spilled the beans, explaining the sex rituals among those who get wood in the woods.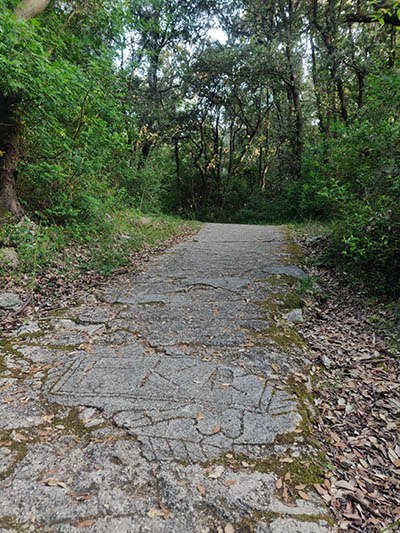 "If you just go up any of the paths, you'll see men cruising around, and then stopping if interested for something more. It can get really busy", he whispered, claiming he knows guys who spend their entire vacations strolling around. "There's this guy from Varaždin, and he does it with anyone. I'm not so open to that, especially with foreigners. For some of them, I know their app profiles mention they're HIV positive, and I don't want to pick up anything."
Truth be told, during my two visits in June, I didn't find the Kandarola bush was as busy as described. Only when I was looking to get to the beach for the first time, a visitor I asked for a direction was clearly eager to show me much more than the beach. But otherwise, I felt it was as decent as nude beaches go, and certainly not something that would require monitoring officers like Rovinj chose to do.
My beach buddy told me that Rab had trouble finding these officers anyway. Nobody wants to do an underpaid job of controlling others for a low salary. Most locals prefer the simpler path of renting out rooms and apartments, which is a much more lucrative and hassle-free gig.
Given the lack of control, it's no surprise that the concession beach managed to shamelessly sprout four times the number of sunbeds allowed.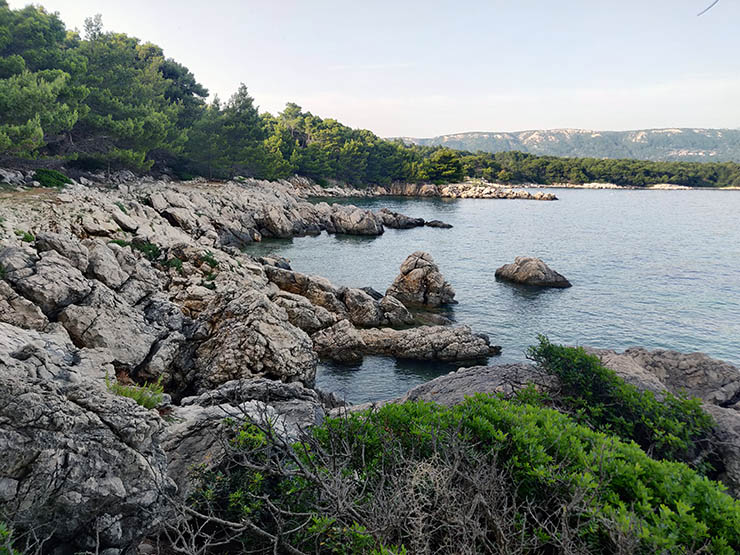 Valamar's hungry whale and gray propaganda
According to this well-informed local, the concession beach is a small fish when compared to the gigantic whale threatening to swallow their FKK paradise from the north.
Valamar, the heavyweight of Croatian hotel operators, already manages five properties on Rab island, including Carolina Hotel & Villas and Suha Punta Apartments, the closest to FKK Kandarola Beach. But these accommodation units are not enough for the hospitality giant's appetite, so they were pushing for the new urban development plan (UPU 25) that would allow them to build four tourist resorts in Suha Punta, ranging between 300 and 1,140 beds.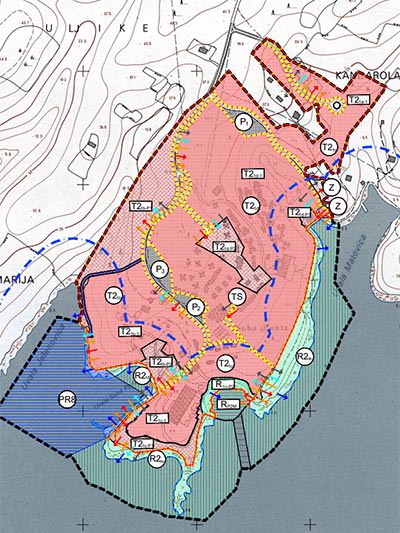 The investment worth 100 million euros should also include grooming of natural beaches, deforestation for new facilities, and 500 new jobs, a favorite argument in any politician's talk on a depopulating island.
The ruling party, HDZ, didn't have enough council hands to execute the megalomaniacal scheme that would further exploit the greenest part of Rab in the most commercial way.
But this June, the proposal was brought back, my beach buddy explained, and suddenly a member from the opposition party, SDP, timidly raised his hand in favor of the plan.
In an extremely condescending announcement, local SDP president Josip Ivić – Lero hilariously attacked HDZ for arrogancy and irresponsible behavior, declaring that SDP's final decision to support Suha Punta urban development plan was an expression of a wish that they, "as a responsible party, rise above the inter-party bickering, and enable the conditions for the realization of the investment".
He also stood against the rumors spread by unnamed sources about the secret coalition between the two parties. Ivić disclosed that SDP never lies, but instead uses "gray propaganda" as adapted truth, where "not all facts are given, but the ones that are – are true".
For the end of the surreal announcement, he even pulled out a supposed quote from American general George S. Patton: "If you have shed your blood for this country so you could charge for it later to death, say how much this love costs so that we can pay you, so you can go where the homeland can be bought for money."
Obviously, there is a lot of effort invested to prove that SDP's vote for the urban devastation of Croatia's greenest island had nothing to do with corruption. The strange thing here is that this is not a prime topic in Croatian national media at all, which stay mostly silent on the subject. So SDP announcement directly talks to voters, where rumors are seemingly circling.
"How could all of that happen? Shouldn't you be in the streets, protesting, instead of sunbathing? Shouldn't you make this politician's life miserable?", I asked my beach buddy. There was no real answer, as media hush adequately reflects shrugs of the quiet Rab people, busy with renting out their apartments to tourists.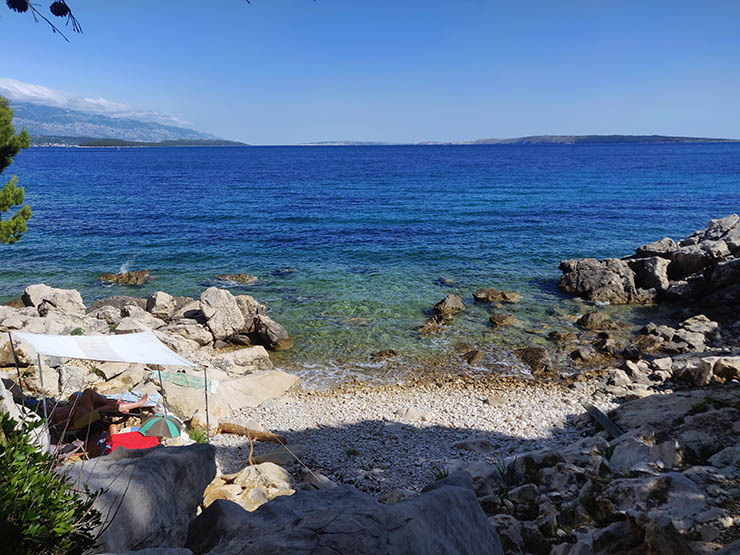 The silence of the lambs
As dusk settled over FKK Kandarola Beach in Rab, chirping crickets were practically a live metaphor of silence in which once royal naturist paradise was fading away. A public beach was being swallowed by the waves of particular interests from all sides, seemingly with nobody defending its legacy.
Naturism is a lifestyle that embraces nature at its fullest, and it is not an accident that it found its place nestled on Kalifront, in the shades of the most preserved holm oak forest in the entire Mediterranean. Could the real problem lie in the fact that naturists are people of pacific gestures, always happy with a secluded spot on the margins of society?
Kandarola's storm was happening at the society's core but in a deafening silence. Will Rab really lose its historical advantage of being a safe haven, and become the soulless site of yet another mass-tourism Disneyland?
We took our underwear off not for nudism, but for some other thingsMarko Sandalić, independent councillor
Amidst the resounding absence of voices, one lone council member sarcastically "congratulated" the leading parties on their coalition against Rab.
Marko Sandalić, from Nezavisna lista pučana Rab (Independent List of Commoners Rab), was vivid in describing the political acceptance of getting raped with harmful investment: "An old German tourist slogan from the eighties led us to Suha Punta with pants off, yet today we took our underwear off not for nudism, but for some other things."
He went on to expose the shameful handling of the urban development plan, revealing that he was the only council member present during the public discussion. Others, he noted, just appeared on the unlucky 13th session of Rab City Council "raising hands like sheep" for the project decided by "one or two people" in HDZ establishment.
"We are turning the destination into an Aquapark right next to the cleanest sea in this part of the Mediterranean, in Suha Punta", Sandalić said in the announcement published on Rab Danas. "But the water for those pools has to come from somewhere, doesn't it? No one wondered how much natural water wealth must be taken up in Lika for a Kraut to swim in Aquagan right next to the sea. The current government didn't have the nerve to ask the councilors or the department heads, let alone the citizens about this project."
"We can only persevere with our goals and opinions, to act and to fight for them as much as we can. Most importantly, we cannot do what others are doing right now – KEEP QUIET!", Sandalić concluded.
FKK Kandarola Beach on Rab denuding the corruption – conclusion
The story of FKK Kandarola Beach on Rab Island could have been one of a unique and liberating getaway. Instead of raising a monument to its historic contribution to the naturist movement, the politics enabled exploitation that can only threaten its natural appeal.
Sandwiched between one over-exploitative concession and another upcoming mass tourism project that Croatia already has enough of, this secluded stretch of Rab's coastline is doomed to disappear.
Rab is giving up on the shade of ancient forests that gave the island its name, and enabling shady business instead
Surrounded by lush Mediterranean vegetation, pristine waters, and stunning landscape, it was almost a perfect recipe for those who wanted to throw off the shackles of societal norms and simply be one with nature.
But the appreciation for the great outdoors doesn't produce dollar signs in the eyes of shortsighted local politicians as much as bland resorts that count the number of beds or concessioners that miscount the number of sunbeds.
Unable to see the value of preserving the unspoiled beauty that drew visitors in the first place, Rab is giving up on the shade of ancient forests that gave the island its name, and enabling shady business instead.
Hans Christian Andersen warned us where unchecked power and the human desire for material things eventually end. But even more than just pointing out how easily our incompetent and unwise rulers can be deceived and corrupted, the moral of the disrobed emperor story lies in depicting the danger of social pressure and blind conformity.
It's disheartening to see the lack of raised local voices, and even the absence of media reports in Croatian language which would thoroughly research, analyze and question the rulers' headless frenzy.
The silent surrender with which Croatian natural wealth is handed over to exploiters for not more than Judas coins is a disturbing portrait of society's downfall.
I intended to write a simple travel blog post about yet another naturist beach. Yet, I found myself standing on the Rab coastline littered with enough shipwrecks already, and a boy in me whispered that I should shout.
The emperor is NAKED!
What is your take on FKK Kandarola Beach?
Share your thoughts in the comments, and pin the article for later!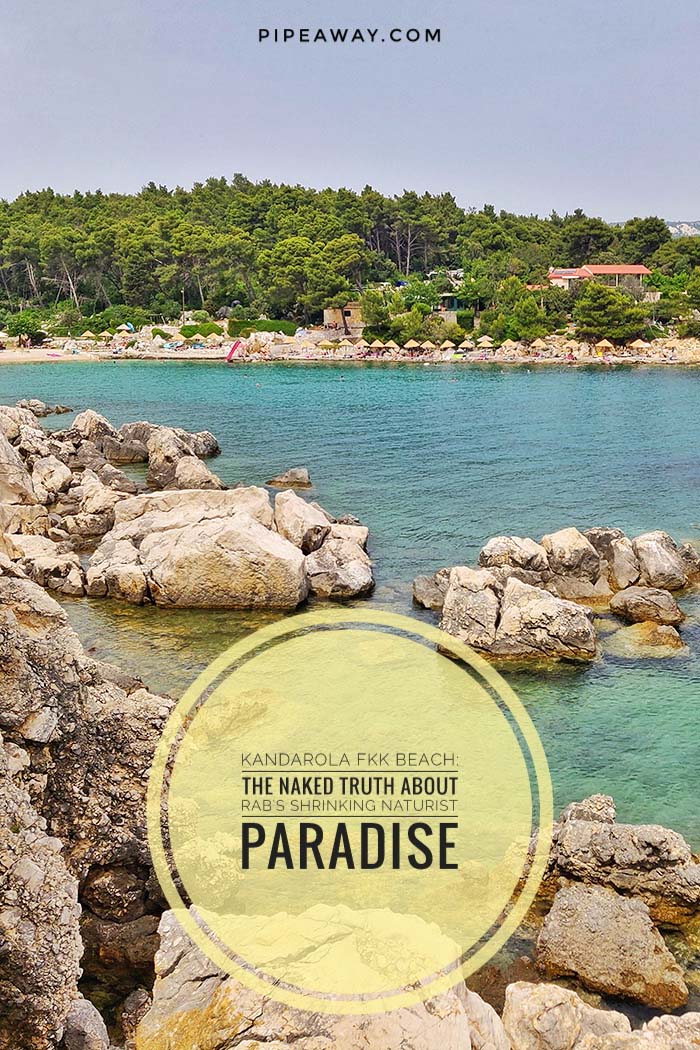 Disclosure: This post may contain affiliate links, meaning if you click on them and make a purchase, Pipeaway may make a small commission, at no additional cost to you. Thank you for supporting our work!