Real Heart Islands of the World: Love at First Flight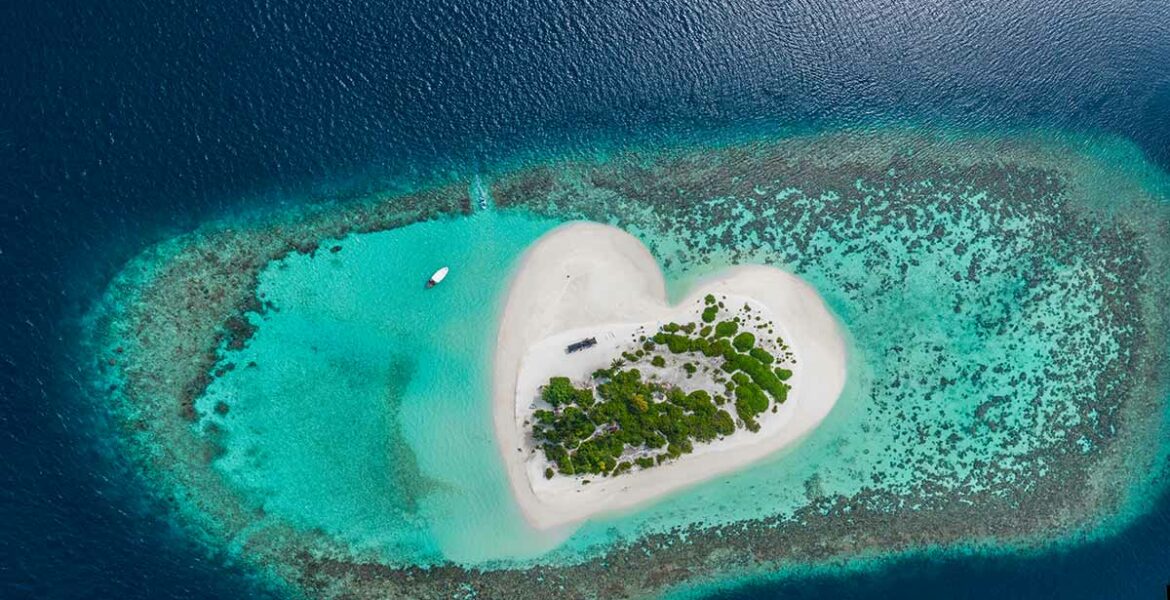 Heart islands – do they really exist? Or are they just fabricated by the media, in order to keep our attention occupied whenever Valentine's Day arrives? In times when the fake news era aims to be replaced by the era of the metaverse, where reality can be shaped as we like, it seems that even paradise islands stopped being sacred. I jumped on a task to map the real heart islands of the world!
In 2021, at least four fact-checking agencies seriously engaged in trying to debunk the myth of Venice as a heart island
The dawn of always-available technology, such as drones, allowed us to get in the air simply, and look back at Earth with a new set of eyes. To access the bird's perspective, we don't need to have planes or helicopters anymore. Aerial photography with drones enabled romantic dates with the planet, making us fall in love at first flight.
Paradoxically, the omnipresent technology enabled anyone with any level of skill to digitally manipulate visuals. Those then get distributed online, through classic and social media, spreading like feathers in the wind.
Some of these results are plain ridiculous. Just take a look at this wonderful "heart-shaped island in Honduras"! Who wouldn't book vacations there? How about this incredible "heart-shaped island in northeastern Brazil", covered in mangroves (that sure look like palm trees to me)? If you prefer the Maldives, you could check these world wonders; one from a seaplane, and the other one from a yacht.
In 2021, an image of Venice as a heart-shaped island went viral on social media. The internet swallowed the story. One day, the Earth is flat, and the next time you wake up – the famous Italian Floating City becomes discovered as a heart. Tragically, at least four fact-checking agencies seriously engaged in trying to debunk the myth of Venice as a heart island. This is how the famous AFP did it.
In the age of AI, it can be hard to distinguish real from fabricated. We did the fact-checking work for you, and these are the 17 most weirdly shaped islands in the world. You'll find everything from fingerprints to Mick Jagger's lips!
The heart-shaped island in the Caribbean
We could think that only rather naïve people can mistake visual concepts for documentary photography. But the stakes get higher when someone is actually skilled in Photoshop. Even outlets like Travel + Leisure, one of the most authoritative websites in the travel niche, bit the hook.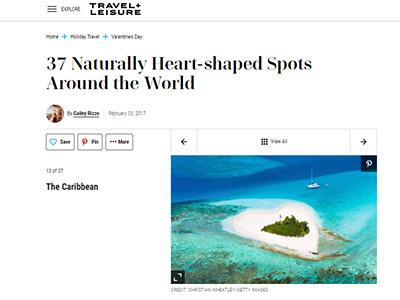 Under a misleading title "37 Naturally Heart-shaped Spots Around the World", at unlucky number 13, they published a photograph of a sandy island promising a romantic getaway in the Caribbean. The only problem? The heart island of the Caribbean doesn't exist!
"Yeah, the image was manipulated", admits the photographer Christian Wheatley, the father of the island that never was. "It's not heart-shaped, but more round and actually changing with the tides since it's sand."
The star behind this Photoshop action is Sandy Spit, a lovely islet in the British Virgin Islands. The photographer added a protuberance of sand, creating a so-called comp image (with visually added elements in editing), thus creating the shape of the heart that would attract attention.
Why did he do it, Pipeaway asked. "Haha, money, man, that's why", Wheatley says. "I'm a stock photographer, been doing it since 2006. All the comp images I've made are basically just to create an idyllic situation. So you end up trying to create images that might have a better market appeal. It's art, not really supposed to be realistic, just maybe make you wish you were at a place like that."
As some tourism organizations learned as well, one should not take everything stock image agencies publish for granted. Sometimes, it can lead to embarrassing marketing campaign mistakes!
The man behind the curtain
In Wheatley's defense, he does offer the original, non-manipulated photograph on Getty Images for sale. But stock image agencies do not demand the precise labeling of manipulated photos, leaving ethical dilemmas to the buyers. Does it mean that Travel+Leisure should have been the one doing the fact-checking?
I can't tell you how many times I've seen images shot in the Caribbean being used for resorts in MexicoChristian Wheatley, photographer
Some people just want to believe, and the internet has revealed the man behind the curtain, Wheatley explains. "How many media outlets are trying to sell the truth? I would say none. They are all just trying to keep people interested. Everything is twisted to push an agenda. Not to say nothing is real, it's just hard to tell what is and what isn't."
When Wheatley first moved to the Caribbean, he was surprised by the newest edition of a magazine selling the Virgin Islands. On the cover, there was a shot of his wife posing in the Florida Keys, more than a thousand miles away. "I can't tell you how many times I've seen images shot in the Caribbean being used for resorts in Mexico, or somewhere else", he points out.
Everyone is just trying to stay afloat in a saturated market, and Wheatley believes creators are going to continue to manipulate, as long as their actions are not illegal.
But our perception is in danger. We haven't even tapped into the domain of artificial intelligence and deepfake videos, and we already wonder whether we can trust what we see.
So, are there heart-shaped islands in the Caribbean?
"Not that I know of", Wheatley says. "I've seen a few shots, but I am fairly certain they have been manipulated."
If you are more of a fan of alternative ways to celebrate love, here are your options for skipping Valentine's Day! 
Is there a heart-shaped island in the Maldives?
Naturally, when I first saw an image of a heart island in the Maldives, depicted on the cover of this article, I was skeptical. Whenever a natural site looks perfect, it should raise suspicion.
The author of this drone-made image Vitaliy Sokol was quite generic in the description. "Maldives paradise" was not really the geo-tag I was hoping for.
After I failed to reach him through his online contacts, somehow I managed to get a response through a page on ocean photography on Facebook. His answer was brief, vague, and not super convincing: "The island is real, but I don't remember the exact location. It takes a heart shape only in a certain timeframe, after breakfast, because of the tide."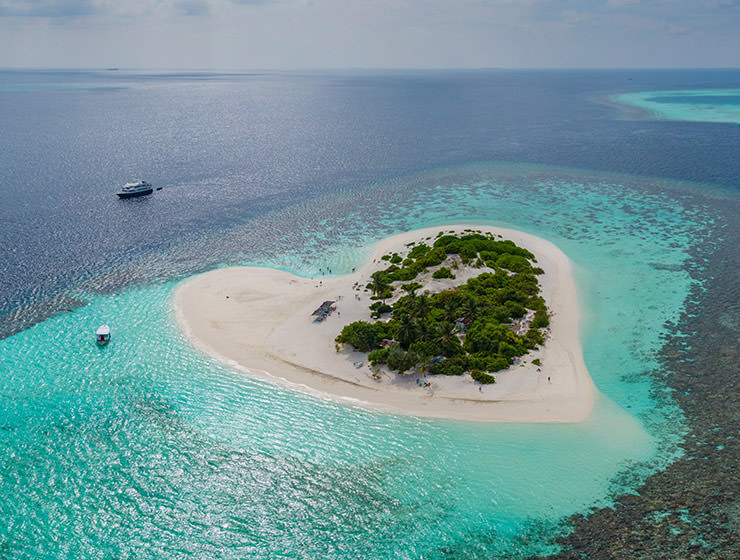 Sokol uploaded a set of images on the Depositphotos site in early 2019. They were showing the nameless island, "somewhere in the Maldives", from different angles. But couldn't he have tweaked them all?
When I started asking additional questions about the heart-shaped island, hoping to at least detect the atoll group in a country of 1200 small islands, Sokol stopped replying. Nobody enjoys being interrogated about the authenticity of their work. But how should I interpret the silence?
Was it really possible that the island in a shape of a perfect heart exists in the 21st century, and that the internet ignored it for years? How come other world photographers still didn't discover it? How come nobody was using it in the promotion of tourism in the Maldives? Why did it not become a wedding capital yet?
In a world where secrets exist no more, a swarm of questions was bothering my judgment.
Heart island in Google Earth's blind spot
Without entering the photographs' forensics, it took me a week of dedicated exploring, searching web traces of any similar place, researching the government's investment calls for uninhabited islands, browsing through the satellite images of Maldives, and even watching a stupendous amount of amateur Youtube videos, hoping that I would bump into the mysterious heart island.
I've learned everything about its appearance, memorized every tree and bush on it, and started distinguishing even shapes of corals around it.
And, you know what? I found it!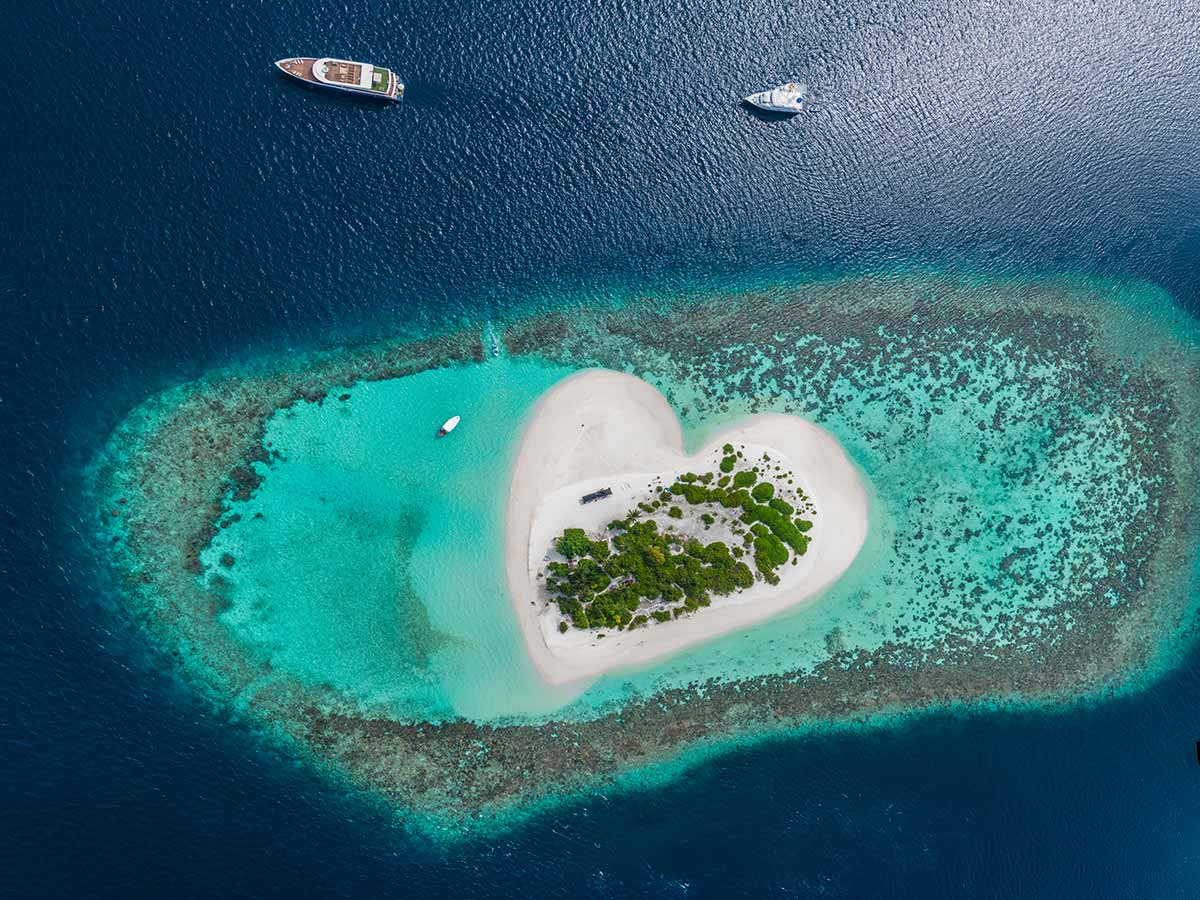 Flying over the Maldives with the help of Google Earth didn't help much in locating the heart-shaped island. It turned out those satellite images were shot during a different tide level and sand position, changing the appearance of the island. Was the satellite view – the heart island's invisibility cloak? Could it be the reason why people did not discover it yet?
Some boat tour agencies were organizing trips to the "dream island", but in the period of the day when no tourist would recognize its heart shape.
But no media or blog was speaking about this heart island of Maldives.
I had no idea if the secrecy was intentional, or if it kept being a mystery because rapacious people didn't get the chance to destroy it with lucrative heart island tours.
After it took me a whole week of heard-core research to determine whether the heart-shaped island of Maldives is even real, and what are its coordinates, I made a tough call.
I will not reveal this heart island's location, and hopefully not bear the responsibility for its future when influencers will certainly be the ones destroying its appeal. Sunrises that resemble nightmares teach us how that usually goes!
24 top heart islands in the world
With the Maldives' secret island kept for myself, there are still plenty of heart-shaped islands for you to explore! Here's the result of my thorough research, the most comprehensive guide to the world's heart islands you can find!
1.-5. Heart islands of Croatia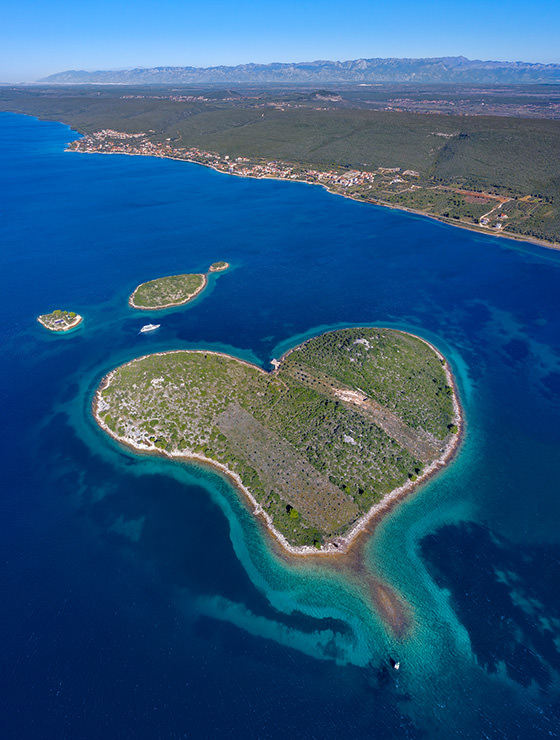 On the top of the list of the best heart islands in the world sits a country that has not one, not two, but five islands in a distinctive shape of a heart.
Croatia, the Mediterranean country with more than 1200 islands and islets, seems to be a perfect exhibition of how lovely Mother Nature's sculpting can be.
Galešnjak, already noticed in Napoleon's times, is the most famous Lovers' Island of Croatia. Inhabited only by rabbits and pigeons, it was attracting celebrities throughout history, from popes to pop stars. At the moment, this heart-shaped island is even up for sale!
But the islands of Lukovnik, Mrtonjak, Lisac and Rončić are equally lovely contenders for the best heart islands of the world. The Adriatic Sea obviously offers a fertile ground for modern love-triggered geo-explorers.
Where to find the heart islands of Croatia?
I have written a detailed report on the heart-shaped islands of Croatia, so head there to learn more about them, and how to reach them.
Where to stay near the Croatian heart islands?
If you want to visit Galešnjak, the closest accommodation options are in Turanj or Sveti Petar na Moru. For Lukovnik, stay in Tribunj, and for Lisac, check the options in Sveti Juraj. Finally, if you want to discover Rončić and Mrtonjak islands, choose to sleep in Sali.
There are many more romantic things to see and do on the Adriatic coast. Here's what you should include when planning a honeymoon in Croatia!
6. Hembadhoo, Maldives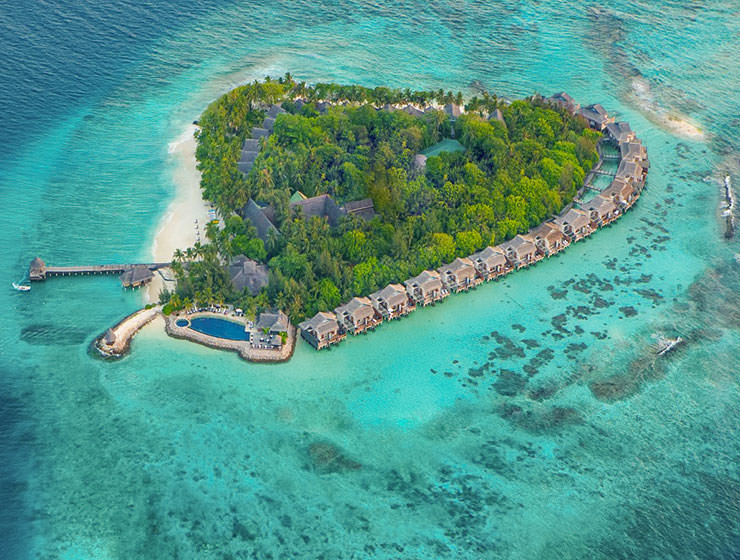 If we exclude the secret heart island featured above, the closest to the right of exploiting the title of the heart island of Maldives comes Hembadhoo.
Some spell it as Hembadu or Hembadhu, just don't confuse it with Henbadhoo, which belongs to another atoll group. The publicly known heart-shaped island of Maldives is located in Kaafu Atoll, or more precisely North Malé Atoll.
This small resort island that you can walk over in barely 10 minutes, is occupied by Taj Coral Reef Resort & Spa (Vivanta), a five-star hotel that lets you book stylish overwater villas, with a lagoon as your backyard.
You can spend your honeymoon resting on the soft white sand beach, indulging in spa treatments, or exploring the 1000-year-old coral atoll in an environment-friendly way. Ride a canoe, go snorkeling, scuba dive at a shipwreck site, or feed stingrays, locally known as the Guardians of the Island!
How to get to this heart island location?
The only way to reach the heart-shaped coral island of Hembadhoo is by taking a speedboat from Velana International Airport. The ride takes approximately 1 hour and has to be arranged with Taj Coral Resort three days prior to the arrival.
Where to stay in Hembadhoo?
The entire island of Hembadhoo belongs to Taj Coral Reef Resort & Spa. Check out their latest prices here!
7. Tavarua, Fiji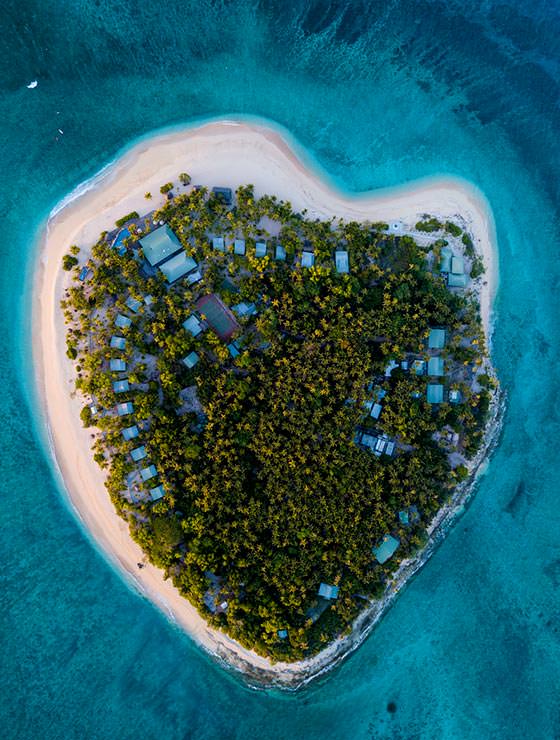 Fiji, one of the top destinations of 2022, also has a heart-shaped island. Among the 333 islands in this South Pacific archipelago, the distinctive shape of the heart brought an international spotlight to – Tavarua.
But there is another major magnet for tourists traveling to this 10-hectare piece of sand, just 8 kilometers off the western coast of Fiji's main island Viti Levu. The challenging 6-meter tall wave called Cloudbreak has put Tavarua on the bucket list of every adventure-seeking surfer.
The one who recognized the potential of the world-class reef breaks was Californian surfer David Clark. He arrived on the uninhabited island in the 1980s and built a surf camp in a jungle from scratch.
Tavarua today is a stress-free resort focused on sustainable tourism and conservation of the pristine environment, including resurrecting nearly extinct species such as giant clams.
On this remote heart island that you can circumnavigate in 30 minutes, you can enjoy fishing, diving, snorkeling, kayaking, stand-up paddling, and even skating – the firm-ground version of surfing. For a really special proposal with the best view available, you can even take your loved one on a helicopter tour over Tavarua, #smallislandbigheart.
How do you get to Tavarua, Fiji?
To get to Tavarua, you first need to fly to Nadi Airport in Fiji. From there, a Tavarua Island bus will transfer you to Nabila Village (45 minutes away), the departure point for the boat to Tavarua.
Where to stay in Tavarua?
The only accommodation on Tavarua is at Tavarua Island Resort. Check out their prices and read guest reviews here!
8. Tupai, French Polynesia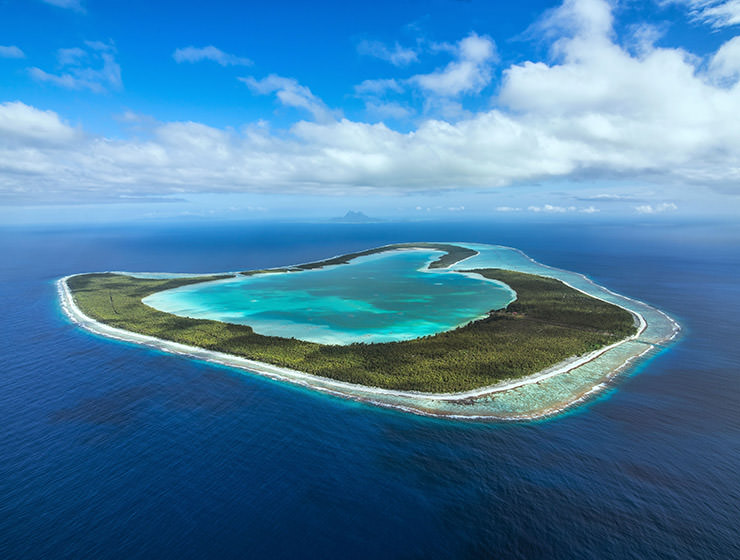 South Pacific has more heart-shaped tropical islands. Also known under the nickname the heart of the ocean, the uninhabited atoll of Tupai (or Motu Iti) is the first neighbor of the famous Bora Bora. It is just a one-hour flight away from Papeete on Tahiti, the capital of French Polynesia.
With no people around, there are also no hotels on Tupai island. Just coconut trees, fearless birds nesting on the ground, and sea turtles laying eggs on the beach. The waters around this 11-square-kilometer heart island are also loved by humpback whales that come here to give birth and raise their young.
Dedicated to Pere, the Polynesian goddess of fire and passion, Tupai is a popular ambiance for popping that ultimate relationship question or even saying the final I do.
There are plans for touristic exploitation of the island, so try to visit the incredibly blue heart-shaped lagoon before its pristine white sand beaches get claimed by another resort romanticizing the profit.
How to get to the heart island of Tupai?
It's possible to visit the heart-shaped atoll for a day excursion by jet boat from Bora Bora. But since Tupai has an airstrip now, it's possible to get there by charter planes and helicopter flights too, from Bora Bora or Tahiti.
Where to stay near Tupai?
The closest inhabited island to Tupai is Bora Bora. Check out the accommodation options here!
9. Mogae-do Island, South Korea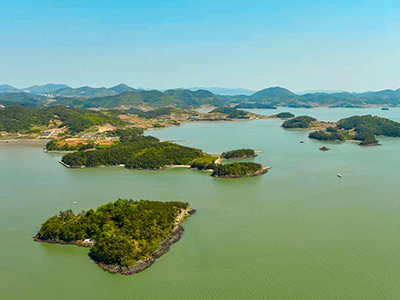 South Korea didn't really pay attention to its heart-shaped island until Korean business magnate Lee Kun-hee bought it in 2006. The legendary chairman of Samsung wanted to develop Mogae-do heart island as a tourist attraction, but his vision never took off.
After the famous billionaire passed away in 2020, Mogae-do became just another tax-inducing asset, together with an art collection that included 23.000 works by Monet, Dali, Renoir, Picasso… While the majority of artwork would find a home in a museum honoring the businessman's collection, the heart island's destiny is unknown.
Mogae-do is a small island, the size of four soccer fields. As construction works never started, today it is covered by trees, blending into the natural landscape of Yeojaman Bay.
Just west of the port city of Yeosu, and right across the Yeojaman Mud Flat, the nature preserve where the annual Yeojaman Bay Mud Flat Twilight Festival sees lovers enjoying romantic strolls through the mud, Mogae-do is a silent neighbor of fishermen.
How to get to Mogae-do?
The best views of Mogae-do are those from the bird's eye perspective. In 2017, the local Shinhan Airline introduced the first Korean sky tour in a light Cessna aircraft. Technically a flight to nowhere, the 30-minute ride allowed eight passengers to observe the beautiful beachline, Dadohaehaesang National Park, and a set of islands that trigger hearts.
Where to stay near Mogae-do?
The closest place to stay near Mogae-do heart island is Yeosu. Check out these accommodation options!
Even without Mogae-do, South Korea already has its favorite destination for lovers. It's Jeju Island, the home of the infamous Korean sex park Jeju Loveland. 
10. Makepeace Island, Australia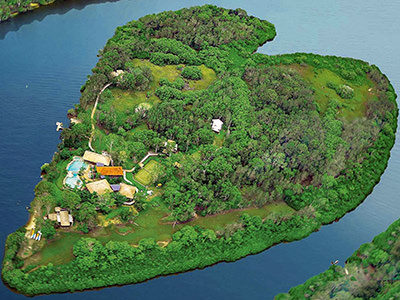 Located in Noosa, a resort area on Queensland's Sunshine Coast, an Australian heart-shaped island is one of the rare river islands on this list.
Makepeace Island was once known as Pig Island. It was just a muddy patch of land in Noosa River that a 20th-century owner, in absence of related heirs, left to his housekeeper. Her name was Hannah Makepeace.
After her death, the Australian heart island went through various hands, finally settling as a vacation home of Sir Richard Branson, one of the space travel business magnates. He transformed the nine hectares of land into a luxury retreat inspired by Bali and Indonesia.
If you want to relax in a 15-person spa or a lagoon pool, explore the island's bushwalking trails, pet kangaroos in the shadows of mangroves, or kayak down the river from the heartiest of world harbors, the prices start at 10.000 dollars per night. But you can split the bill among the other 21 guests who can join you!
How to get to Makepeace Island?
The closest airport to Makepeace Island is the one in Maroochydore. From there, you will be taken to Noosa Marina for a final 10-minute river cruise to the heart island.
Alternatively, a drive from Brisbane takes 1,5 hours, and with Branson in charge, even a helicopter transfer could be arranged.
Where to stay on Makepeace Island?
There is only one option for staying on Makepeace Island: renting it. For availability, contact them directly.
11. Heart Reef, Australia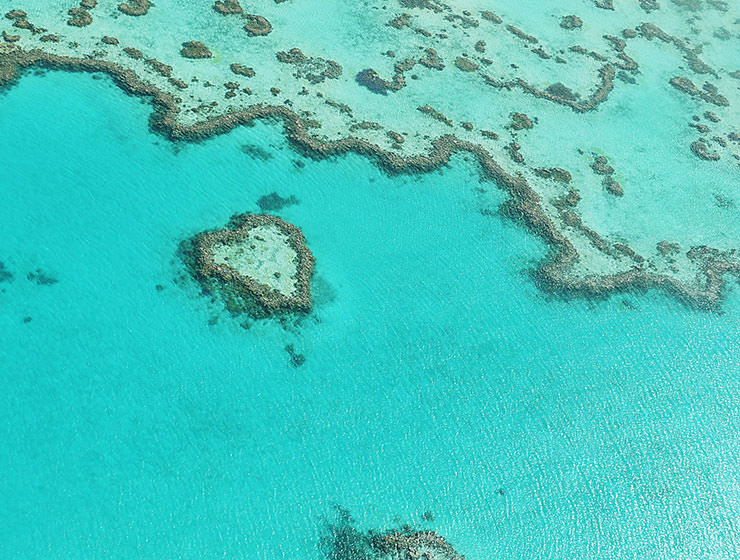 Technically it is not an island, but while we are Down Under, it would be a sin not to include the Heart Reef on this list.
Just off the Whitsunday Islands, on the northeast coast of Queensland, the Great Barrier Reef, one of the most impressive ecosystems in the world, hides a special surprise – a natural coral formation in the shape of a heart!
The first one to spot the 17-meter-wide Heart Reef was John Ramsden, a local pilot working for Air Whitsunday. Ever since its discovery in 1975, the unique coral formation in Hardy Reef is a poster child of local tourism.
The heart-shaped coral reef is best seen from above. For a long time, the flyover was the only way to visit the Heart Reef, as diving and snorkeling were forbidden. However, these days, certain operators do have permission to get up close too, so you can see the Heart Reef from a glass-bottom boat, or even while snorkeling around it.
How to get to the Heart Reef?
The most convenient way to visit the heart-shaped reef is by joining the sightseeing tours from Daydream and Hamilton Island, or from Airlie Beach, the central gateway on the mainland. They typically offer scenic flights above the Great Barrier Reef, which include the Heart Reef experience and Whitsunday Islands flyover. If you wish to make a Heart Reef proposal, that's certainly possible, just inform the pilot beforehand.
You can explore this area by hopping on a light plane, a helicopter, or a seaplane. The last one will not only allow you to fly over Heart Reef but also to land both at Great Barrier Reef for snorkeling among the coral gardens, as well as at Whitehaven Beach for lunch and relaxation.
Where to stay near Heart Reef?
If you want to visit Heart Reef, staying in Airlie Beach would be the most convenient. Alternatively, check options on Hamilton Island, or this property on Daydream Island.
12. Martins Island, Australia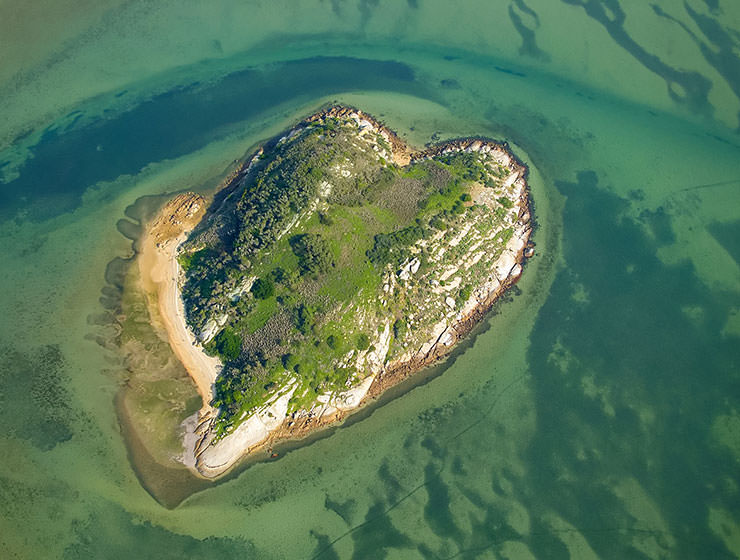 The least famous heart island of Australia, but nevertheless a beautiful product of Mother Nature, is Martins Island in Corner Inlet Marine & Coastal Park.
Right between the scenic Yanakie Beach and Doughboy Island, Martins Island is a small, but picturesque heart of the sheltered inlet sometimes called Nooramunga Marine Park.
The warmest bay of Victoria is a safe breeding ground for Australian fur seals which you can spot in shallow waters, alongside sharks, rays, dolphins, and other marine species.
The birdwatchers will also love this area because the extensive intertidal mudflats attract a variety of birds, from waders and swans to critically endangered orange-bellied parrots.
Martins Island belongs to the Gunai people (Brataualung clan), the victims of the European invasion in the 1840s. The settlers occupied the territory of Indigenous Australians, killed hundreds, and cleared the land of forests. Not really a lovely story!
How to get to Martins Island?
A part of Aboriginal Gippsland in southern Victoria, Corner Inlet is located north and east of Wilsons Promontory National Park. There are a lot of tour operators offering boat tours in Corner Inlet, but you can also get to Martins Island on your own, by renting a canoe or a kayak.
Where to stay near Martins Island?
There is a variety of accommodation options around Corner Inlet. Check them out here!
13. Harbor Island, Brooksville, Maine, USA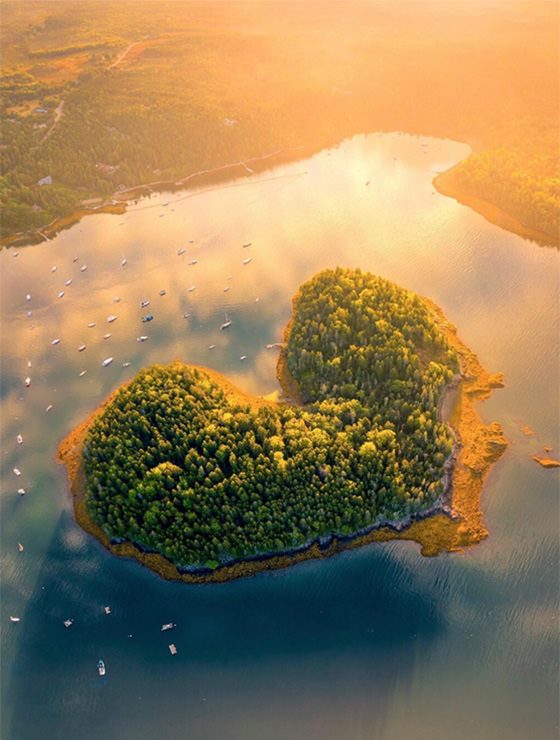 If you try to find Harbor Island on Google Maps, you will get seven results in Maine only! And actually, the one in Vinalhaven also has a shape of a heart! But the real American heart island star is a 10-hectare Harbor Island just in front of Buck's Harbor in Brooksville.
"It is a small quaint Maine town surrounded by fishing and lobster boats", says Jamie Malcolm-Brown, a New England photographer who took a long overnight drive just to shoot Harbor Island. "After the morning fog and rain dissipated, the sun came out with force, casting a beautiful glow over the harbor."
The heart-shaped island with quite a generic name shines in full glory as a surprising star of drone photography. In an evergreen coat of vegetation and lichen-covered granite, surrounded by a bay sprinkled with anchored white yachts, this heart island became a landmark of the entire Maine coastline.
Harbor Island creates a safe haven, a hurricane hole for boats, sheltering them from all winds. It also attracts wildlife, such as porpoises and harbor seals from the sea, and osprey and bald eagles from the air.
As for people, Harbor Island was owned by one family for 85 years. They sold the island to the Maine Coast Heritage Trust, which then resold it to a new private owner. This time, the contract came with a stipulation that limits the development on the island and enables public access during daylight hours.
How to get to Harbor Island?
As it is a privately owned island, there are certain restrictions for visiting this green jewel of Penobscot Bay. You can only go to the western side of Harbor Island, during the daytime, and the only way to get there is by private boat from Buck's Harbor Marina or Buck's Harbor Yacht Club.
Where to stay near Harbor Island?
The closest decent accommodation option to Harbor Island I could find is this farm stay in Blue Hill.
14. Petre island, Lake Mahopac, New York, USA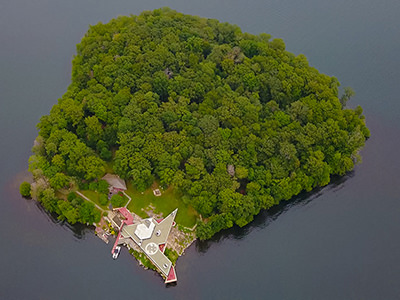 Roughly 80 kilometers north of New York City, in Lake Mahopac, there is a heart-shaped island that was brought to fame through the Brangelina brand. Petre or Petra Island is one of the three privately owned islands in this picturesque lake, and one that still searches for a forever owner.
The story that Angelina Jolie bought this heart island as a birthday gift to Brad Pitt was debunked as an urban legend. But Petre is definitely the heart-shaped island for sale, and the price is constantly dropping. From 20 million US dollars in 2012, it came down to 10 million today.
The association of NY's heart-shaped island with Frank Lloyd Wright is the one that still keeps its price relevant. The famous American architect designed and built a cottage on Petre Island.
The business mogul Joseph Massaro (who actually cashed out 700.000 USD for the island) found Wright's drawings for another triangular project, the main residence, and decided to build what is now known as Massaro House, a controversial architecture project inspired by Frank Lloyd Wright.
So if you decide to buy this heart island, you will not only get a 4-hectare piece of land with centuries-old forest. You'll also win a 7-bedroom mansion dramatically perched over the lake!
How to get to Petre Island?
As it's privately owned, there is no real reason for you to go trespassing in Putnam County. However, if you do end up buying Petre Island, it's good to know that it is easily accessed by a 15-minute helicopter ride from downtown Manhattan. The house has a rooftop helipad, so commuting from your NY heart island to work has never been easier!
Where to stay near Petre Island?
If you want to spend some time in Mahopac and explore the area of the island you are considering purchasing, you can stay at this highly-rated 6-bedroom manor.
15. Heart Island, the Thousand Islands region, New York, USA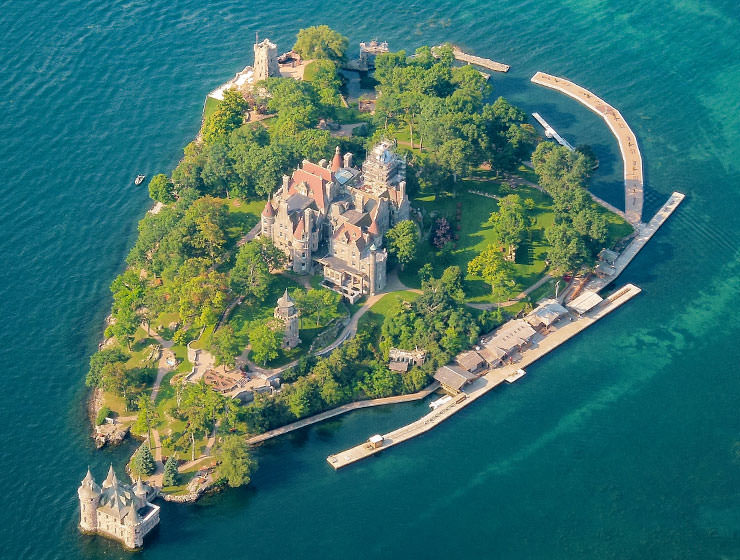 What it lacks in shape, it compensates in history. Simply named Heart Island, at the beginning of the 20th century, this place in the Thousand Islands region of New York, on St Lawrence River, was a testimony of one American's love.
George C. Boldt, who made millions in the hotel business, wanted to surprise the love of his life, his wife Louise, with a very special birthday present – a castle on the heart island. In 1900, he started constructing a six-story mansion, the most gigantic American private home of the time.
Louise, whose birthday was coincidentally on Valentine's Day, unexpectedly passed away in 1904. The romantic businessman was so devastated by the loss that he stopped the construction completely, and left the island, never to return.
Seven decades later, the Thousand Islands Bridge Authority purchased the abandoned property, started the renovation, and opened it to the public.
From May till October, people can visit Heart Island and witness the grandness of love that was stopped by tragedy. It is one of the most successful tourist attractions in Upstate New York.
How to get to Boldt's Heart Island, NY?
Heart Island and Boldt Castle are easily accessible by boat from Alexandria Bay or Clayton in New York, and from Gananoque, Rockport or Ivy Lea in Ontario (don't forget your passport if coming from Canada!). If you have your own boat, you can dock on the island free of charge.
Some of the best-rated organized ways to enjoy this destination are this Ultimate Heart of 1000 Islands Sightseeing Tour (USA), and this Helicopter Tour (Canada).
Where to stay near Heart Island?
The closest place to stay near Heart Island is Alexandria Bay. Check out the accommodation options here!
16. Ilhéu de Vila Franca do Campo, Portugal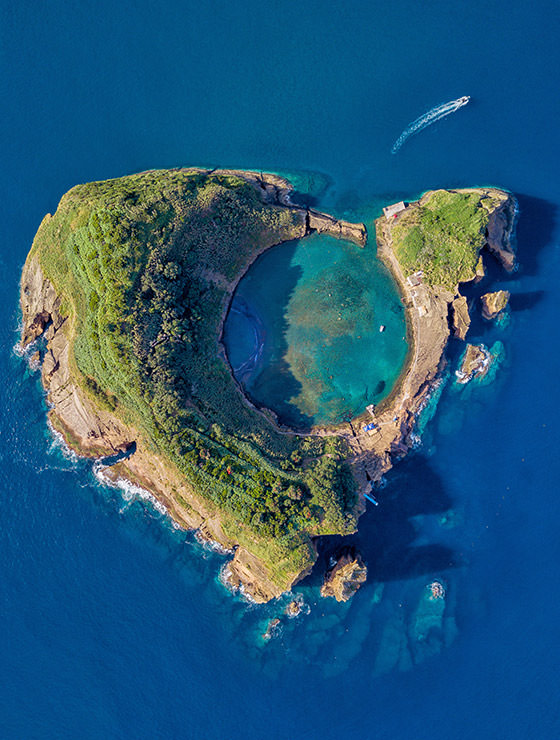 Portugal has a heart island, but a broken one – Ilhéu de Vila Franca do Campo. With a perfectly circular hole in its middle, this uninhabited islet is a sight to behold.
Located right off the southern shore of São Miguel island, a part of the Azores archipelago, the Portuguese heart-shaped island got its name after a town looking at it – Vila Franca do Campo.
The volcanic island was privately owned until 1982, by a family that was growing vineyards there, one kilometer from the coast. In 1983, it was proclaimed a Nature Reserve, thus protecting the marine birds that love nesting on crater walls covered in endemic vegetation.
That perfect circle, a remainder of an ancient collapsed volcano, is now a lagoon attracting swimmers, divers, snorkelers, and cave explorers, who can visit it on a regular boat line in the summer months.
How to get to Ilhéu de Vila Franca do Campo?
If you want to learn more about Vila Franca Islet, you can join this professionally guided boat tour that will teach you about the rock formations and let you take a peek inside the crater. Another option is a unique ride with a glass-bottom boat that includes snorkeling around the islet.
Where to stay in Vila Franca do Campo?
For the best available accommodation options close to Vila Franca Islet, head here!
17. Kardia Island, Greece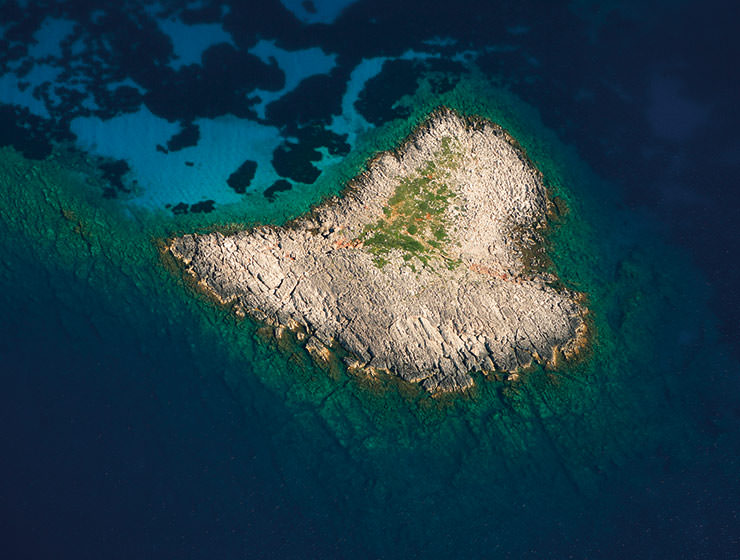 One of the closest pieces of land to Calypso Deep, the deepest point of the Mediterranean Sea, has a peculiar appearance. Already recognizable by its name, Kardia Island is a Greek island that looks like a heart.
Situated in the Messenian Gulf in the Ionian Sea, off the southern coast of the Peloponnese, the uninhabited Kardia is technically a rocky skerry of Sapientza or Sapienza Island, a bit more verdant, but equally lonely place. According to the last census, Sapientza has a population of two (2). The rest are wild sheep, goats, and birds.
The heart-shaped island of Kardia can be best seen from the lighthouse on Sapientza. Built in the late 19th century by the English, this 8-meter high stone tower was navigating seamen through an area that was challenging since ancient times. The seabed here is a shipwreck graveyard, beloved by archeologists.
Interested in total relaxation during your Greek vacations? Consider visiting these nude beaches in Greece!
How to get to Kardia Island?
Kardia Island can be accessed only by a private boat hire in Methoni, the closest city on the mainland.
Where to stay near Kardia Island?
If you want to visit Kardia Island, look for accommodation in Methoni.
Take a look at Kardia Island and Sapientza Lighthouse in this amazing aerial drone video by Panagiotis Chatzitzanos!
18. Bergeggi Island, Italy
Viewed from the mainland, from the village of Bergeggi that borrowed it its name, this 8-hectare heart-share island does not reveal its secret. To fully appreciate its lovely form, one needs to fly directly above it.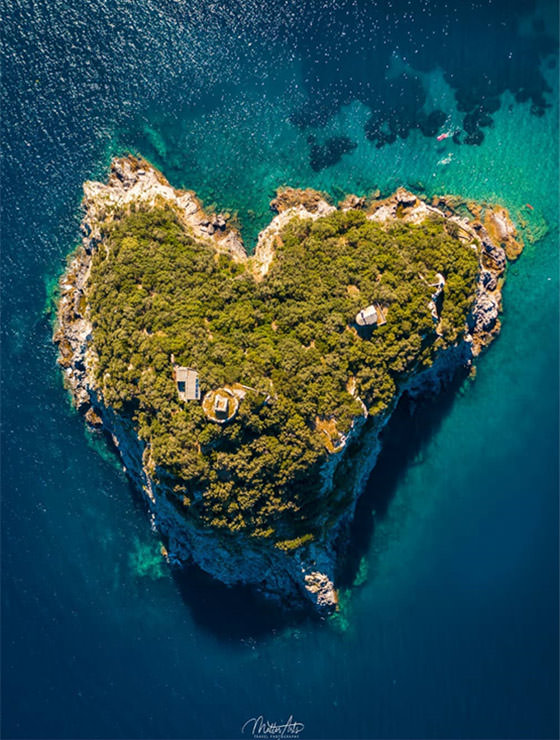 The legend says that Bergeggi Island (Isola di Bergeggi) floated over to the Ligurian Sea in the 5th century, from Africa! It brought over two martyr bishops fleeing from the Vandals: Saint Vendemiale, the bishop of Gafsa, and Saint Eugenius, the bishop of Carthage.
The only heart island that floats remained Saint Eugenius' home even after his death. His remains were transported to Noli, only to miraculously reappear back on Bergeggi Island. In his honor, a church was built on the island, and later it became a monastery.
Besides the monastery remains, the Italian heart-shaped island also comes with ruins of a watchtower that probably acted as a lighthouse in Roman and medieval times.
After one bishop sold it to the German ambassador to act as his Italian summer residence, Bergeggi Island went through many private hands in the last century. Even the latest private villa ended up as yet another abandoned building on this deserted heart island.
How to get to Bergeggi Island?
Bergeggi Island is located on Riviera di Ponente, in the province of Savona, just 300 meters away from the coastal village of Bergeggi. Technically, you can swim over, but have in mind that its coast is quite high and rocky, and it is also protected as a Regional Natural Reserve.
Another option is to join the procession of boats heading to Bergeggi Island from Noli every year on July 12th, in honor of St. Eugenius.
Where to stay near Bergeggi Island?
There are some exceptional places to stay in the village of Bergeggi with nice views of the island. Check them out here!
In order to celebrate love, one man in Indonesia built a church. He wanted the building to resemble a dove, but it ended up being known as the Chicken Church. You have to see that!
19. Ruby Island, New Zealand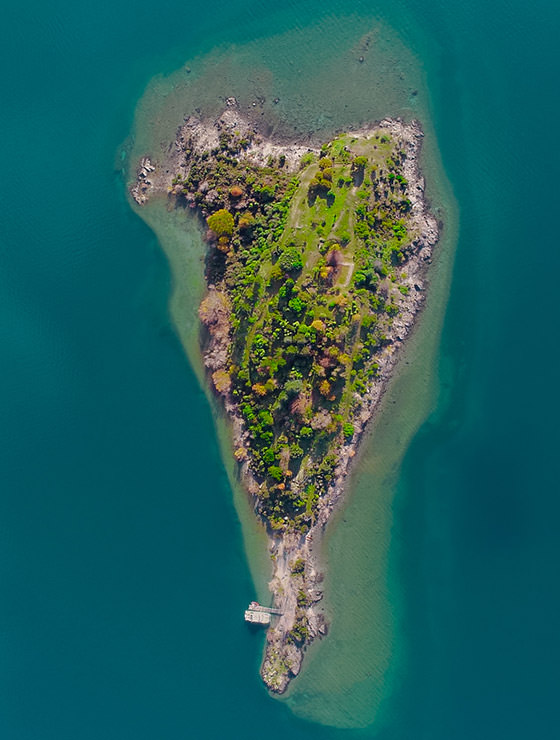 It might be a rough-around-the-edges elongated heart island, but the charming shapes of New Zealand's nature don't get much better than Ruby Island in Lake Wanaka.
Before it settled with today's name, this heart-shaped island was called Roys Island, Merino Island, and Eely's Island, while Maori still call it Matakitaki (to gaze upon).
The country's fourth-largest lake attracts visitors who love to explore nature on a jet boat, a kayak, or a paddleboard. Ruby Island is a photogenic stop-over for a picnic.
Wanaka's heart island has a rich history of tearoom gatherings and wild cabaret evenings. In the 1920s and 1930s, it was a favorite place to dress up fancily and dance Saturday off. With strict alcohol laws of the time, partygoers used the benefits of the island's seclusion, as they could easily spot policemen coming over.
Today, Ruby Island is a place to chill on the beach, read a book in a picturesque setting, and swim in the fresh lake waters.
Surrounded by majestic views of the lake and snow-topped mountains, the pristine heart island, often called the Jewel of Wanaka, is a beautiful place to organize a wedding party.
How to get to Ruby Island?
Located 55 kilometers northeast of Queenstown, Ruby Island on Lake Wanaka is easily accessed by boat from Wanaka Marina. The one-way trip takes only 10 minutes.
If you are short on time in Wanaka, but still want to experience the best of the lake and the island, you can join this one-hour cruise to Ruby Island on a luxury catamaran.
Where to stay near Ruby island?
For the best convenience, find your accommodation in Wanaka Town.
20. Netrani Island, India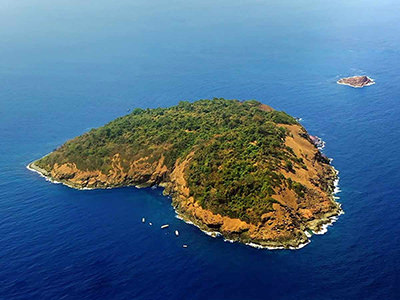 The heart-shaped island of India is called Netrani. Locally also referred to as Netragudo or Nitra Gudo (meaning sleeping queen), Bajrangi Island (meaning fighter, and referring to Lord Murugan) or Pigeon Island (due to a large colony of pigeons residing there), Netrani Island in the Arabian Sea, just off the coast of Karnataka, does not have human inhabitants.
With steep cliffs and sharp rocks disabling easy access, Netrani welcomes visitors mostly under the sea surface, as a prime diving destination. Being a coral island, it is a refuge for a variety of fish, sea snakes, shrimps, turtles, stingrays, and other marine life. Divers with bigger eyes have even claimed to have spotted whale sharks and orcas! In any case, this heart island is definitely among India's best snorkeling and scuba diving destinations.
Those who do climb Netrani are mostly pilgrims from the temple town of Murudeshwar, on the coast of the Indian subcontinent, just 19 kilometers away. They occasionally visit the simple shrines installed on the heart island. The lit-up pooja lamps might look attractive in the evening, but they have also caused a few fires on Netrani.
Besides on Netrani Island, Lord Murugan is celebrated in Malaysia's Batu Caves too, especially on their extreme annual Thaipusam piercing festival. 
In the past, the area of Netrani Island was used for military training of the Indian navy. Thankfully, due to the negative effect of bombing on the ecosystem, this practice has been abandoned, and the heart island of India can now fully embrace the "Make love, not war" philosophy.
How do you get to Netrani Island?
There is a variety of operators offering a 1-hour boat transfer from Murudeshwar to Netrani heart island. The distance between Bengaluru and Murudeshwar is 500 kilometers, and you can travel it by bus or train. The nearest international airport is Mangaluru, 150 kilometers to the south.
Where to stay near Netrani?
When planning to visit Netrani, choose to stay in Murudeshwar. This residency is right on the seaside, and close to Shree Murudeshwar Temple.
Murudeshwar is famous for hosting the world's second-tallest Shiva statue. For the largest Vishnu statue, visit Bali!
21. Koh Kaeo Yai, Thailand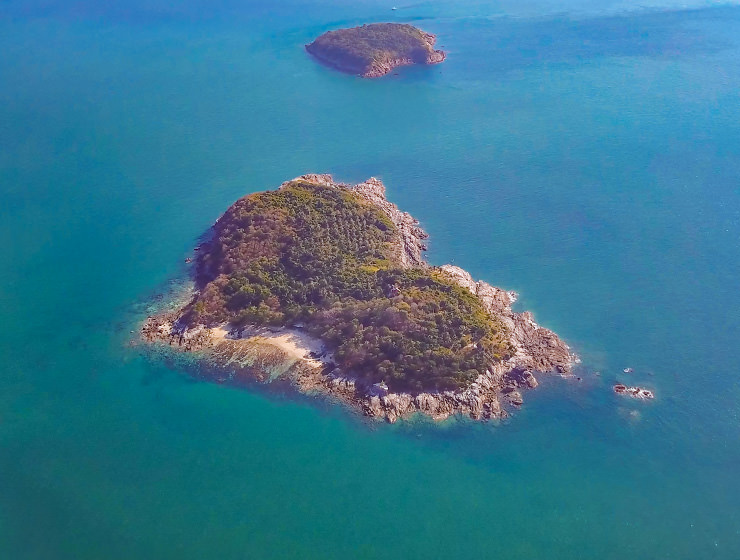 In the Andaman Sea, just south of Phuket, the country's largest touristic magnet, Thailand has its own heart-shaped island. Koh Kaeo Yai (also known as Khao Kaeo Pitsadan) is an undeveloped piece of the Rawai district, the most-luck-bringing of the 13 islands in the group.
While trees and vegetation cover Koh Kaeo Yai, these are not the only residents of the heart island! Living in simple Kuti huts, several monks take care of a small Theravada Buddhist shrine.
The large golden Buddha can be seen all the way from Prompthep Cape, the southernmost tip of Phuket. To witness the legendary Buddha's footprint, you will need to step on the heart island itself.
Beyond visiting the monastery, lovers can enjoy suntanning on the sandy beach, or snorkeling over the coral-rich undersea.
How to get to Koh Kaeo Yai?
You can visit Koh Kaeo Yai by renting a longtail boat at Rawai Beach. According to the available information, the trip costs about 1.500 Baht (40 Euros). Alternatively, you can rent a canoe at Yanui Beach for 100 Baht (less than 3 Euros), and get there by yourself.
Where to stay near Koh Kaeo Yai?
Having in mind that Koh Kaeo Yai is south of Phuket, check these properties in Rawai Beach.
Love Rawai made a tantalizing video of Koh Kaeo Yai that will make you wanna pack for the trip immediately!
22. Thung Talay Luang – The Holy Heartland of Sukhothai, Thailand
A product of human engineering, Thung Talay Luang or The Holy Heartland is a heart-shaped island in Sukhothai, Thailand's first capital. The town might not be living the heyday of the 13th century today, but this love-inspired area wants to become the new landmark.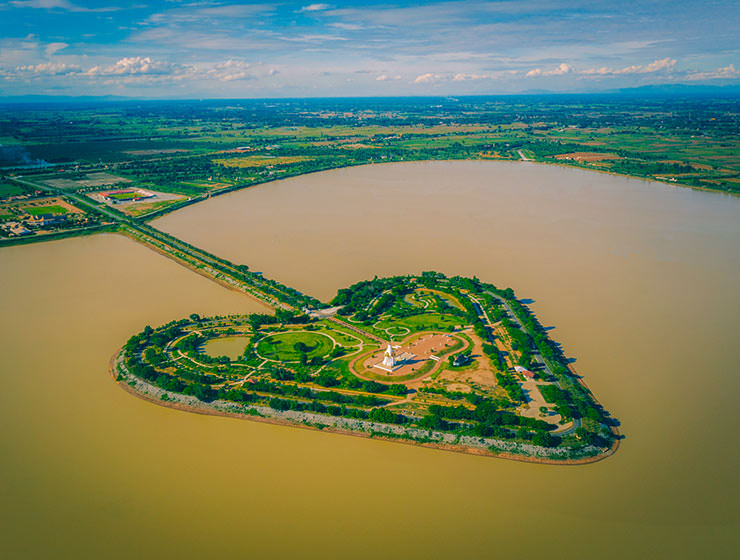 It works from the air at least, for tourists flying from Bangkok to Chiang Mai, the cultural capital of Thailand. An enormous artificial heart-shaped lake, with a heart-shaped island in the middle, does draw attention!
The late King Bhumibol Adulyadej deserves praise for the project. Addressing the problems of the untamed Yom River that floods the area in the rainy season, and doesn't support watering of the rice fields in the dry season, a huge water reservoir came as a solution.
The minister of agriculture wanted it to represent the love and unity of the Sukhothai people. In total, 843 villages brought their soil to be incorporated in a one-of-a-kind heart island project.
In the center of the island, they enshrined Phra Phuttha Rattanasiri Sukhothai, an old Buddha statue that was also discovered submerged in the river waters.
How to get to The Holy Heartland?
The Holy Heartland is easily accessible from Sukhothai, by a 20-minute taxi ride. Beware that the island closes for visitors at 6 pm.
Where to stay near The Holy Heartland?
The closest place to arrange your accommodation near The Holy Heartland is Sukhothai.
23. Maroa / Isla de Anfi, Spain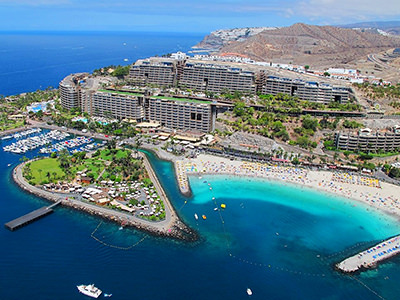 Even in the areas of high volcanic activity, such as the Canary Islands, nature's sculpting is beyond our control, and for perfect results, it needs our assistance. In the municipality of Mogán, the Spaniards built Isla de Anfi (or Maroa), an artificial heart-shaped island connected to Gran Canaria by a bridge.
Together with Anfi del Mar or Playa de la Verga, one of the most attractive beaches in southern Gran Canaria, the heart island is a product of a Norwegian investor's quirky mind.
Bjørn Lyng fell in love with the Caribbean and wanted to enjoy it without crossing the Atlantic. What else could one do but import 1000 tons of white sand from the Bahamas, and build Anfi del Mar Resort around it?
Gran Canaria's heart island is home to the Beach Club Maroa, where you can eat contemporary meals, drink cocktails, and even get married in their garden!
Your best chances for seeing Isla de Anfi from above are by embracing the adventurous spirit – on a flyboard or a parasail.
How to get to Isla de Anfi?
Anfi del Mar Resort is located on the GC-500 road between Arguineguin and Puerto Rico de Gran Canaria. If you are coming by bus, the name of your exit stop is Aguamarina. From here, you just head down towards the beach. To cross over to Isla de Anfi, use the bridge.
Where to stay near Isla de Anfi?
The most convenient accommodation option for anyone visiting Isla de Anfi is staying at Anfi del Mar Resort, next to the beach. Check their latest prices here!
24. Island of Anti-Circe, Ukraine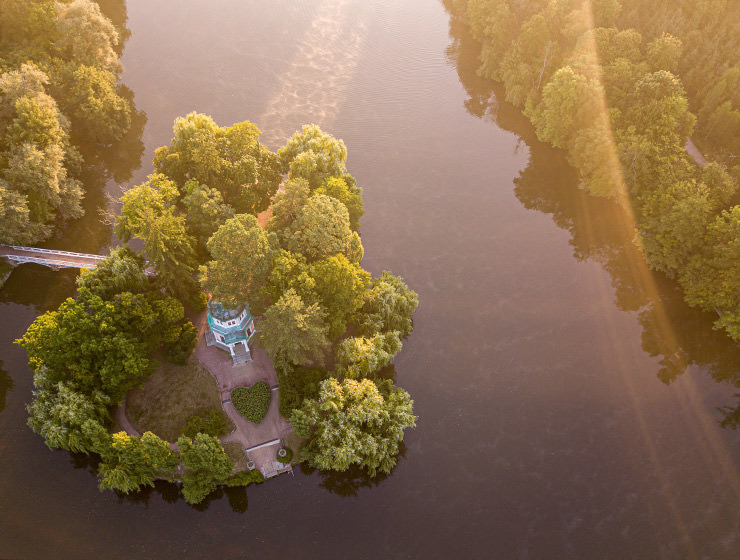 Just like ponds, waterfalls, cliffs, and grottos in Sofiyivka Arboretum, the heart-shaped Island of Anti-Circe is also artificial.
The whole park in Uman, Ukraine, is a product of world-class landscape design from the late 18th century, a decent rival to French Versailles, or German Sanssouci Park.
Placed on the Upper Lake of the Sofiyivka Arboretum, that Polish poet Stanislaw Trembecki called the Enchanting Sea, the cozy heart island is reachable via a small wooden bridge. The central place of the heart island is occupied by a Renaissance-style octagonal Pink Pavilion. From here, you can enjoy the views or feed ducks in the lake.
There is a love story behind what many consider one of the most beautiful corners of Ukraine. In 1802, the park was essentially a birthday gift of a Polish count Stanislaw Potocki to his beloved wife Sofia, a Greek slave courtesan of a mysterious beauty, who put a spell on many male minds of the time. Even if the park wore her name ever since, Stanislaw's investment supposedly didn't win her promiscuous heart; she had a love affair with his son.
After the confiscation of this private park, the Russian emperor Nicholas I, who obviously never heard one should not forward other people's gifts, gave the park as a present to his own wife – Alexandra Feodorovna. Their marriage was however more successful than his oppressive autocratic reign.
Whatever you think of the park's history, Anti-Circe Island can hopefully bring a better blessing to your love relationship. Potocki used the name of Circe, a Greek goddess that was turning humans into animals, but was hoping to dedicate it to a radically different, gentler kind of enchantment. Supposedly, couples that visit the island should end up married soon.
How to get to the heart island of Anti-Circe?
Uman is a city in central Ukraine, some 200 kilometers south of Kyiv. Sofiyivka Park is a 10-minute walk away from the city center, just follow Sadova Street.
You can visit the heart island directly from Kyiv too, on this day trip with a professional guide.
Where to stay near Anti-Circe Island?
For the easiest access to Sofiyivka Arboretum, stay in one of the apartments or hotels in the Uman city center.
More heart islands in a heartbeat
You got it by now! Earth is full of lovely surprises, as long as you are willing to look for them! For those who want to explore the heart islands even further, here are 10 more suggestions on where to find them!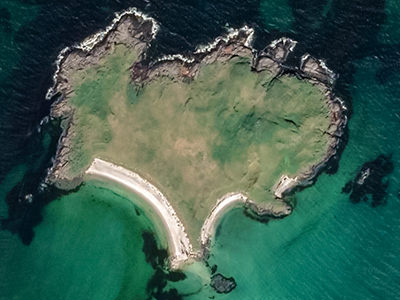 Kariøya Island in Hagatjern lake, Norway
Sandøya Island, north of Moskenesøya, Norway
Burgwall Island in Kleine Müritz lake, Germany
Isola della Malva, close to Porto Cesareo, Italy
Bileddhoo Island, Faafu Atoll, Maldives
Đảo Trái Tim, Vietnam
Pulau Cinta, Indonesia
Nameless heart island in Ozero Ostrovito lake, Belarus
Nameless heart island in Dryvyaty lake, Belarus
Honeymoon Island, an artificial heart island in Dubai, UAE, a part of the Heart of Europe, the World Islands (under construction)
With these "heart islands", love is blind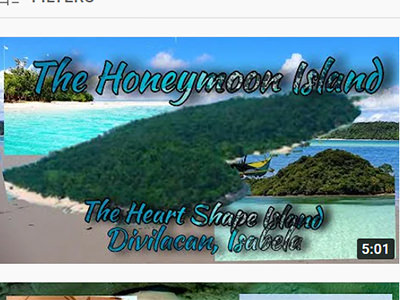 Then there are also so-called heart islands, that certain people eagerly promote online, even if to see them, you really need to have a large capacity for fantasy, or stand at a very particular spot. Without having at least a vague shape of a heart from the astronaut's point of view, they just couldn't make the cut to be included in the list above.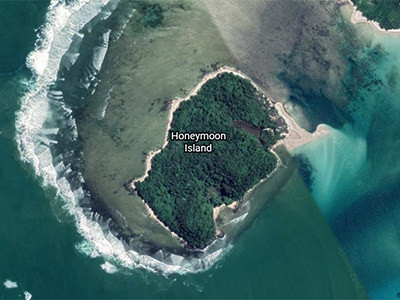 But for readers not really obsessed with details, here are seven islands that look like heart islands sometimes, to some people, from some special viewing point!
Isla Corazon, Mascardi Lake, Argentina
Pace Picnic Island, Miami, USA (Frankly, Legion Picnic Island nearby looks more like a heart!)
Blueberry Island, Lac de l'Achigan, Quebec, Canada
Marinduque, Philippines
Honeymoon Island/Estagno Island, Isabela Province, Philippines
Bonito Island/Culebra Island, Batangas, Philippines
West Nalaut Island/Dao Island, Philippines (Sorry, Filipinos, none of these look anything close to hearts, but don't let that affect your pride! Your islands are still beautiful!)
My favorite island in the Philippines does not have a shape of a heart, but instead a silhouette of a sleeping man! Check out Coron Island, one of the prettiest places I have visited!
The heart islands of the world – Conclusion
Clearly, the beauty (and sometimes the shape too) is in the eyes of the beholder. Some people just want to believe, as photographer Wheatley smartly notices.
Inflation of heart islands in the world could have a positive outcome. If we believe in the overview effect, the phenomenon experienced by astronauts when seeing Earth from outer space, maybe focusing on the search for the islands shaped like a heart could provide a similar connection with both humanity and our fragile planet.
Before you start booking flights to the heart islands, remember to treat nature with respect and love, and not just as an expendable background for your short-lived selfie
Hearts are a universally recognized symbol. We are wired to be drawn to them. Changing our perspective is all it takes to recognize the beauty around us. Seeing things from different angles can make a true shift in our perception and approach.
The tourism industry is aware of the potential of exploiting our wiring. If we don't have natural heart islands, we will construct a heart island story. If we cannot construct a story, we will construct the islands. And if we cannot construct the islands, we will at least construct a heart-shaped boardwalk for our overwater bungalows.
Is there a real heart-shaped island? According to this list, there are at least 24 islands proudly delivering this script. Plus ten side roles. And seven extras that hope to exit the background, and shine in their own blockbuster movie.
From the Americas to Asia, from Europe to Australia, heart-shaped islands in the world do not cease to impress. But before you start booking flights to the heart islands, remember to treat nature with respect and love, and not just as an expendable background for your short-lived selfie.
The question about where is the heart-shaped island located in the Maldives will not remain unanswered forever. But if not providing coordinates today keeps it a target of only the most passionate travelers for a little bit longer, the silence was worth it.
Did you like this guide to the world's heart islands? Pin it for later!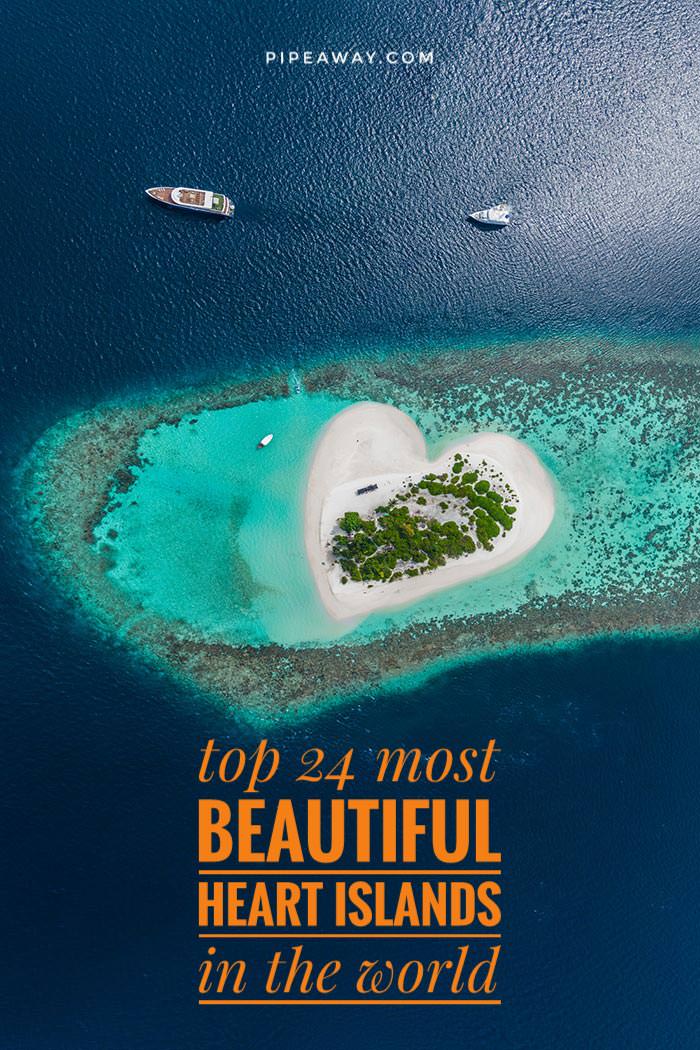 Disclosure: This post may contain affiliate links, which means if you click on them and make a purchase, Pipeaway might make a small commission, at no additional cost to you. Thank you for supporting our work!