The coronavirus craze is already affecting tourism, not only in Asia. Experts predict that travelers will now prefer to book last minute, and choose smaller properties, away from the massive tourism. One cannot spend the entire holidays in isolation, but The Santai Bali is a five star quarantine you would love to stay in, even when the viral paranoia fades away completely!
Great both for introverts and extroverts, The Santai provides the feeling of a cozy holiday home
With 11 villas only, this property in Umalas, the quiet village in Southwest Bali, is the perfect hideout! Close enough to the popular areas of Seminyak and Canggu, but far enough from their noise, The Santai gives you free hand in designing your Bali holidays.
Great both for introverts and extroverts, it provides the feeling of a cozy holiday home. Therefore, it's not strange the owners named it The Santai, which is the Indonesian word for relaxing.
When traveling to Bali, consider staying at this precious member of the Lifestyle Retreats! If you do not plan traveling to Indonesia any time soon, read on! The Santai Bali review might make you change your travel plans!
Monumental entrance to memorable welcome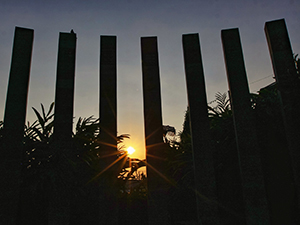 The entrance to The Santai Bali resort is marked by an arc of monumental columns. Several dozen cuboids, erected like some Stonehenge of the modern age, bear the Balinese inscriptions celebrating calmness. These six-meters high totems are especially impressive when the sunset rays start playing with their shadows.
The whole reception area is communicating the same sense of airiness! The open-air lobby is spacious, dressed in wood, with modern furniture incorporating the traditional elements, such as the woven chandeliers. With a natural breeze instead of air-condition, and ever changing play of light throughout the day, the front desk is an inviting place to relax with a magazine in hand.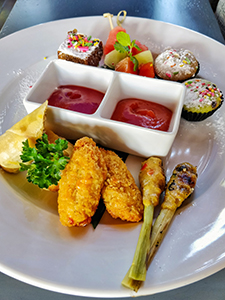 Indonesian snacks and fruits are available in jars displayed in buffet-style. Imagine peanuts coated in garlic, deep-fried savory Javanese crackers, mini spring rolls filled with fish, celery chips or a variety of homemade cookies! You'll find the daily replenished cookie jar in your villa too!
As if this would not be enough, the check-in itself includes a plate with savory and sweet bites. This unexpected appetizer will make you ask questions about the working hours of the resort restaurant!
Tranquil oases dressed in hanging vines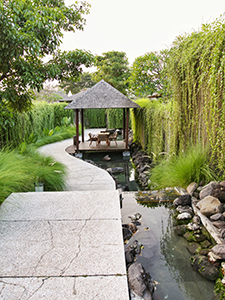 If you developed an appetite for relaxing, the lobby opens up to a patio with an artificial water stream and Balinese gazebo. The high walls of the villas, abundantly covered with hanging vines, smartly hide the architecture of the compound.
Our personal butler Rini, a lovable young woman, brings us to our little nest for the next few days. Did I say "little"? The villa spreads on 600 square meters! The friendly staff will make an introduction to the villa's perks. Available 24/7, they will answer any questions one might have about the stay in this area.
The centerpiece of each villa is a private swimming pool of an impressive size. Beside a decent space for swimming, it even offers a little lagoon, with a frangipani tree growing on an island. One can lay down in the shallow water, on one of Santai's pool floats, or suntan on the deck equipped with daybed and beanbags.
If you're looking for something even more cozy, you can find the extraordinary private pool villas at The Balé Resort, Bali's perfect honeymoon hideout!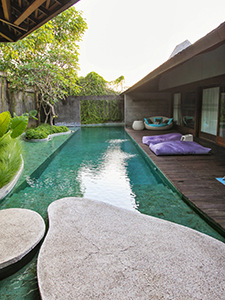 Concrete islands lead your way over the water to an open-air kitchen and living room. This is an area where one can enjoy a variety of delicious breakfasts, but also cook! We went through a Balinese cooking class with chef Gede, which was a fun and educational experience. It even left us with an official certificate of participation! You don't only learn how to make the local meal (in carnivore and/or vegetarian version). You also get a fulfilling lunch that will certainly not leave you hungry!
The positive extras of the outdoor space are a water dispenser, espresso machine and large refrigerator. A smaller minus for the place obviously designed for spending days outdoor is a lack of exterior electrical plugs. Modern travelers need to connect their laptops and recharge their phones! Especially if you offer them so many tempting motives to photograph!
Rooms blending nature and technology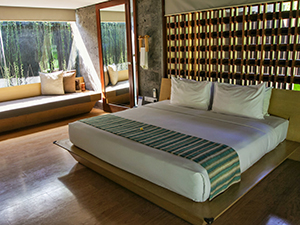 Each villa in this exclusive resort comes with two or three bedrooms, so it can easily accommodate an entire family or a group of friends.
Behind the gigantic sliding glass doors, the outdoor space naturally flows into the spacious rooms. A towel shaped into a form of Buddha sitting in a lotus pose, invites for meditation (by the way, you can learn the art of towel origami at the resort!). With a comfy mattress and calming essential oils, the room at Santai becomes the center of a good sleep! Iin case you didn't doze off already by the pool!
Smart TV, iPod docking station, Playstation, DVDs… Try to use any of these in offer while an inviting swimming pool is at your doorstep!
The bathroom area remains the place of privacy, even if it practically functions as open-air. The master bedroom has both spacious indoor and outdoor shower, as well as the soaking bath. If that's not enough, there is even a direct pool access! You'll be able to pamper yourself with various-scented homemade soaps (cinnamon-passion fruit, ginger-honey, spiced citrus), practice your own asanas on a provided yoga mat, or prepare yourself for the beach. The Santai villas offers the use of beach bags produced by the pregnant ladies of the remote villages in East Flores. You can fill it with snacks if you decide to explore the local rice fields on a bike provided by the resort for free.
For those who cannot do without being connected to the world, besides free wifi, each room (even the outdoor living room!) comes with its own smart television providing satellite programs. There is also an iPod docking station, and Playstation and DVDs are available upon request!
With a selection of fruit and mini bar replenished with soft drinks on a daily basis, one cannot dehydrate while watching movies or playing games.
Asia fusing in the plate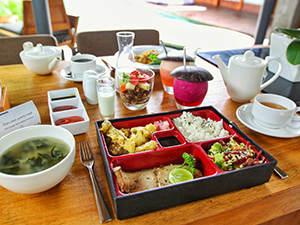 As mentioned earlier, meals at The Santai can be consumed in the privacy of the villa or in the in-house Gong Restaurant.
Start your breakfast with anything from natural granola to miso soup, from tropical fruit to hot & sour pork soup! For the main course, try eggs in various styles, teriyaki chicken bowl, nasi/mie goreng, or bento box with delicious grilled butter fish fillet, pickles and steamed rice! The menu offers a variety of Asian flavors, from Indonesia to China, from Korea to Japan! Add to this a morning booster with fresh ingredients, and your day can begin filled with energy!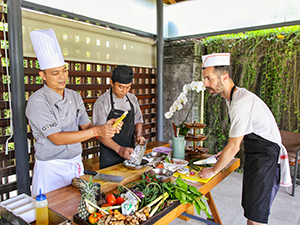 The Gong Restaurant, sunken to the ground, which paradoxically enlarges its roominess, is open both for hotel guests and visitors. They serve Asian fusion cuisine, and the menu is more than solid. Imagine starting your dinner with spicy papaya salad or Japanese dumplings, diving into the tofu burger, Tasmanian salmon or Ayutthaya's hot red curry with roasted duck breasts and lychee, and sweetening it all up with a chocolate fondant or orange parfait!
If this doesn't make you drool, Seminyak restaurants are just a short drive away. And The Santai Umalas will provide a complimentary shuttle service!
Space designed in cooperation with nature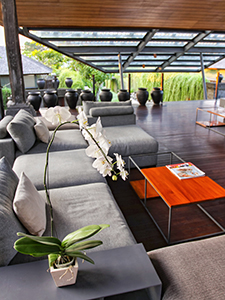 When the Indonesian architects Antony Liu and Ferry Ridwan from Studio TonTon designed The Santai space in 2014, they were aiming for a cutting-edge architecture that would provide an urban tropical retreat for families with a calming vibe.
While they obviously focused on motivating the guest spending time al fresco, they also did their best to do the reverse: let the nature into the rooms! The funnels in the roof bring the natural light inside, and the sidewalls are made of glass. So even if one is laying on a daybed in the room, one can still enjoy the feeling of bathing in abundant natural light flowing in over the vegetation-covered walls.
However, nature here is not just an inspiration for decoration. The Santai engages in actual initiatives that aim to preserve the environment, from solar panels and reclaimed water irrigation to biodegradable products, including glass water bottles. It also reminds its guests on the effects of detergent use; your bed linen will be changed only if you place an artistic stone on the bed!
The Santai Bali – the retreat for complete indulging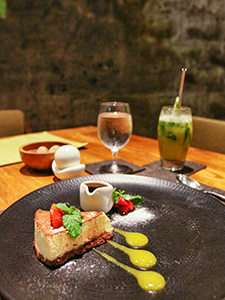 Just 40 minutes from Ngurah Rai International Airport (and return transfer for guests in complimentary!), The Santai resort is a practical base for exploring Bali's buzzing neighborhoods, but without being forced to constantly expose yourself to them.
If your idea of an Asian holiday includes in-villa massages and pampering, chilling-out by an enormous pool, tasting a variety of flavors, and having the luxury of proximity to nature and temples, then The Santai Umalas may be the serene corner of Bali to consider! You can isolate yourself from the world here, but also start to explore it from this tranquil base!
If Santai's special massage deals "pay 1, get 2" is not enough for you, and you want to experience the additional spa treatments, you can visit The Amala Seminyak, Santai's sister property we wrote about on the list of Bali's ultimate luxury escapes!
Release your prejudices of traveling to Asia, and find your safe heaven on the island known for its hospitality. The Santai hotel is definitely an ambassador of that hospitality. One of those luxury escapes that will not only restore your body and mind, but also the faith in people bringing the smile to tourism.
Did you like The Santai Bali review?
Pin it for later!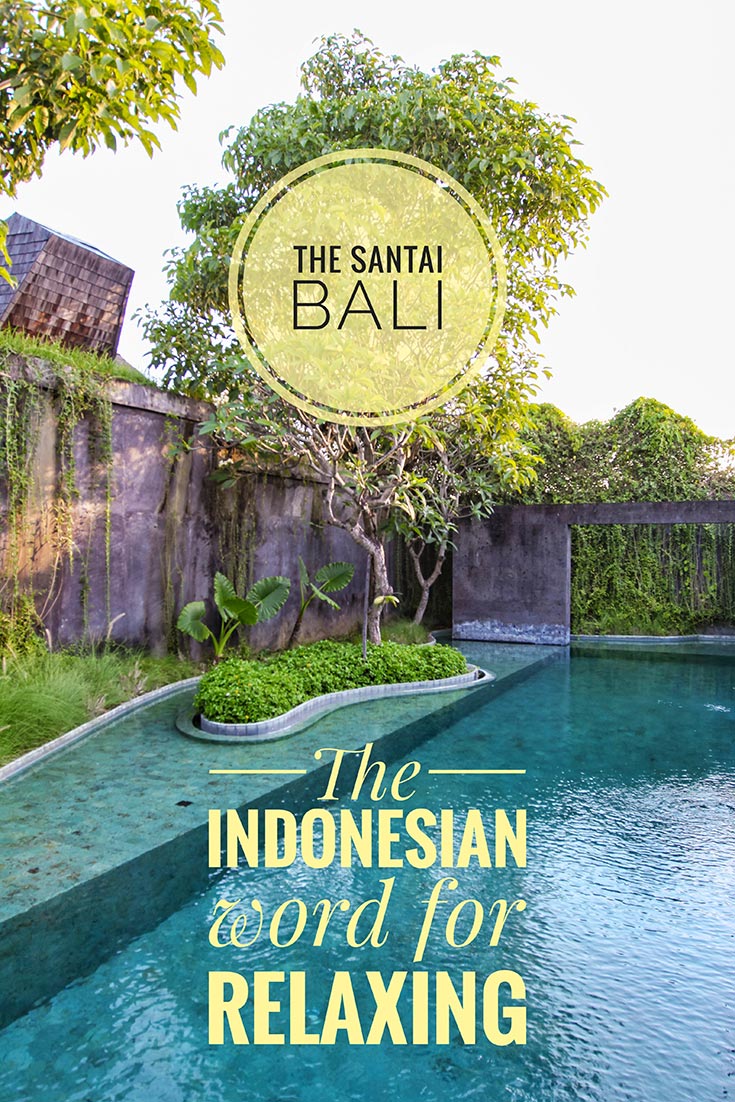 Disclosure: My stay at the The Santai Bali was complimentary, but all opinions are my own.

Also, this post contains affiliate links, which means if you click on them and make a purchase, Pipeaway might make a small commission, at no additional cost to you. Thank you for supporting our work!