Aria Villas Ubud is a honeymoon-perfect boutique resort in the cultural center of Bali. Many visitors of the most famous Indonesian island will travel to Ubud to admire its temples and museums, to discover art and culture, to explore rice paddies and their inner self at some yoga retreat. They will want to see the other side of Bali, away from the popular sandy beaches and coastal nightlife. This search for the authentic face of the Island of Gods is a journey in itself. And Aria Villas Ubud is a four-star hotel that can serve as a great basecamp for your expedition! In this hotel review, I present you one of Bali's finest romantic sanctuaries!
Modern and traditional. Minimalist and rich. Secluded in nature, but close enough to lively attractions. There is a harmony of contrasts at Aria Villas Ubud
Privacy has become a buzz word of hospitality in 2020, and it will rule even beyond it. Being able to distance ourselves from those we don't know, and create more room for people we truly care about, seems to be the guiding principle for our future travel plans. Instead of letting paranoid thoughts shape our expectations, why not let the positive feelings influence our decisions? Why wouldn't we plan something – romantic? Not because we want to be away from others, but because we want to dedicate more time to that "one and only"?
If you are a couple at the beginning of your relationship, or if you have already said 'I do' and look for a calm honeymoon location, bookmark Aria Villas Ubud! This is a modern high-end hotel that will let you discover Bali's greatest traditions. Minimalist, but rich. Advanced, but respectful towards nature. Secluded, but close to major town attractions and hotspots. A great setting to love, and share the feeling with the loved one!
Minimalism respecting nature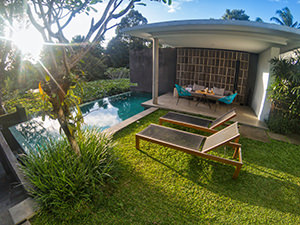 Aria Villas Ubud is a collection of eight pool villas erected above a lush but quiet forested valley. The Singapore-based studiogoto, led by the architect Chioh-Hui Goh, designed the project in 2013. Following the natural slopes just north of Ubud center, they constructed the flow of buildings that complement the landscape instead of imposing themselves above it. Covered with greenery (landscape design by Huai Yan, Salad Dressing), they seamlessly blend into the surroundings. Each villa, even if close to others, has a convincing feeling of a private sanctuary.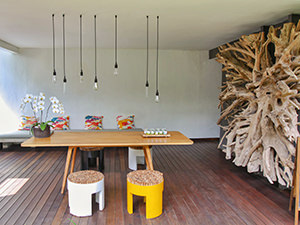 The very entrance to the complex is not showy but simple. Clean architecture lines lead you to the harmonious reception area with a large table. There is no evidence of paperwork or even technology such as computers; only bare lightbulbs hanging from the ceiling, stripped of excessive chandelier décor. On the table, live orchids one can find in rooms and on trees too, and essential oils for picking the scent of massage. The table is surrounded by unpretentious cork chairs and sofa with colorful pillows precisely proportionally distanced from each other. It all seems to be a statement of minimalism, the voice against clutter. Only a gigantic root of a tree displayed on the wall as an art piece feels like it's intentionally stealing the gaze.
The recycled timber is used in every villa too. From the bed headboard via carpet to the stump nightstands, the wood is the material the interior is growing from. Nature is in the roots of Aria Villas Ubud, and not only in the ones displayed as décor.
After a couple of stairs, just behind the reception corner, the property reveals itself in versions of a single-room villa, family villa with three bedrooms, or even in a combo of two adjoined villas with two pools.
Romantic sanctuary of a pool villa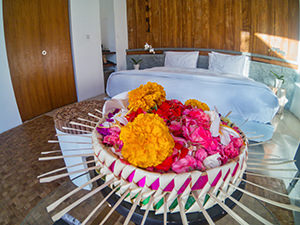 I stayed in the Terrace Pool Villa. It is located on higher ground than the Valley Pool Villa, so it offers great green views. One could enjoy them from the fantastic private pool with sun loungers, or from the open-air cabana with a sleek concrete sofa and chairs inviting for a rest or a snack. But one could also retreat to the bedroom, which could be properly air-conditioned or completely open to the tropical atmosphere through its large sliding doors.
More secret areas open up with some snooping around. The lamps above the comfortable floating bed completely retract into the wooden wall. What seems to be a wardrobe door opens up into a walk-in closet. It continues to the bathroom with double sinks and special amenities "for him" and "for her". From there, one door leads to a toilet, and the other to an outdoor rain shower. In the verdant courtyard garden, the alfresco bathtub promises to be a very romantic corner.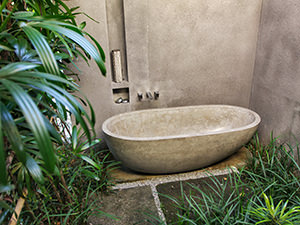 One almost feels like a kid in a toy store, not knowing where to focus one's attention first. Would you pamper yourself in a private spa, browse through the book "Bali in the 30s" on the king-size bed, or jump straight into the inviting swimming pool?
Well, you might want to be considerate if you choose the last refreshment option; the water from the infinity pool spills right over the path between villas. It's not a busy pathway, but it's still good to be aware of it. Your innocent play in the pool could provoke an unexpected shower for your butler! On the other hand, if your neighbors are enjoying their swim, your attempt to get home dry could resemble the Bali version of the game "Floor is lava", called "Sky is rainstorm".
Spa escape to healthy self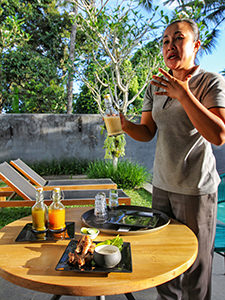 The welcome to Aria Villas Ubud is truly special. Beyond the typical chilled towels and refreshing drinks, this property starts with a preview of the relaxing holidays that will restore your body and spirit. The ten-minute welcome massage will release any travel tension in your shoulders and, trust me, it's good! I normally do not remember the names of the masseuses, but guess what? I do know the name of this one! Ibu Balik, what a fantastic professional therapist she is!
She passionately presents the concept of jamu, the Indonesian traditional medicine made of herbs, roots, flowers, and fruits. There are three different kinds in this tasting tryout. Rice and white turmeric drink should increase appetite, eliminate ache and fatigue, as well as enhance the vitality. Turmeric and tamarind drink is an ancient cure against inflammation and depression, and it has antioxidant and antiseptic properties. The drink with betel leaf can treat malaria, bad breath, joint pain, nose bleeding, sore mouth, and cough. Whether you believe in alternative medicine or not, trying out jamu drinks is a fun insight into the local life. It is definitely not something one can easily experience in other four-star resorts.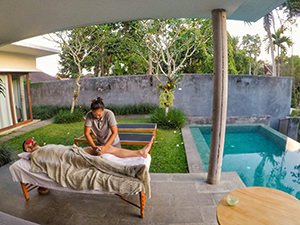 But Mme Balik's expertise goes much beyond the theoretical lectures. I've enjoyed two of her soothing treatments. One was Aria's signature massage with deep tissue techniques. The other one used warm river stones and herbal compress applied through acupressure techniques, followed by a relaxing herbal bath. All of that in the privacy of the villa! I do not like using too many superlatives in writing. But Ibu Balik made such a lasting impression on my stay at Aria Villas Ubud, that her massage had to be highlighted as probably the best treatment I tried in Bali! And I did try many!
Bali day trips from Aria Villas Ubud
Aria Villas Ubud will take care of your wellbeing even outside of the resort. The attentive butler service will tailor any trip to your needs! This personalized service can include cultural attractions, adventures in nature, shopping time, or fine dining! It's rewarding for anyone who wants some support in exploring, without that feeling of an over-organized guided tour!
During my stay in Aria Villas, we went to a couple of such unpretentious trips, in the comfort of an air-conditioned car. The stops included the famous landscape of Tegalalang rice terraces, the sanctuary of the Elephant Cave or Goa Gajah, as well as Pura Tirta Empul, the Hindu water temple frequented by many tourists for the purpose of ritual bathing in its holy waters.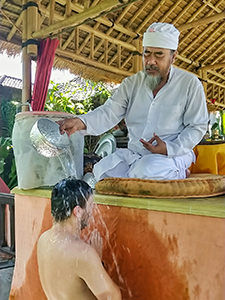 While all of these would be perfectly enough for some memorable experiences to take home, the true highlight of our Bali explorations was something else. And it was really something else! In a very personalized visit to one local village, a priest performed melukat, the same purification ritual with water, but away from the tourists' eyes. This non-commercial and authentic cleaning ceremony brought us through a range of emotions from a deep meditative state to the ecstasy of the laughter yoga. A truly peculiar afternoon that words can hardly describe!
Of course, one can explore Ubud even on one's own. Aria Villas Ubud is just 500 meters away from the town's main street. Ubud Palace is a 15-minute walk away while going on foot to the Sacred Monkey Forest Sanctuary will take half an hour, with many shops and galleries on the way to make the route more exciting. At guests' disposal, there are also complimentary bicycles one can hop on!
Eating local and organic
Ubud has many great restaurants, but some of this culinary excellence found a home in Aria Villas too! Eelke Plasmeijer and Ray Adriansyah, the prize-winning chefs of Locavore Restaurant, transferred their appreciation of the local ingredients to the Aria Villas Ubud menu too.
Designed by Dutch and Indonesian, the meals in this hotel offer the exquisite tastes of both western and eastern cuisine. From beetroot salad with young goat cheese and grilled dry-aged beef with homemade fries to Soto Ayam chicken broth or Iga Bakar pork ribs with tomato sambal and lemongrass-infused rice, Aria Villas Ubud brings organic products with home-style cooking. Their healthy drinks add the element of detoxification.
The resort doesn't have a common eating area. While larger villas do have a proper dining table, Terrace Pool Villa sadly misses one, which means one needs to hunch over a coffee table which is probably not the most comfortable idea of in-house dining. I guess staying here can stimulate you to relax and eat in bed, or even in the plunge pool itself! Daily changing menus of breakfast can be ordered in a floating basket. This means you can combine three passions in one: having a swim, eating a tasty meal, and taking very noticeable Instagram photos!
You should definitely order desserts from Aria Villas' menu, be it a western-style chocolate mousse or local black rice porridge. But even if you're on a diet and trying to stay on it as well, the resort will sweeten it up during the day! Every afternoon, they will deliver ice-cold popsicles made of chocolate or fresh fruit to your villa. The midnight snack such as Dadar Gulung (Balinese pancakes with grated coconut) will surprise you before you float away in sweet dreams!
Aria Villas Ubud hotel review – conclusion
Arriving at Aria Villas is quite an unsuspected surprise. Unlike the rice paddies of Tegalalang, which are a popular mainstream attraction, the peaceful Aria's terraces of comfort, from the bed mattress to grass and infinity pool, feel like a well-kept secret. Tucked away behind the main Ubud arteries, with a minimal number of rooms, these tranquil upscale villas get discovered only by dedicated researchers of Bali accommodation options. And birds! Prepare to see some feathered beauties bending nests on your roof or drinking water from the pool!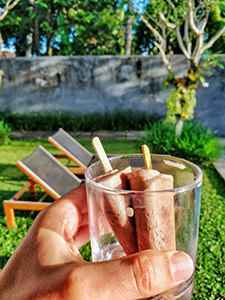 But these days, one does not need a pigeon to spread the news! Good secrets are hard to keep, especially if they come with an appreciation of the concepts of privacy, relaxation, nature, and dedicated service.
The staff of Aria Ubud is willing to go the extra mile with a smile. Be it delivering and setting-up extra candles for your post-massage bath in the courtyard garden, or checking up that you are well-fed, relaxed, or full of plans for tomorrow, you just feel taken care of.
With the unpretentious luxury of this serene villa complex, Narnia-style surprises behind the wardrobe doors and relaxation galore for body, mind, and spirit, Aria Villas Ubud could have found a formula of a contemporary jamu. This revitalizing cure for whatever we find broken might be the restoring elixir of love and care. It has healing properties for our own wellbeing, but also for relationships that deserve being celebrated in Ubud, the authentic heart of Bali.
Did you like this article?
Pin it for later!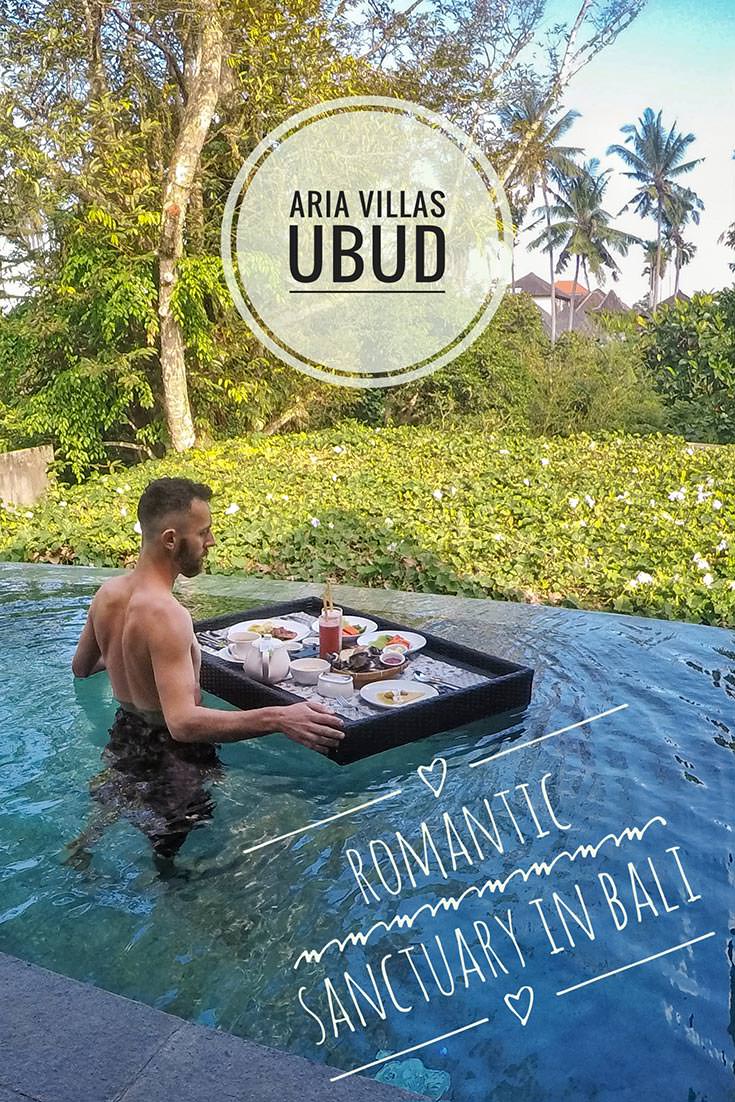 Disclosure: My stay at Aria Villas Ubud was complimentary, but all opinions are my own.

Also, this post contains affiliate links, which means if you click on them and make a purchase, Pipeaway might make a small commission, at no additional cost to you. Thank you for supporting our work!