There are numerous things to do in Jeju Island, or Jeju-do, how locals call the southernmost piece of the Korean territory. The country's tourist jewel comes with 368 volcanoes, lava caves, extraordinary beaches, unusual columnar joints, spectacular waterfalls, diverse vegetation from the coast to the top of Korea's highest mountain, and countless other Jeju Island attractions.
Set in the Korea Strait, the volcanic island is often referred to as South Korea's Hawaii. Jeju Island activities include quirky theme parks and museums (such as Teddy Bear Museum or Jeju Loveland) that will fill your Jeju Island tour with content to remember.
Many lovers and newlyweds choose to visit Jeju as their honeymoon destination; the lava island became synonymous with the island of love! For all travel lovers, these are Jeju attractions to visit! Some things are the best to do with kids, and others are designed for couples, but however you choose to come, you won't be wondering what to do in Jeju.
In the Adriatic Sea, there are at least five love islands! Chech these heart-shaped islands of Croatia! If that's not enough, we've found dozens of others heart islands in the world!
Top 11 Jeju Island attractions
1. Hallasan National Park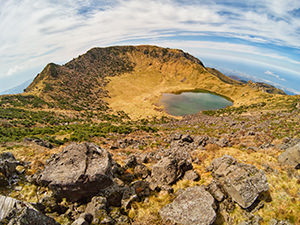 Hallasan Mountain is the most iconic landmark of the Korean island of Jeju. Technically a shield volcano, Hallasan is the highest mountain in South Korea, rising up to 1950 meters above sea level.
The myth says that Seolmundae Halmang, the enormous grandma goddess, sculpted Jeju Island from the sand. Science tells us that volcanic eruptions created the island, some 2 million years ago. In any case, its impressive size was the reason to get its today's name; 'Hallasan' literally refers to a mountain that is high enough to pull the galaxy!
Hallasan is not only the highest Korean mountain, but it is also a place to 'pull the galaxy'!
Designated as a national park in 1970 and UNESCO World Heritage Site in 2007, Mount Hallasan is a favorite hiking place on Jeju Island. Its diverse vegetation, with 73 indigenous plant species among 2000 others, provides a pleasant green backdrop for a day spent outdoors!
There are several trails of different difficulties. I would recommend climbing up the Seongpanak Trail (9,6 km). For average-skilled hikers, reaching Mount Halla peak should take less than 4,5 hours. I climbed up in 4 hours, even with a detour to Saraoreum summit, one of 360 oreums or parasitic cones. The name of the watery marshland at the peak is Lake of Heaven, and it attracts lesser crowds than Mt. Hallasan peak. The view from the highest Korean point will reward you with the crater lake of Baengnokdam. Plan to start descending via Gwanneumsa Trail (8,9 km) at 2 pm at the latest!
Entrance to Hallasan National Park, the golden star of Jeju Island sightseeing, is free. Find all details about Hallasan Mountain hiking trails here, and discover why hiking the volcano is one of the best things to do in Jeju Island!
2. Manjanggul Lava Tube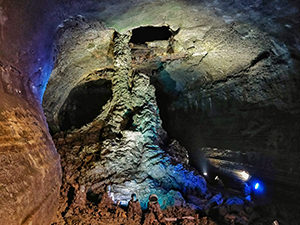 Jeju Island attractions continue underground. There are more than 130 lava tubes on the island! These natural tunnels occur when the hard crust forms on top of the lava, still flowing underneath.
UNESCO protected Geomunoreum as one of the most impressive lava tube systems in the world! Manjanggul is an 8-kilometer-long cave and one of the most popular among tourists. The width of the tube reaches up to 18 meters and the height – up to 23 meters. Its finest characteristics are well-preserved passage shapes and cave features!
One can learn a lot about geomorphology in the Manjanggul lava tube; expect to find lava stalactites and stalagmites, lava shelves, lava toes, and even a lava raft in the shape of Jeju Island! The lava flow carried away this rock remnant and it settled when the lava solidified. Today, its name is Turtle Rock. At the end of Manjanggul cave, there is another sensation: the world's largest lava column! The highest lava stalagmite on the planet has 7,6 meters in height, adding to the reputation of Manjanggul as one of Jeju's top attractions!
This geopark is also home to 42 cave creature species, including the Jeju cave spider, Korean huntsman spider, Jeju Salamander, Copper-winged bats, and Long-winged bats. The latter form the largest colony of bats in Korea; there are 30 thousand of them living in Jeju lava cave!
Dress appropriately when visiting lava tubes. During my visit, the outdoor temperature was 18,7 degrees, but inside this natural monument, the temperature was 13,8 degrees Celsius.
Manjanggul cave entrance fee is 2.000 Korean Won (1,5 Euro).
3. Jusangjeolli Cliff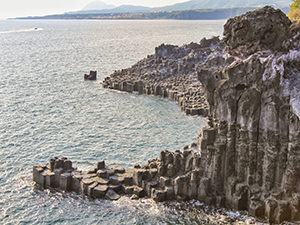 Lava eruptions left a variety of marks on Jeju Island. Besides craters, crater lakes, and lava tubes, the columnar joints might be the most unusual leftovers of natural volcanic processes.
These rock columns were produced when lava cooled down, solidified, contracted, and split the rock into polygonal shapes. The joint is called 'jeolli'.
One can find the hexagonal columnar joints throughout Jeju Island, but especially on its southern coast.
Jusangjeolli Cliff at Jungmun and Daepo Coast is the best place to see this natural phenomenon, formed some 250 thousand years ago! Tortoise-shell-jointed pillars run for about two kilometers along the coast! Today, they are the favorite resting place of birds, while tourists can observe one of the top Jeju Island attractions from the viewpoint. The entrance fee to Jusangjeollidae is 2.000 Korean Won (1,5 Euro).
Other Jeju must-visit sites for columnar joints are Cheonjeyeon and Cheonjiyeon Waterfalls, Andeok Valley, and Sanbangsan Mountain.
4. Jeju Olle trail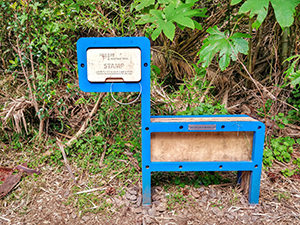 If you like walking, following Jeju Olle Trail is one of the most joyful things to do in Jeju Island! The best Korean walking route encircles the whole island of Jeju with 425 kilometers of well-maintained hiking trails!
In the local dialect, 'olle' referred to the narrow alley between the house gate and the street. Today, Jeju Olle trails connect the Jeju coastline with village roads, farms, forests, and volcanic cones. The scenery is amazing!
The island developed Olle trails between 2007 and 2012, and now they are a free way to spend eco-friendly vacations in Jeju. There are 21 main routes and five sub-routes. They can take 1 to 8 hours to finish, but with clear directions and guideposts along the way, anyone can do it!
While walking around Jeju Island, you might spot Ganse, the strong, but gentle Jeju horses running across the fields. This native breed is often called a Jeju pony due to its relatively small body size. You will also be able to find their stylized sculptures which serve as markers of the trails, as well as places where you can autonomously collect stamps to document your hiking achievement.
5. Jeju waterfalls
Jeju, especially its Seogwipo area that stretches across the island's south, is rich with waterfalls. Chasing waterfalls is one of the best Jeju Island activities, and these are the top 5 Jeju waterfalls to include in your itinerary!
Jeongbang Waterfall is the only Asian waterfall dropping directly into the ocean. This photogenic riffle is 23 meters high and up to 10 meters wide! The entrance fee to Jeongbang Waterfall is 2.000 Korean Won (1,5 Euro).
At walking distance from Jeongbang, Sojeongbang is a 5-meter-high waterfall. Nobody maintains the observation area, so be careful when visiting. There is no entrance fee.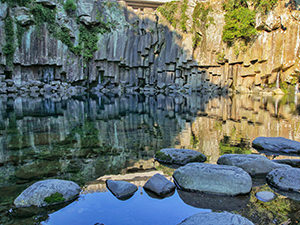 Cheonjeyeon Waterfalls have the most enchanting atmosphere of all five ('cheon' means heaven). The local legend says that, in ancient times, fairies would descend from heaven to bathe in the waterfall's pond. The image of these seven nymphs is carved on Seonimgyo Bridge, arching over the stream. Besides the three tiers of the waterfalls (the largest one is 30 meters high), in the Subtropical Forest covering both sides of the valley, you can find the whisk fern, one of the most precious plants in Jeju province. The entrance fee for Cheonjeyeon Waterfalls is 2.500 Korean Won (2 Euros).
Cheonjiyeon Waterfall (yes, just one letter difference!) is 22 meters high and 12 meters wide. The path to the waterfall leads through a subtropical garden. Pay attention to Camellia, the flower that has a special meaning for Jeju residents. It symbolizes their invincible spirit, and the red ones represent the victims of the Jeju Uprising seven decades ago. The entrance fee to Cheonjiyeon Waterfall is 2.000 Korean Won (1,5 Euro).
Eongtto Falls appear only after heavy rains. And then, the water plunges down from a 50-meter-high cliff. I visited in the dry season, so I cannot claim that it would satisfy waterfall chasers.
6. Spirited Garden Jeju
Spirited Garden is a complex of seven small gardens connected by stone bridges. On 40 thousand square meters, expect to find ponds, waterfalls, sculptures, and Bonsai trees! Some of them are five centuries old!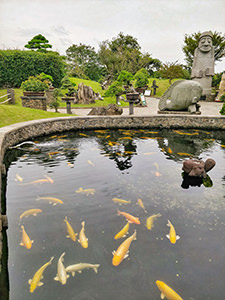 Mr. Sung Bum-Young started creating this park back in 1968. It took a lot of patience and sacrifice to transform a deserted wasteland into a place of meditation! Like with Bonsai, growing a garden is a long-term process. It trains the spirit but also provides joy to one. Experience the zen!
Even political celebrities recognized the founder's dream of connecting man with nature. In five decades, presidents, prime ministers, and even kings walked these paths! Many called this green Jeju Island attraction – "the most beautiful garden in the world".
In 2017, in celebration of diplomatic ties between Korea and China, Spirited Garden erected the statue of the world's largest Dol Hareubang. The word means 'grandfather' in the local dialect, and it is a mythological masculine deity – you will be able to see its sculptures everywhere on the island! The guardian of Jeju Island has a rugged appearance, protruding eyes, and a firm posture.
The entrance fee for Spirited Garden is 12.000 Korean Won (9,5 Euros).
7. Jeju Maze Park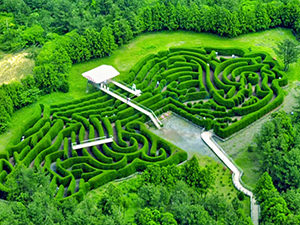 If you found walking through the Spirited Garden too straightforward, here's the park to get lost in! Gimnyeong, sometimes spelled Kimnyoung, is Jeju Maze Park. In the neighborhood of Manjanggul Cave, it's a perfect place to play hide-and-seek!
In 1987, the American expat Frederic Dustin planted more than two thousand Leyland cypress trees and created one of the most fun Jeju Island attractions. The labyrinth has the shape of Jeju and is a testimony of the founder's love for the island.
Three skywalks and an observatory provide panoramic views of the maze. Even if you climb them from the maze itself, I am not sure they actually help you once you are in between the trees. Don't use the map, just relax and have fun! Most people manage to finish the maze in an hour!
If you finish earlier than your partner, you can play with cats at their playground, or use the toilet with a nice bubblegum scent. Well, depending on your bladder-relieving habits, use it before entering and getting lost in Gimnyeong Maze!
Jeju Maze Park entrance fee is 4.400 Korean Won (3,5 Euros)
8. Jeju Loveland Museum
If you want to invite your loved one for another unusual walk, Jeju Loveland is the ground to explore. This sculpture park is an open-air museum of sex positions, a place to find some love or, at least, some laughter!
The home of all things erotic exhibited very graphic 3D Kama Sutra since 2004. On almost 40 thousand square meters, expect to see sculptures, dioramas, and other art pieces depicting couples, groups, or solo players engaging in a passionate game of sex.
The ticket for Jeju Loveland costs 12.000 Korean Won (9,4 Euros).
For more information on this extraordinary museum, read this article: Korean NSFW: Jeju Loveland in Pictures.
After visiting Jeju Loveland Museum, check Dokkaebi Road in front of it. It is better known as the Mysterious Road, a place where the laws of gravity are seemingly suspended. The surroundings create an optical illusion that makes it look as if cars are heading uphill even if the road actually has a downward slope of 3 degrees! Place a ball on the floor and watch it roll 'uphill'!
If your honeymoon brings you to Europe, Croatia is a romantic country you should include in your itinerary!
9. Osulloc Tea Museum & Innisfree Jeju House
Just next to Seogwang Tea Garden, the world of tea got celebrated on a high level – in its very own museum! Since 2001, Osulloc Tea Museum spreads Korean tea history and tradition and attracts 1,5 million visitors every year.
Besides the fields of green tea, the outdoor area is populated with artworks inspired by the volcanic history of Jeju Island. It is a pleasant area to walk around or even lay down on a nice day!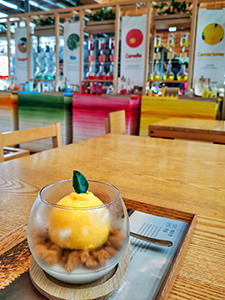 And then, there is Innisfree Jeju House! This brand celebrates the nature of Jeju, and allows you to activate all five senses! Make your own natural cosmetics with green tea, tangerine, and volcanic clay, or make paper out of Jeju tangerine peel! At Organic Green Café, the chefs create your meals and drinks out of fresh Jeju ingredients.
You can see that Jeju tangerine is in the center of attention, just as the green tea leaves! Tangerine trees can be found everywhere on the island, and in the warm climate, a special type named Hallabong was developed. This sweet citrus got its name from one of the most famous Jeju Island landmarks – the summit of Halla Mountain. The fruit's protruding top part resembles the shape of the Jeju volcano! At Innisfree Jeju House, I ate a delicious cake inspired by Hallabong!
10. Jeju Island beaches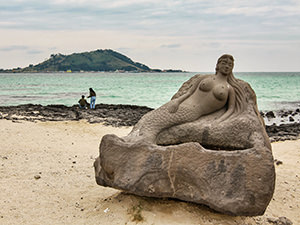 Jeju Island is proud of its beaches. With 200 kilometers of coastline, the offer is plentiful. From white to black, from sand to rock, and everything in between, searching for the best beach in Jeju is an exciting task. If you go exploring, these are the ones to check: Hamdeok Beach, Hyeopjae Beach, Geumneung Beach, Gwakji Beach, Black Sand Beach, Jungmun Beach, Yongmeori Beach, or Iho Taewoo Beach with its horse-shaped lighthouses.
Besides being the destinations of leisure, Jeju beaches are a working place for some. Haenyeo or Jeju mermaids are strong local women who dive into the deep sea to catch seafood, all without an oxygen tank! These fisherwomen dive up to 30 meters deep water, and hold their breath for over three minutes! They often do not retire until they are 80! Historically, female divers outnumbered men, and haenyeo became the head of the family and the cornerstone of a semi-matriarchal society in Jeju.
Try their daily catch, for instance, an abalone! Jeonbokjuk, a rice porridge with abalone, is the local specialty of Jeju Island!
To learn how haenyeo work on Jeju Island, check out this Youtube video by UNESCO!
11. Jjimjilbang
Jjimjilbang is a Korean bathhouse open 24 hours a day! This means that, besides unwinding in hot tubs, saunas, and fomentation rooms, it also offers an opportunity for a sleepover, as long as you are flexible comfort-wise. Jjimjilbangs are definitely a cultural meeting point you need to visit at least once during your South Korean trip! There are certain rules in this Asian spa, so make sure to read our guide on how to use Jjimjilbangs before visiting the Korean onsen!
From the ones I tried on my own skin, here are my recommendations!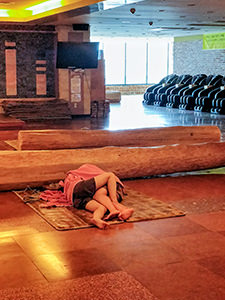 Dodu Water Park (10.000 Won or 8 Euros for an overnight stay) had an active kids-playing area, which also meant it had a lot of kids. With large rooms, it was hard to find a peaceful corner for resting.
Yongduam Seawater Land (11.000 Won or 8,5 Euros) was maybe my favorite. It had conveniently dark sleeping rooms with bunk beds, and there was even a TV in the sauna. Not that I could understand Korean TV!
Sanbangsan Hot Springs was the priciest Jjimjilbang (14.000 Won or 11 Euros). It had the largest variety of pools, but I could hardly find a quiet place to sleep. With children running around until late in the night, in the end, I opted for the floor in the restaurant (well, sleeping on the floor is nothing unusual for Jjimjilbang).
The bathhouse at Jeju World Cup Stadium (11.000 Won or 8,5 Euros) had lesser crowds during my visit but also seemed a bit bland.
Well, none of these was truly disappointing, as long as you can appreciate cultural differences when you enter the bathhouse that is not your average Western wellness facility!
Make sure to drink a cup of delicious Jeju Hallabong juice after your spa time! It will rehydrate you and make you sleep better than any cup of milk would!
Things to do in Jeju Island – conclusion
Jeju is an island worth exploring both above and underground
The volcanic history of Korean Hawaii determined the best assets of Jeju Island tourism. Jeju is famous for its highest mountain peak, lava tubes, beaches, and waterfalls. They attract visitors to explore the island both above and underground!
With the well-maintained and widespread system of Olle trails, the Jeju Island landscape is a hikers' paradise! For more walking opportunities and other Jeju Island activities, there are numerous unique parks and gardens to get lost in!
Exploring this extraordinary natural and cultural heritage is a must-do in Jeju, especially for romantic couples and newlyweds on their honeymoon. Jeju attractions brand it as an island of love and lava, which makes it, pun intended, the hottest Korean tourist destination!
See some of Jeju's volcanic landscape in this drone footage!
About Jeju Island
Where is Jeju Island located?
Jeju Island is the southernmost island of South Korea. It lies in the Korea Strait, the sea passage between South Korea and Japan.
How big is Jeju Island?
The size of the island is 1.849 square kilometers.
Jeju Island population
According to the 2014 data, Jeju has a population of 604.771 citizens.
Jeju Island – getting there
The easiest way to get to Jeju Island is by air. The flights from Seoul's Gimpo Airport to Jeju International Airport are frequent and last only 70 minutes.
When I was flying out of Jeju, I flew to Busan's Gimhae Airport.
Besides domestic flights, there are also direct connections with Japan and China.
Check your best flying options on Kiwi.com!
Getting around Jeju Island
Jeju Island attractions are quite dispersed across the island. The best way to explore them is by renting a car. My car rental cost me 104,42 GBP (125 Euros) for four days.
Roads in Jeju are fine if you exclude Korean wording and the unusual practice of placing traffic lights AFTER the crossroad, and not before. Otherwise, with GPS support, driving in Jeju is doable, as long as you follow the rules, and can handle nervous honking by those behind you who couldn't care less about respecting the speed limit.
Most destinations in Jeju are within 2 hours driving distance from any point, so your rides will be short and not exhausting. But they will give you the freedom of going anywhere and at any time.
When to visit Jeju Island?
When planning your Jeju trip, it is good to know that the island has a temperate humid climate with mild winters and hot and rainy summers. The lowest precipitation is between November and February. April and October are mild and pleasant transitional periods.
Where to stay on Jeju Island?
If you prefer hotels to Jjimjilbangs, for the best prices, consider booking Jeju accommodation through this link!
How many days to stay on Jeju Island?
Creating the perfect Jeju Island itinerary will mainly depend on your interests. Personally, I believe that a good measure for visiting Jeju is anything between 4 and 7 days. However, for my next trip to the island, I'd hope to stay for a month, and walk the whole length of Olle trail along the coastline!
I hope this guide on things to do in Jeju Island helped plan your travel itinerary!
If you liked the article, pin it for later!
Disclosure: My visit to Spirited Garden and Gimnyeong Maze Park was complimentary, but all opinions are my own.

Also, this post contains affiliate links, which means if you click on them and make a purchase, Pipeaway might make a small commission, at no additional cost to you. 
Thank you for supporting our work!