In a world where online videos can easily get more viral than STDs, that late-summer mile high club trip to Ibiza certainly grabbed your attention. Just 40 minutes after departing Luton, an EasyJet flight experienced lighter turbulences at its rear end. The flight attendant swung open the lavatory door and quickly detected the source of the thumping. With pants around their ankles, there was a bold couple in an erotic clinch, now exposed to the gazes of fellow passengers and millions of online viewers.
The dashing young Romeo was Piers Sawyer who, in his day job, services cars. The lady he serviced on the flight to Ibiza was left anonymous, as Piers was too drunk to recall her name. It was his 23rd birthday, and the celebration kicked off a bit early. A flirtatious banter with party girls seated just ahead, and one thing led to another.
"They were actually speaking to us when we sat down, and then my brother thought it would be a good idea if we switched seats. So one of the girls came and sat with me, and then he went and sat with one of the girls. And the rest is history", Piers told The Sun.
It's embarrassing, but I don't think they were doing anyone any harmElaine Sawyer, mom of a mile high clubber
Back on terra firma, mom Elaine was clueless about her boy's historic birthday events. Oblivious to the mile-high drama unfolding above the clouds, she was busy posting a Facebook picture of Piers cuddling a puppy, saying: "Happy 23rd birthday. Enjoy Ibiza". A friend commented: "Happy birthday, Piers. Enjoy your day and your trip away. Be good!!" All the while, Piers was busy being a bad, bad boy.
"You just don't think about stuff sometimes", the mother said later. "Yes, it's embarrassing, but I don't think they were doing anyone any harm."
Still, upon landing, the couple was welcomed by the Spanish police, and they were banned from flying with EasyJet again.
In today's article, we are diving headfirst into the phenomenon of having sex on an airplane. We'll uncover how mile high club works, explore the unspoken mile high club etiquette, and arm you with tips for not getting caught like Piers. Find out whether your in-flight intimacy can be considered a crime, as well as learn what are the best airlines for joining the mile high club!
What is the mile high club?
For the mile high club definition, we need to look into an urban dictionary. It is a slang term dating back to the swinging 1960s, and it describes people who engage in sexual activity while flying in a plane.
The meaning of mile high club is directly linked to intercourse between two intrepid passengers. If, by some twist of fate, only one passenger is performing the sexual activity, the term would be half mile high club or solo mile high club.
The origin of the word
Even if the word has been circling around for six decades, mile high club just landed in the Merriam-Webster dictionary in September 2023, added together with generative AI, tiny house, and quiet quit.
But the first use of the word can be traced back to 1966. "The reporters had been going on about this mile-high club", writes Thom Keyes in "All Night Stand", a novel of confessions told by the members of a Liverpool pop band experiencing the world of groupies, drugs, orgies, and mental breakdowns.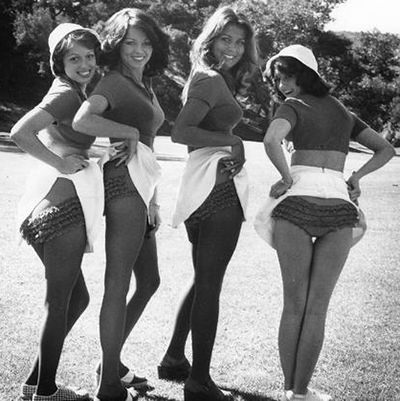 For the history of the mile high club, maybe even more influential was the 1967 bestseller "Coffee, Tea or Me?", marketed as the uninhibited memoirs of two airline stewardesses Trudy Baker and Rachel Jones. The two were not real; their lusty life was invented by the real author Donald Bain, who happened to work for the PR department of American Airlines.
Everyone devoured this fiction as if it were fact. Even one of the flight attendants legally changed her name to match the one from the book cover, all for the chance to tell her "anecdotes" on the book tour. The hungry public found a perfect appetizer for the sex in the clouds.
Why is it called the mile high club?
The expression mile high club refers to the status of breaking the sexual taboo in a specific social setting – at a high altitude.
Technically, it's not accurate. You see, one mile equals 5,280 feet or 1.6 km. That's still the altitude where seatbelts are tightly fastened, and the flight attendants give you their stern "stay in your seats" look.
The real steamy rendezvous mostly unfolds when the plane reaches cruising altitude, which is normally above 33,000 feet or 10 km. This means that fact-puritans would prefer the expression to be a – six-mile high club.
Is mile high club a real thing?
While its name suggests a community, the mile high club is not an official organization, there's no president, membership cards, or secret handshakes.
However, that doesn't mean that intimate encounters in the skies are an urban myth. The mile high club exists as a symbolic badge of (dis)honor, a bragging right for anyone who dares to sexualize their flying experience.
"I've done so, on a flight from Las Vegas to San Francisco", testified someone anonymously on Quora. "We totally got away with it, getting into the airplane restroom as soon as the seatbelt sign turned off. We entered/exited the restroom without anybody noticing (heh, that we could tell). But… bleh. It was not sexy. It was only semi-fun. It was cramped. It was in a bathroom. I can say that I've done it, but would not repeat it. So the 'club' is real, even on public flights. But I generally wouldn't recommend it."
What qualifies for the mile high club?
As it is not an official organization, the rules and requirements for mile high club are open to interpretation. However, it is generally accepted that a mere make-out session doesn't count as mile high club. To make sure that your naughtiness qualifies for the mile high club, you've got to go all the way, meaning you'd have to engage in actual sexual intercourse.
The strict preachers of airplane sex don't even accept romantic encounters on private flights explicitly designed for such shenanigans as eligible. To stick to the true meaning of the mile high club, they argue that there has to be a tantalizing possibility of getting caught. And the level of dare doesn't get more challenging than on commercial flights with other passengers on board.
View this post on Instagram
How often does the mile high club happen?
Before the pandemic hit, researching travelers' sexual behavior on flights was very trendy. If we're to believe the findings of these polls, we can confidently say that somewhere between 4% and 15% of airline passengers have joined the mile high club.
In 2016, Cheapflights surveyed 1,000 Americans, and 6% of them confessed to becoming members of the mile high club, while 33% expressed their desire to do it in the future. Somewhat suprisingly, the percentage of those who already did it was higher among the seniors; 7% of passengers older than 65 have rocked the plane. But then again, they had more life experience under their seatbelts, too.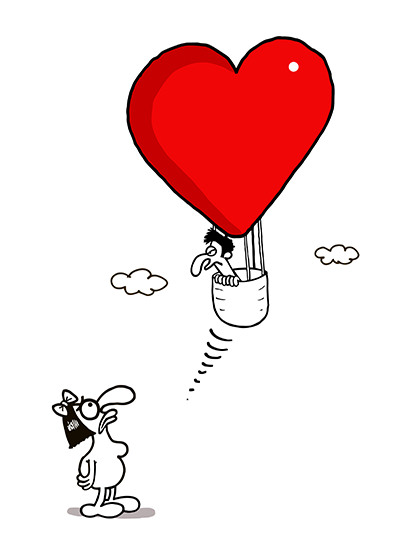 That same year, Jetsetter polled 1,600 travelers, and 15% of them admitted to having sex on a plane. When Stratos Jet Charters asked 2,000 airline passengers about their sexual experiences on board the flights, it turned out that 3.8% had engaged in full-blown sexual intercourse, 4.2% had explored oral sex, and 4.8% masturbated. The percentage of those who haven't engaged in a sexual activity, but have fantasized about it was 52.2%.
Jetcost survey in 2017 asked nearly 5,000 Americans about the forbidden in-flight entertainment, and 8% proudly admitted they joined the mile high club.
The grandest so far, the 2018 study conducted by Saucy Dates took into account the experiences of over 11,000 international travelers. It turned out that 5% of the participants had mile high club experience, and 78% expressed their interest in trying it out. Now, that's quite encouraging for anyone looking for a plane mate – eight out of ten passengers are practically up for the adventure!
History of the mile high club
How old is the mile high club? To understand the origins of the fascination with in-flight sex, we have to dig even before the first planes took off. Humans started misbehaving as soon as their feet left the ground.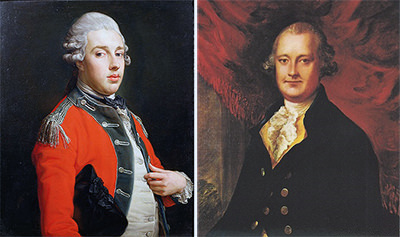 Just two years after the Montgolfier brothers launched the first hot air balloon, one of the oldest gentlemen's clubs in the world, the Brooks's in London, registered a scandalous bet between the two competitors. "Lord Cholmondeley has given two guineas to lord Derby, to receive 500 Gs. whenever his lordship f***s a woman in a Balloon one thousand yards from the Earth", the record said. A thousand yards are just above half a mile, but it was 1785, and the dares didn't yet envisage the mile high club.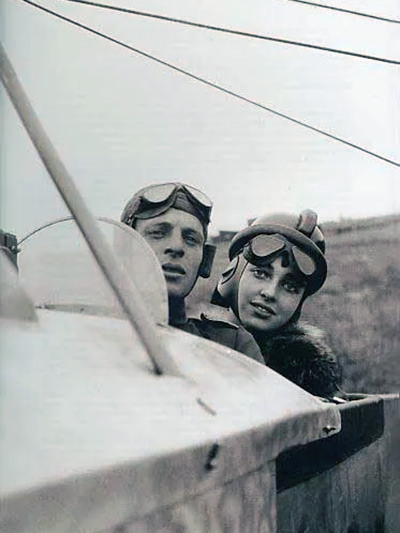 Oswald Boelcke, known as the father of the German fighter air force, was the first one to taste the forbidden fruit in a plane. Well, Fokker E1 was a single-seat fighter, so it didn't provide much space when he was taking nurses on joy rides in 1915. Still, using frontline aircraft for personal pleasure during the world war was controversial, so Oswald's superiors sanctioned him for flying Miss Blanka around, and firmly banned future misuse.
While it is generally accepted that the mile high club was born in these dark years, possibly as a revolt against war discipline, the accredited inventor of the practice lived on the other side of the pond.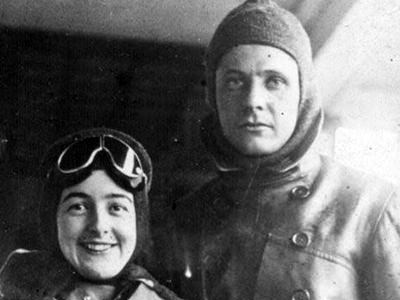 The man who started the mile high club was Lawrence Burst Sperry, the inventor of the autopilot, artificial horizon, and retractable landing gear. The first invention freed the pilot's hands, but Sperry had a playboy character. In 1916, high above New York, just as he was thoroughly explaining the aircraft's cutting-edge features to socialite Dorothy Rice Sims, he accidentally deactivated the autopilot, sending the plane plummeting into the waters off Long Island. Duck hunters found the couple naked. The two claimed it was the impact that ripped off their clothes, but a local tabloid still published a cheeky headline: "Aerial Petting Ends in Wetting".
Mile high club airlines
While practically any airline can become a stage for rule-breaking romance, some of them gave a more significant contribution to the development of airborne passions.
Not so Virgin Atlantic
Virgin Atlantic, the airline founded by a mile high club member, Sir Richard Branson, is known for breaking the standards.
In 2022, they made headlines by introducing gender-neutral uniforms designed by Vivienne Westwood, but two decades earlier, one lavatory fit turned equally controversial.
When they installed baby-changing tables in their A340-600 toilets in 2002, they quickly learned passengers had other ideas than just checking the diaper content. Poor tables were frequently getting broken by passengers who had no children at all.
Love is in the air at Singapore Airlines
Ever since the 1990s, Singapore Airlines has been reporting that one-third of their unruly aircraft passengers commit actions that are sexual in nature. Surprisingly, in 2006, they became the first commercial carrier to offer a double bed in the plane.
Their Suites Class on A380 allowed neighboring pods to connect, creating a private enclosure complete with a bottle of Dom Pérignon and a "Do not disturb" button. It wasn't long before they had to remind passengers that cabins are not exactly soundproof, urging them to "respect the tranquility of others".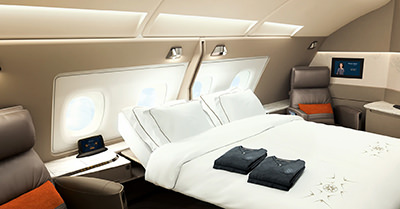 The original suite retired, but it was replaced by the new First Class Suite that now comes with a bed AND an armchair, plus unlimited Champagne.
Etihad – the price is the limit
In 2014, Etihad topped all other first-class experiences and introduced its three-room Residence. Imagine flying in your own little sanctuary, with a bedroom, a living room, and a private bathroom with a full-sized shower (an innovation pioneered by Emirates in 2008)!
This exclusive experience with a private butler comes at a cost, of course, and that cost is $30,000.
Air New Zealand's cuddle class for the budget-conscious
Also in 2014, Air New Zealand defended lovebirds' rights of the less fortunate. They delivered a so-called Skycouch in economy.
The invention enabled the flattening of three coach seats into a bed, almost perfect for snuggling. However, this "cuddle class" provided limited space and no real privacy for extra-curricular activities.
More double beds
Real double bed, however, has remained the reigning throne of the mile high club – in the first class, it was also offered by China Eastern Airlines, while in 2017, Qatar Airways launched Qsuites, the first double bed in the business class.
In the years ahead of us, more airlines will be embracing the potential of shared passenger space. Lufthansa and SWISS have already announced their double beds.
Pay to play – mile high club charter flights
While commercial airlines justify their extended horizontal surfaces as a means to provide more comfort to their passengers, joining the mile high club in such a set-up still depends on the willingness of the cabin crew to turn a blind eye.
However, there are airlines where you can actually pay to join the mile high club. The discretion comes with the charter flights, but you'll still have to organize willing club partners by yourself. To join the mile high club and earn that coveted fictional member title, you'll need to cash out hundreds of dollars.
Private mile high club flights were once popping up all over the world. Today, only rare US operators still offer the service.
Big Bunny
While it catered to the likes of Cher, Elvis, Frank Sinatra, and well… Playboy Playmates, this list would not be complete without the iconic Big Bunny. The extravagant aircraft had seven movie projectors, a disco floor, and a fur-covered oval bed in the "sleeping" quarters.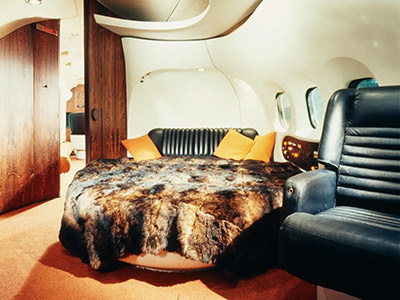 Essentially operating like Hugh Hefner's mansion in the sky or "Studio 54 with wings", the plane flew between 1969 and 1975. Once it was parked in Mexico, it was allegedly still chartered out for hour-long experiences to interested parties. Big Bunny made a brief comeback in 2021 before financial troubles led to its sale.
Erotic Airways
The first one to offer one-hour flights in a sensuous satin setting to regular folks was Erotic Airways in 2006. This mile high club operator flew over Brisbane, Australia, and the flight was priced at $725. Sadly, after just three years of operation, the airline completely shut down in 2009.
Mile High Flights
In Europe, Mile High Flights took off to the skies in 2008, flying out of Gloucestershire Airport in Cheltenham, UK. For £640, passengers could enjoy a 40-minute flight and earn themselves a "certificate of initiation".
Even if the bedroom area in Cessna light aircraft was curtained off from the cockpit, the Civil Aviation Authority grounded the company in 2010, expressing concerns that sex-derived noise could potentially distract the pilots.
Flamingo Air
Uncle Sam's regulation was not as strict, even in conservative Ohio. Since 1991, David MacDonald has been calling his Flamingo Air – Cincinnati's most outrageous premier airline.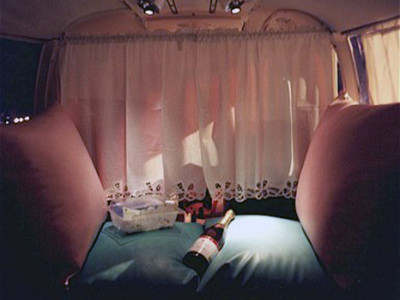 They were offering romantic airplane rides from Lunken Airport, the so-called "Flights of Fancy". While you explored the back of the plane, savoring chocolate and champagne, the pilot donned noise-canceling headphones, minding his own business.
The one-hour experience was available at $495, but it eventually retired.
Mile High Club Traverse City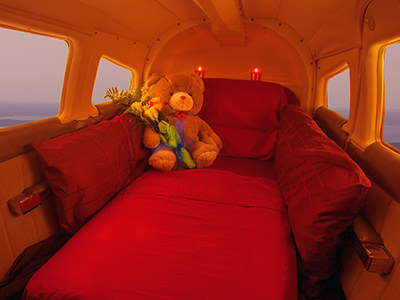 In 2012, inspired by the Ohio venture, Scott Conaway introduced mile high club rides from Cherry Capital Airport in Traverse City, Michigan.
The base flight cost was $490, but as they've since sold their single-engine Piper Cherokee Six plane, flights that allowed passengers "to freely move around the cabin" are currently on hold.
Love Cloud
Another daring US operator, founded by Andy Johnson, started the controversial business in Sin City in 2014, and it still delivers. Love Cloud offers mile high club packages in Las Vegas and Los Angeles.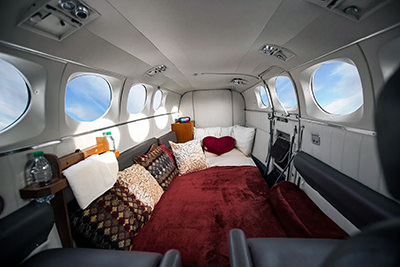 Their Cessna 414 aircraft is equipped with a foam mattress, red satin sheets, and even sex position pillows.
Prices for these steamy flights range from $1,295 to $1,895, depending on the duration (choose between 45, 60, and 90 minutes), and the mile high club certificate is included.
Mile high club jet at Burning Man
We've all heard that wild things happen at Burning Man, the radical festival in the Nevada desert. But besides experiencing sexual freedom on sandy (or muddy?) grounds, there is also a small makeshift airport. Burners queue up to hop on a mattress-equipped plane for 20-minute rides which, in the true spirit of the festival, come at no cost.
View this post on Instagram
Beyond the bed
Judging by commercial airlines introducing luxurious beds for couples, and small charter planes replacing seats with cozy mattresses, one would conclude that mile high club perpetrators are rather traditional folks. But when it comes to losing one's flight virginity, a bed is the least of concerns.
According to Saucy Dates' 2018 research, it appears that traditional romance has taken a back seat. Here's where the action unfolds:
Lavatory lovers – three out of five passengers proudly claiming mile high club membership did the deed in the plane's lavatory, where most non-contortionists struggle to even turn around.
Seat seduction – for those who crave a bit more legroom (or perhaps just an audience?), one-third of mile high club members chose to get frisky right in their seats.
Galley gourmands – the place where flight attendants work their magic to keep passengers fed and hydrated, serves another kind of indulgence; every tenth mile high club enthusiast decided to spice things up amidst the snacks and beverage carts.
Cockpit connoisseurs – there's a bold 1% of mile high club flyers who've had the privilege of seeing the cockpit in a whole new light.
We almost miss an update on the earlier Stratos Jet data that even counted the most fearless sex daredevils: the incredible 4% who did it right there in the aisle.
What celebrities are in the mile high club?
While joining a mile high club in the era of prying social media cameras can be an express ticket to celebrity status, there are people who first became famous, and then went wild in the planes.
The Virgin Atlantic CEO Richard Branson confessed about his acrobatics with a married woman in the plane loo when he was 19: "What I remember vividly is seeing four handprints on the mirror as we finished, and thinking I'd better wipe them off."
Glamour model Danielle Lloyd also tested the constricted space of the lavatory: "It was so obvious when we came out the toilet, but we didn't care. You've got to live, you only have one life. It's fun being naughty."
Kris Jenner would disagree. She experienced utter embarrassment when her bathroom sex with Bruce (now Caitlyn) was announced to the entire plane: "At the end of the flight, the flight attendant got on the microphone, 'Congratulations, Mr. and Mrs. Jenner! You've just joined the mile-high club. We're so proud of you, and we decided to give you a bottle of champagne! Yay!' I could not squish down in my seat low enough. I was mortified."
The actor Ralph Fiennes did it in the business-class toilet with Qantas flight attendant Lisa Robertson. The mile high club episode cost her her job: "I don't regret it. Ralph is gorgeous and the chemistry between us was amazing. What woman wouldn't want to make love with him?"
I had sex in the chair on the plane and there was a guy watching. We ended up telling the stewardess what was happening. Like, 'This guy keeps staring at us. Can you tell him to stop?'Cara Delevingne
Not every celebrity needs the privacy of the bathroom to get naughty. There are plenty of them that found orgasm in their seats.
Model and TV personality Chrissy Teigen revealed how a trip to Thailand turned out quite spicy: "We were under a blanket. We weren't even in one of those pod things. I feel like we should get a trophy for that."
The pop star Christina Aguilera also uses blankets to conceal sex on a plane: "I can't believe we didn't get caught so many times in so many situations. Thank the Lord." She also revealed she sometimes comforts herself with sex toys under the blanket, using them as stress-relievers, not much different than weighted stuffed animals: "I literally remember even having this little pocket-sized one I could pack in my bag on an airplane. I was horny. Sometimes it's an anxiety thing, too."
Model and actress Cara Delevingne confirmed she had a lot of sex on planes, but claimed it was other passengers who were the real issue: "I had sex in the chair on the plane and there was a guy watching. We ended up telling the stewardess what was happening. Like, 'This guy keeps staring at us. Can you tell him to stop?'"
Other celebrities who've entered the mile high club hall of fame include Gwyneth Paltrow, Johnny Depp, Tommy Lee, Kim Kardashian, Hailey Bieber, Janet Jackson, Liam Neeson, John Travolta, John Legend, Miranda Kerr, Elizabeth Hurley, Kelly Gale, Barbra Streisand, and three fifths of One Direction.
Why do people join the mile high club?
Some have tried to explain the orgasmic appeal of the mile high club by the plane's vibration, cabin air pressure, oxygen density, or alcohol-impaired judgment. While it can be a fun guessing game, the reasons for engaging in this experience are mostly connected to passengers' individual desires and motivations.
1. Adventure and thrill-seeking
For many, it is the excitement behind the adventure that's so enticing. Engaging in sexual activity in a confined space like an airplane restroom can be the ultimate dare. The sense of thrill provides an escape from the everyday routine.
2. Fantasy fulfillment
The mile high club has become a cultural reference, engraving itself like an ultimate fantasy, and even finding its place in mile high club porn. For some couples, it offers an opportunity to act out the scenario they fantasized about, spicing up the relationship with some novelty and excitement.
3. Privacy and discretion
Surprisingly, every third mile high club experience involves perfect strangers. Cruising at altitude provides an opportunity for metaphorical cruising too – the action that, on the ground, was perfected by the gay community looking for one-night-stand encounters. While an airplane cabin may be crowded with passengers, it still provides a cloak of anonymity that allows for intimate moments without judgment one might face in other public spaces.
A Canadian woman confessed to Saucy Dates: "The girl walked by me in the aisle and she touched my shoulder, she had been giving me signs for an hour. I got up behind her, went to the toilet, looked around, and walked in. I hiked my skirt up and sat on the sink while she finger f**ked me and licked my…" Well, you get the idea.
4. Bucket list achievement
Similar to other adventurous activities like skydiving or bungee jumping, some people include mile high club on their bucket list of daring experiences to tick off in their lifetime. To them, it's an adventure worth bragging about at dinner parties.
5. Social influence
With numerous bathroom selfies calling out for mile high club partners, there's a social media-driven peer pressure that prompts some people to take a plunge and join the ranks.
Legal implications and risks of joining the mile high club
Okay, now that you feel like you might be up for it, you should consider the consequences that could come with joining the notorious mile high club.
Is it risky to join mile high club?
Absolutely! The risk factor is what gives this adventure its heart-pounding allure in the first place. According to the people who've gone before you, the chances of being discovered hover around 14%. But, remember, it's the risk of getting caught that cranks up the thrill meter. Without it, it would be less of a taboo.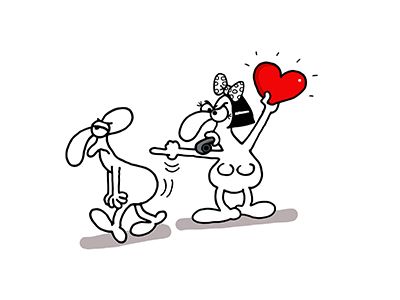 Do flight attendants care if you join the mile high club?
This question really depends on the flight attendants serving your flight. Some could be more inclined to get you in trouble, others would do everything to avoid the awkwardness of confronting you. The third kind could even give you a wink.
Then again, even if that is not the answer to your question, nor you should try to seduce your steward/ess because of some survey, there are flight attendants who are not immune to the charms of the mile high club themselves. According to the data, 18% of sex on a plane includes a member of the airline staff.
One New York passenger shared his story: "Flight attendant spilled a drink on my leg, said sorry, I got up and walked to the bathroom. She was hot and gave me the look so I told her I could use some help with my pants and she unzipped me… Next thing I know I have her bent over."
What happens if you get caught trying to join the mile high club?
It really depends where and how you did it, and how you reacted when the spotlight fell on you. Insisting on misbehaving and being confrontational about it is always a sure way to face dire consequences. Legal penalties might be the least of your worries, as things going public could end up marking you permanently and even cost you your job.
If you did your best to keep your sexual experience on a plane private and were apologetic when confronted about it, you might end up with just an awkward walk of shame down the aisle.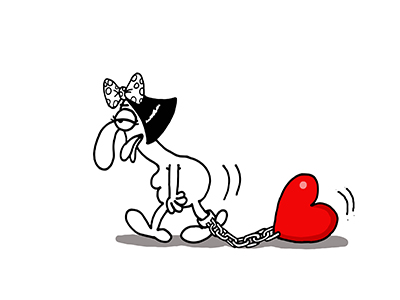 Can you get arrested for the mile high club?
While mile high club is not illegal per se, indecent acts in a public space can carry legal consequences. After all, there have been cases of passengers who were prosecuted for outraging public decency, threatening flight attendants, or engaging in intoxicated behavior. These can all be treated as a felony, and result in fines and jail time.
So if you get caught joining the mile high club, the best course of action is to promptly repent after the first warning and steer clear of further trouble. Until your next flight, at least.
Can you get banned for mile high club?
Airlines can refuse to board passengers who don't follow their rules. As Piers Sawyer experienced recently, ending up on an airline's no-fly list is a possible consequence of joining the mile high club, even if you do it in the toilet.
How to discretely join the mile high club
If you want to make sure not to run afoul of airline policies and potentially legal consequences, you have to ensure you join the mile high club discretely, without disrupting the flight or infringing on the comfort and privacy of other passengers.
Here are the essential tips on joining the mile high club without getting caught!
1. Choose the right flight
Timing is everything. Long-haul overnight flights, commonly known as red-eyes, are your best chance to get away with mile high club. Passengers are more likely to be asleep or less attentive. Of course, less crowded flights also maximize your cloak of invisibility.
2. Select seats strategically
The art of seat selection is your secret weapon. Head for the back of the plane, far from the prying eyes of other passengers. Window seats could provide more privacy and fewer potential witnesses.
3. Charm the crew
Starting off on the right foot is essential if you want to avoid trouble. Being polite to your flight attendants as soon as you board can influence whether they will be keen on pressing charges later on. Remember, they're not there just to serve peanuts; they're your allies in maintaining a low profile.
4. Dress for success
Instead of operating complicated zippers or buttons, wear clothes that facilitate easy access. Clothing that can be easily removed or adjusted without drawing attention is your best choice.
5. Use blankets or scarves
Blankets or oversized scarves can be useful for creating a barrier and concealing intimate activities. Place them strategically to block the view from the aisle or neighboring seats.
However, don't underestimate the ability of others to read between the lines! Here's a testimony of one flight attendant on Reddit: "One flight while I was picking up trash I saw two gentlemen jerking each other off under one of the blankets that we provide on the plane for everyone to use. I didn't say anything because the flight wasn't full and they weren't being obnoxious. At the end of the flight, I saw them fold up that same blanket and as they went to put it back in the overhead bin I hollered out, 'Nope! That blanket is yours now! We don't want it.' Needless to say, they hurried off the plane when we landed."
6. Silent signals
Use subtle gestures and eye contact to convey your intentions to your respective partner. Avoid speaking loudly or drawing attention with your words.
7. Time it carefully
Keep a watchful eye on the flight attendants' routines and capitalize on moments when they are less likely to be in the cabin. The ideal time to join the mile high club is when the lights in the cabin get dimmed, especially between the flight attendants' walkthroughs. Those are spaced out 20-30 minutes. The average sex on a plane lasts 10 minutes, so plan accordingly.
8. Don't consume alcohol
In order to have a clear mind, refrain from drinking alcohol before your mile high club mission. Being able to think clearly and make sound decisions can mean all the difference between having an enjoyable and regrettable experience.
9. Don't forget lube
For smoother proceedings, consider bringing lubricant to enhance your comfort.
10. Limit noise
Keep it quiet. Avoid any vocal expression of passion that might draw attention.
Another flight attendant shared her experience on Reddit: "I had a couple ask if they could stand in the galley for a few minutes to stretch their legs. They were very polite, and I said sure and went back to reading my book. I made it halfway down the page when I heard her moaning, and I turned and looked and the guy had her pinned up against my coffee makers with his hand up her shirt. I promptly told them to remove themselves from the galley and either finish up in the lav, or head back to their seats and keep their hands to themselves. If I can't get it on in my galley, no one can get it on in my galley."
11. Practice patience
Wait for the right moment. Rushing into things can lead to mistakes and increased visibility. Do it only when you are certain of privacy.
12. Stay alert
Always be aware of your surroundings. Keep an eye on the cabin crew and be vigilant about passengers who might have their smartphones at the ready. Be ready to discretely pause if you sense any potential issues. Remember that flight attendants can enter the lavatory even if you lock the door.
13. Clean up afterward
Once you've achieved your mile high club status, clean up any evidence and dispose of it properly. Leave the airplane restroom in the same condition you found it.
14. If you get caught
In the event of an unexpected interruption, play the "sick card". Comforting your partner while he/she holds a sick bag to their mouth is a clever excuse for overcurious knocks on the lavatory door.
Mile high club – conclusion
From the early days of aviation to today's hyper-connected world, the topic of the mile high club has been piquing the curiosity of passengers. This unconventional experience has been the subject of many stories, jokes, memes, and even urban legends.
While the idea of having sex in the filthy plane restroom might be disgusting for some, others conjure images of passion and excitement with the mile high club
We've delved into the history of this unique club, exploring its roots in daredevil antics and legendary flights of fancy. From the pioneering flights of Lawrence Sperry, it has evolved into a symbol of adventure, fantasy fulfillment, and escapism for many.
While the idea of getting raunchy in the cramped confines of a filthy airplane restroom might be disgusting for some, others see it as a source of curiosity, fascination, and intrigue, conjuring images of passion and excitement.
Yet, as with any adventure, there are risks and legal considerations to weigh. Getting caught may result in embarrassing moments, hefty fines, or even bans from airlines.
Those who decide to add a thrilling element to a relationship (or to just experience an intimate encounter with a nameless fellow passenger) should be aware of the potential consequences.
If you follow the tips and tricks for joining the mile high club discretely, you might live to tell the story. And it might be a story of an unforgettable experience.
Have you had a mile high club experience, or do you find the practice repulsive?
Share your views in the comments, and pin the article for later!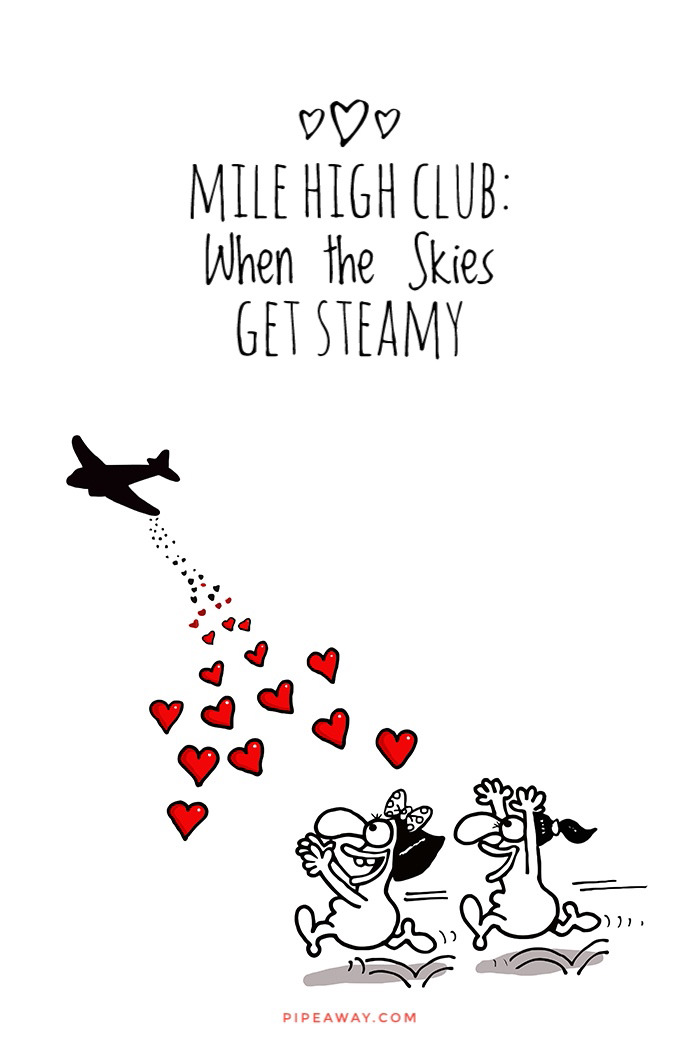 Disclosure: This post may contain affiliate links, meaning if you click on them and make a purchase, Pipeaway may make a small commission, at no additional cost to you. Thank you for supporting our work!

The cartoons in this article were made by Artistan and were sourced through Depositphotos, my go-to platform for high-quality licensed stock images. They have great photo deals, so check them out!