Italy and Ethiopia did not have the best relationship in the 19th and 20th century. That was the age marked by wars and invasive efforts to control this part of African soil. Entirely unlike their forerunners in the Battle of Adwa, fought near the same-named Tigray town, which date is today celebrated as a national holiday, two Italians have been warmly welcomed in Hawzen. In 2007, on the outskirts of this small town in Northern Ethiopia, Silvio and Enrica Rizzotti built Gheralta Lodge. They conceived a cluster of fifteen bungalows as a small and unpretentious family-run hotel.
This likable resort is set in the heart of the historical route that many Tigray visitors decide to follow. Gheralta Lodge, located only two-hour drive from Mekele airport or half a day drive from Aksum, is therefore close to many attractions of the region. Famous rock-hewn churches of Tigray, especially those in Gheralta Mountains, are an obvious choice. Their visit is easily organized from the lodge. One should not miss Abuna Yemata Guh at the height of 2.580 meters! But beware – it does require some climbing fitness level!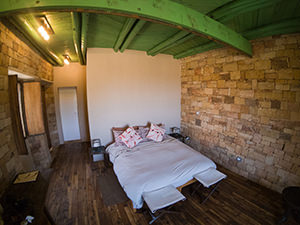 Western comfort – African style
Resorts in Ethiopia are the preferred place to stay for the tourists from the West. In the country where hotel industry is often substandard for the expectations of the international travelers, Gheralta Lodge serves you the Western comfort in an uncompromised local setting. The huts at this Italian lodge are constructed of stone, in simple African style. But their interior offers an accommodating setting for a touristic stay.
With wooden floors and stone walls, the rooms exude a rustic and relaxing feeling
With wooden floors, meticulously built stone walls, green-colored beams and ceiling, the rooms exude a rustic and relaxing feeling. Wooden curved furniture, especially tables, might be more aesthetical than functional choice. However, it doesn't affect much the comfort of your stay, as long as your main idea is to recharge your personal batteries. For those who cannot stop dissipating the batteries of their laptop, the world of internet is available in the lounge area near the reception only. It is also subject to electricity that breaks in Ethiopia unpredictably but hotel's generator quickly revives it, at least from 6 to 11 pm.
Bathrooms in Gheralta Lodge come equipped with separate shower and bathtub, bidet and double sinks, providing easy hygiene rituals for couples. Bathroom amenities in the offer are quite basic for a boutique property; securing simple soaps for all your needs, but in abundant quantity nevertheless. Hair shampoo, shower gel or any other bath treat product is not provided, which cuts down the expectations raised by the bathroom furnishing.
Just a step away from the good old Italian cucina
The rooms are scattered on 10 hectares area, providing enough privacy for all the guests and not compromising the feeling of coziness. The restaurant is 30-100 meters away from each room, and guests can use a torch for reaching it in the nighttime.
The food in Gheralta Lodge is simple and typical Italian. Served in an equally rustic mom-kitchen way, you can expect authentic dishes such as macaroni with spicy cauliflower sauce, spaghetti with tomato sauce, potatoes ravioli or homemade lasagnas. Many ingredients are sourced in the lodge's own garden. The set menu typically consists of an appetizer, two kinds of the main dish, a salad buffet and a dessert. You can soak all of it in Ethiopian, but also South African and Italian wine choices.
Friendly environment of Gheralta Lodge
From the welcome aperitif (try tej, the Ethiopian honey wine!) to an impromptu game of table tennis, Gheralta Lodge emanates the friendly feel-at-home atmosphere. The hotel also has an impressive book collection that one can consult in the library or enjoy in the sun loungers on the terrace.
Besides with staff and books, you could also try to make friends with the hotel's cat. It turned out to be an impossible mission for me, probably because it just got the offspring. You will certainly hear it meowing when lunch and dinner scents awake its attention.
The lodge area is actually abundant with small animal life. Birds are delivering free songs every morning, while rabbits and smaller rodents are running around the cacti and other plants in this dry, but charming environment. Besides bicycles, kids can ride the hotel's horse too. The only disturbing aspect for animal lovers staying in the lodge might be the leopard's skin on the bar wall. With this exception, all areas of the hotel are tastefully decorated.
Excellence of services
In one famous hotel in Addis Ababa, I waited for the delivery of my laundry for 5 days (five!). I was positively surprised that the washing service in Gheralta Lodge was quick and efficient. My clothes arrived back to my room only hours after I handed them for cleaning! My friend who recently stayed here was equally surprised when her dirty socks, ripped up while climbing the Gheralta churches, came back not only clean but also – with no holes!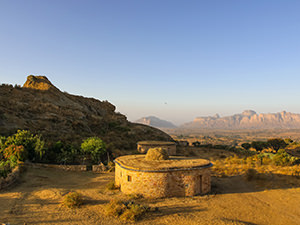 Another service I am often skeptical about is – massage. In too many hotels I trusted the promo line "the best masseuse in town" and barely got a sloppy topping with essential oils. I almost entirely lost my trust in female massaging hands, until Gheralta Lodge's masseuse laid hold of my muscles, uptight from trekking in this stunningly seducing landscape. One of my best recent massages cost me 260 Bir for 50 minutes (8 Euros!). If that's not a bargain, I don't know what is!
Enjoying the idyllic sunset
During the sunset, Gheralta Lodge provides the striking views of the misty Gheralta Mountains. The peaceful nature is a perfect surround system. If you are looking for top lodges in Ethiopia, this should definitely be the one to consider! It is not only one of the most decent hotel properties in east Tigray; it is the one that has a significant potential to grow. In the expectedly bright touristic future of Ethiopia, this might be the quality that promises the most!
Did you like this article?
Pin it for later!
Disclosure: My stay at Gheralta Lodge was complimentary, but all opinions are my own.