Croatia, according to the 2023 Bounce study, is the best country for solo travel. However, the charms of this part of Mediterranean Europe don't stop with those traveling alone. On the contrary, Pinterest & Zola 2023 Wedding Trends report revealed that Croatia is the hottest spot for honeymooners! The Pinners' search for a honeymoon in Croatia has increased by 190% this year, with popular destinations such as the Azores, Morrocco, and Cape Town left behind.
Discover the best honeymoon destinations in Croatia, extraordinary holiday resorts for couples, and fantastic ideas to elevate your trip!
"Is Croatia a romantic country?", you ask, covered in confetti, with wedding bells still ringing in your ears.
From fantastic islands to explore (some of which are shaped like hearts!) to quirky cultural institutions such as Zagreb's Museum of Broken Relationships (a great place to heal when dealing with a breakup), Croatia can thoughtfully cater to couples at every stage of their relationship.
Whether you're love-struck youngsters chasing sunsets in Zadar and dancing the night away on Pag's infamous Zrće Beach, or a more mature couple who prefers tranquil walks on Opatija promenade, there's a corner of the country that will serve your very personal romantic needs.
While Croatia has a strong naturist history, which makes nude beaches acceptable to everyone, including LGBT visitors, public displays of love among same-sex couples outside of safe zones of dedicated clubs and bars are still considered "provocative". Especially in more conservative parts of Dalmatia, non-conventional love can lead to trouble.
So is Croatia a good honeymoon destination? You bet! It's a beautiful country where newlyweds can explore their love. But, alas, there's no magical recipe for the best honeymoon in Croatia, and ultimately, you should craft your own itinerary through this country "full of life".
This guide will help you out by identifying the best honeymoon destinations in Croatia, revealing the best holiday resorts for couples, and showering you with a bunch of honeymoon ideas that will elevate your trip experience.
Honeymooning in Croatia was a great idea, and now the time has come to plan your perfect retreat on the Adriatic coast!
Do you want to spend your honeymoon in Indonesia? Read our reviews of the best honeymoon hotels there! If you're traveling to Bali, stay at The Balé Resort or Aria Villas Ubud; if you opt for Lombok, check out Hotel Tugu Lombok!
Historical attractions in Croatia
Croatia is a country steeped in history, and it will be hard to miss its rich heritage. You should definitely visit historical attractions during your Croatian honeymoon!
The iconic destination to celebrate your love is certainly Dubrovnik. The ancient town known as the filming site of the "Game of Thrones", and a place that banished rolling suitcases from its cobblestone streets, has a lot to offer. Its impressively thick medieval walls open to breathtaking panoramic views of the Adriatic Sea, the cable car ride to Mount Srđ provides another stunning vista, and overall, the centuries-old architecture is a fairytale setting for leisurely strolls hand-in-hand. Dubrovnik is more than just another UNESCO World Heritage Site; it's a living museum, a must-visit as long as you can stand other enthusiastic "museum visitors".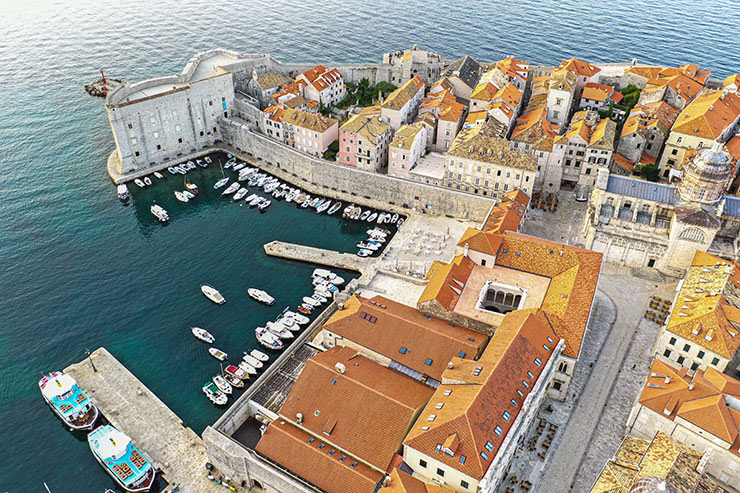 Since Roman times, romantics have been flocking to Split too. The heart of the second-largest Croatian city is one of the best-preserved Roman buildings in the world, also protected by UNESCO  – the Diocletian's Palace. Get lost in its labyrinth of narrow streets, visit ancient temples, make a wish by rubbing the toe of Gregory of Nin, and climb the bell tower of the Cathedral of Saint Domnius, the oldest in the world. A walk through Split is a true step back in time.
Another place to impress archaeology enthusiasts is Pula, in Istria. Practically a Roman treasure chest, the town is brimming with ruins, temples, and constantly new discoveries. Pula Arena, the two-millennia-old amphitheater, among the best-preserved in the world, hosted gladiator battles in its heyday. Now you can visit it without sacrificing yourself in the hunger games.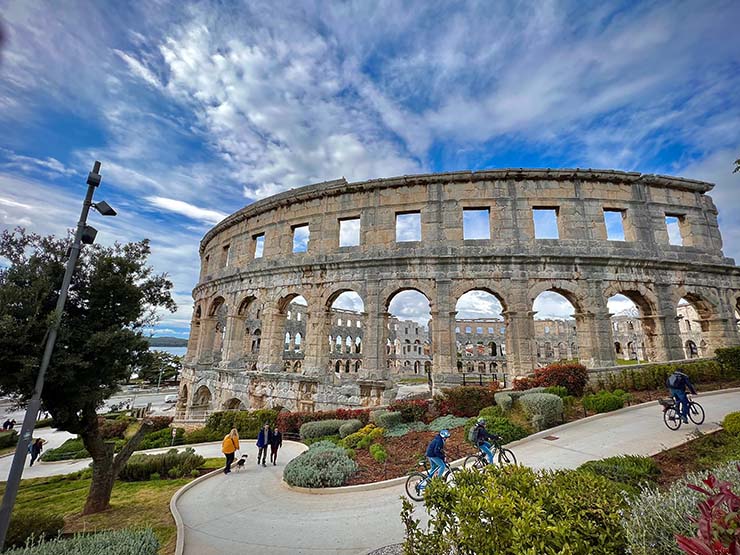 Your time travel through Croatia can continue. From Korčula to Vis, Trogir to Šibenik, and Zadar to more towns than you can count, this country is a history buff's buffet. A perfect place for honeymooners to make history together.
Exploring the natural wonders of Croatia
Croatia is more than just a history lesson. It's blessed with an abundance of natural beauty too. While you'll love just randomly wandering along the country's coastline, consider visiting Croatian national parks as well.
For lovers who are nature lovers, the cascading waterfalls of the legendary Plitvice Lakes are a must-see on any Croatian honeymoon itinerary. Wander along wooden boardwalks passing over crystal-clear water and admire the lush greenery protected in this national park. Truly photogenic ambiance will provide plentiful envy-inducing opportunities for your social media testimony. The likes will just roll in. But have in mind that Plitvice are a superstar, so they can get truly crowded with nature-loving paparazzi.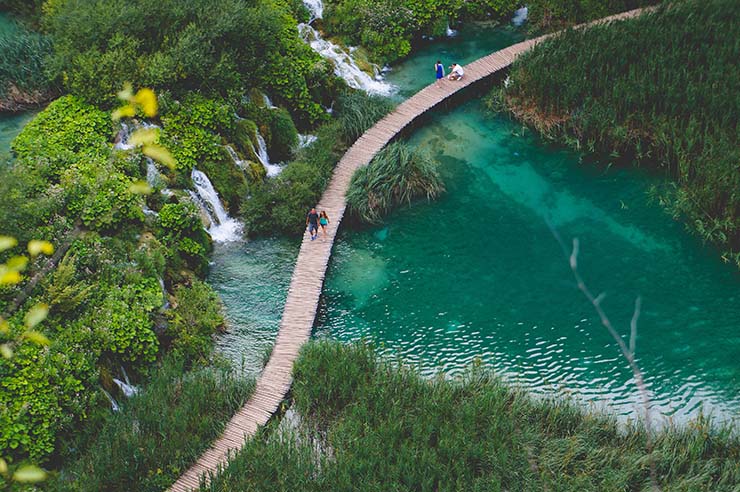 For an alternative, but similarly beautiful waterfall experience, head over to Krka National Park, where in certain areas, you can even take a swim.
When exploring Croatian nature, use common sense. You don't want to have to call the Croatian Moutain Rescue Service, even if they are fun guys!
All Croatian islands come with their charm, but in national parks, nature is specially protected.
Consider visiting Mljet, the scenic island that, like a Russian doll, features a lake with another tiny island chilling inside.
For the adventurous souls, Kornati Islands is an archipelago maze of 89 untouched islands that are perfect for a boat trip.
If you're in Istria, Brijuni Islands is a national park worth visiting. The former summer residence of Yugoslavian president Tito is like a Jurassic Park of political presents: zebras, cows, camels, and even an elephant! Here history and nature go hand in hoof.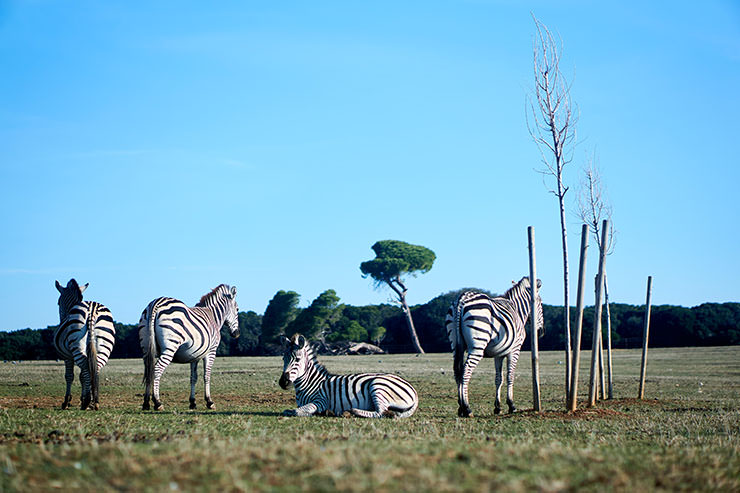 Brijuni might have imported Indian cows, but Istria has its own native breed. Get impressed by boškarin, the Istrian ox!
Planning an unforgettable honeymoon itinerary in Croatia
To maximize your experience, go for a multi-destination honeymoon! There are numerous ways to design the perfect honeymoon in Croatia, but try to balance the relaxation and exploration in your itinerary. After all, you don't want your trip to become overwhelming. Also, focusing on fewer destinations is definitely better than feeling rushed, so be smart with the time you can allocate to Croatia.
Start your trip in Dubrovnik. Immerse yourself in rich culture and history, explore charming streets, visit museums, and enjoy local cuisine.
After Dubrovnik, head to the islands. Start with the unspoiled paradise of Mljet, and then hop over to Hvar, known for its vibrant nightlife. Don't miss the opportunity to visit the secluded beaches of the nearby Pakleni Islands, for some intimate moments. Soak up the sun in peace, take a dip in the sea, and indulge in delicious seafood dishes.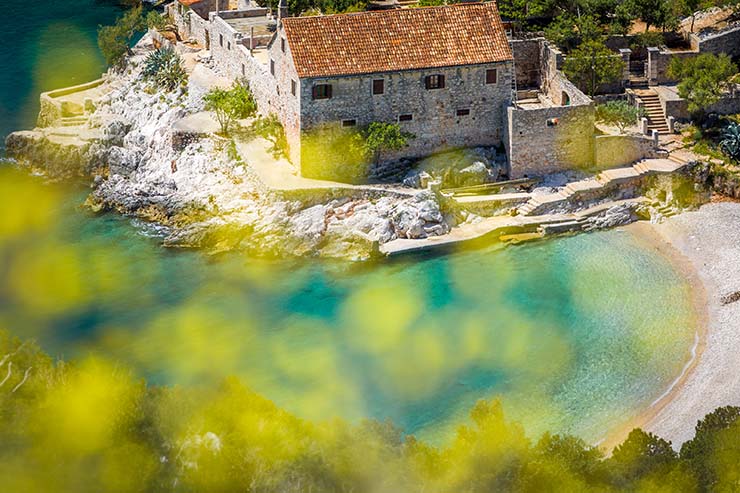 From Hvar, make your way to Split, where you can explore the architecture of the ancient Roman Empire, and soak up the city's lively atmosphere. Take a day trip to the nearby town of Trogir to discover its medieval charm.
While heading north, make sure to stop by the cities of Šibenik and Zadar. When you feel the need to cool down in the mountains, detour to the national park of Northern Velebit and/or Plitvice Lakes. These tranquil corners of nature provide an air-conditioned break from the sizzling coastline.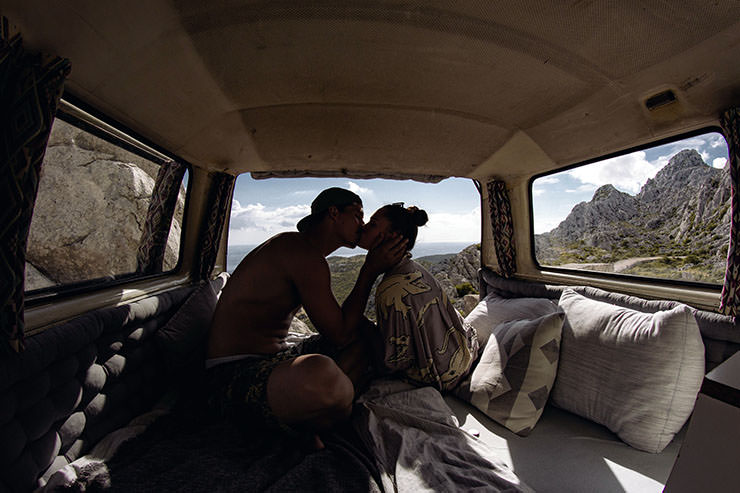 End your trip with a tour of Istria, the Croatian Tuscany that will reward you with its own gastronomic and enological treasures, cultural monuments, and opportunities for both relaxation and adventure. From Pula, the region's imposing capital, to Hum, the tiniest town on the planet, there's a lot to discover on this extraordinary peninsula.
While this itinerary through the best honeymoon spots in Croatia goes from Dalmatia to Istria, you can totally flip the script and do it in reverse, depending on your personal preferences and interests, or your arrival airport (Dubrovnik or Pula?).
You could even fly to Venice, and then hit the road to Croatia. As a matter of fact, with other Mediterranean countries nearby, combining a honeymoon in Croatia with a trip to Italy, Montenegro or Greece can be a genius two-for-one deal.
If you are eyeing South Korea, you should know that the country has a honeymoon island of its own. These are the best things to do in Jeju! 
5 best honeymoon resorts in Croatia
Deciding on where to honeymoon in Croatia is sweet trouble. The one that's most easily tackled by picking not one, but several favorite bases in different regions.
From romantic boutique hotels to lavish historic villas, you'll find top-notch resorts to anchor yourself during your honeymoon in Croatia.
Ranked by geographical order, from north to south, these are the best places to stay in Croatia for couples, offering seductive honeymoon packages.
1. Meneghetti Wine Hotel & Winery
Location: Bale
Price per night: starting at 262 euros
Located at a secluded private estate in Bale, Istria, with vineyards and olive groves planted back in the Austro-Hungarian Monarchy era, Meneghetti Wine Hotel & Winery is a Relais & Chateaux property providing luxury to anyone looking for some peace. Their newest 5-star accommodations come with always-available butlers and experience ambassadors.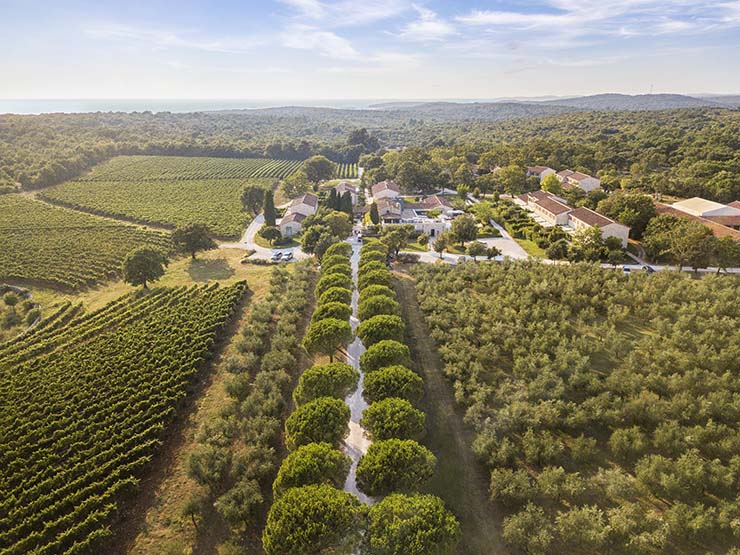 Imagine hectares of vineyard land ideal for jogging and bicycle rides. Or you can just chill like a grape on a private beach. Not enough? How about lounging by indoor and outdoor pools, indulging in an anti-stress sauna, or spoiling yourself with spa treatments that include organic red wine and olive body serums?
Of course, their award-winning homemade wine and olive oil are a part of a gastronomic experience too. The high-end Meneghetti Restaurant offers traditional Istrian cuisine with a modern twist. This year, they've got another signature product to toast with – grappa Aqua Vita.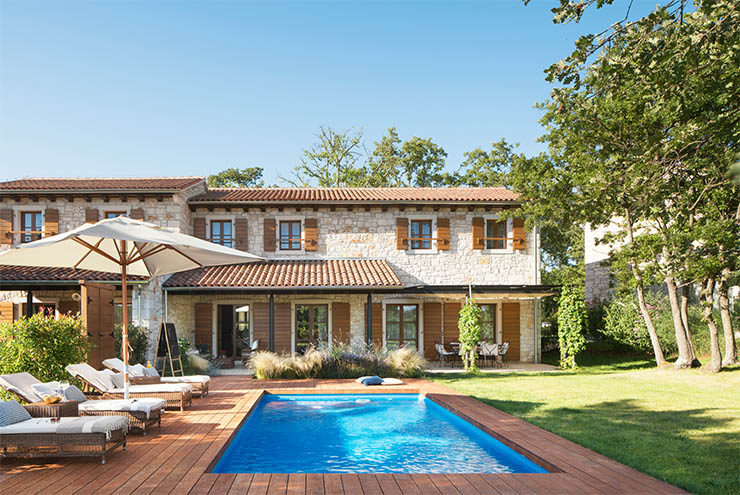 If you book a Romantic Getaway package, your two-night stay will include a romantic breakfast in bed, a beach picnic, a personalized cocktail session, a three-course dinner, and a 75′ spa package for two. It's easy to see why Meneghetti is one of the best hotels in Croatia for a honeymoon.
Check the availability, reviews, as well as best prices for your planned dates, and reserve your stay at Meneghetti here!
2. Grand Hotel Brioni Pula
Location: Pula
Price per night: starting at 282 euros
Named after the nearby Brijuni Islands, Grand Hotel Brioni Pula sits on the Verudela peninsula, one of the most prestigious parts of Pula. The luxurious retreat overlooking the sea is a member of the prominent Radisson Collection.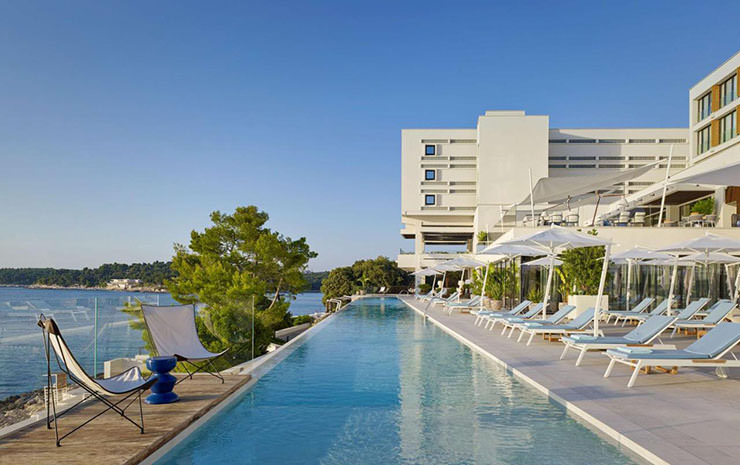 Close enough to Pula's historic sites, but also far enough to escape the summer crowds, this 5-star hotel will win you over with views of dramatic coastline and dense greenery. It's a romantic nest with elegant rooms and modern amenities.
The hotel's private beach and infinity pool are front-row seats to the epic sunset show, maybe with cocktails in your hands. For a candlelit dinner, visit Brioni Forum Restaurant, one of the five dining venues at the property. They will woo you with dishes featuring truffles, the Istrian favorite aphrodisiac.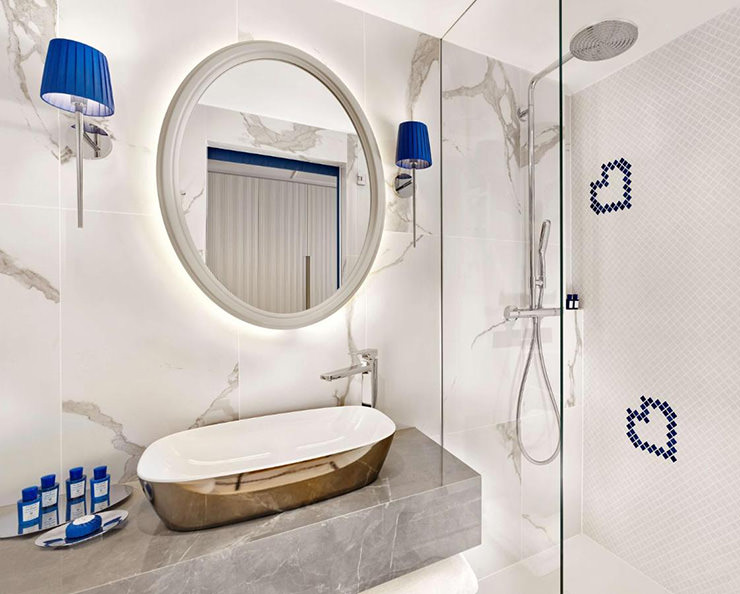 When you want to completely relax, pamper yourself with a couples' massage and tension-releasing bath treatment that will have you floating on cloud nine. If you love an adventure, go with a revitalizing scrub experience that will teleport you from the Adriatic to the Arctic!
Read superb reviews, see more photos, check the availability, and book your stay at Grand Hotel Brioni here!
3. Le Méridien Lav Split
Location: Podstrana
Price per night: starting at 126 euros
Split's only 5-star resort is technically located 8 kilometers south of the city, in the elite suburb of Podstrana. As a hotel belonging to the Le Méridien brand owned by Marriott International, Le Méridien Lav Split embodies the idea of glamorous travel available to everyone.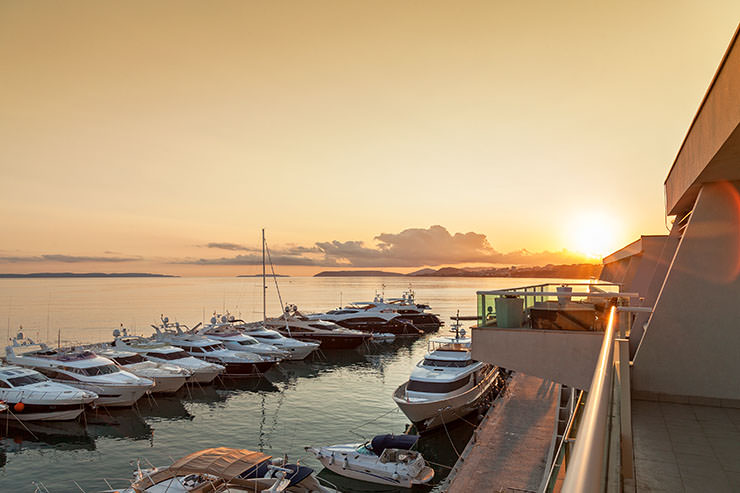 If you want to add island hopping to your luxury honeymoon in Croatia, this is an ideal starting point. Right beneath your balcony, there's a marina where, if you're lucky to have it, you can park your own megayacht, or rent a Lav boat yacht with a skipper, and enjoy the sea adventure with style.
For those who prefer staying on firm ground, rosé spritzers paired with local light bites, from grilled fish to oysters, are here to spice up your love life. At an infinity pool, thanks to the Au Soleil summer program, you can enjoy the golden hour by indulging in the exclusive Whispering Angel-inspired rosé sorbet signed by the TikTok-famous chef Meredith Hayden.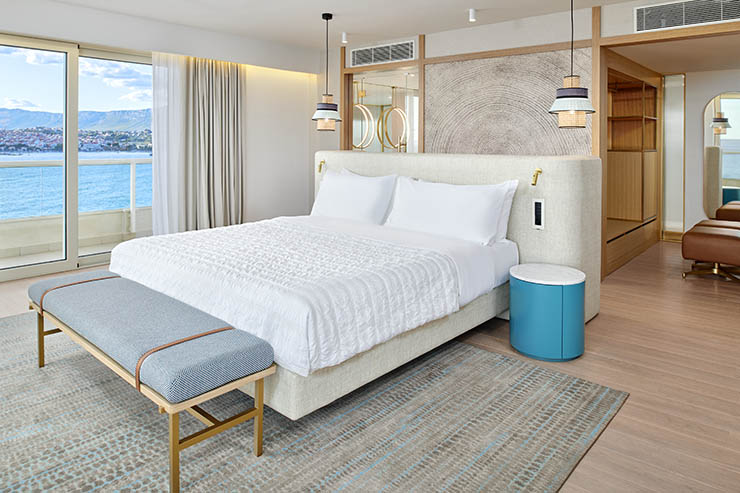 One of the best honeymoon hotels in Split will pamper you like royalty. RE:CUPERA Wellness and Spa has got your back, and everything else! Expect steam baths, saunas, and sophisticated body rituals.
To secure the best prices for your travel dates, reserve your room at Le Méridien Lav Split here!
4. Maslina Resort
Location: Stari Grad
Price per night: starting at 443 euros
Just a walking distance from the UNESCO-protected Stari Grad on the island of Hvar, Maslina Resort is nestled in the lush pine forest of Maslinica Bay.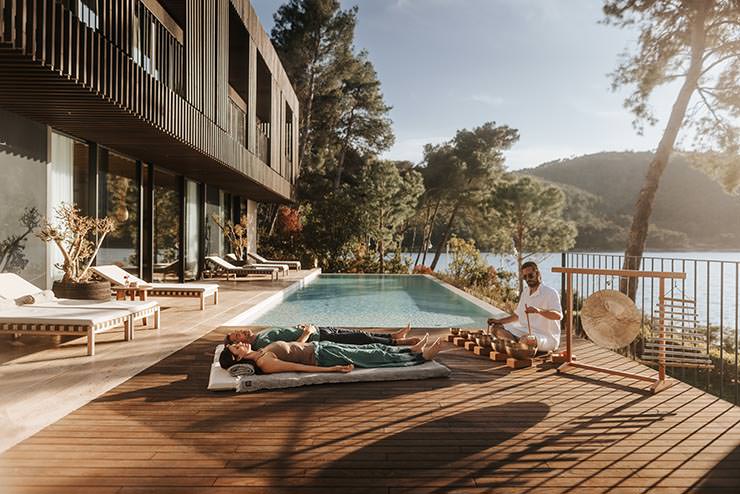 This 5-star hotel follows the philosophy of mindful luxury, proving that it's possible to combine high-end hospitality with sincere respect for the environment. That means non-intrusive architecture, supporting nature and native species, energy efficiency, seasonal cuisine, locally sourced produce, and ditching plastic like a bad ex.
If you want to experience an intimate setting on one of the most popular European islands, this chic hideaway can enhance your honeymoon in Croatia with Romantic Panoramic Escape. Think nights adorned with flower petals and candles, enriched with rosé wine and chocolate truffles, and completely unwinded with a lavender-infused bath, dimmed lights, and light background music!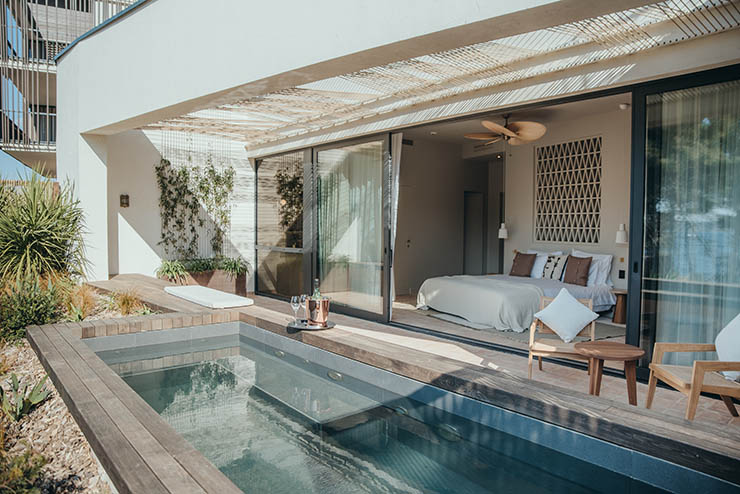 For a complete restorative experience, there's Pharomatiq Wellness, where a garden-to-skin inspired menu serves home-grown organic herbs and locally sourced essential oils. Reward each other with personalized treatments that combine Western and Eastern techniques with mindfulness practices, or just relax in Aquathermal facilities covering everything from a Finnish spa to a Turkish hammam.
If you've been intrigued by one of the best hotels for a honeymoon in Croatia, find out the room prices for your dates and reserve your stay at Maslina Resort here!
5. Hotel Excelsior Dubrovnik
Location: Dubrovnik
Price per night: starting at 256 euros
Another 5-star beachfront property, Hotel Excelsior Dubrovnik has an unmatched view of the iconic Dubrovnik silhouette. With the Old Town and blue sea as a spectacular backdrop of your panorama, you'd be staying at a place that is just a five-minute walk away from the famous medieval walls.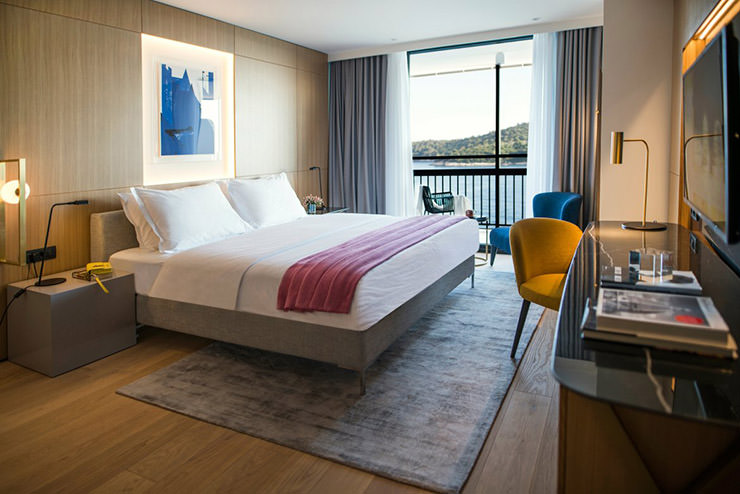 If you want to add an exclusive shine to your honeymoon in Croatia, picking the hotel that has been welcoming A-list celebrities such as Elizabeth Taylor and Morgan Freeman, and even some crowned heads, such as Queen Elizabeth II, is a no-brainer choice.
This historic landmark, a member of Adriatic Luxury Hotels, has been charming guests since 1913 and can boast unparalleled service, a beautiful beach, peaceful gardens, and a luxurious spa that can add a glass of champagne to your massage for two.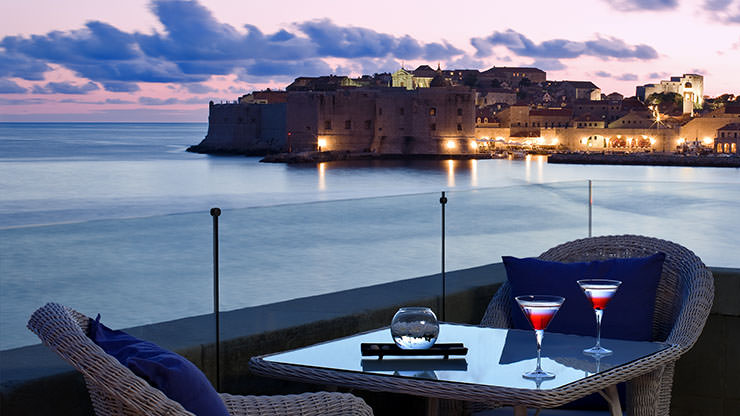 For a romantic dinner at one of the best Dubrovnik honeymoon hotels, book a table at Sensus, one of Excelsior's three restaurants, that serves unconventional creative dishes paired with the finest Croatian wines.
Many will agree that Dubrovnik is the best place to honeymoon in Croatia. If you still need convincing, see more photographs and reviews by Excelsior guests here!
Romantic activities for honeymooners in Croatia
There is a plethora of romantic activities for honeymooners in Croatia, each promising unforgettable moments.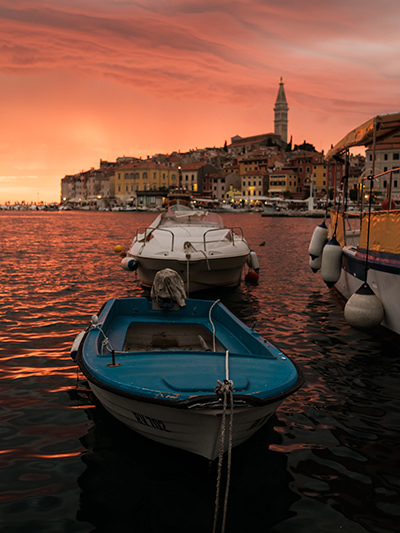 The offer of "sun & sea" was once a Croatian tourism cliché, but then again, watching the sun setting down over the Adriatic can be a truly romantic experience. Probably the most famous is the sunset in Zadar, the one that Alfred Hitchcock declared the most beautiful in the world. You can upgrade your sunset chase with a wooden karaka boat, fishing adventure, dolphin watching, or at least some sparkling wine. You can also just find a cozy spot on the beach, and hold hands while the sun dips below the horizon, spilling its vibrant colors over the sky.
If you'd love a thrill of adventure during your honeymoon in Croatia, slide down the zipline in Dubrovnik, snorkel around a shipwreck in Šolta, explore Pula caves by kayak, or even see King's Landing walls from the seaside.
When you get hungry, go truffle hunting in Istria, channel your inner sommelier while wine tasting on Hvar, pair olive oil with prosciutto, ricotta cheese, and even ice cream near Umag, learn how to make the traditional peka, the slow-cooked dish under a bell, in Dubrovnik countryside, and check if oysters are truly an aphrodisiac in Ston. Crown your day with a dinner at one of the romantic waterfront restaurants, with stunning views in the background and the sound of waves crashing against the shore.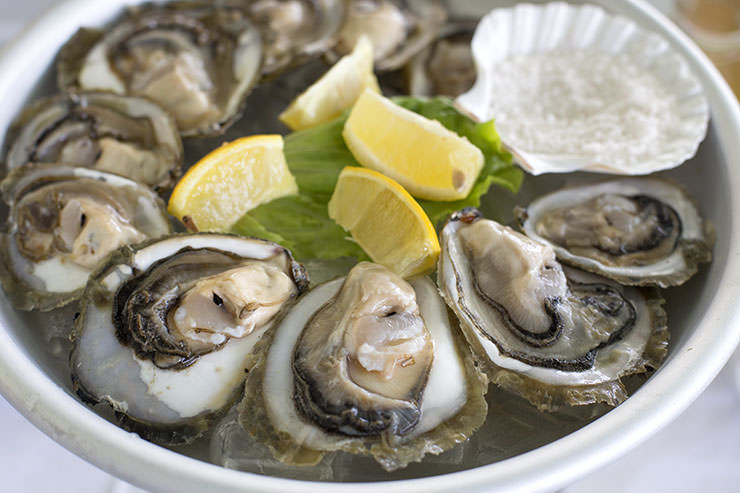 Whichever Croatian town you choose to visit, you'll be able to go on some island-hopping adventures or fish picnics. If you love swimming and snorkeling away from the crowds, this is a great idea. From Dubrovnik explore Elafiti Islands, from Split hop on a four-islands boat tour that includes Brač, Pakleni Islands, Hvar, and Šolta, from Zadar visit the idyllic Ugljan, and if in Rovinj – head to Lim Fyord.
In the grand finale, love is in the air. If you're close to Sinj Sport Airport, check out this panoramic flight over Split, the one that will take you over Dubrovnik and Biokovo mountain, fly over Šibenik and Kornati islands, or even see how Krka and Plitvice look from above.
Getting around Croatia on your honeymoon
While you can always opt for boring bus connections between towns, getting around Croatia during your honeymoon will benefit from your independence. You'll be able to see more, change plans, and even go off routes.
There are several ways to hit the road (or the sea) in style:
Rent a car. If you want to drive a rented car during your honeymoon in Croatia, don't overpay the service. You can find the best prices on this car rental comparison website.
Rent a luxury camper van. For an even greater level of independence, you can rent a van that could be your luxury home on wheels in Croatia. For traveling around without unpacking at each destination, check out the best motorhome options here.
Charter a yacht. Wouldn't it be awesome to travel between Croatian coastal cities and amazing islands without traffic jams? Discover the freedom of sailing provided by a yacht rental that comes with concierge service.
Tips for a memorable honeymoon in Croatia
To make your honeymoon in Croatia truly memorable, here are a few tips to keep in mind when planning your trip:
Plan ahead. Croatia is a popular destination, especially during the summer months. Book your accommodation, tours, and activities, as well as pre-reserve your vehicle, well in advance to secure the best prices and avoid disappointment.
Choose the shoulder season. Spring (April-May) and autumn (September-October) are the magic months in Croatia. The weather is mild and pleasant, tourist crowds are thinner, and prices are lower.
Pack for all occasions. In the era of climate change, the weather can drastically change in a matter of days. By packing a variety of clothing options, you'll be prepared for different conditions, but also diverse occasions, from coastal beaches to mountainous landscapes.
Don't forget the sunscreen. With the Mediterranean sun shining down, Croatia can have some truly hot summer days. Protect your skin by regularly applying sunscreen, not just when you're at the beach. There's a reason why cancer in a horoscope is represented by a crab – that's your visual and health future if you don't follow this advice.
Always have a camera ready. Croatia offers endless opportunities for beautiful honeymoon photography, plus it's a way to preserve your memories. For a magical glow, take advantage of the golden hour (soft light around sunrise/sunset time), capture natural non-posed moments, and experiment with different angles (which doesn't mean you should climb rocks in flip-flops).
You don't have to buy pricey vacation packages to prove your love to your fellow traveler. Check out these romantic travel gifts!
Conclusion: Is Croatia good for a honeymoon?
Choosing Croatia for the honeymoon holidays is a fantastic idea. The country's historical and natural treasures provide a romantic setting for newlywed couples, whether you're adventure enthusiasts or professional relaxers.
As this virtual tour of Croatia has showcased, from magical Istria in the north to always enchanting Dubrovnik in the south, the country's coastline is sprinkled with surprises, both in charming coastal towns as well as the alluring archipelago.
You'll be left wondering whether your honeymoon in Croatia should last 10 days or even 2 weeks. Every corner of this Adriatic gem has something special to offer, and all you need to do is pack your bag, grab your partner's hand, and let Croatia cast a spell on your hearts.
Follow your instinct and adjust your itinerary. When visiting the best European honeymoon destination, there are no wrong turns!
Hopefully, this thorough guide has helped you with choosing where to stay, when to go, and what to see and do in Croatia for your honeymoon.
With technicalities sorted out, do allow yourself to follow your instinct (or heart, as they would say). Itineraries should always be treated as suggestions, and changing plans, even when visiting one of the best European honeymoon destinations, is all part of the fun. There are no wrong turns on this love journey!
It's good to know there is also a continental Croatia, the lesser-known part of this inviting honeymoon destination. But that's another story, and another incentive to plan a romantic trip to a country that loves lovebirds.
When they ask you if you want to go to Croatia, all you need to say is: "I do."
Are you planning a romantic honeymoon in Croatia?
Pin this guide for later!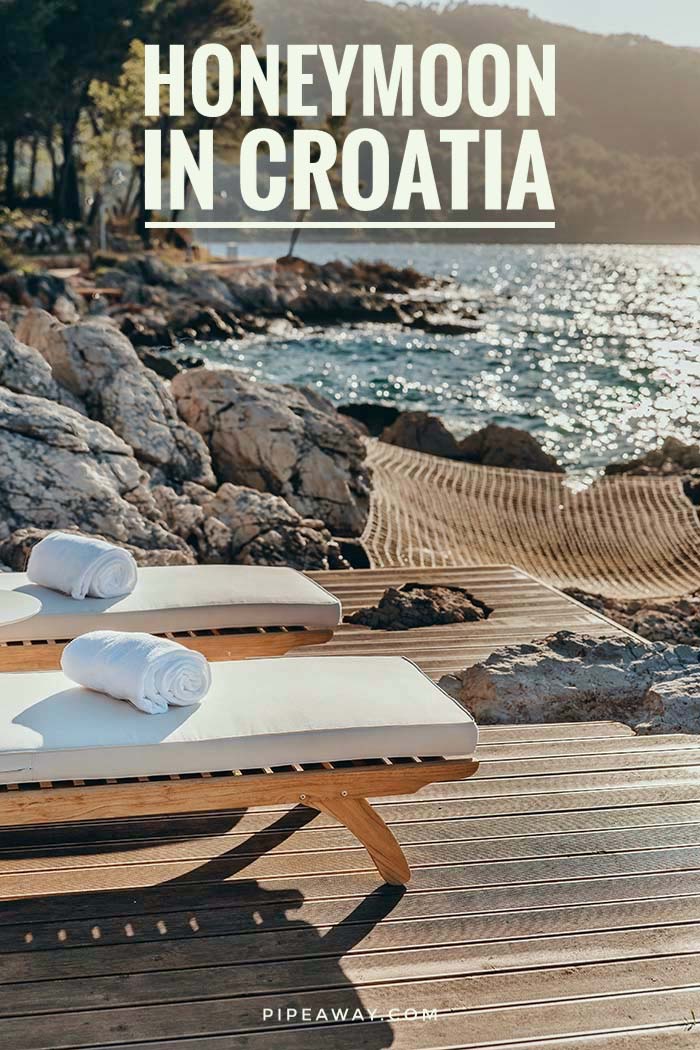 Disclosure: This post may contain affiliate links, meaning if you click on them and make a purchase, Pipeaway may make a small commission, at no additional cost to you. Thank you for supporting our work!

The photographs in this article have been sourced through Depositphotos, Unsplash, and hotels.

In the order of appearance, the credits are as follows: 
Hug in Dubrovnik (cover image) - Shevtsovy
Dubrovnik harbor - mana5280
Pula Arena - James Qualtrough 🇮🇲
Plitvice - Dominik Lange
Brijuni zebras - Igor Bumba
Hvar beach - Nikola Radovani, Maslina Resort
Tulove Grede van kiss - Marta Rastovac 
Meneghetti Wine Hotel & Winery - Meneghetti
Grand Hotel Brioni Pula - Grand Hotel Brioni Pula
Le Méridien Lav Split - Le Méridien
Maslina Resort - Maslina Resort & Kate Sevo
Hotel Excelsior Dubrovnik - Adriatic Luxury Hotels
Rovinj sunset - Florin Beudean
Oysters - Adriatic Luxury Hotels
Maslina Resort beach (pin image) - Kate Sevo, Maslina Resort