To supplement the country's main touristic slogan: Croatia is full of islands! On the eastern side of the Adriatic Sea, there are more than a thousand of them. Hvar, Brač, Pag, Vis, Krk, Rab, Korčula and Dugi Otok steal most of the tourist spotlight. Those adorned with the status of a national park, such as Mljet, Brijuni, and Kornati, easily seduce with their protected natural treasures. But the Croatian coast has a newborn star: the heart-shaped island of Galešnjak in the Pašman Channel!
For a long time, the most photogenic symbol of this Mediterranean country was Zlatni Rat beach on the island of Brač. This golden cape is a true shape-shifter. The tip of its 500-meter-long pebble tongue constantly moves under the influence of winds, waves, and sea currents!
But after Google Earth highlighted Galešnjak as an island shaped like a heart in February 2009, the Dalmatian coast got another peculiar shape contender that even most Croats were not aware of.
Could the Mediterranean as It Once Was, formerly known as a Small Country for a Great Holiday, make us literally – fall in love with Croatia?
While nature comes in all shapes and sizes, a country's borders follow both natural as well as political divisions. Croatia itself ended up being a state with a distinctive shape. Observers say it resembles a boomerang, hurricane, dragon, croissant… In one of my lectures, I compared it to crocodile's jaws.
Unlike neighboring Italy, which doesn't only have the shape of a boot but also an internationally successful footwear industry, Croatia doesn't produce boomerangs, croissants nor crocodiles.
With tourism as the country's main export, could Croatia capitalize on the newly found island that looks like a heart for more than it is? Especially because, as we will reveal here, there are at least 5 heart-shaped islands in Croatia!
Could the Mediterranean as It Once Was, formerly known as a Small Country for a Great Holiday, make us literally – fall in love with Croatia?
Tourism campaigns can sometimes go awfully wrong. Check out some of the biggest flops in tourism marketing!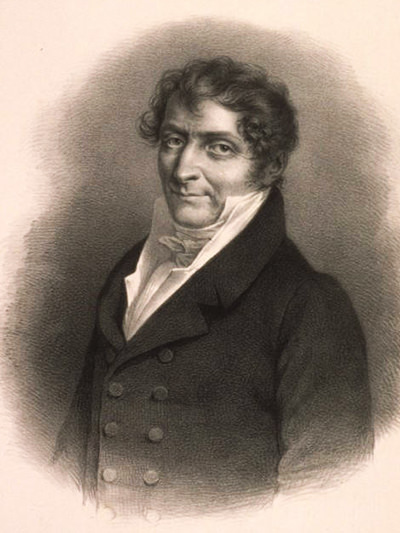 Heart-shaped island mapped two centuries before Google
Before Google enabled the bird's-eye view of Earth and before drones became a standard tool of aerial photographers, there were still people who managed to precisely envisage how our planet looked like from above.
French cartographer Charles-François Beautemps-Beaupré, the father of hydrography, sailed the Adriatic Sea in the spring and summer of 1806. Unlike the French tourists of the 21st century, Beautemps was not on the Croatian coast for 'good weather' (literal translation of his last name, Ed.)
Appointed by the orders of His Majesty Napoleon Bonaparte, a delegation of the French Navy's Hydrographic Institute embarked on a mission of mapping the harbors of the eastern Adriatic.
Signing the Peace Treaty of Pressburg in 1805, Austria left the Third Coalition against Napoleon. They handed over Venetia, Istria, Dalmatia and the Bay of Kotor to the newly formed Kingdom of Italy.
Napoleon Le Grand, the ambitious Emperor of the French and the King of Italy, wanted to fortify the earnings of the newest Napoleonic War. He sent the 40-year-old French cartographer on an expedition south of the Gulf of Venice. His task was to explore which ports, bays and channels could be suitable for the deployment of the French fleet.
Under the supervision of General Caffarelli, the Italian Minister of War, cartographers Paolo Birasco and Ekerlin from the Italian Military Geographic Institute (Deposito generale della Guerra) finished the job. They used French measurements and field sketches and created four nautical charts, eleven port charts, and two side view panoramas of the Adriatic coastal landscape.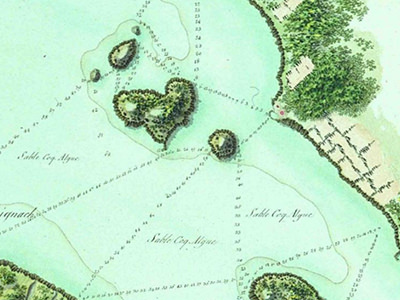 In Pašman Channel, scattered with many little islands and islets, the rocky heart covered with greenery emerged out of the clearest waters of the Adriatic Sea.
Napoleon's Atlas, whose single copy is kept at the National and University Library in Zagreb, was the first to record the heart-shaped Croatian island of Galešnjak.
Without the use of drones or satellite images, 19th-century cartographers succeeded in delivering an authentic shape of the Croatian "Island of Love".
South Korea has an island of love and lava, where you can discover these Jeju Island attractions!
Make love, not war
Besides accurate maps drawn in ink and watercolor on handmade paper, Reconnaissance hydrographique des ports du Royaume d'Italie (Hydrographic presentation of harbors of the Italian Kingdom) also included a 65-page military report written in calligraphy.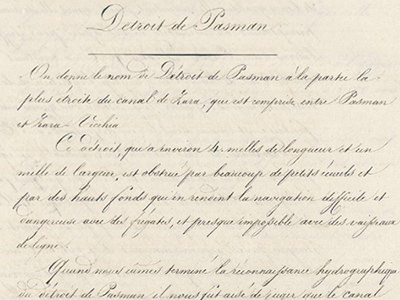 On the paper embellished with Napoleon's portrait and French Imperial Eagle, Beautemps-Beaupré concluded that Pašman Strait, the narrowest part of Zadar Channel, covering the area between the island of Pašman and the town of Biograd on the continent, was not important for His Majesty's Navy.
The cartographer reported that the strait was four miles long and one mile wide. It had a shallow bottom and many small islets. This makes navigation difficult, he said in the manuscript, "dangerous for frigates and almost impossible for warships".
In other words, already two centuries ago, Galešnjak's destiny was not written for war, but for – love.
Of course, an uninhabited island didn't have much relevance in this geostrategic inspection of Dalmatia. In the first hydrographic survey of the Adriatic in history and one of the oldest such surveys in the world, Galešnjak didn't get the name on the map. Beautemps' Italian colleague Ekerlin depicted it only as a verdant heart in the sea.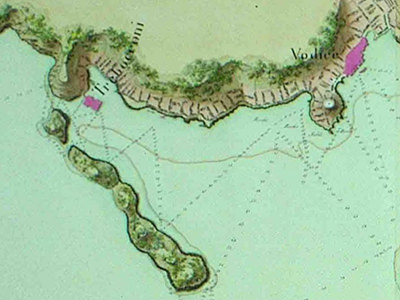 The French survey of the Croatian Adriatic coast from Piran to Split had to continue further south. The ship lieutenant Tician brought Beautemps- Beaupré and his assistant, hydrographic engineer Pierre Daussy, to the area of the port of Šibenik next.
And there, next to the town of Tribunj, the 19th-century experts of cartography mapped another unnamed Croatian heart-shaped island. We would have to wait for people to start flying, and only then, in the 21st century, one photographer would notice that Galešnjak has a lookalike brother in the island of Lukovnik.
On one heart-shaped island in Indonesia, people celebrate their love by releasing chicken. Find out more about alternative Valentine's Day celebrations!
Finding hearts in the blue Adriatic
Boris Kačan was born in Sydney, but in 1980, still a boy, he flew over to the Croatian town of Zadar, with his family, where he lived ever since.
The flight from Australia, however, was not the one that would shape his career. This avid flier capitalized his love for aerial photography by immortalizing the breathtaking landscapes of Croatia.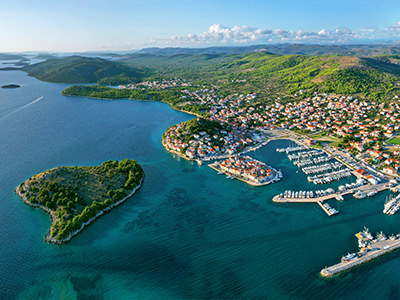 After the heart-shaped island of Galešnjak achieved international fame, discovering other heart shapes sprinkled in the Adriatic Sea became a sequence of natural coincidences during Kačan's frequent flyovers.
"It was all mainly without planning. I would see one, take pics, then research and photograph what I didn't have", Boris told me.
"Google Maps never crossed my mind. On one flight towards the Kornati, I've seen the island of Mrtonjak. From one angle, it had a shape of a heart. Then it flashed to me that there could be more. Not long after, I was flying around Šibenik and saw another island – Lukovnik next to Tribunj. Only after the third heart-shaped island, I opened Google Maps. That's how I found Lisac in front of Sveti Juraj. As for Rončić, I didn't find it on the map, but also by chance. On one flight, it turned out to resemble a heart from a certain angle."
Check this aerial video footage of Galešnjak by Ivan Verunica on Youtube:
5 heart-shaped islands of Croatia
Galešnjak might be an island that comes in the most perfect shape of a heart. But it is certainly not a lonely heart.
People found heart islands all over the world. From Maine, USA, to the Philippines, from the Maldives to Australia, the love symbol appeared in a form of an island on practically every continent. A heart-shaped island showed up even on a virtual continent – in Fortnite!
However, none of these examples could compare to a mere concentration of hearts scattered over the eastern side of the Adriatic Sea.
Boris Kačan scanned the sea from Trieste to the Bay of Kotor. Thanks to him, we can now confirm that there are at least 5 heart-shaped islands in Croatia!
1. Galešnjak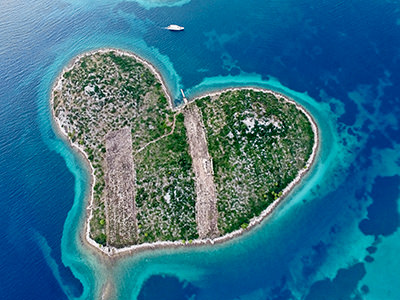 Heart-shaped island coordinates:
43°58′42″N, 15°23′01″E
The most famous on this list of the heart-shaped islands of Croatia is Galešnjak.
Nicknamed "the world's most adorable island" by Huffington Post, Galešnjak is today better known as Croatia's Lovers' Island.
Standing proud in the Pašman Channel, between the island of Pašman and the town of Turanj on the mainland, this uninhabited island is home only to wild vegetation and a colony of small rabbits and wild pigeons.
Do not believe Google maps telling you there are strangely named businesses on Galešnjak, such as a bakery, two ice-cream parlors, and even a hotel! As you can see from its aerial view, none of this is true. There is no place to stay, eat or drink on this island.
With no infrastructure, it is just a wild oasis to stop by while sailing the blue Adriatic. That's exactly what people do, from Pope Alexander III who anchored here in the 12th century before visiting Zadar, to Jay Z and Beyonce who celebrated her 39th birthday by swimming on Galešnjak's pebbled beaches, in the 2020 pandemic year.
The tiny island of barely 1.545 meters long coastline attracts other lovers too. They paddle here to celebrate anniversaries, honeymoons, or even propose.
After they heard Angelia Jolie considered giving a New York heart-shaped island as a birthday present to Brad Pitt, the owners of Galešnjak, the Jureško family from Pašman, saw an opportunity.
In 2013, the bulldozer deforested two large stripes of the land. Those scars caused quite a stir in the press at the time. The imagined future? Olive trees and a chapel for weddings.
If you want to own a piece of this romantic topography, it's worth knowing that Galešnjak is a heart-shaped island now available for sale. Well, at least a part of it!
You can visit Galešnjak and enjoy local food on this full-day excursion!
2. Lukovnik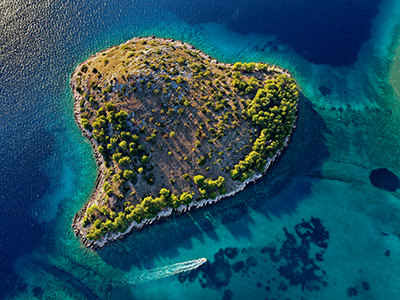 Heart-shaped island coordinates:
43°45′09″N, 15°44′31″E
Similar to Galešnjak's figure, Lukovnik is just 40 kilometers to the south.
This heart-shaped island is located right in front of Tribunj, a village in Šibenik-Knin County, best known for being the birthplace of the popular Croatian singer Mišo Kovač and for organizing summer races of donkeys.
First charted in that Napoleonic Atlas, Lukovnik's shape managed to remain a secret ever since. Even if it is just 50 meters away from the shore.
With a coastline of 930 meters, this little uninhabited island shaped like a heart has some vegetation providing shade after summer swims.
3. Mrtonjak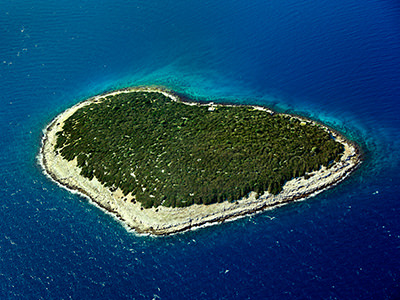 Heart-shaped island coordinates:
43°57′20″N, 15°10′36″E
In front of Sali, another place known for donkey races, but also for its thousand-year-old fishing tradition, Mrtonjak is our next island that looks like a heart.
Overshadowed by Dugi Otok (in translation: long island), the seventh-largest island of the Adriatic Sea, Mrtonjak is a Lilliputian neighbor of barely 0,079 km².
Just like other heart-shaped islands in Croatia, Mrtonjak is uninhabited. But it has a construction from the newer times: a shelter for fishermen and their fishing nets.
This heart-shaped island has its own green heart, the greenest of all islands on this list.
Its shape is also more rounded than others, and the total length of the coast is 1,08 km.
4. Lisac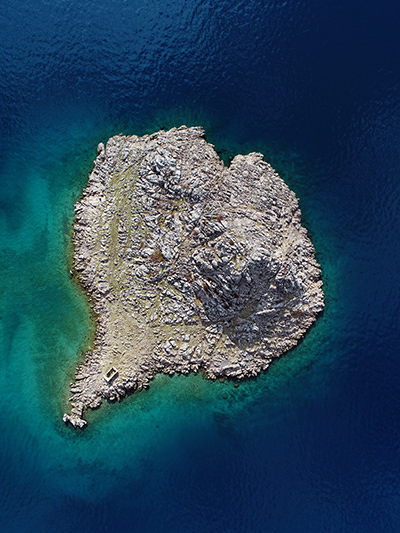 Heart-shaped island coordinates:
44°55′48″N, 14°54′59″E
Under the slopes of the Northern Velebit National Park, the village of Sveti Juraj looks at another island shaped like a heart.
Lisac is a bare rock, the product of the strong and turbulent bura wind from the mountain which stripped it of larger vegetation.
On the other hand, Lisac protects the village from the moist jugo wind. It had this function since the pre-historic period when the Liburna Lopsi tribe lived here.
In Roman times, the island was connected with the mainland town called Lopsica by a stone causeway. Later it sunk under water, together with the antic harbor.
Those remnants can still be seen today. The sea is clear and suitable for diving, and Lisac is at a swimming distance from the shore.
The coastline of this heart-shaped island is 540 meters long, while it covers a surface of 0,018 km².
5. Rončić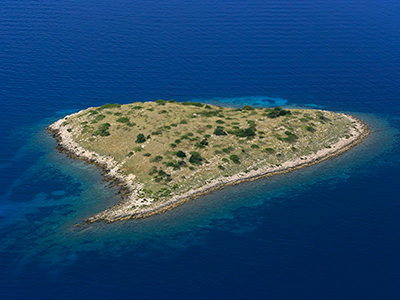 Heart-shaped island coordinates:
43°54′23″N, 15°16′26″E
Almost a twin brother of Lukovnik, Rončić is the smallest heart-shaped island on this list.
With only 0,016 km² in size, and with a coastline of just 520 meters, it easily gets overlooked in the Kornati island group.
The densest archipelago in the Mediterranean Sea, besides being home to one of the eight Croatian national parks, was hiding another heart island all these years.
All romantics visiting the area should definitely make a stop-over on Rončić, and enjoy the sunset from its shores.
Supposedly, even dolphins, known as mammals that can experience complex emotions, love to play around this heart-shaped island. So keep your eyes open!
Besides championing with heart-shaped islands, Croatia also dominates our list of islands that look like things. Think everything from fingerprints to bikini tops, the Mediterranean country has it all!
Morgan Freeman revealing the lost world of Croatian Atlantis
The shapes of these heart islands might be monuments to the mastership of nature. But what lies beneath the blue Adriatic Sea surface could be an even bigger treasure.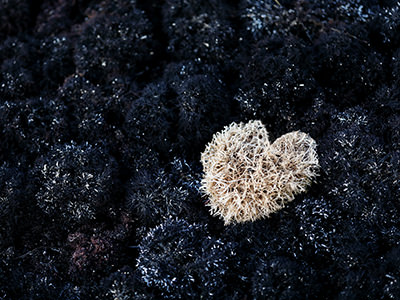 Croatian archeologists dived six-meter deep at Galešnjak in 2019. They found an 80-meter-long rectangular "bridge" that connected the island with the continent in the Neolithic when the sea level was lower.
It turned out that 7-8 millennia ago, people crossed the shallow sea by depositing stones and inhabited the heart-shaped island. They left traces of their existence in ceramics, the first olive seeds, and the oldest underwater stone construction in the Adriatic Sea.
The story of Galešnjak attracted the attention of US TV producers and Morgan Freeman who approached Boris Kačan recently.
"We were filming the submerged pathways between the islands of Galešnjak and Ričul, and further towards the continent", Boris revealed. "The discovery of Zadar archeologists intrigued the Americans who included it in their documentary on old settlements that are now underwater. Let's say, they are making a film about the legendary Atlantis."
The climate is rapidly changing, and ocean levels are growing again. Looking into the sunken worlds of previous civilizations could bring educative insight into both our past and our – future.
Maybe the heart-shaped Adriatic Sea islands could be the key to the secret of how we can continue loving life on this Earth.
If you were intrigued by the Adriatic Sea, you should definitely plan romantic holidays to this part of the Mediterranean. Here are our best tips for the honeymoon in Croatia!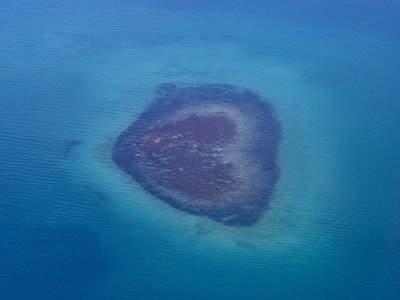 Love is in the air
Flying made us see the planet from a perspective that was earlier a privilege of birds. Croatia, that strangely shaped boomerang, turned out to have many hidden forms in its natural treasures. It almost seems that the region of Dalmatia is sprinkled with more hearts than Dalmatian dogs are with spots.
However, the heart-shaped Adriatic islands of Galešnjak, Lukovnik, Mrtonjak, Lisac and Rončić are not the only play of Croatian nature that speaks the universally recognizable language of love.
Lake Prokljan, on the edge of Krka National Park, hides another heart-shaped secret under its surface. On the mouth of the river flowing into the Adriatic, a shoal of a peculiar shape presents another impressive work of Mother Nature. The locals call this heart overgrown with red algae – Gromilica.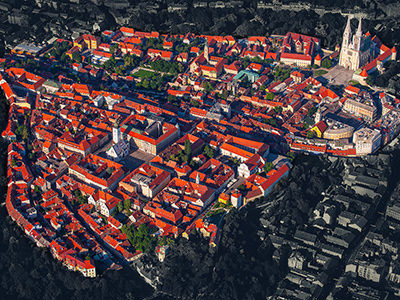 But hearts are not just a peripheral decor of this lovely country. Even Zagreb, the Croatian capital, has a heart of its own!
The two original settlements of the Old Town, known by the names of Gradec and Kaptol, form the shape of a heart together!
The photographer Roberto Pavić flew by plane over these neighboring hills. The probably unintentional notion in the design of the urban planners of the Middle Ages caught his attention.
So it seems the city in the heart of Croatia is not just home to the world-renown Museum of Broken Relationships, or to the festive Croatian Licitar hearts, the national souvenir that is a must-have gift for Valentine's Day.
The heart is also inscribed in the architectural design of Zagreb, the capital of the country one can easily fall in love with.
Fall in love with Croatia – time for a new slogan?
In its three decades of independence, Croatia has tried out many touristic slogans and destination branding ideas. Some of those were successful, others were incredible failures.
Croatian National Tourist Board which once promoted the country through 'the Thousand Islands of the Croatian Adriatic', finally settled with 'Croatia, Full of Life' in 2015.
In the 1990s, Croatia was a 'Small Country for a Great Holiday', the 'Heaven on Earth', 'So Beautiful, So Close', and even 'An Old Friend with a New Name' (with an intention to remind tourists on memories from the ex-Yugoslavia).
The country's most successful slogan was probably 'The Mediterranean as It Once Was'. The largest disaster was the quickly removed promise from 2019: 'Croatia Will Waste Your Time'.
There was one slogan that mentioned hearts too. But even if they launched it in 2009, it didn't take into account the heart-shaped islands. 'When Heart Says Summer, It Says Croatia' aimed at summer lovers, no matter where their hearts were calling them to.
Whether you are married to God like Pope, or dangerously in love like Beyonce, Croatian hearts can easily steal yours
'Fall in Love with Croatia' is my proposition for a face-lift of the country's communication with touristic markets.
From that excellent atlas made for the personal use of Napoleon, Croatia evolved into a country where everyone is allowed to feel like an emperor.
Whether you are married to God like Pope, or dangerously in love like Beyonce, Croatian hearts can easily steal yours.
Falling in love with Croatia could mean falling in love with incredible nature, rich history, mouthwatering gastronomy, exciting adventures, a high level of safety, and a laid-back lifestyle. Now, these are all components of a great love affair!
Some earlier big idea slogans have cost Croatia 350.000 Euros. I'd give away 'Fall in Love with Croatia' in a more economical arrangement, cross my heart!
What do you think about this idea for the touristic promotion of Croatia?
Bare your heart with me in the comments!
Huge 'thank you' to dr. sc. Mira Miletić Drder from the National and Univerity Library in Zagreb, as well as to freelance photographers Roberto Pavić and Boris Kačan for the selfless support in the preparation of this article!
Did you like this article on heart-shaped islands?
Pin it for later!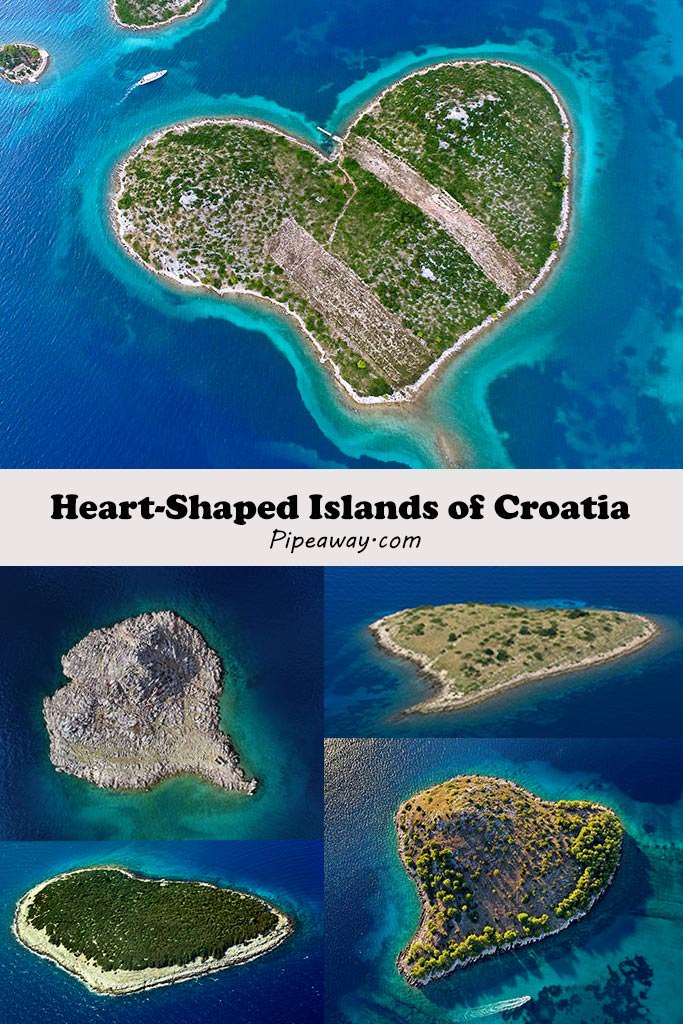 Disclosure: This post may contain affiliate links, which means if you click on them and make a purchase, Pipeaway might make a small commission, at no additional cost to you. Thank you for supporting our work!