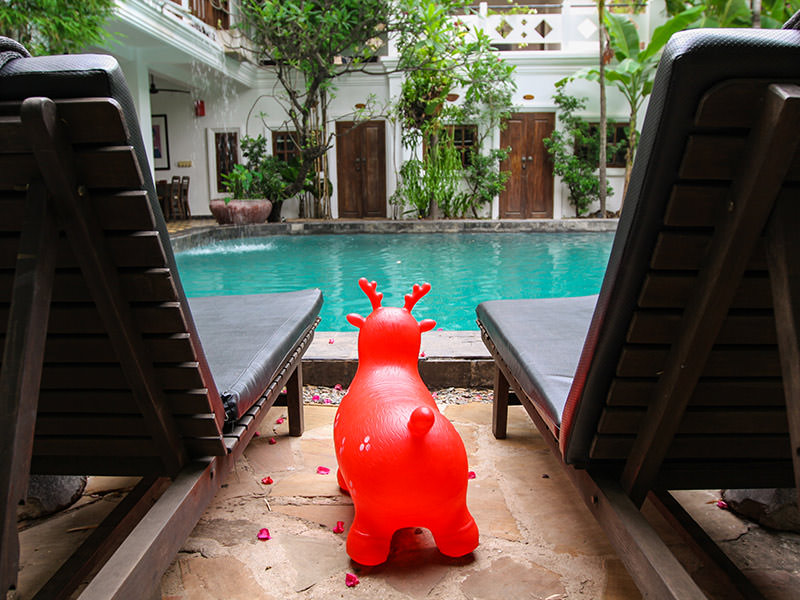 This is the place where nobody will give a mean look if two male partners request a double room, but the essential philosophy of friendliness overgrows sexual orientation issues
Besides gender-exclusive gay resorts such as MEN's in Siem Reap, or Arthur & Paul in Phnom Penh, some Cambodian properties are trying to find their place in the niche of gay-friendly hotels and resorts. Just one door away from "A&P" in Cambodia's capital, and quite a few doors away from "MEN's" in the old capital of the Khmer Kingdom, gay-owned Rambutan Resort is building up its name on the list of gay-friendly resorts in Southeast Asia. I have visited both of Rambutan's branches, in Phnom Penh and Siem Reap, and was positively surprised by the high industry standards execution in these boutique resorts.
Friendliness as work philosophy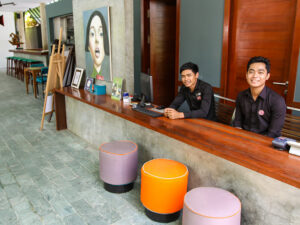 Hotel staff bowing in front of guests with their palms placed together in a prayer-like fashion as an expression of respect and gratitude is a standard saluting folklore of exclusive resorts in Southeast Asia. After touring the area for almost half a year, I can say that professional smile that never goes away and constant readiness to serve the "divine" guest can easily be over dramatized and thus lose its original intention, the sincere wish to create the atmosphere of friendliness and politeness. I don't know who is training Rambutan Resort staff in this context, but their measured and refined execution is the top of the league, probably the best in the region I witnessed! These resorts are not only gay-friendly. They are creating the atmosphere of general Friendliness! Period. No matter if you are gay, straight or anything in between or around, Rambutan Resort seems to be a place that will easily slip under your skin!
Rambutan is adult-only property, which generally protects you from the noise and moral scrutiny traditional families bring to the table
Sure, this is the place where nobody will give a mean look if two male partners request a double room, but the essential philosophy of friendliness overgrows sexual orientation issues. The feeling of welcomeness and the laid-back atmosphere was apparently successfully implemented, as I have seen more male-female couples than same-sex couples during my four days combined stay in both properties. Even if this might have been an exception (gay guests interested in meeting other gay guests during their stay should not be discouraged by this example), it showed how open-minded straight couples could resonate with "gay-friendly" label! It doesn't protect just one target audience; Rambutan Resort guarantees privacy and respect, without peeking into anyone's sheets, including those of straight couples! Unlike most commercial resorts, Rambutan is adult-only property, which generally protects you from the noise and moral scrutiny traditional families bring to the table. Here, nobody will make a scene if you hold your same-sex partner by hand or share moments of romance, the same way straight couples can do in typical resorts.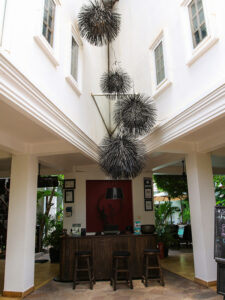 Know about yesterday, party like tomorrow will not come
Both Rambutan Resorts are centrally located, in quiet residential areas. Rambutan in Phnom Penh is just 15 minutes of easy walk away from Tuol Sleng Genocide Museum, the school-prison from Khmer Rouge era. Be sure to visit this important historical site, and when you do that, try to find some of the victims of the regime employed there, as they can give you a better insight in the proportion of one of the most recent world tragedies. One can get a piece of the essential history lesson in Siem Reap too, Rambutan Resort there is just five minutes of walk away from the Old Market, and all other relevant sites are easily reachable by cheap and always available tuk-tuks.
Now, understanding Cambodia's past and silent terror of the Killing Fields, which shed the new light on the responsibility of the international politics, doesn't mean that having fun should be forbidden as disrespectful. In a country rebuilding its economy, servicing tourists is an important income stream; the resourceful Rambutan Resort staff will know to direct you to the best party options in the vicinity of each hotel. Siem Reap's famous Pub Street is less than a 10-minute walk away from Rambutan – close enough that you can reach home even if you had too much to drink, but also far enough to protect you from the noise which entertainment district necessarily produces.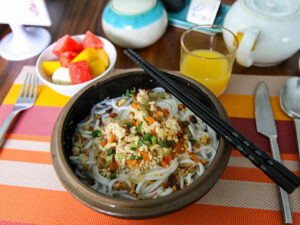 Food – affordable and responsible
Rambutan Resort serves its breakfast until noon, which is great news for late risers. With a solid offer of Western and Asian freshly made dishes, you can start your day with anything from pancakes with mango to more concrete Banh Shung, fresh noodle with minced pork and peanuts. Restaurants at both properties serve lunch and dinner, as well as snacks you could order and enjoy by the swimming pool, for example. The food is good, nicely presented and affordable, with practically no dish exceeding 7 US dollars (6 Euros). You can choose Western style pasta, burgers or grilled meat, as well as traditional Khmer dishes such as Fish Amok, Cha Kdav or Cha Kroeung. Vegetarian sandwiches, salads, spring rolls and falafel burgers are also available.
I have especially enjoyed Khmer style Beef Lok Lak with salad and steamed rice, fried chicken with pineapple and cashew nuts, as well as the bay fish with mashed potato and corn, from the daily offer. I particularly appreciated the no-waste policy implemented in the restaurant – one orders only what one will eat. If there are any items included in the meal that you know you will not eat, the menu encourages you to say it, so that the food doesn't end up wasted.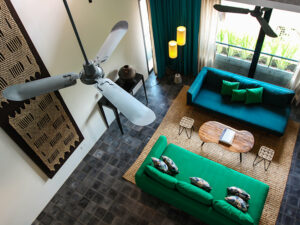 Responsible in growth
Social and environmental responsibility is in the core business of Rambutan Resort. The buildings were conceived by the environmentally conscious architects who have implemented energy saving initiatives wherever possible. Insulating the roof with grass, incorporating solar panels in the system, equipping the rooms with locally crafted furniture from sustainably harvested wood or providing refillable shampoo and shower gel bottles… Even if Rambutan is an honorable member of the initiative "Refill, Not Landfill", strongly pushed by the local industry leader Jaya House RiverPark, this area could still be improved, as guest rooms receive complimentary bottles of water – the plastic ones!
On the other hand, behind that welcoming smile of the staff you are meeting every day, stands great support investment of this social enterprise. Rambutan Resort invests in the community beyond just providing jobs: employees learn English on a daily basis, the resort provides them with scholarships for the university, and five percent service charge is being distributed entirely to the staff. No wonder Rambutan has an extremely loyal personnel – with 2 percent staff turnover!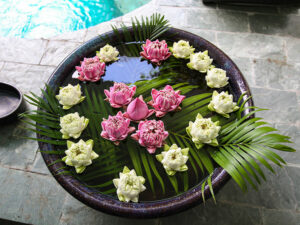 Rambutan Resort – a space for relaxing
Designed in modern Asian style, rooms in both resorts are spacious and equipped with most of the amenities you hope to get from 4-stars properties. However, in Siem Reap the room I stayed in (Lilac) was a bit overcrowded with furniture and was lacking in electricity outlets – it would definitively better serve as a single, and not twin bedroom. But Siem Reap's Rambutan Resort also offers beautifully designed urban villas, apartments, lofts and penthouses, which offer much more comfort and space than the deluxe suite in which I stayed. Phnom Penh's deluxe room with a pool view was of a decent size. In both properties, besides in-room rain shower, rooms came with a private balcony including an alfresco stone bathtub, in Siem Reap with splash shower!
Rooms were overlooking the swimming pool, the central point of both Rambutan Resorts. Surrounded by the lush tropical garden and with traditional and contemporary art pieces (vibrant paintings and lithographs by Belgian expat in Asia Christian Develter and Chinese laughing self-portraitist Yue Minjun), it is an inviting refreshment you will hardly resist! Pool-bar is just steps-away to surprise you with cocktails or unexpected fruit salad with ice-cream, while you soak in the tropical sun at the loungers or hide under the parasol.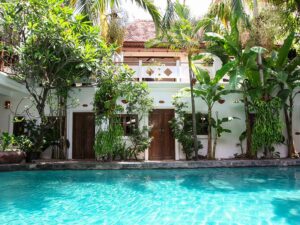 No cows in the pool!
The water in the basin is salty – which is kinder to the body and environment (fewer chemicals), and doesn't attract mosquitos and frogs. In the room manual, the management of Siem Reap's Rambutan Resort applies a notable dose of humor, saying that the water might attract saltwater crocodiles, so you should inform the staff if that happens. Here is another comical example from the book: "There are frogs, sometimes many frogs. Not in your room, but outside. And they make noise. In the raining season there are bullfrogs, and if you think we keep cows, you are wrong, they are frogs making cow noises. We do not know who trained them to do so."
Apparently, Rambutan Resort manages to put the smile on your face even when its staff is not around. From welcoming you with a cold refreshing towel, taro chips and lime juice, via providing everything you might think of during your stay, and until saying goodbye with a sincere and warm smile, this hotel creates friends with every new guest arriving. It is therefore not unusual that many of Australian, American, British, French and neighboring countries' visitors are the returning ones! Once you had a taste of Rambutan Resort's hospitality, you will never want to settle for anything less!
Still searching for a place to stay?
Check these hot deals in Phnom Penh! Various dates available!